Anna Marie Nelson, 91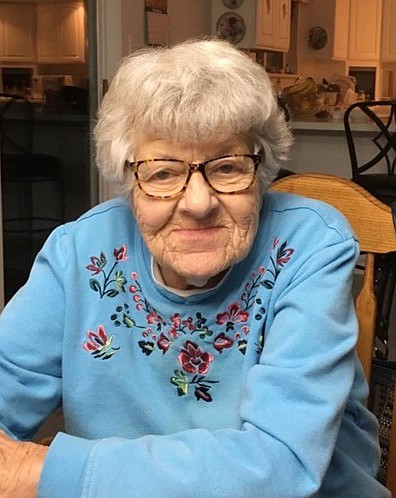 |
November 9, 2023 12:00 AM
On the morning of Oct. 27, 2023, following an unseasonably early snowfall, the skies cleared, and the sun came out. This was the day our Mother, Anna Marie Nelson of Polson, was called to heaven. 
Anna Marie Babela was born Feb. 28, 1932, to Stephen and Mary Babela, of Cleveland, Ohio.  Anna was an only child raised by strict, loving, Czechoslovakian parents who were steeped in tradition. As a result, her education in English began, without apology, on her first day of school. Though this was a challenging time, she blossomed, learning quickly, and making friends easily.
Anna's memories of her youth included living through daily news of WWII and food rationing, a stressful time when her father was extradited to Canada to complete his citizenship, and a mother who was the type of gal who had no use for frivolous things. But Anna knew she was loved and always had a great love and respect for her parents.
After graduating high school, Anna took her first job in a book-binding company and later a ball-bearings manufacturing company where she answered phones. It was on a weekend getaway to Virginia Beach with a girlfriend that Anna met a sailor on leave from the Navy. John Nelson would be her lifelong love of 67 years.  
This was a whirlwind romance, and John was charming, turning the tables on her so that she would be the one to ask. "He went Sadie Hawkins on me," she laughed.
John and Anna were married April 27, 1956. They had seven children; the first four were born in Cleveland. Then in 1962 they moved to Montana, and the latter three were born in Whitefish.
Anna's days of being an only child were over. John himself, being one of 15 children, found them at large family gatherings where laughter and music were an integral part.
Anna embraced marriage and motherhood. She and John moved five times, and in each location, she joined homemakers' clubs, met neighbors and made friends. The homemakers' clubs were important to Anna, not only for sewing and socializing, but they also provided help for neighbors in difficult times, whether it was preparing for a new baby, loss of a family member or illness.
Anna loved to garden and relished the annual seed catalogues, planning carefully for each coming season. Although she canned fruits and vegetables every fall, the flower garden was her favorite. She had a green thumb, and the beauty of her garden was radiant.
When John retired, they enjoyed traveling in their RV to many locations, often spending winters in Arizona, sometimes meeting up with other family there.
Anna loved life. She was our best friend, strongest supporter, and visited each one of her children by phone and in person many times throughout the year. And when she could no longer travel, we came to her. Because she was our heart and soul. She was love and happiness in its purest form. She was our mother, and we will miss her forever.
Anna is preceded in death by husband John, daughter Susan Marie and a granddaughter, Crystal Rashid. She is survived by children Chris Nelson, Sandra Nelson, Teresa Houseal (John), Belinda Rich (Jack), Jim Nelson, and John Nelson Jr., 12 grandchildren and 10 great-grandchildren.
Anna was a lifelong member of the Catholic Church. Funeral services for Anna will be held on Saturday, Nov. 11, 2023 at 11 a.m. at the St. Ignatius Mission Catholic Church. In lieu of flowers please consider donating to your favorite charity or church organization.
Messages of condolences may be shared with the family online at www.lakefuneralhomeandcremation.com.
Arrangements are under the care of The Lake Funeral Home and Crematory.
Recent Headlines
---