Mercury team posts several firsts at state meet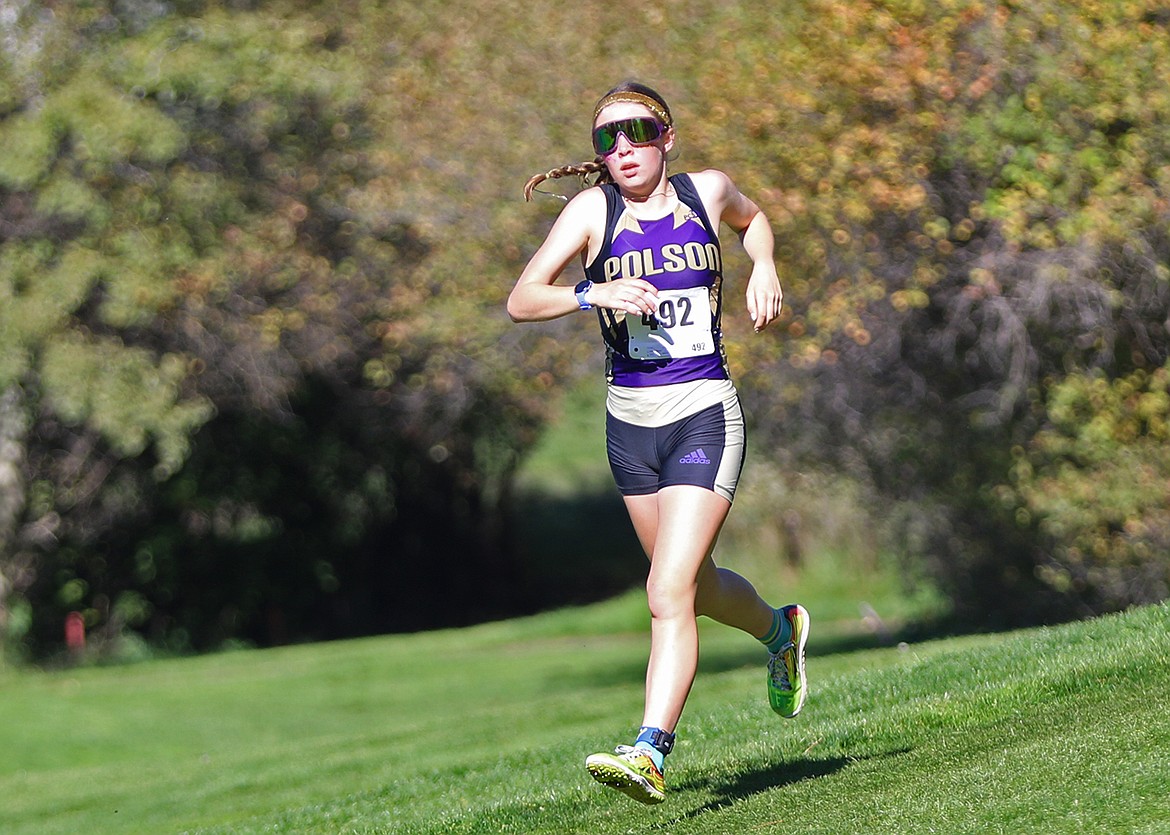 Polson freshman Morgan Delaney (shown here at a cross-country meet in Pablo) won the Montana Junior Olympics 5K race for 15-18-year-olds in Helena. (Bob Gunderson photo)
The Mission Mountain Mercury running team had three state champions and two runners-up at the 2023 USATF Montana Junior Olympic Championships at Centennial Park in Helena on Saturday, Nov. 4.
"Our team is small but mighty," Coach Jason Delaney said. "They ran really great."
Of the 19 competitors that traveled to Helena, three were state champions, four claimed second places, one took third place, and 16 were national qualifiers. The 13-14-year-old girls' team won the state title.
The Montana meet is a qualifying event for the USATF National Junior Olympics Cross Country Championships, held in Louisville, Ky. For some kids, the Montana state meet marks the end of the season, while a few of the Mission Mountain Mercury qualifiers plan to go to Louisville and compete on Dec. 9.
There were 148 competitors at the event, with age groups from 8 to 18. The top 15 individuals in each age group qualify to advance to nationals.
"The conditions were great," Delaney said. "Due to the recent weather, the venue was moved from the golf course to Centennial Park, which resulted in a mixture of gravel and paved paths with a little mud."
Morgan Delaney won the 5K race for 15-18-year-olds with a time of 19:26.7, which is a personal best for her. In the 4K race for 13-14-year-olds, Annalise Lewis – who attends Hamilton but has family ties to Polson – notched a time of 15:28.2 for a personal record. Not far behind her was Quinn Delaney in second (15:30.2) for another personal best, and Kimora Scott was fifth (16:03.3) with a personal best.
Cora Hannan was seventh (16:42.7), Reese Adams was 14th (18:40.6) while Olivia Cottet was 18th (20:09), and all times were personal bests.
In the 3K 9-10-year-olds, Anna Fansher was first (13:27.7) with a personal best, while teammate Elaina Lozar was fourth (14:46.3), also a personal best.
On the boys' side, there was a pair of second place finishes. Riley Bontaelli was number two in the 3K 11-12-year-old race with a personal record of 10:59.4. In the 3K 9-10-year-old race, Briggs Delaney was second (12:31.5) and Trevor Montgomery was third (13:31.3), both with personal records.
In the 5K 15-18-year-old race, David DiGiallonardo was ninth (16:55.2) with a personal best, while teammate Jackson Bontadelli was right behind him in 10th with another personal  best (16:55.3).
In the 4K 13-14-year-old race, Cade McConnell was 17th with a time of 17:26.9.
Even though the regular school cross country team is over, the Mission Mountain Mercury meets twice a week to train, and the athletes train on their own about three days a week.
Recent Headlines
---