Barbara Monaco: A lifetime of helping kids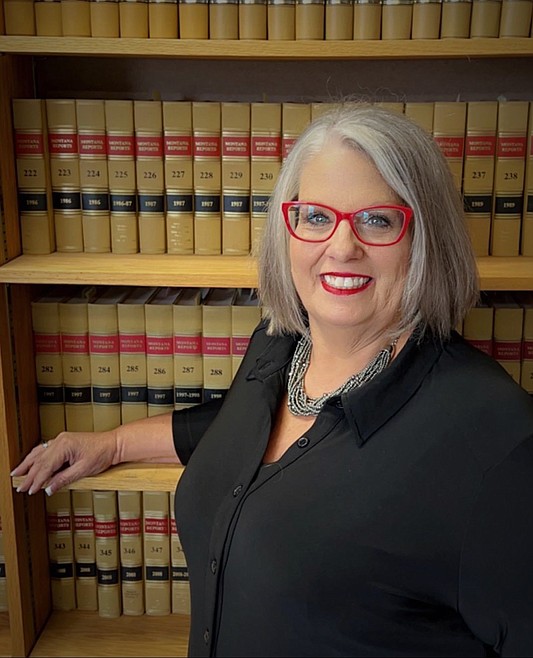 Chief Probation Officer Barbara Monaco retired Oct. 6 after serving Lake and Sanders County for nearly 38 years.
Barbara Monaco retired Oct. 6 after nearly 38 years as a juvenile probation officer for Lake and Sanders counties, most of those at the department's helm. Just three days earlier, she received the Lifetime Achievement Award from the Montana Board of Crime Control, which characterized her as someone who "puts her whole heart and self into the safety and well-being of our community."
Both Lake County District Attorney James Lapotka and retired District Court Judge Jim Manley echoed that sentiment, each calling her "an institution" in the juvenile justice system.
"Barbara worked tirelessly to coordinate care for the kids she worked with, often times managing far beyond the typical scope of a juvenile probation officer," Lapotka said. "She is a great advocate for many wayward youths who need direction and accountability."
Monaco grew up in Anaconda, the oldest of seven kids, and the daughter of the assistant police chief. She was drawn to law enforcement, even though her dad discouraged her and tried to shelter his family from the grimmer aspects of his profession.
"But I think in the long run, his influence and what he provided to the community really was a strength for me," says Monaco.
That was even more apparent a year ago, when Guy Monaco passed away at 84. "People that we didn't even know knew him, sent notes, sent tributes, made comments about how he served them and how he helped them."
It's not unlike his daughter's legacy. "She's helped countless kids in Lake and Sanders County," said Manley. "Including some of mine!"
"I've actually gone from birth to death with kids," Monaco says. She was once summoned to the hospital by a young woman, who had no family, to attend the birth of her child. She also delivered the eulogy at a youngster's funeral, at the request of the family, and has been invited to weddings and graduations of kids she's mentored.
"And then there's kids who have ended up at Montana State Prison," she says. "But it's their actions and their behaviors that that got them there, not anything that we did to them."
Her goal, and that of her deputies, was always the opposite: to provide their wayward charges with the tools to change course, to choose a better future for themselves.
"Make sure your ducks are in a row"
Despite her dad's admonition to avoid law enforcement, Monaco earned a degree in sociology and criminal justice from the University of Montana. "That was the direction I needed to go. It was a lane I felt comfortable in," she says.
After graduation, she interned as a guidance counselor, but needed more of a challenge. When a job in juvenile probation opened in Lake County, a professor at UM encouraged her to apply for it. That was 1986, and she hasn't looked back since.
She was hired by District Court Judge C.B. McNeil, who also grew up in Anaconda, and says he was very influential in her life and career.
"He always would tell me, make sure your ducks are in a row when you're coming to the courtroom," she recalls.
McNeil also set a tone, that was "very direct, not a lot of nonsense, and I appreciated that because it's black and white. So that's how I was raised in the courtroom."
While he was formidable on the bench, McNeil "was a kind, gentle man with a big soul and a huge heart. And that's the same way I look at my dad," Monaco says. "Stern, but the heart is bigger than the whole world. That's the two of them."
Other role models include her mom, Dotsie, who presided over their home life, her six siblings, some "pain-in-the-ass" kids, and all the people she's worked with over the years.
"I've been blessed by the community, by the people here, by the kids I've dealt with, by their parents, the principals, superintendents, the law enforcement community, the judges, county attorneys, the justice department," she says. "I mean, I didn't do this on my own."
She's especially grateful to the four District Court judges – McNeil, Manley, Kim Christopher and Molly Owen – who have presided over Youth Court. "Those who've sat on the bench are very, very important people in this community," she said.
Always a phone call away
Within three years of her arrival in Lake County, Monaco was appointed chief juvenile probation officer – the only woman in a male-dominated world. It required, she says, "a lot of proving, a lot of testing."
She hasn't been afraid to ruffle some feathers along the way. She's firm, tenacious and tries to hold kids accountable. "I'm sure it hasn't always been easy dealing with me. For everybody," she says.
Over the years, she spearheaded innovative programs, both in Lake County and across the state. She wrote the initial grant that helped bring School Resource Officers into local schools, and following the last legislative session, organized an interdisciplinary task force for youth consisting of law enforcement, area school superintendents, and the head of Child Protective Services.
School resource officers serve as an important liaison between the schools, law enforcement and the court system.
"I think the school superintendents, past and present, have embraced that and worked hard with that," she said. "I think that's been a stronghold and an important factor in preventative measures with the youth court, so that's a positive all the way around."
"She is always just a phone call away, and she understands the concerns we have from the school perspective," wrote Ronan Superintendent Mark Johnson in recommending Monaco for the Lifetime Achievement Award. "Together, we have developed a strong relationship that is rare in today's society. There may be times we disagree, but ultimately we understand that we must work together and do what is in the best interest of the youth of our community."
Monaco has served on the board of Kiwanis, Court Appointed Special Advocates (CASA), the Boys and Girls Club of the Flathead Reservation and Lake County, and Montana Juvenile Probation Officers Association. She was also instrumental in organizing the Festival of Trees, a benefit for Lake County Youth Homes, and the annual CASA golf scramble.
She was part of the Sex Offender Treatment Association (MSOTA) and has taken on some of the worst sex offense cases in the Youth Court system. Her career even took her to Siberia as the Department of Justice's juvenile representative for the Western Regional Institute of Community Policing.
Monaco also helped establish and served as an instructor for the Montana Juvenile Probation Officers Training Program. Working with young officers is both fun and challenging, she says.
"The new kids have that spark and that energy. You don't want to stifle them, but you also want them to slow it down a little bit."
She is confident her old office is in good hands under new Chief Juvenile Probation Officer Amber Harness. "I think she'll do an amazing job, and there's a good staff there," she says. "I think the next chapter is ready to open for that department."
Walking a tightrope
The role of a juvenile probation officer may sound simple, but it's often hard to execute. "Our job is to hold the child accountable for their behaviors and actions and provide them the tools to make the changes so they don't come back into our office."
"So you act as a role model, a guidance counselor, a career developer – you look at kids and go, where do you want to go, what do you want to do?"
She also strived throughout her career to believe all kids are capable of change. "He or she is somebody's child and there's always something good inside of them," she says. "That's been something I've had to keep and realize – that even the worst of the worst kids, they can do something good."
Over the years, she's seen the nature of juvenile crime change from theft, underage drinking, or running away from home to more aggressive crimes including assault, gun violence and sexual abuse. She attributes some of those changes to the influence of social media and television, access to dangerous drugs and the breakdown of family structure.
"There's been a big pendulum shift," she says. "But I still go back to there's always something good in kids."
"When you're a probation officer, you're walking on a tightrope," she adds. "You're on a thin wire and you're balancing human lives in your hands."
Since her retirement, Monaco has stepped off that tightrope, and is learning a different kind of balancing act. In the process, she's trying to adhere to the advice of her old mentor, Judge McNeil.
"He and my dad always told me to take time for myself. I didn't listen to that very well. Now I'm trying to."
"I'm just going to go with it," she adds of her newfound freedom. "I'm just going to be open to adventure."
Recent Headlines
---