Edmond (Ed) Priddy, 88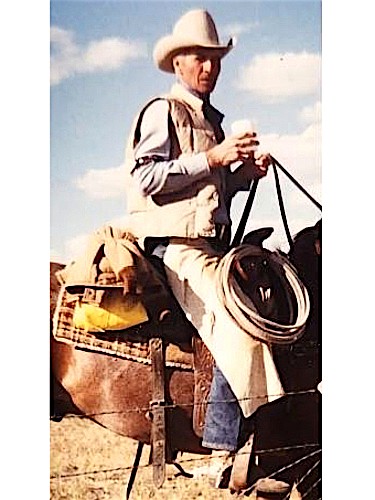 |
September 7, 2023 12:00 AM
Edmond (Ed) Glover Priddy, 88, passed away on Aug. 22, 2023, at The Lodge at Buffalo Hills of natural causes with his daughter, Sheila, and niece Barbara by his side.
He was born Aug. 21., 1935, to R.W. "Buster" and Mae Olson-Priddy. Ed grew up on the family ranch in Dixon and was educated and graduated from Dixon Schools.
He married his high school sweetheart, Charlotte Lanphere, and they made their home on a ranch in Dixon. Out of their marriage were born three children, Jeff (Sheri) Priddy of Helena, Charlene (Ron) Viets of Rapelje and Sheila (Mark) Young of St. Ignatius.
His love of cattle, horses and the land ran deep. There was no place he would rather be than working each day tending to what needed to be done. In addition to ranching, through many of the early years, Ed was employed by other ranch operations, one of them being the Moss Ranch.
He also worked at the National Bison Range where, at the time, they worked on foot in the corrals with the buffalo. This made for some exciting stories of escape.
A cowboy was what he was, through and through. He spent many years breaking horses for people as well as raising and breaking many of his own. The stories of riding and breaking horses that he would often share as he visited with friends made many a man chuckle.
He particularly enjoyed his Belgian team of horses that were used for feeding during the winter months. They also found their way to one or two heavy horse-pull competitions, where they were a crowd favorite. He was chosen and had the pleasure of being a drover in The Great Montana Centennial Cattle Drive of '89, an experience of a lifetime.
Ed and Charlotte made a move to North Dakota and lived there for some time until moving back to Montana where they settled in Rapelje. Throughout the years, and at each place they called home, they met many great neighbors who became good friends.
Ed is remembered by his grandchildren as a jokester with a sweet tooth, making sure to stuff as much candy in his pockets as possible, but always willing to share. He had a love for fast cars, Fords in particular, and Charlotte and Carrie accompanied him on many a trip to Missoula, racing at high rates of speed. This led them to joking and questioning their sanity for always riding along.
He is preceded in death by his parents, wife Charlotte Priddy, sisters Luella Williams and Carrie Priddy, and brothers Buck Priddy and Michael (Mike) Priddy.
He is survived by all his children, siblings Edeline (Ted) Davis and Patricia (Pat) Marmon and many nieces and nephews. He also leaves behind nine grandchildren: Elly (Cooper) Thomas, Jaley Priddy, Jenna Priddy, Serena Long, Jesse (Aspen) Long, Brandon Pope, Kinley Pope, Kail Pope and Katelyn Young.
The family would like to give special thanks to the following people for their support over the last two years: His niece Barbara Markham, family friends Wade and Traci Shepard and the incredible staff members at Enhabit Hospice, The Lodge at Buffalo Hills Terrace and Darlington Funeral Home.
A private family remembrance will be held.
Recent Headlines
---