Pirate comeback falls short against Libby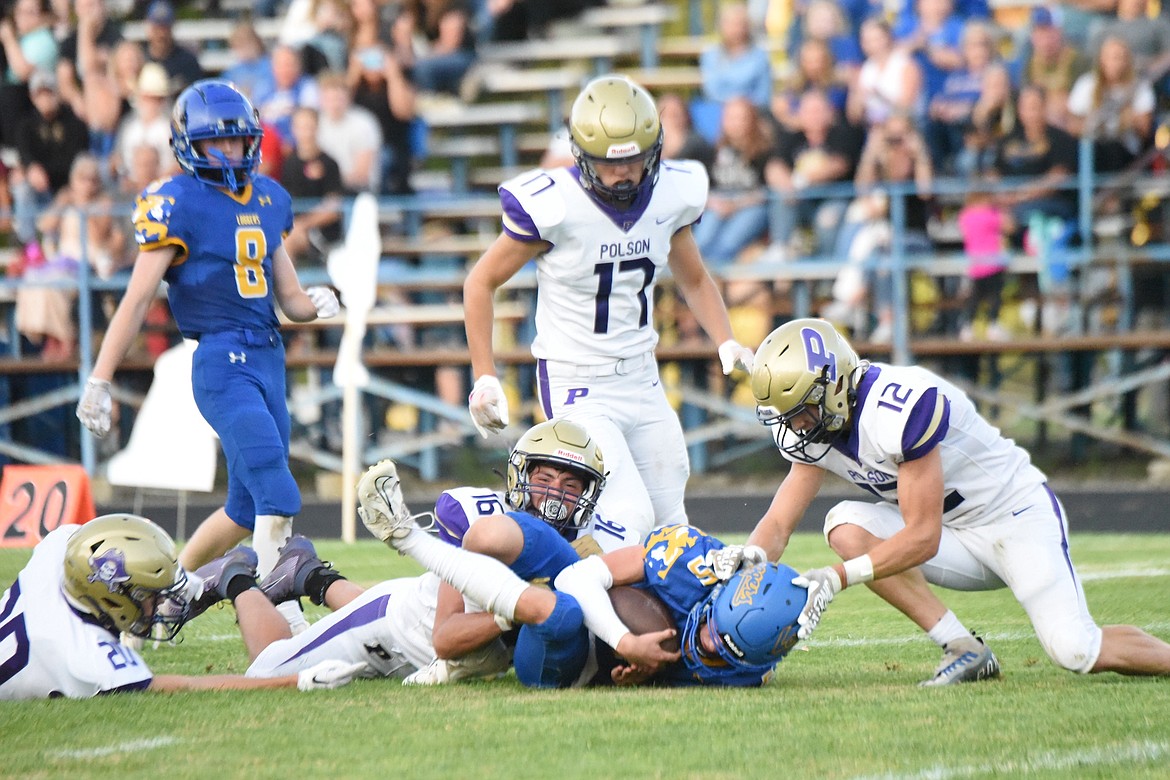 Polson's Brenden Griffin makes the tackle during last Friday's game against Libby. (Scott Shindledecker/Western News)
by
Brandon Hansen / For The Leader
|
September 7, 2023 12:00 AM
Polson scored 19 points and nearly completed a comeback but ultimately fell to Western A foe Libby on Friday, Sept. 1, on the road.
The Loggers' defense held the Pirates from scoring in the first half, as turnovers hurt Polson. Libby scored its first two touchdowns on a short run and a pick-six for the 14-0 lead.
In the third quarter, Libby scored on another short run and a 19-yard scoring pass for the 28-0 lead. Polson wasn't done, however, as Pirate quarterback Holden Emerson found Brenden Griffin for a 26-yard touchdown pass.
Libby would answer back with a 20-yard touchdown pass but saw its offense go scoreless in the fourth quarter. Meanwhile, Cody Haggard picked up a Logger fumble and ran it back 17 yards for Polson's second score.
Emerson hit Griffin for a 13-yard scoring pass, and then threw a 65-yard pass for Tommy Sherry, who found the back of the endzone to cut it to 35-26.
Emerson finished the game with 270 yards passing after going 12-for-35. Carson Graham caught eight passes for 80 yards, Griffin had seven grabs for 91 yards, and Sherry had 73 yards receiving on two passes. Polson picked up seven yards on the ground, while Libby had 111.
Logger QB Tristan Anderson went nine-for-23 for 107 yards passing and an interception.
Polson dropped to 0-2 in both league play and overall.
At Libby
LIBBY 35, POLSON 26
Polson - 0 - 0 - 7 - 19 - 26
Libby - 0 - 14 - 21 - 0 - 35
SCORING SUMMARY
L – Jace DeShazer, 2 run (Lamere kick)

L – Ryan Beagle, 30 pick-six IR (Lamere kick)
L – Connor Benson, 1 run (Lamere kick)
L – Isaac Lamere, 19 pass from Tristan Andersen (Lamere kick)
P – Brenden Griffin, 26 pass from Holden Emerson (Lucian Sawyer kick)
L – Lamere, 20 pass from Andersen (Lamere kick)

P – Cody Haggard, 17 punt block, scoop & score (Sawyer kick)
P – Griffin, 13 pass from Emerson (kick unsuccessful)
P – Tommy Sherry, 65 pass from Emerson (conversion fail)
Individual Stats
Rushing – Polson 18 carries, 7 yards (Landon Shoemake 5-5, Emerson 11-3); Libby 48 carries - 111 yards (Andersen 30-86, Benson 10-28, DeShazer 7-5). Passing – Polson - (Emerson 12-35-270-2), Libby - (T. Andersen 9-23-107-1). Receiving – Polson (Griffin 7-91, Cason Graham 8-80, Sherry 2-73, Haggard 1-16, Shoemake 3-10), Libby (Lamere 5-78, Aidan Agre-Baun 2-24, Beagle 1-9)
Recent Headlines
---