Bulldogs softball star signs with Unversity of Providence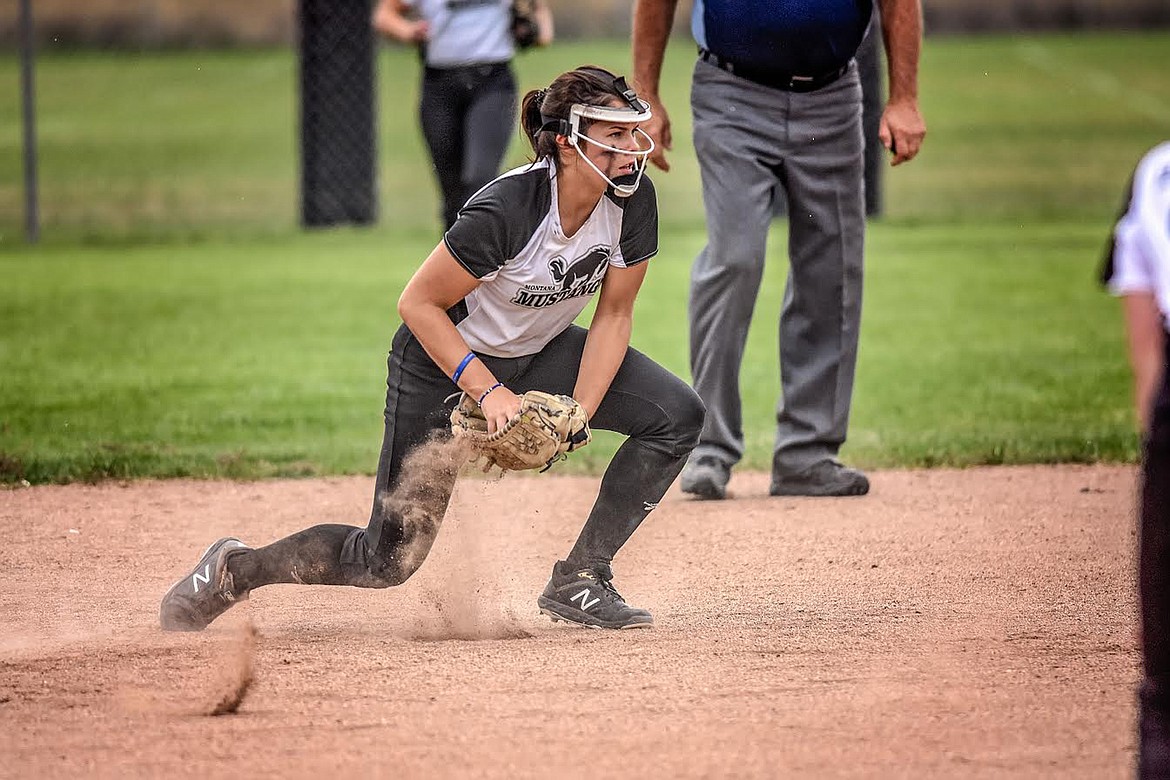 Montana Mustangs softball player Azia Umphrey recently signed to play college softball for the University of Providence Argonauts. (Photo courtesy Christa Umphrey)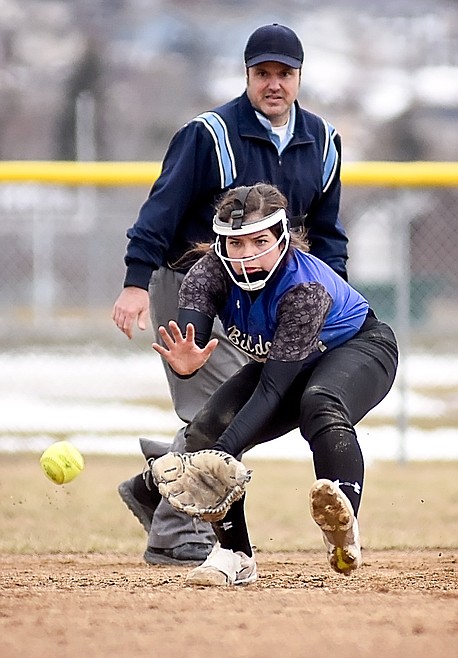 AZIA UMPHREY, fielding the ball during action last year, she was an all-confernce first-team catcher for Mission/Arlee/Charlo in 2018 and 2019. (Photo courtesy of Christa Umphrey)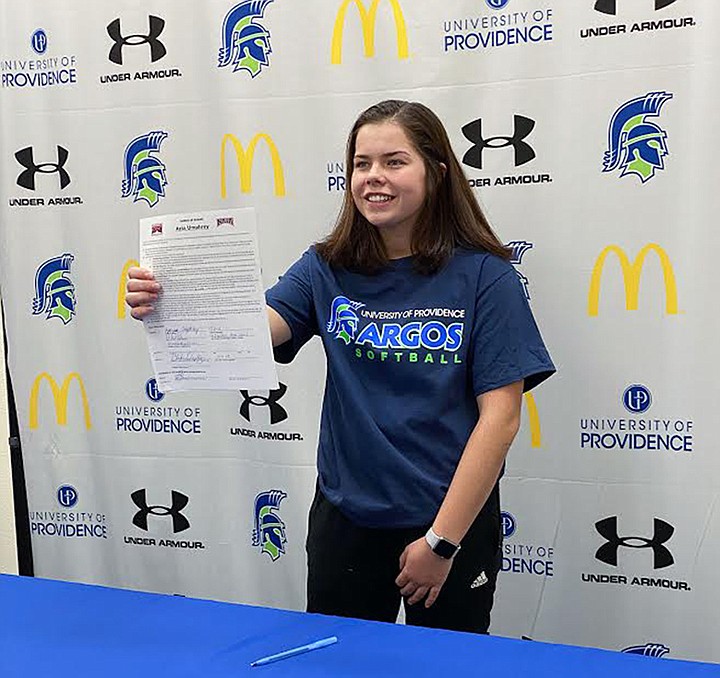 Azia Umphrey celebrates signing with the University of Providence Argonauts to play college softball. (Photo courtesy Christa Umphrey)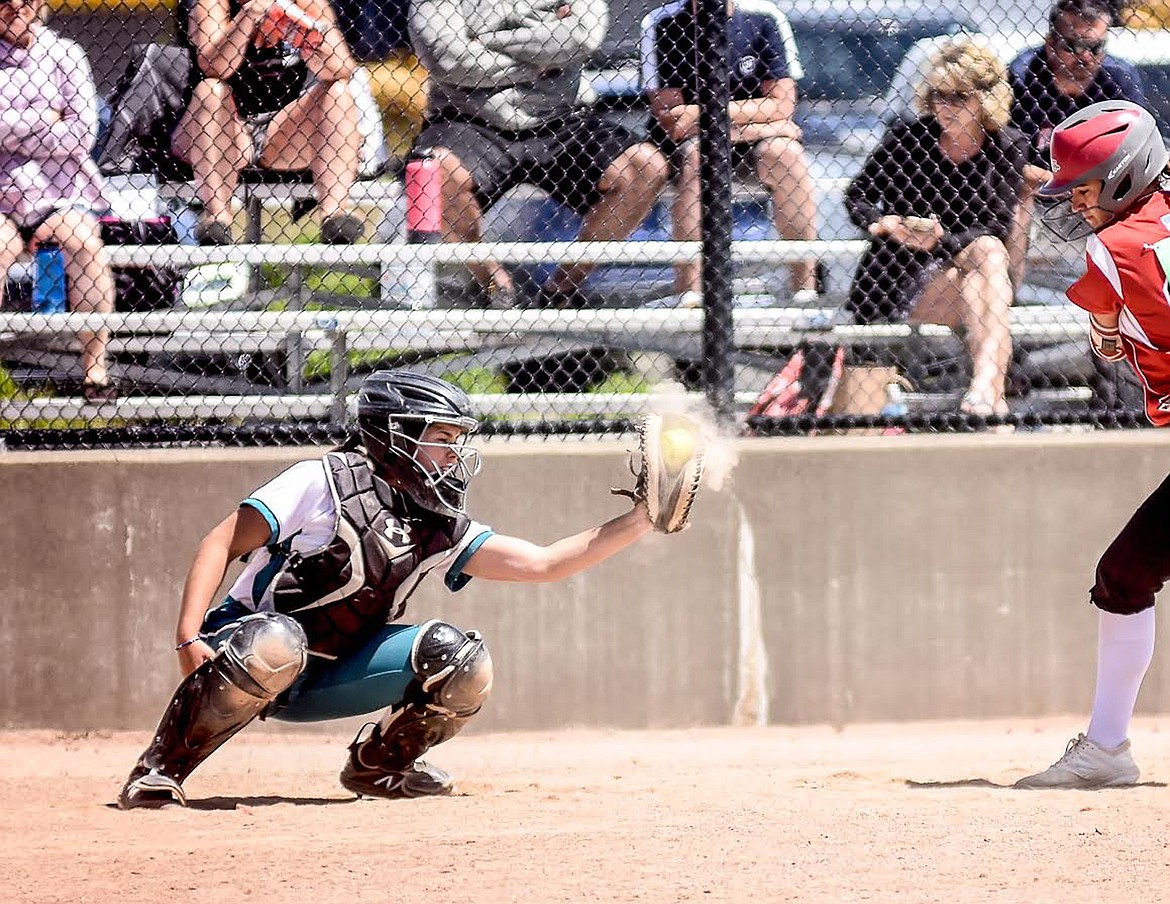 Mission Bulldogs star softball player Azia Umphrey recently signed to play college softball for the University of Providence Argonauts. (Photo courtesy Christa Umphrey)
Previous
Next
by
WHITNEY ENGLAND
Lake County Leader
|
April 9, 2020 9:59 AM
For local Mission catcher Azia Umphrey, softball is more than a simple game of ball and bat. The game took her from being a shy kid and helped her transform into a bold, confident young woman.
Softball also is paving a way for the senior to further pursue her education as she prepares to play for the University of Providence next year. In December Azia Umphrey signed a letter of intent to join the Argos softball team and secured a scholarship, which the school announced last week.
Growing up in St. Ignatius, she began playing T-ball when she was really young and then transitioned to softball in the third grade. Throughout her childhood she played many sports, and was always involved in physical activities. Her mother Christa Umphrey explained as a young kid she always had the desire to seek out new experiences.
"She's been the one never afraid to try new things, never afraid not to be good at something," Christa Umphrey explained. "That has actually made her really good at things because she just jumps in and figures it out as she goes. She's been like that, just aggressive about learning new things since she was little."
Azia has played many sports, including volleyball and basketball at Mission, but she said around high school she focused more on softball which became an obvious favorite. While participating in three high school sports, the outstanding athlete also maintains a spot on two club travel softball teams.
Azia's highlights for her softball career thus far are numerous. She averages above .500 at bat for her high school team, the Mission/Arlee/Charlo collaboration team, and has led them in home runs every season since freshman year. In 2019 she had six home runs, 31 stolen bases and 33 RBIs.
The catcher from Mission claimed first team all-conference honors in 2018 and was both all-conference and all-state in 2019. And although Azia is primarily a catcher for MAC softball, she is a utility player meaning she has abilities in every position on the field.
Though all of those statistics speak numbers for her talent, she said her love for softball is quite simple.
"I like softball because when you play that's all you have to worry about, nothing else really matters," Azia said.
Although she does enjoy the success MAC softball has experienced in recent years. As a captain she's led the team to several divisional and state tournament game wins; she thrives being part of a competitive team.
"It's super fun," Azia said. "My other sports haven't been as successful so switching to softball is always fun."
Although her athletic abilities clearly stand out, she has also been voted class president and was homecoming queen in 2019. She's on the honor roll and enjoys art, especially ceramics, in addition to her sporting feats. She even takes the time to coach elementary school children in both basketball and softball. Azia's high school life has been a major balancing act, but she has always risen to the occasion.
"(Balancing school and sports) is hard at times, but it's what I've always done so I guess I'm just used to it," she said.
Azia had been playing softball with hopes of making it to play college ball one day, but according to her mother Christa, in the last couple years Azia was questioning if that was the direction she wanted to go. She eventually decided to look into some different college programs, with playing softball in mind, which led to her linking up with coaches at the University of Providence.
"Back to her kind of being shy about things, it's kind of an intimidating process to start doing that recruiting and talking to coaches, doing those visits…" Christa said. "But I think when she started seeing that she could continue on with that piece that she's always liked… I think that kind of started changing her thinking last fall."
One of Azia's current pitching coaches had a contact with the university's softball team, which led to the Argo coaches reaching out to her. They invited her for a visit and showed just how much opportunity awaited her there on the friendly campus in Great Falls.
"(The University) did a great job on their end," Christa said. "They've been very encouraging and it's nice to be wanted.
The Argo coaches set her up with a tour of campus and she ate lunch with some of her potential future teammates. Azia was invited to workout with the team, met the athletic trainer and so much more during the visit. She said all the pieces just seemed to fit and the people she met were so welcoming.
"I love the campus and the area, and then the people are just great there," Azia said. "Coming from Mission being such a great community, I just know Providence is like that too."
Azia said she would like to pursue a degree in exercise science, potentially wanting to continue on to athletic training. And the college checked those boxes too after she met with the department head and attended a class to get the full experience.
"When she went to Providence and was able to hang out with the team, and the coaches were just welcoming from the get go," Christa said. "That combination for the support on the field and their academics, I think that kind of sold her on that sort of experience."
With the actual signing day in December, Azia and some of her friends had just finished playing at a basketball tournament in Great Falls. Azia's entire family and her closest friends from high school were all around her as she committed to a future of softball and post high school education — which spurred a whole lot of emotions.
"It was intense, we had just got done playing basketball at a tournament in Great Falls and drove over there," Azia said. "So it was like just a crazy mix of emotions."
As Azia prepares to begin school at the university in the fall, her entire family is standing behind her and sharing her elation for what's to come. Her siblings are sporting their new University of Providence gear around the house and her parents are starting to plan out how many home games they will be able to attend in Great Falls. After all, they have been driving Azia around on softball trips for many years, so what is a three hour road trip anyway?
But in all seriousness the Umpreys are beaming with pride and honored to be a part of Azia's accomplishments.
"So everyone is so proud of her and pretty excited about what comes next," Christa said.
With all of this to look forward to, it is easing Azia's disappointment regarding the suspension of spring sports due to the COVID-19 orders. This has been the longest time she has gone without practicing with a team since she was 10.
But spoken like a true team captain, Azia feels more upset for her teammates rather than herself.
"It's been rough just knowing I probably won't be able to play with my class again, but knowing that I'm playing next year at college, it's less (disappointing)…" she said. "I feel worse for my teammates, because they don't know if they'll ever play again."
As the likelihood of her senior season diminishes, Azia is choosing to focus on the fact that she will play softball again and she has countless experiences to look forward to.
Reporter Whitney England may be reached at 758-4419 or wengland@dailyinterlake.com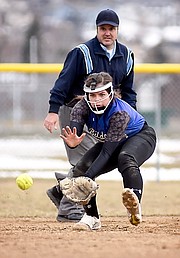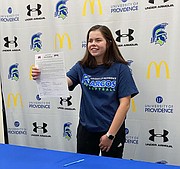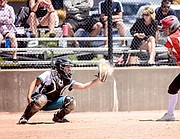 ---