Lifestyle
What's happening in lifestyle news? For information and details regarding daily lifestyle, see our articles below.
Updated 1 week, 3 days ago
Girls going on to State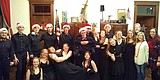 Updated 7 months, 3 weeks ago
The Polson High School choral group, directed by Kaylee Schubert, treated Big Arm and surrounding area residents to a Christmas concert Dec. 13 at the Big Ar...
Updated 8 months, 1 week ago
The Mission Valley FFA recently traveled to Bozeman to compete in the eighth annual John Deere Ag Expo.
---