Lorraine Ethel Bryant, 99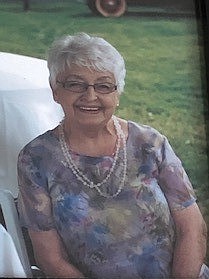 |
December 18, 2020 12:05 PM
Lorraine Ethel Bryant was born to Arthur Olson and Elsie Johnson Olson on Jan. 29, 1921, in Coteau, N.D. She passed away Dec. 15, 2020 at The Pines of Mission in St. Ignatius. She almost made it to 100!

Mom was the oldest of five siblings; Warren, Bob, Jim and Betty followed her. She outlived them all, so is celebrating a reunion now in heaven.
Mom married Ellsworth L Bryant, better known as Bus, in April of 1940. They were married 48 years before his passing. Robert Franklin was born to them in 1942 in Wallace, Idaho, when dad worked in the mines. Cathleen Dianne was born in Kenmare, N.D., in September of 1945, while dad was off with the Merchant Marines during the war — mom went home to be with her family on the farm.

Mom and Dad lived in or near Ronan since just after the war. Mom was a caregiver extraordinaire. Dad lost his foot as a result of an accident when he was hauling logs, so mom took care of him. Bob was paralyzed from a swimming accident and ended up a quadriplegic, so mom took care of him — even moving to Missoula with him so he could go to college. We were so glad when Bob found Carol Cullen — Mom was about worn out — but she was a tough old gal and lived many more years. She raised beautiful flowers, was an avid reader, mowed acres of lawn, and baked all sorts of scrumptious goodies. She spent her last 7-plus years in The Pines, an assisted living facility in St. Ignatius, and thought they took wonderful care of her. We are so thankful for them.
Mom is survived by me (Cathy) and her son-in-law Nels Jensen; daughter-in law Carol Bryant; grandchildren Elizabeth (Libby) Reed, Nels M. Jensen (Mandy), Maynard Florence (Ami), Aaron Florence (Chrissie), Ennea Dailey (Pat) and Erica Collier (Shaun) and their families; great-grandchildren Dara Rodda, Logan Reed and N. Porter Jensen; and great-great-grandchildren Millo Rodda, Nissa, Jasen, Jayden and Erik Rodda. The grandkids especially loved their "Grama B"or "Grams". She will be missed so much by so many. It is so hard to lose her, but she was worn out and so very ready to go.

We are planning a celebration of her life when it's again safe to gather and potluck and reminisce. Memories and condolences may be sent to the family at www.shriderthompson.com.
Arrangements are under the care of Shrider – Thompson Funeral Home.
---