Time Capsule: New Year's resolution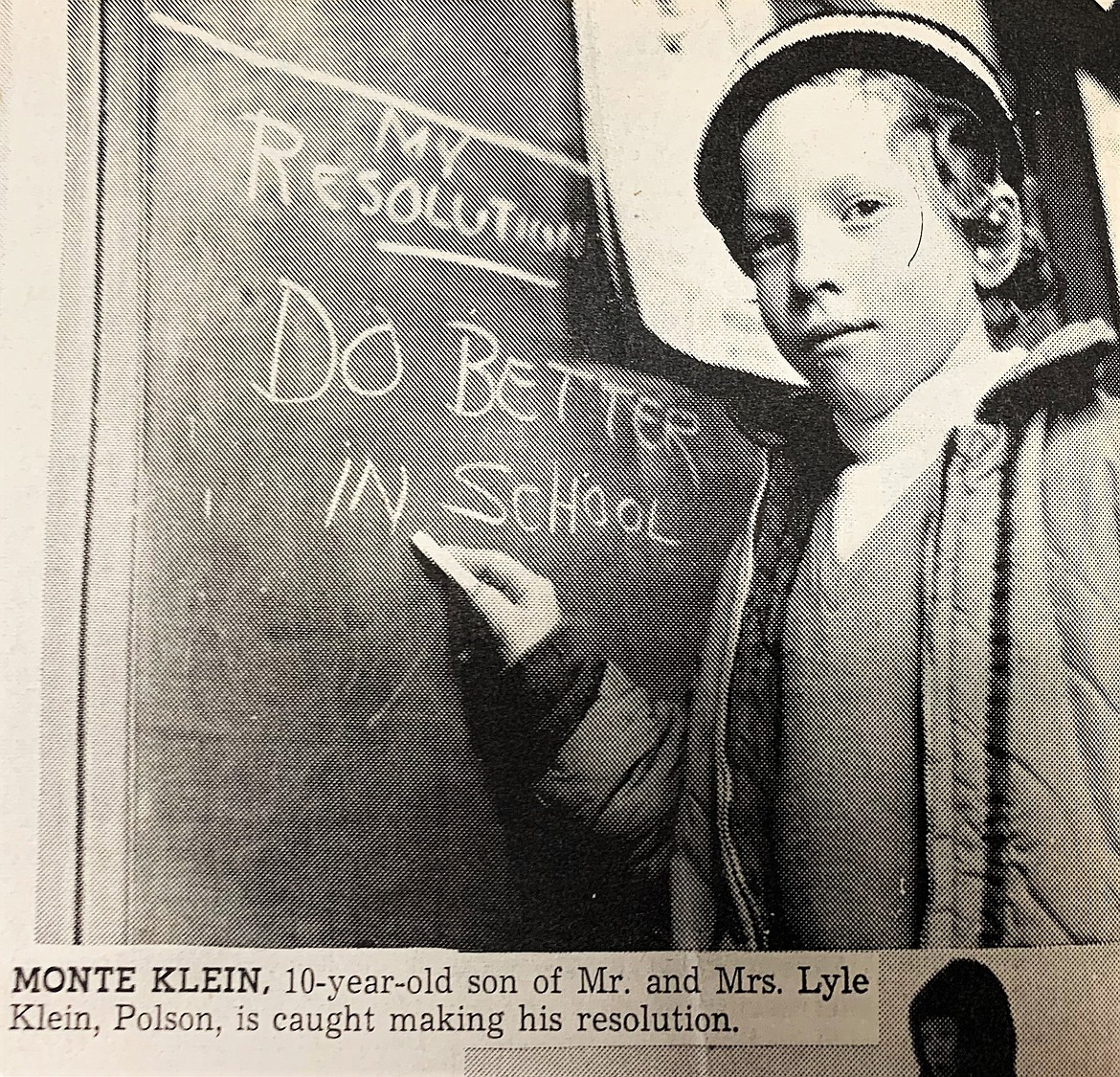 From a New Year's photo page published Jan. 4, 1973, in The Flathead Courier.
|
December 31, 2020 12:05 AM
This week in Lake County news archives.
Talsma wins state title in wool contest
Jan. 1, 1998 Lake County Leader
Local seamstress Sylvia Talsma took top honors in the adult division of the 1997 Make It Yourself With Wool contest, held in Billings Dec. 5-6 in conjunction with the Montana Wool Growers convention.
Talsma crafted a brown outfit consisting of a coat, pants and vest. The Montana Woolgrower Women presented her with a Bernette serger.
Also placing was Melanie Stedje of Ronan. She was second in the junior competition.
DeVries' stop signs were memorable
Dec. 28, 1989 Flathead Courier
So, Pat DeVries, what was the most memorable project of your four-year stint as mayor of Polson?
"I'll tell you the one I got in the most trouble for."
It wasn't the golf course. It wasn't the water lines, or even her first-meeting-in-office plan to consolidate police protection with the sheriff's department.
Nope. DeVries recalled last week that the most municipal furor was generated over the placing of two stop signs. Each caused the council to stalemate on approval votes, forcing the mayor to break a tie. Three tie votes in four years, and two of them were over stop signs. …
She will swear in new Mayor Jim Jones during the first meeting in January.
City mayor, Ronan cop collide
Jan. 5, 1961 Flathead Courier
Pursuit of a reckless driver ended in an accident in Polson on Christmas Eve involving Ronan city police officer Art Love and Dr. Earl Coriell, mayor of Polson. About 11 p.m. Saturday, Love attempted to overtake Leonard Schacher of Ronan to cite him for reckless driving. Schacher headed toward Polson and Love followed, radioing ahead to highway patrolman Tom Sanford, who attempted to stop Schacher at a roadblock south of the "Y" at Polson. Schacer went on into Polson and Love and Sanford followed. …
At the intersection near the Courthouse, Love failed to stop for a stop sign and ran into the side of a car driven by Dr. Coriell.
---