More than 250 tested for COVID-19 at Hot Springs
by
Chuck Bandel
|
July 16, 2020 11:28 AM
Some came because they had cold-like symptoms and were concerned.
Others were curious and a few admitted they came for the $5 gift card.
In the end, the free COVID-19 testing station set up Thursday at the Hot Springs Rodeo Grounds drew a total of 258 area residents who were tested for the virus while sitting in their vehicles.
Led by the Confederated Salish Kootenai Tribal Health Department, the four-hour event by all accounts was a success.
So many cars and trucks from throughout the area had lined up prior to the 10 a.m. opening that testing officials began the event 15 minutes early.
"Today we have CSKT Tribal Health, Sanders County Public Health, Sanders County Emergency Management, the National Guard and FRCA (Flathead Rez Community Action) all coming together to present this vital service," said Greg Gould, one of the group's spokesmen. "This is the fifth site to be tested within the boundaries of the CSKT reservation and Sanders County. We have had tremendous turnouts and today looks to be the same."
One of those in line to be tested as the site opened was Hot Springs resident James Wray. An admitted skeptic of the virus and its impact, Wray said he felt compelled to come and check things out.
"I personally feel this whole thing has been blow way out of proportion," Wray said while sitting in his car immediately after the testing procedure. "I think some folks are trying to use this thing to make President Trump look bad."
Never-the-less, he said, he does carry a protective mask and other gear with him wherever he goes.
"I will wear the mask when I go to a place like Walmart or into Missoula or Kalispell," he said, while proudly displaying some homemade protective gear he keeps in his COVID "kit".
The testing procedure involved filling out a pre-screening form to determine which of those being tested may be experiencing COVID symptoms. That form is then presented to one of several volunteer nurses and certified medical assistants, mostly from Tribal Health to aid them in labeling the samples collected and keeping names and patients properly matched.
The next step involves one of the nurses, all of whom were clad in proper protective gear, swirling a cotton swab on the end of a thin wooden stick inside each nasal passage. The entire process took just a few minutes and was essentially pain free.
While several of those tested described the nasal swabbing as a strange sensation, Wray was among those who said it "tickled."
Two lines of cars were tested at a time as a double line of vehicles moved through the outdoor station.
Testing officials said the swabs are then placed in a sealed bag with the patient's name and other information before the samples are sent for testing.
Results of the tests for those who are asymptomatic, that is without showing signs of the disease prior to testing, are typically available within two to three weeks, said Tribal Health Coordinator Chelsea Kleinmeyer. Samples from those who did indicate signs of possible infection, such as sniffles, cough or shortness of breath, can be available in as little as 48 hours.
"Right now, because there is so much testing going on around the state, the laboratories are pretty backed up," Kleinmeyer said. "There has been an coordinated effort to establish priority zones around the state. At this time, high priority samples are sent to the state lab in Helena."
Kaelen Wall, a registered nurse working for the Tribal Health department said she has also participated in testing in Polson and Arlee.
"I'm really glad we get the chance to get people tested," she said. "It's a good thing to be part of."
Tribal Health officials said prior testing at four sites, including Polson, Arlee, Pablo and Elmo gathered approximately 2,500 samples with only one of those coming back positive so far.
Dan Oberlander, a resident of Hot Springs, said he came to be tested mostly out of curiosity.
"I wanted to see what this is all about," Oberlander said. "I have not had any symptoms but still wanted to come here. I also like getting the $5 gift card."
Those who were tested each received a $5 card prior to testing.
Sanders County Emergency Management manager Bill Naegeli said he came to observe how the operation was conducted and was pleased with what he saw.
"I'm here to observe how they do this," Naegeli said. "With the number of exposures to the virus rising the county may want to do some testing similar to this. I'm impressed with the coordination and cooperation from all the various agencies involved."
Kleinmeyer said she was happy with how the event was progressing.
"I think everyone is doing a good job here," she said. "I was concerned we may not get many people to come out to be tested but I'm satisfied with the numbers we are seeing."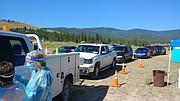 ---