Pete Sisters debut song for COVID awareness campaign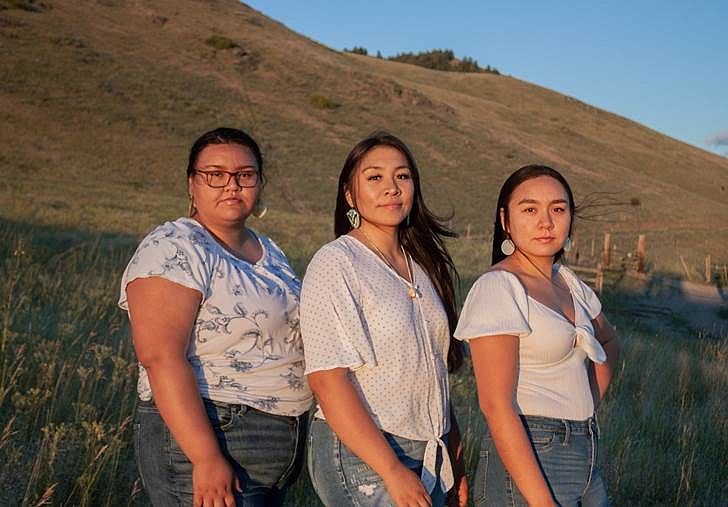 The Pete Sisters. (Photo provided)
Driven by concerns that young people may not be responding to COVID-19 prevention guidelines, a committee of tribal leaders formed to discuss strategies which might raise the awareness among teens that they have the power to protect their elders.
What emerged was an innovative social media campaign aimed at the ages of 12 to 18.
The first three artists utilized more contemporary styles to get their message across.
The Pete Sisters draw heavily from their traditional Salish teachings in heartfelt songs.
Sisiyus Kʷaliʔ Yućmn "Sisi", Siliye łpa, Susseli nłáłmqeʔ, (their Salish names) were born and raised on the Flathead Indian Reservation. Descendants of Grizzly Bear Tracks, Louis Vanderburg, and Sack Woman also the daughters of Shandin Pete and Linda Ferris. They have a deep family history within the Bitterroot Salish tribe.
As children, much of their time was spent learning the Salish language with their mother, listening to their father tell stories, and learning from Salisha how to bead and make a good soup.
Their fondest memorable moments were from attending Nkwusm Salish Immersion School, traveling to powwows, and gathering traditional foods and medicines with their family.
As children, they were deeply impacted and fortunate to have guidance and teachings from an abundance of elders, among them were Patrick Pierre, Sophie Mays, Johnny Arlee, Stephen Smallsalmon, Lucy Vanderburg, and their sx̣epeʔ Alec Quequesah. Sisi now works as a lead teacher at Es Kʷʔalmi Nuwewlštn Immersion School and raises her sons Eneas Jep and Shadric Mose in as much of their Salish ways as possible.
They are all proud to have graduated from high school and have continued to further their educational pursuits in higher academia. The girls continue to travel the powwow trail, gather their traditional foods, and practice their Salish customs today. They recognize that it is easy to get distracted and lost in the recent turmoil and hope this song helps bring attention to continue to support the Confederated Salish & Kootenai Tribes.
The purpose of the CSKT COVID Youth Community Care and Awareness Campaign is to create a culturally relevant COVID-19 awareness message for Flathead Reservation youth, which is built on themes such as #ProtectOurElders and #WalkTogetherWell in order to inspire youth to carry the themes to peers, involve family, and positively impact health and safety in the tribal community. The hashtags with the video are #ProtectOurElders, #fixyourmask, #csktcovidchallenge, #csktchallenge, and #walktogetherwell. Youth "Challengers" will be asked to follow the artist they respond to (@xxxx xxx) in their post and include the hashtags, as shown above, in order to keep message branding and momentum.
The campaign will feature other local artists in the coming weeks. To date, Kiid Truth, Foreshadow and Yvng Vin have released original songs and videos that have drawn national attention.
Recent Headlines
---