Libby's Cielak claims Polson Senior Open title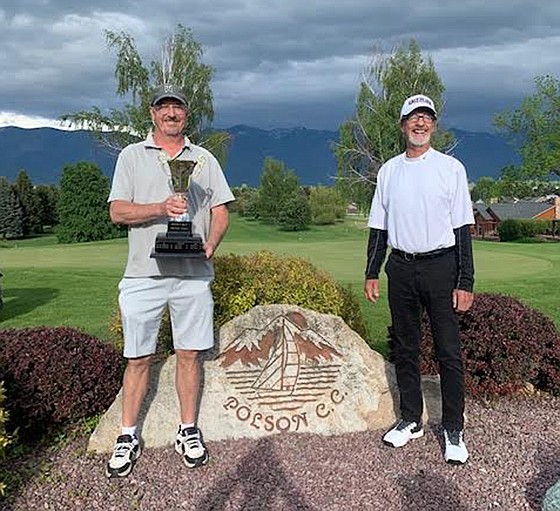 Joe Cielak, left, won the 2020 Polson Senior Open with a birdie on the first playoff hole Sunday, May 31. Cielak was tied at 144 with three others. (Photo courtesy Polson Bay Golf Course)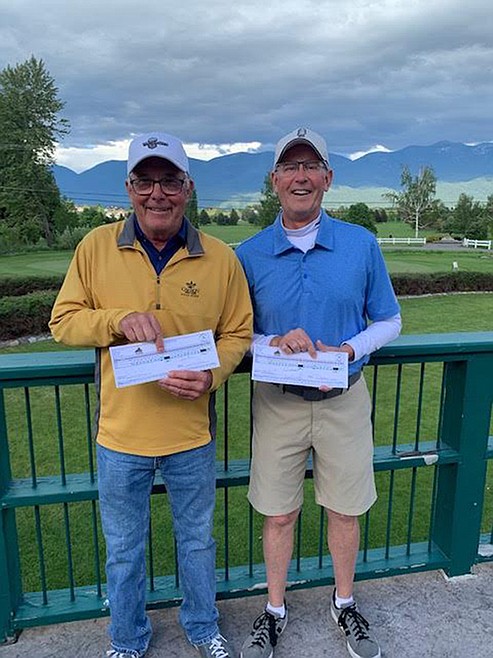 Jim Lind, left, and Mike Peissig, each scored holes-in-one at the 2020 Polson Senior Open May 31 at Polson Bay Golf Course. Peissig scored his ace on No. 13 while Lind's was on No. 9. (Photo courtesy Polson Bay Golf Course)
Previous
Next
by
Lake County Leader
|
June 4, 2020 11:53 AM
A birdie on the first playoff hole lifted Joe Cielak to the 11th Polson Senior Open championship Sunday at Polson Bay Golf Course.
Cielak, of Libby, shot matching 72s on both days for a total of 144 in the 36-hole event that featured 124 competitors. It was matched by Tommy Lindell, Ron Ramsbacher and Brad Grattan.
But his birdie on the par 4 No. 1 set him apart to claim the title.
Following the quartet were Bob Gray 145, Matt Sheridan 146, Todd Hober 148, John Kelley 149, Dan Lieberg and Jerry Fisher 150; Samuel Sanders, Earl Rife and Tim Esquibel 152; Jeff Devlin 154 and Brian Sheridan with a 155.
Mike Peissig and Jim Lind each scored holes-in-one at the tournament. Peissig's ace was on No. 13 while Lind's occurred on No. 9 today.
"We want to thank our presenting sponsor, The Bandits golf group out of Polson Bay Golf Course," said Cameron Milton, PGA
PGA Head Golf Professional at Polson Bay.
The tournament raised $6,000, which benefited the Mission Valley Junior Golf Association.
Here are the flight winners:
Laura Morrison claimed the Micky Wright flight with a net 148 while Ramsbacher and Grattan each tied for first in the Arnold Palmer flight with gross scores of 144. Lindell had the top net score of 148.
In the Byron Nelson flight, Dan Lieberg had the top gross with 150 while Dan Purcell scored the top net with 152.
In the Bobby Jones flight, Jon Velk's 159 was top gross while Rick Dunshee shot 150 for top net.
In the Ben Hogan, Calvin Flink's 160 was top gross and Bruce Clark's 145 was top net.
In the Jack Nicklaus, Rocky Whisman's 169 was top gross and Guy Benkelman's 146 was first net.
There were three flights for players 70 and over.
In the Sam Snead, Jerry Fisher's 150 was top gross and Tedd Stanisich's 147 was top net.
In the Jimmy Demaret, Dennis Davis shot a 162 for top gross while Hank Jennings shot a 144 for first net.
In the Harry Vardon flight, Darrell Shoquist carded a 175 for top gross and Mike Heppner scored a 150 for top net.
Hole prize winners for Saturday included Bob Vick, longest putt on No. 1, Bob Wolfe, closest to the pin on No. 9, Jerry Fisher, closest to the pin on No. 13 and Grattan, longest putt on No. 18.
Sunday's prize winners included Art Williams, closest to the pin on No. 4, Wayne Haskins, longest putt on No. 15, and Lee Pelletier, closest to the pin on No. 17.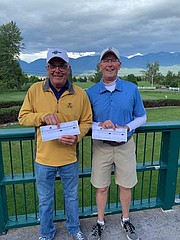 ---