Home School Academy graduates two tri-lingual students
by
Carolyn Hidy
Lake County Leader
|
June 18, 2020 10:55 AM
The senior class graduating this month from Polson's Home School Academy is a pair of bright and shining, tri-lingual, 4.0 GPA students.
Lily Crist has overcome many serious challenges to reach this level of achievement. She was 11 years old when she was brought to the U.S. from an orphanage in China and adopted by Chad and Sally Crist of Ronan. Fighting a rare disease, she received a bone transplant upon her arrival. She speaks two Chinese dialects, and had taken English classes while still in China. She undertook her rigorous homeschool curriculum in English.
Lily has "the heart of a gourmet cook," says Connie Doty, one of the founders and teachers at Home School Academy. She is currently applying for scholarships and intends to attend a culinary school in Washington state.
Sara Maldonado-Ferencik also has international roots. Her father, Pablo, is originally from Guatemala and her mother, Žaneta, is from Slovakia. Besides English, Sara speaks Spanish and Slovak.
Sara works with her family at their dairy sheep operation, loves fiber arts and making gourmet ice cream. She is considering vet school or similar studies to help in her agriculture industry.
Lily and Sara started with Home School Academy in its first year four years ago and have become good friends. A graduation ceremony will be held June 28.
"This is exciting to be graduating both of our international students," says Connie. She notes the diligence and "great attitude" of the girls. "They are 'overcomers' of much adversity," she says.
John and Connie Doty started Home School Academy with nine students in 2016. They home schooled their own six children. The Academy now has 28 enrolled — 16 full time, 7 part time, and 5 distance/online students, though they all moved online when the pandemic struck. Most are high schoolers, with five middle school students and one third-grader this year.
"We're very thankful and honored that we get to share life with these wonderful young people and their families," Connie said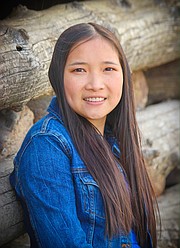 ---