Polson cancels Fourth of July events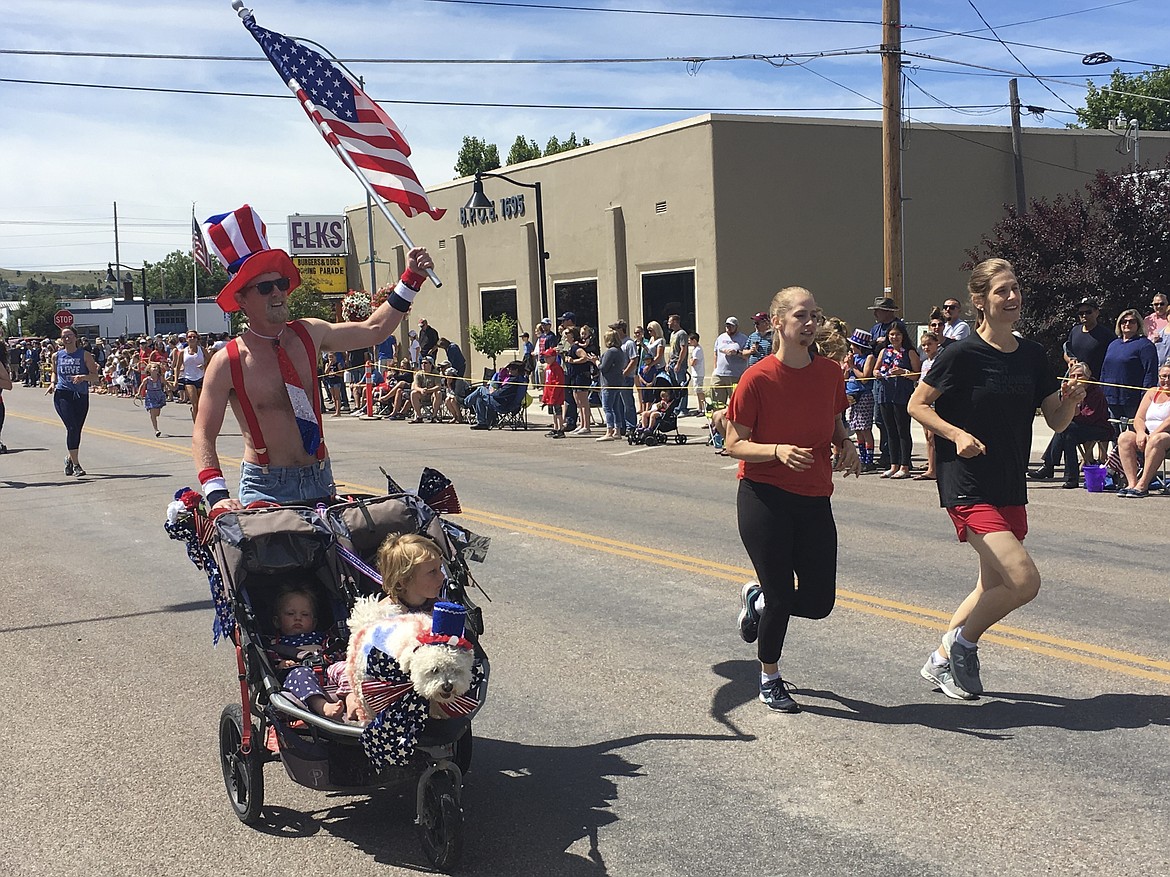 MR. AMERICA waves Old Glory while he runs in the Polson July Fourth Fun Run with his family and pup in tow. (Ashley Fox/Lake County Leader FILE)
by
Lake County Leader
|
June 25, 2020 12:36 PM
The annual Fourth of July parade and fireworks show in Polson has been canceled this summer due to concerns about the Covid-19 pandemic.
The Polson Chamber of Commerce said it is instead planning for a parade and fireworks show on Labor Day.
According to a press release from the chamber, despite efforts, "there is simply not enough time to assemble and present a quality Chamber fireworks show this year."
"It was only after weeks of deliberation, with input and recommendations from Lake County and Tribal Health officials and local health care professionals, that the Chamber Board determined too great a risk remained," the press release stated. "By canceling the parade and fireworks, we chose people over pageantry. We did so not to be villainous, but because we are committed to securing the short and long-term health of our community and economy."
Polson Chamber Manager Carol Cunningham said there has been some push back to the decision to cancel the celebratory events, but people have generally been understanding since the Chamber explained its position in the news release emailed to Chamber members (see page A4).
"There was a lot of confusion," about why some events were being canceled and not others, Cunningham said.
She reiterated that the board's decision was wholly about protecting the well-being of the community.
The Fourth of July parade generally draws thousands of tourists to Polson and is considered an economic drivers for the area. Other Northwest Montana cities have called off their Fourth events as well due to concerns about the pandemic, including Bigfork, Kalispell and Whitefish.
However, the Lakeside-Somers Chamber of Commerce said it is moving forward with the fireworks show on Flathead Lake this year, but is seeking help with donations.
An uptick in COVID-19 cases has emerged across Montana recent weeks as the state reopens. Lake County Public Health reported seven active cases in the county, as of Monday. Statewide there have been 740 confirmed cases of COVID-19 in Montana, including 548 recoveries and 21 deaths.
---