College showcases advanced manufacturing innovation lab
by
CAROLYN HIDY
Lake County Leader
|
March 12, 2020 9:29 AM
Students using Salish Kootenai College's new Advanced Manufacturing Innovation Lab (AMIL) are fast becoming Montana's new makers. Studying in a wide range of programs, including pre-engineering, fine arts, business, information technology, and more, these students are putting the latest in manufacturing technology to work.
At a March 6 open house, IT and engineering instructor Thomas Trickel and his students demonstrated three different machines available for Digital Fabrication Workforce Certification at SKC.
First, students use the Solid Works design software to turn creations from idea to computer code. That code is fed into fabrication machines such as a computer numerical control (CNC) router (wood) or CNC milling machine (metal), a 3-D printer (plastics), or a laser cutter/engraver.
Every tool, said Trickel, requires knowing how to create a workable design and how to operate the tool. Design skills are by far the most difficult to master, he says, requiring 40+ hours learning the software, and a couple years of design or engineering schooling. But design skills aren't necessary to get started and operating the tools can be learned in the one-hour orientation classes held in the AMIL weekly. Students can then learn the design skills at their own pace as their projects become more and more complex.
Trickel enjoys starting students with an interesting project, and then building their education in math, materials, engineering, chemistry, etc., around it, so that they immediately see its application. In 2015, SKC launched a four-inch CubeSat class satellite designed to image the Earth on a NASA-contracted rocket, requiring everything from 3D printing to designing electronics, that still reports back that it is orbiting fine.
Other students built a four-propeller, radio-operated drone with electronics and 3-D printed parts, displayed at the open house. SKC has recently added a workforce certification for "Unmanned Aircraft Systems," for flying drones and using the data they record.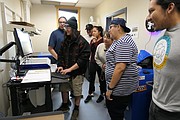 ---