SKC first tribal college to offer bachelor's in nursing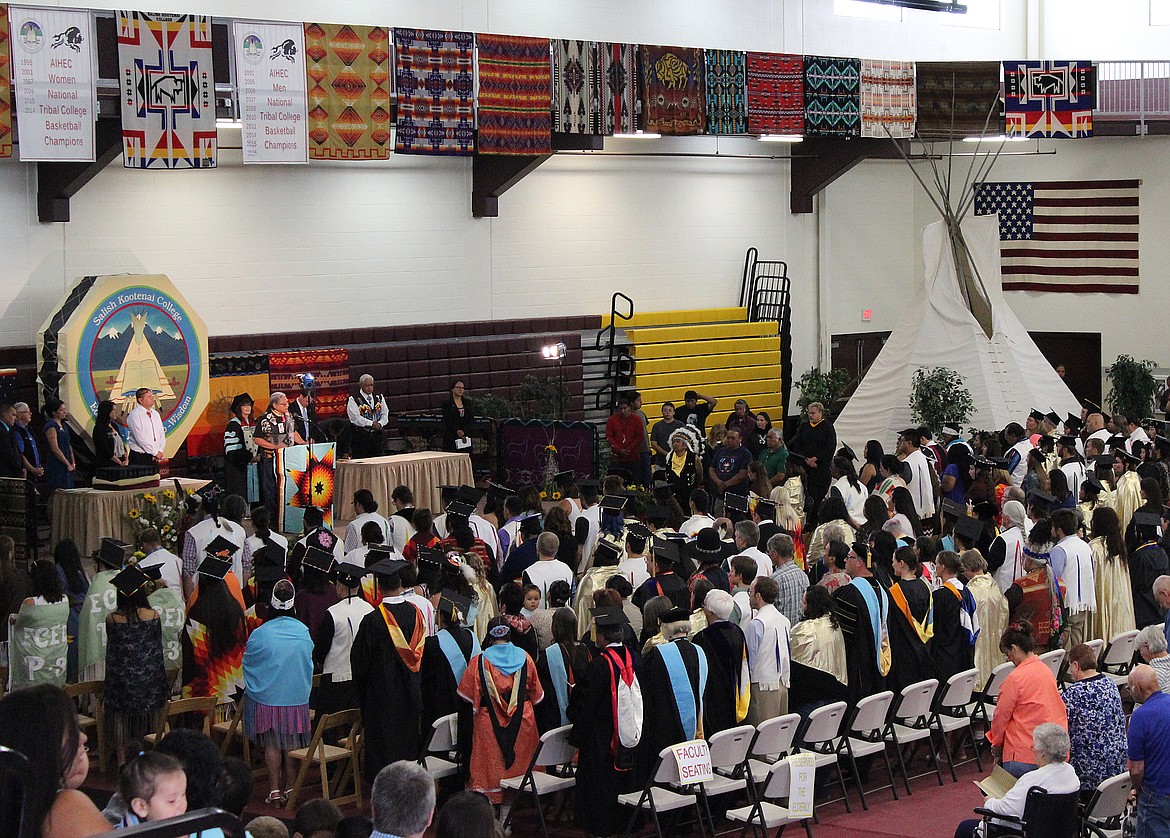 A graduation ceremony at Salish Kootenai College takes place in this file photo. (Lake County Leader FILE)
by
WHITNEY ENGLAND
Lake County Leader
|
March 12, 2020 9:30 AM
The fall of 2020 marks a new era for the nursing department at Salish Kootenai College in Pablo.
In an effort to "do right by the students," SKC is moving from offering an associate degree to a full four-year Bachelor of Science in nursing. According to Lisa Harmon, the college's nursing program director, entry-level requirements for nurses worldwide are trending toward a mandatory bachelor's degree and the nursing department at SKC is leading the way for tribal colleges by initiating this change.
"We are just excited that we are offering what students need," Harmon said. "We'll be the first tribal college in the United States to offer this four-year BSN. I feel really good about it. I feel like it's the right thing to do."
She explained that making a bachelor's degree available to nursing students creates more opportunities for future graduates. In addition to many privately owned medical facilities, like the Providence owned hospitals across the northwest, federal agencies such as the Indian Health Services require a bachelor's degree to even apply for a nursing position.
Harmon said many Native American students desire to return to their home reservation after graduation and work opportunities there are likely with Indian Health Services. She added that it is an ethical problem as well, by graduating students who will have difficulty finding a job because they do not have the type of education many employers require.
"We want to be doing the right thing for our Native American graduate nurses and have them be able to work in these IHS facilities," she said. "Or wherever anybody wants to go, it just gives so much more employment opportunity."
The changes in the nursing program come in part due to the initiative issued by the World Health Organization, which stated a campaign goal of having 80% of nurses obtain a minimum of a bachelor's degree by 2020.
But why the need for a change? Harmon explained health care is getting increasingly more complex and patients are sicker than ever, therefore increasing the standard for all medical professions makes sense.
SKC nursing is moving forward with the new BSN program, which is two years in the making. However the department is being careful not to leave anyone behind, so it will continue the associate's degree for all students already in the pipeline and the final cohort will graduate in 2022.
The college also offers an "RN to BSN" completion program, which means students that obtain the associate's degree are able to continue their education at SKC and acquire the new industry-standard BSN.
The completion course is not new; however providing a generic four-year bachelor's will be a smoother and quicker process for students. Harmon explained another issue for current nursing students earning their associate's is a lot of federal programs will only subsidize earning a first degree.
"As the student loan crisis ramps up, which yes the United States has a student loan crisis, there's just more restrictions," Harmon said. "And (the RN to BSN program) just wasn't doing our students any good. So then they couldn't finish their bachelor's because they didn't qualify anymore for student loans.
"Now we are offering this four-year degree which will be better all around, for financial aid and scholarships," she added.
SKC nursing is also unique from many of its competitors because it now provides a "direct-admit four-year BSN." This means that potential students will take a preadmission exam and complete a few other various tasks before they are considered for acceptance into the school and nursing program. Harmon said by carrying out admissions with this protocol, it prevents over accepting pre-nursing students into SKC and then only having room for a handful of them in the actual nursing program.
"We will never over admit, that is our ethical commitment to nursing," she said. "When they qualify with that preadmission exam, they are offered an admissions seat. That means that everybody that we offer an admission to, we hope they all succeed – we are not weeding anybody out."
Harmon designed the program this way to prevent students who are not quite ready for the nursing program, based on a nationally mandated norm, from wasting time and valuable tuition money as they wait to get accepted into nursing. This way they can take their time, improve their scores and when they're ready can apply for the four-year program directly.
"We designed it differently, we just wanted to do the right thing by the students," Harmon said.
2020 is deemed the year of the nurse by the World Health Organization, and Harmon thinks it is a tremendous coincidence that it is also the year Salish Kootenai College will make this transition for the future of its nursing program.
Reporter Whitney England may be reached at 758-4419 or wengland@dailyinterlake.com
---