County, Sheriff's Office initiate coronavirus changes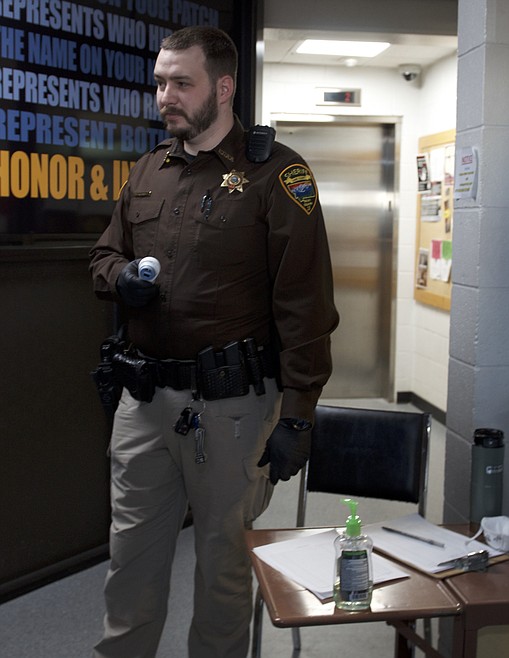 Lake County Deputy Gale usually works as an SRO for Ronan/Charlo schools, but with the school closures is currently on courthouse security, checking for fevers to prevent the potential spread of COVID-19 into the justice and jail system. Jail visitation is currently not being allowed. (Carolyn Hidy/Lake County Leader)
by
CAROLYN HIDY
Lake County Leader
|
March 19, 2020 10:01 AM
With eight confirmed cases of COVID-19 in Montana, and a state of emergency declared last week by Governor Steve Bullock, public services are implementing policies and protocols to help slow the advance of the novel coronavirus pandemic.
Lake County Public Health (LCPH) posted notice on Facebook that, "At this time, there have been NO laboratory confirmed cases of Coronavirus (COVID-19) in Lake County. Tests have been and continue to be sent to the Montana Public Health Laboratory in Helena. All tests from Lake County at this time have come back negative."
LCPH asks that the public not come to the office if they are ill and seeking testing, as the office does not test for COVID-19. They recommend, "Call ahead to a healthcare professional if you develop a fever and symptoms of respiratory illness, such as cough or difficulty breathing, AND have been in close contact with a person known to have COVID-19 or if you have lived in or have recently travelled to an area with ongoing spread. Tell your healthcare professional about your recent travel or contact."
The office says, "Your healthcare professional will work with LCPH to determine if you need to be tested for COVID-19." They recommend that older patients and individuals with severe underlying medical conditions or are immunocompromised contact their healthcare provider early, even if their illness is mild.
Lake County Sheriff's office posted notice that, "In order to reduce exposure to staff and inmates," the Lake County Jail "will have no inmate visitation outside of attorneys and medical staff until further notice."
The LCSO is suspending several other services as well. "There will be no concealed weapons permit appointments, no fingerprinting done for the public and no DNA for probationers," nor for the sex and violent offender registry until further notice," but all "must continue to bring…your address verification letters." They advise that "everyone remain calm and take proper precautions to protect yourselves."
St. Luke Community Healthcare gave notice to family and friends of St. Luke Extended Care Residents that "In order to protect our most vulnerable population, we will be restricting visitors to St. Luke Extended Care until further notice." If you have loved ones who are residents and have any questions or concerns, they say their staff are available at 676-2900 to answers any questions.
"If you, yourself, have concerns about your level of risk for contracting the virus," the notice continued, "we urge you to visit www.cdc.gov or call our Nurse On Call, who is available 24/7, at 676-3737." They noted, "If it is determined that you require Coronavirus testing, the test itself will be free to you. However, the clinic or hospital visit will be billed to your insurance, like any other visit.
---