Pirates drop two games at state tourney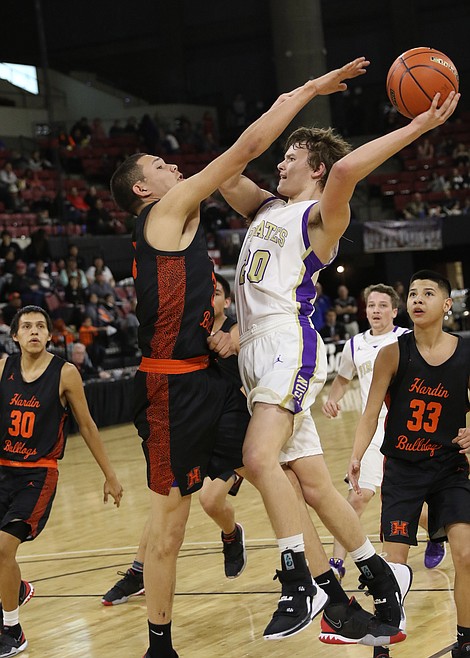 Freshman Jarrett Wilson is fouled by a Hardin player on a drive to the basket Thursday at the State tournament in Billings. (Bob Gunderson photo)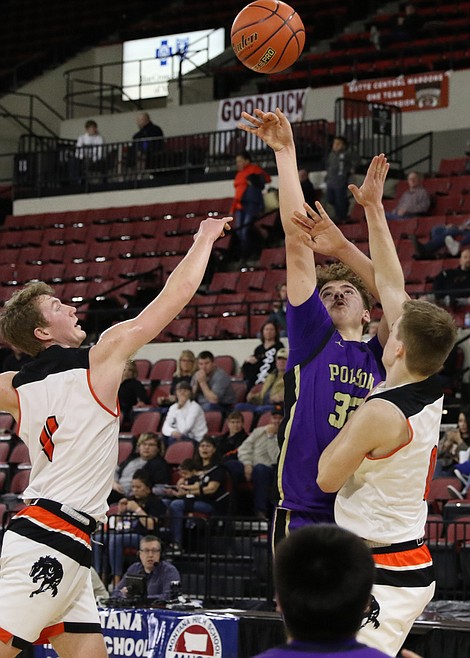 Polson junior Colton Graham goes up for a shot against Frenchtown during the Montana State Tournament last weekend. Graham scored 20 points against the Broncs. (Bob Gunderson photo)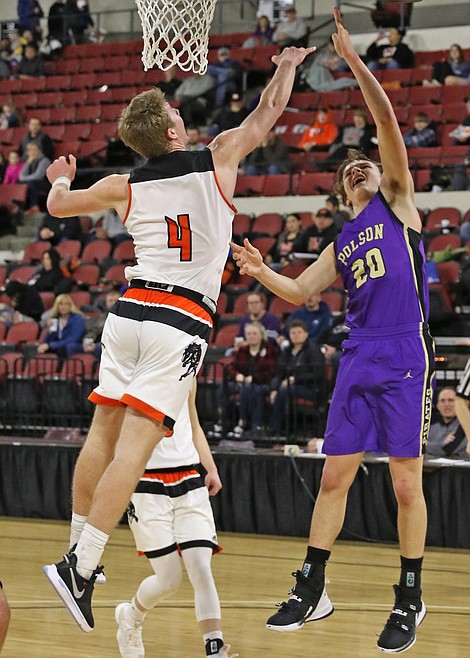 Polson freshman Jarrett Wilson lays in 2 of his 6 points against Frenchtown Friday afternoon at the State A tourney in Billings. (Bob Gunderson photo)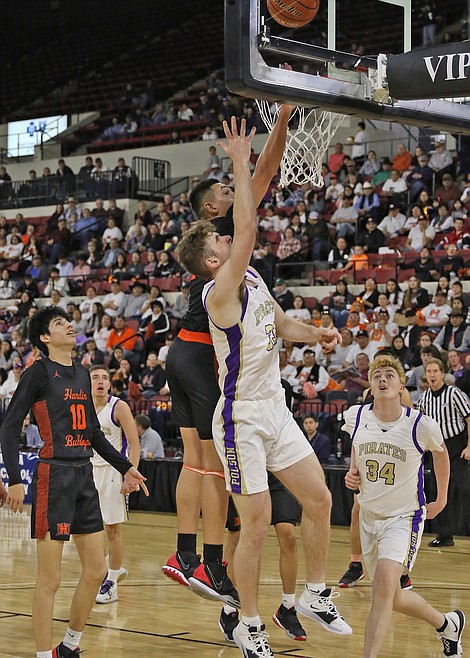 Polson Pirate Braunson Henriksen had scored 11 points in the opening round loss to Hardin at the State A Tournament in Billings Thursday morning. (Bob Gunderson photo)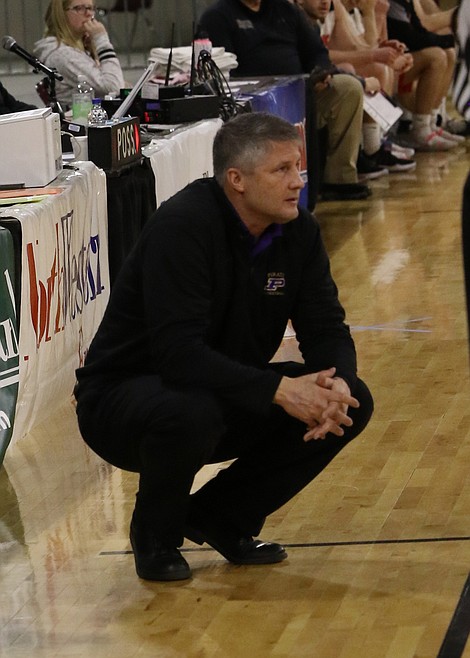 Polson coach Randy Kelley watches his Pirates compete against Frenchtown Friday morning at the State A tournament in Billings. (Bob Gunderson photo)
Previous
Next
by
Whitney England
Daily Inter Lake
|
March 19, 2020 10:01 AM
The Pirates had a tough draw for state and they knew it.
For the Class A MHSA Boys Basketball State Tournament's opening round on Thursday, Polson faced the undefeated Hardin and it went about as expected according to head coach Randy Kelley. The Pirates lost to the Bulldogs, 73-41.
"The first game we had out was a tough one," Kelley said. "Hardin's a legit team, they're very good offensively, and defensively we knew they were athletic."
Polson hung with Hardin for the first quarter when they were only down by six points, but were outscored in the second quarter by 15 points. The Pirates then allowed Hardin to put up 28 points in the third, making the deficit far too difficult to overcome.
Although clearly outmatched, Polson's loss to Hardin did feature a positive with the play from sophomore Braunson Henriksen, who led the scoring for his team with 11 points.
The next day in the consolation round, Polson faced a rematch with divisional foe Frenchtown. Although the game was close throughout, the Pirates ended up falling to the Broncs 51-47.
Kelley said it was a similar feeling to their game versus Frenc-htown during the divisional tournament a couple weeks ago.
Halfway through the third quarter and starting the fourth, Polson struggled offensively. They went six minutes without scoring even one basket and Kelley said that drought was too much to overcome in the final minutes of the game.
"It was about the same exact game…" Kelley said. "We battled back, but at the state tournament you just can't go in a six-minute spurt where you don't score."
Junior Colton Graham showed off his ability to get to the hoop as he netted a game-high 20 points. He also led his team with seven boards and four assists.
Frenchtown's Zack Baker led the Bulldogs with 15 points.
"The Frenchtown game could have went either way… I don't know, it was tough," Kelley said.
Kelley also commented that he was impressed with his younger players, they showed a lot of composure in a mentally tough game.
"For the most part I thought our young kids played pretty well, not to say our seniors didn't play well, but I thought some of the young kids stepped up in a pretty tough situation in that game," Kelley said.
As Polson's season comes to a close, the Pirates are parting ways with a big group of seniors. The senior class this year includes Trey Kelley, Ryker Wenderoth, Anton Lefthand, Bo Kelley, Connor Lanier and Gunner Grisak.
"We had a good group of seniors, they worked hard over the last four years," Kelley said. "It's kind of tough to see them leave."
As Kelley begins to think about next season, he said they are planning to change their philosophy. He said the Pirates best scorers were some of the younger players this year therefore he'd like to open the offense up.
The coaching staff will possibly introduce a "four-out, one-in" offense, meaning they'll spread players around the 3-point line and have one post player.
"We won't have the depth that we had this year, but we definitely have some great young kids coming back," Kelley said.
Reporter Whitney England may be reached at 758-4419 or wengland@dailyinterlake.com
---