Firefighters work together 'like clockwork' on tire fire
by
Carolyn Hidy
Lake County Leader
|
May 15, 2020 3:39 PM
Ronan Fire Chief Chase Adler is not a man to brag. After every incident, he and his fellow firefighters discuss what went wrong and what needs improvement when they respond to the next emergency.
But Sunday's fire at Tire Depot just north of Pablo came off without a hitch. With 16 fire apparatus, six fire departments, seven dump trucks, a dozer, and a front-end loader all working together, and an ambulance crew standing by, the 1 a.m. blaze was mostly wrapped up in time for workers to make it to Mother's Day brunch.
"We just worked in unison," Adler said after a meeting of the Lake County Fire Association, which included fire chiefs from throughout the county. "We couldn't figure out anything to fix."
Part of the success has to do with practice: this was the third flare-up some of the firefighters had been to at the recycled tire pile over a period of nearly two decades. A lot more credit goes to the extensive training the volunteers take.
But most of all, said Adler, "It wouldn't work if these [volunteer] people weren't willing to get out of bed and help us. Besides Ronan, mutual aid was provided by Charlo, St. Ignatius, Finley Point/Yellow Bay, and Polson Rural and City fire departments.
With 11 water tankers, the crew dumped over 300,000 gallons of water from the Polson and Pablo supplies on the fire.
Dan Eastman, manager of Treasure State Concrete across U.S. 93 from the site, was called to help. He was astounded at how well the operation went. His company's dump trucks hauled about 260 loads of clay from their stockpile to smother the fire. He gave credit to people in his office who were able to muster drivers, and those directing traffic at the site, as well.
But the fire departments' skill especially impressed him.
"Those guys were exceptional," said Eastman. "You have to see it to believe it. There was a pile of people there, and they knew exactly what to do. Every time a truck was emptied, we had another one ready to dump, and they moved us through like clockwork. Most of them are volunteers, but they are incredibly well-trained. Next time they need a levy passed or a fundraiser, they should get it. They are here for us."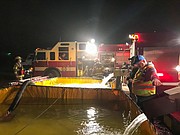 ---