Arlee senior finds science and math a worthy challenge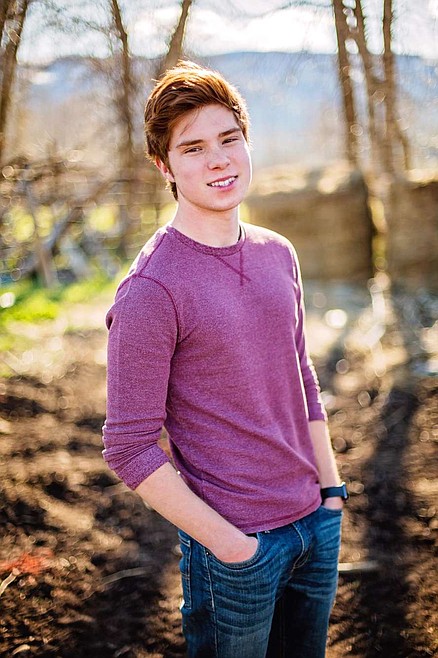 Arlee senior Denny Nelson-Sween. (Photo provided)
by
Carolyn Hidy
Lake County Leader
|
May 22, 2020 8:24 AM
Denny Nelson-Sween will be giving the Salutatorian speech at Arlee High School's graduation ceremony this Sunday, May 24. He expects to be finishing his senior year with all A's and an Honors Diploma, even after taking every difficult math and science class he could fit in.
But he wasn't always a star student. In fact, coming through some difficult family times, he might have been one of those who falls through the cracks.
"Going into high school, I didn't really try to challenge myself," Nelson-Sween said. "I'm not real proud of my freshman year." It took a special teacher, Bill Stockton, to light a fire under him.
Nelson-Sween says he had always found math easy, and didn't have to work at it, but science was harder. He was put into the advanced section of sophomore biology with Mr. Stockton. The challenge, with a teacher he connected with, changed him.
"It just made me think, other people seemed to think I could do this. For the first time in school, I decided to actually try."
"Mr. Stockton is a really, really good teacher. The way he challenges us when we ask for help – he doesn't answer our questions for us. He answers with another question, and another, until he helps you realize you know the answer to your own question. That's a really strong teaching method," Nelson-Sween said. "It shows you know it in yourself. It is empowering, challenges you to think, and makes you feel good when you get it."
Stockton recently won the 2020 Teresa Veltkamp Advocacy Award for Excellence in Indian Education for All.
In his junior year, Chemistry was his most "notable" challenge, but with his newfound rigor, he got an A, and was able to help other students, many of them seniors. He hoped to skip algebra II, since math was such a breeze for him, but could not. Instead, once he proved himself, he got to skip pre-calculus and move directly into Calculus.
This year, Nelson-Sween would have taken four periods with Mr. Stockton, but had to let go of ecology to fit in the honors requirement for an art class. Still, his afternoons were all Stockton: physics, anatomy and physiology, and student aide for the sophomore biology class, where he joyfully did everything from cleaning to setting up labs and helping students with the classwork.
"Denny has an ability and a desire to understand, rather than just to get through things and get them done," said Mr. Stockton. "He is extremely motivated and driven, and a great critical thinker. The Honors program is entirely optional – Denny made that choice."
Mr. Stockton understands that there is an extra challenge for students like Nelson-Sween, who along with his older brother who graduated from UC Santa Barbara, are the first in their family to go to college. But with Stockton's and others' encouragement, Nelson-Sween will enter the University of Montana this fall, intent on continuing in math and science.
"Mr. Stockton made learning so much fun. He is the only reason I am going to be going to college. It seemed pretty much out of reach for my family finances," Nelson-Sween said.
He has others rooting for him too. His junior high astronomy teacher is encouraging Nelson-Sween to follow his footsteps into the Navy and then come home to take over his teaching position.
When the school was closed in March, Nelson-Sween admits he was relieved, as he was behind on a project, and thought finishing school at home would be easier. This was not the case. "This entire pandemic I was just loaded with homework," he said, noting that he had to learn to teach himself rather than absorb information in a classroom.
As for so many seniors, even Nelson-Sween's last week is taken up with last minute assignment deadlines, and then there's that Salutatorian speech to polish up. The speech, like his high school career, should be inspiring. He has much to teach us all.
---