High schools forge ahead with unique graduations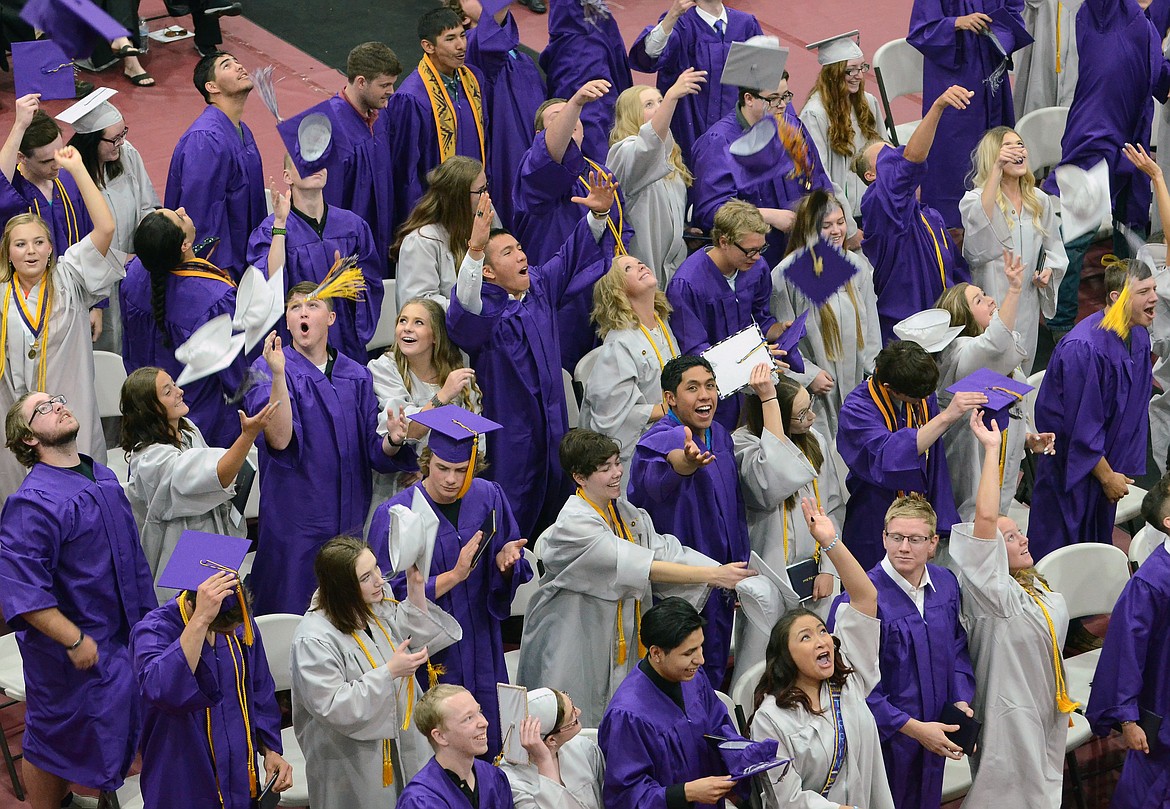 Polson High School graduates celebrate in this file photo. (Lake County Leader FILE)
by
Carolyn Hidy
Lake County Leader
|
May 22, 2020 8:28 AM
The Class of 2020 is finishing a senior year like no other class has known. In the middle of their final semester, a time when the challenges of scholarship applications, AP tests, proms, and sports were some of the top priorities, schools throughout the state and nation were suddenly closed in March, in the face of a growing viral pandemic.
Teachers, administrators, students and parents managed to make the best of the new realities, staying "in the game," some might say. Teachers worked magic to change lesson plans over to remote learning, including online studies and learning packets that could be picked up at school or even delivered, along with school lunches, by school bus. Parents metamorphosed into homeschool teachers, or at least facilitators and cheerleaders to help their kids become self-teachers.
But it was the students who had to make it all work if they were going to successfully complete their schooling for the year, suddenly walking away from the school life they have always known and "learning to learn" in so many knew ways. For the seniors, one giant question hung over the entire semester: Would they get to graduate?
The answer is a resounding yes. As with the rest of this trying time, each school has found a unique way to honor the students and their families for their hard work and success, with ceremonies worthy of their accomplishments.
The ceremonies may look a little different than traditionally, as "social distancing" recommendations have been designed into the proceedings, and attendees will be limited to keep the entire gathering sizes small.
But there will be pomp and circumstance, and students will know they are the most important thing that day.
Arlee: Sunday, May 24, 3 p.m. Ceremony will be held on the Arlee football field. Each graduate will be given six wrist bands that each student's family can use to sit in the parent section of seating behind the graduates. Only six chairs will be given to each family in this area. No extra chairs will be allowed. Bleachers will be roped off on both sides for only parents and grandparents that do not have a wrist band. Other family members or friends that attend will need to spread out around the football and either stand or bring their own lawn chairs.
Charlo: Sunday, May 24, 3 p.m. Graduation will not be open to the public. It will be live streamed via Charlo High School's FB page. There will be open WiFi in town available to stream the live feed and a community parade through town right after graduation (4 p.m.). Graduates then line up back at the school by student parking for a receiving line, with social distancing.
St. Ignatius: Saturday, June 6, 2 p.m. Student/Parents/Guardians that the student will be riding with for the parade will park on the track in one car by 1:45 p.m. All other guests or family members will need to park in the parking lot and walk onto the football field or stand around the outside fence. All family and guests who choose to attend will sit in a line behind their student marked with a Blue or Green Flag line; five chairs provided, all others should bring chairs. Recommended that all attendees wear facial masks and gloves. Community parade follows ceremony.
Ronan: Sunday, May 31, 2 p.m. on the football field. Students are given four guest tickets each. The ceremony is not open to the public, but it will be live streamed on the district Facebook Page for the community to enjoy.
Polson: Sunday, June 7. 1 p.m. The school is discussing options with their graduating seniors, considering a drive-in style ceremony in the high school parking lot or a ceremony on the football field. There will be limited spectator attendance, but they are developing a plan to stream the event live over FM radio and/or on their website.
---