Reksten ready to get to work for House District 12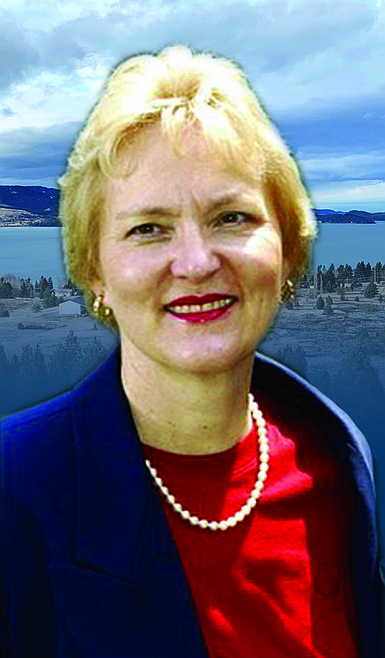 Linda Reksten, Republican candidate for Montana House District 12.
|
November 12, 2020 12:20 AM
Linda Reksten of Polson will head to Helena in January as a first-time state lawmaker determined to change the way Montana's properties are assessed and to find more stable revenue streams for the state's schools.
Reksten, who served for 34 years in public education prior to seeking office, defeated Polson Democrat Gerry Browning in the race for House District 12 representing north Lake County. Reksten took 57% of the vote on a night that saw Republican celebration parties across the state.
Reksten said Monday that Montana needs a system for property appraisal that is fair.
"No. 1, I'm going to try to get an appraisal for properties that goes back six years. It's important because the Department of Revenue cannot adequately assess a property over two years.
"Both Greg Hertz and I feel that property assessment needs to be fair."
Hertz, a Polson Republican and former speaker of the House, ran uncontested for the vacant Senate District 6 seat.
Reksten will travel to Helena for a first-time lawmaker orientation Nov. 18-19. She and other members will learn the formal rules of the House as well as basic logistics "like where to park."
She said she's also interested in establishing a renewable energy trust to bolster school funding.
"That way if schools need to replace a roof or boilers, it doesn't just fall on the taxpayer," she said. "We've got to find revenue to remedy that. And the No. 1 way to do that is to boost the local economy, which in turn will boost wages. Montana's wages are way too low, and that's not acceptable to me.
"I think (Governor-elect Greg) Gianforte has a good business plan. It will take some time. But we need to strip out some of the red tape preventing business from coming to our state.
Montana voters also overwhelmingly passed a pair of initiatives to legalize recreational marijuana sales, a move the former teacher, principal and superintendent views as a mistake.
"My position on this, because I'm a former school administrator, is that it goes right to the kids. Because kids are subject to high doses of marijuana, and an increasing intensity, it's hyper-addictive. Plus it doesn't deter underground dealers from selling it cheaper. Law enforcement is going to incur a greater cost because of overdoses and people being stoned all day long. And they say there's a tremendous tax revenue. I don't know. We'll see."
She said running for office was a great experience.
"Just to walk the streets and knock on doors, talk with groups of people. It was great to gather insight and wisdom on the area, and I will continue to do so. I am accountable to my constituents, not solely to the GOP."
Browning said Monday that while she was disappointed in the results, she expected all along the campaign would be up against the odds.
"We have such a solid Republican base here in Lake County, so I knew from the beginning that I would have to work extra hard."
Browning said the Republican sweep of statewide races did surprise her, however. She had met most of the Democratic candidates and was very impressed.
"They were young, they were energetic and knowledgeable. They had their heart and soul in it. But this is a democracy. I'm proud of that. We vote, and the people speak. I think that's good. That's what we should certainly encourage. We should respect the results and move forward."
She also expressed gratitude for those who helped along the way.
"A lot of good people supported me and I appreciate their help."
Lake County State Legislature races
MT House District 12 (all Lake County): 6,569 votes
Linda Reksten (R): 3,739 (57%)
Gerry Browning (D): 2,8 30 (43%)
MT House District 93 (all Lake County): 5,253 votes
Joe Read (R): 2,974 (57%)
LIsa Pavlock (D): 2,279 (43%)
MT House District 10: 7,543 votes
Mark Noland (R) : 5,366 (70%)
Jennifer Allen (D): 2,177 (30%)
Lake County: 1,586 votes
Mark Noland (R) : 1,034 (65%)
Jennifer Allen (D): 552 (35%)
MT Senate District 47: 11,482 votes
Dan Salomon (R): 5,983 (52%)
Chase Porter Gay (D): 4,918 (43%)
Devin Braaten (L): 581 (5%)
Lake County: 5,255 votes
Dan Salomon (R): 3,084 (59%)
Chase Porter Gay (D): 1,849 (35%)
Devin Braaten (L): 322 (6%)
---