Maidens win Lake County clash at state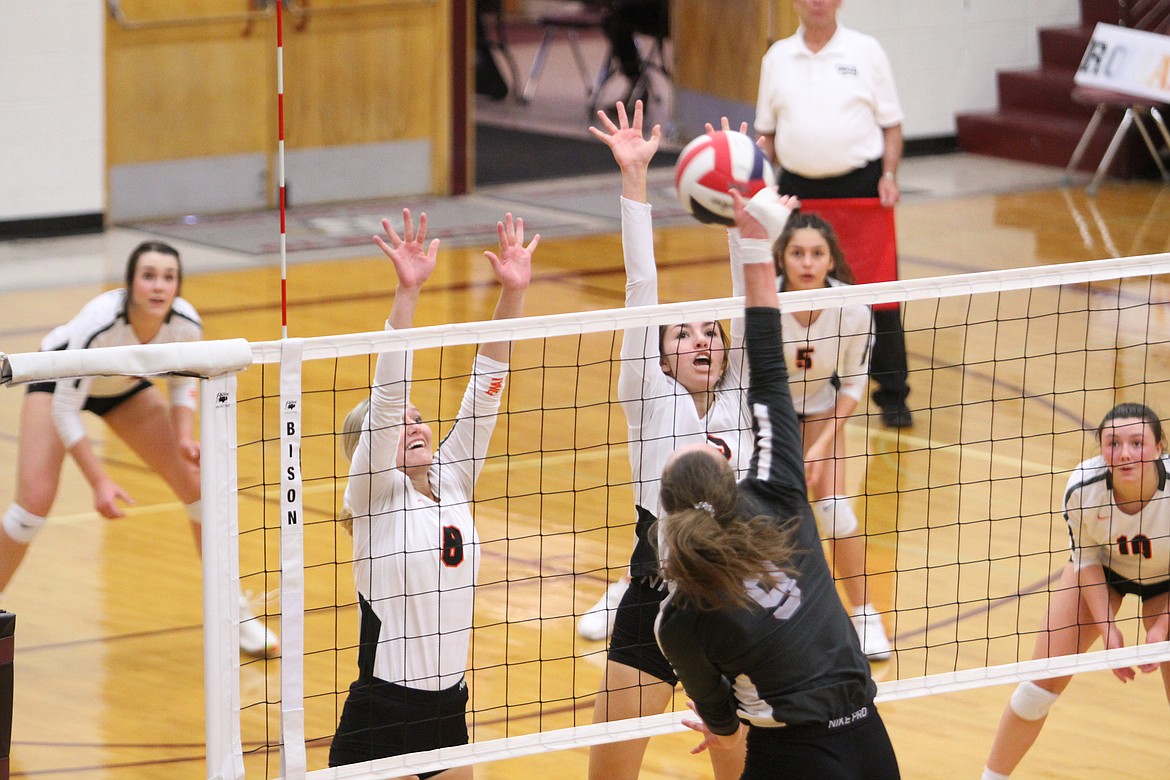 Ronan's Kiana King (8) and Olivia Clairmont rise to defend a shot by Polson's Maggie Todd (9) during their state tournament match Saturday in Sidney. In the background are Madeline McCrea, LaReina Cordova (5) and Rylie Lindquist (10). (Dillan Schorfheide/Sidney Herald)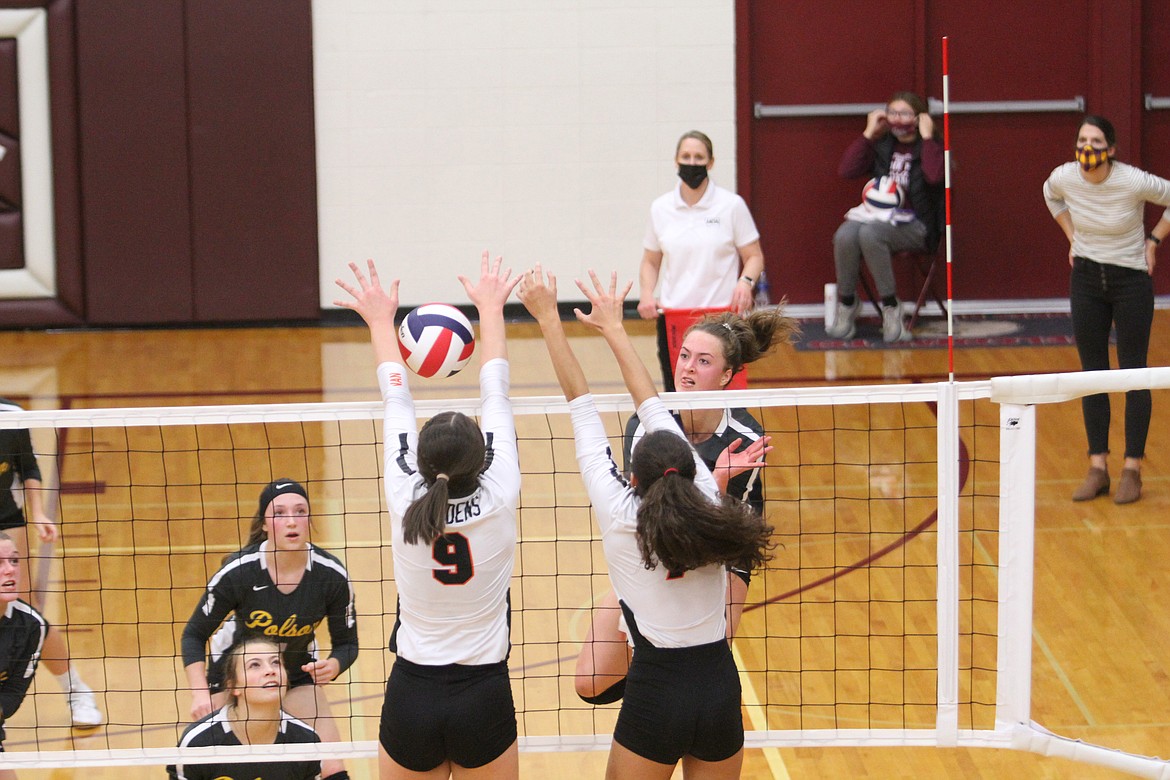 Polson's Maggie Todd (9) fires a shot past Ronan's Madeline McCrea (9) and Leina Ulutoa during their state tournament match Saturday in Sidney. (Dillan Schorfheide/Sidney Herald)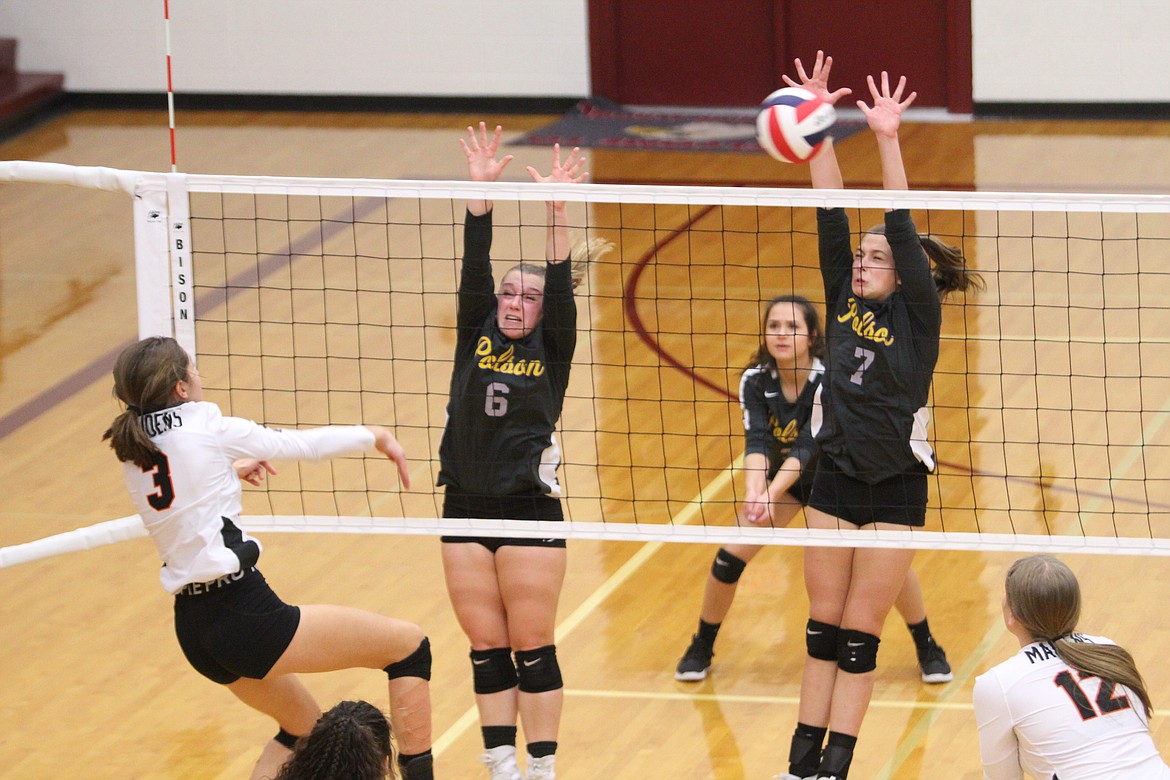 Polson's Berkley Ellis (6) and Liz Tolley (7) defend against a shot by Ronan's Olivia Clairmont during their state tournament match in Sidney. (Dillan Schorfheide/Sidney Herald)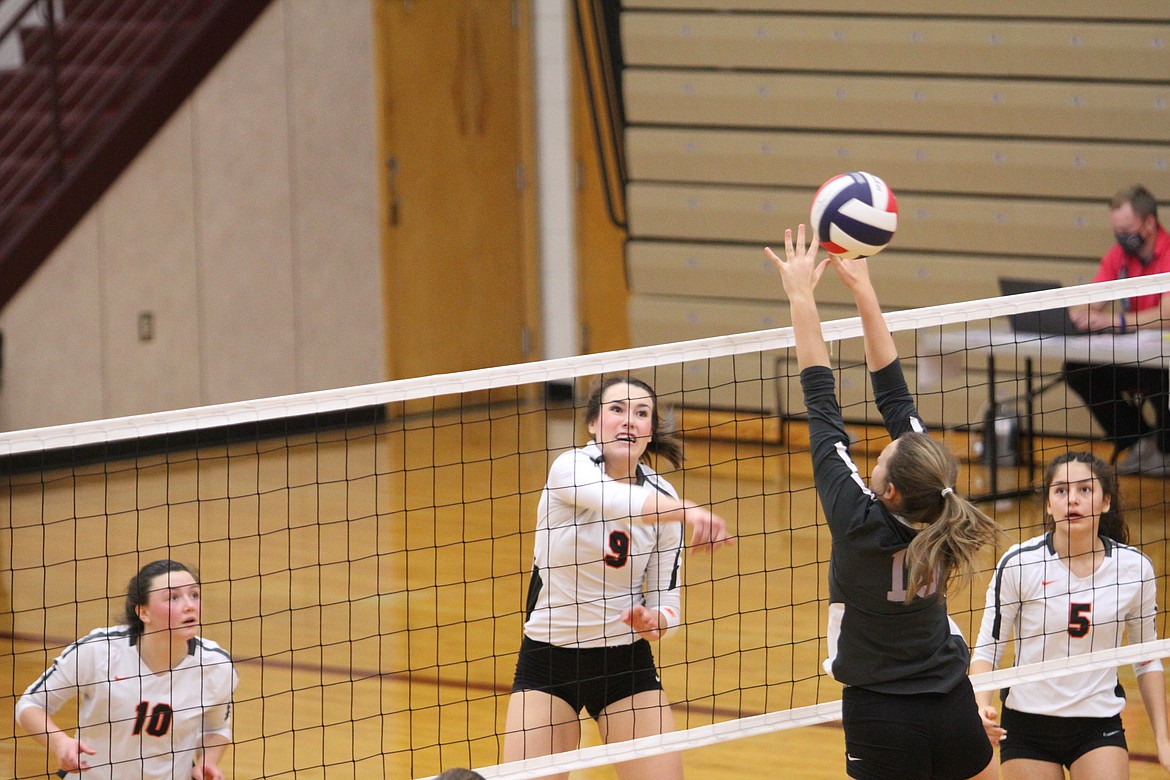 The Maidens' Madeline McCrea hits a shot past Polson's McKenna Hanson at the class A state tournament in Sidney. At left is Rylie Lindquist, and at right is LaReina Cordova. (Dillan Schorfheide/Sidney Herald)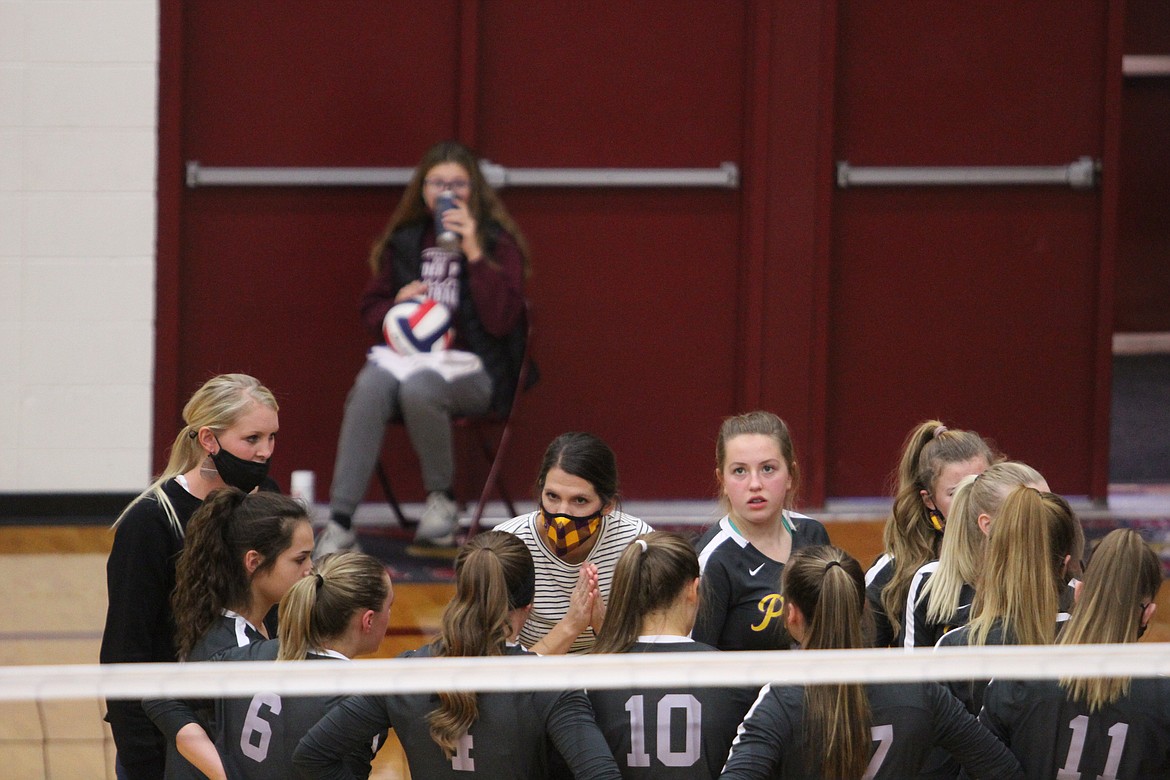 Polson head coach Lizzy Cox (center, yellow mask) addresses her team during the Lady Pirates' match with Ronan on Saturday in Sidney. (Dillan Schorfheide/Sidney Herald)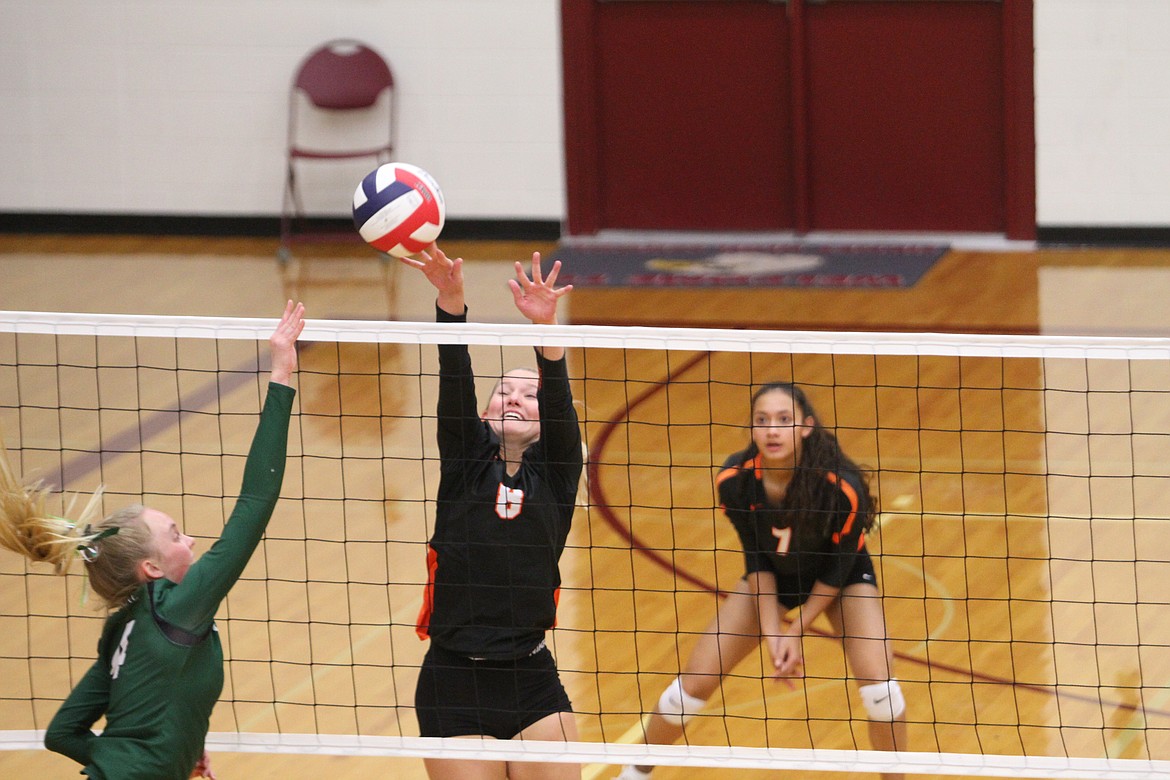 Ronan's Kiana King (8) defends a shot from Billings Central as teammate Leina Ulutoa (7) prepares to react. (Dillan Schorfheide/Sidney Herald)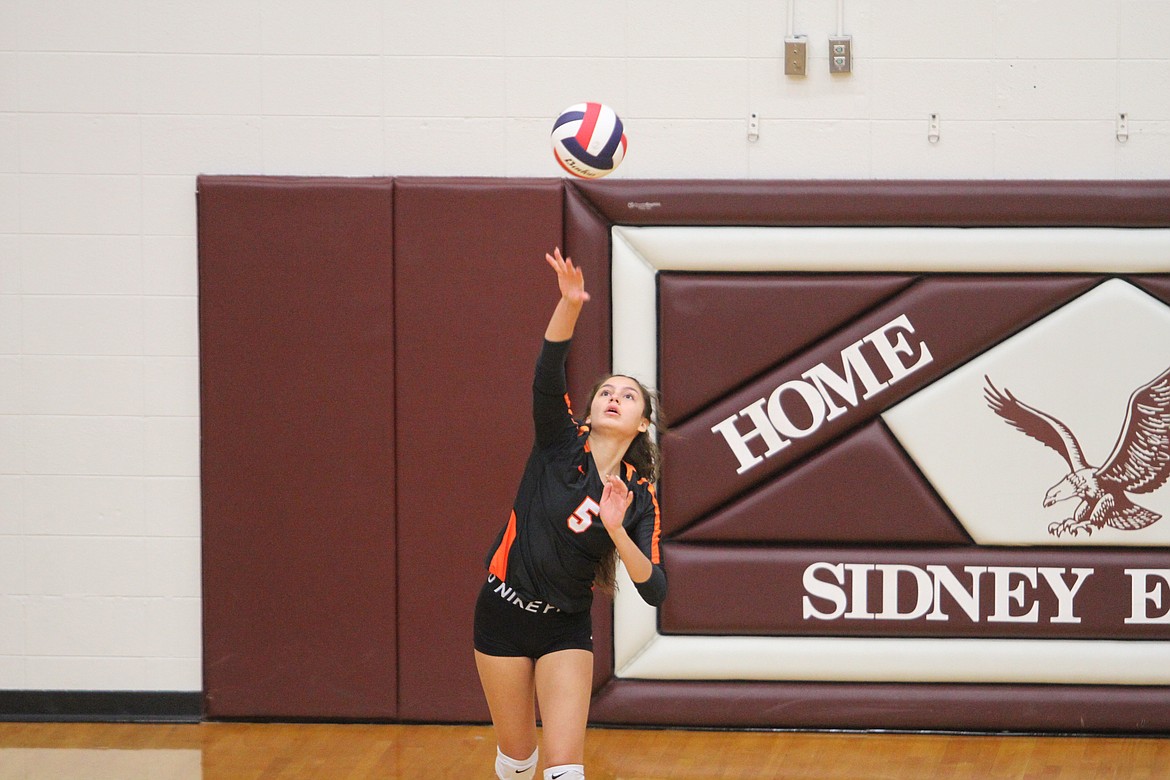 Ronan's LaReina Cordova hits a serve against Billings Central on Friday. (Dillan Schorfheide/Sidney Herald)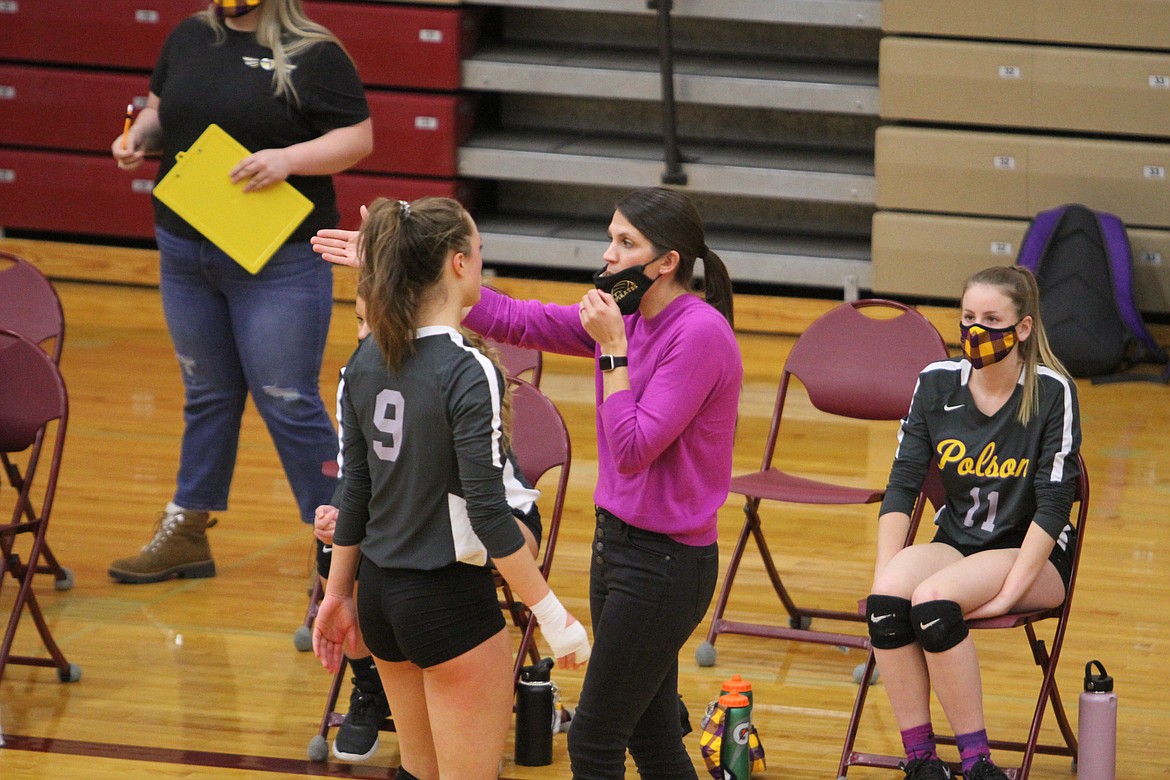 Polson head coach Lizzy Cox talks with senior Maggie Todd during their match against Glendive on Friday in Sidney. (Dillan Schorfheide/Sidney Herald)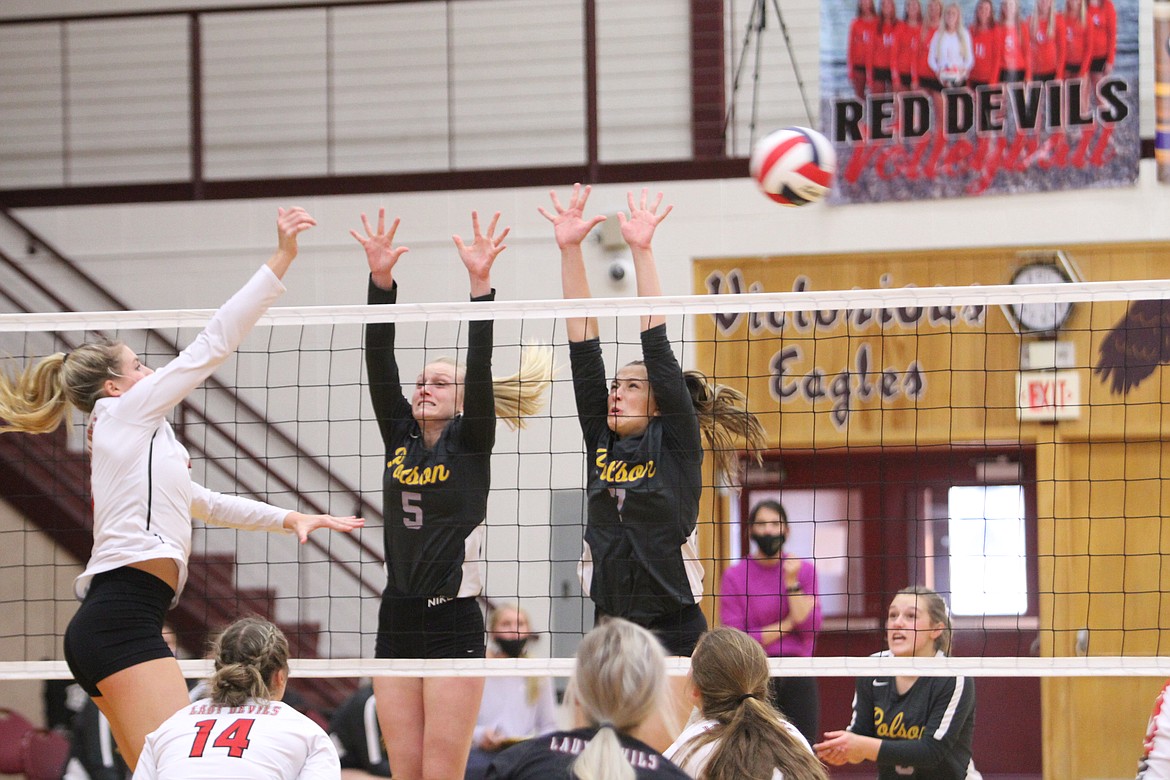 Polson's Hallie Moss (5) and Liz Tolley (7) defend a shot from a Glendive player at the class A state tournament in Sidney. (Dillan Schorfheide/Sidney Herald)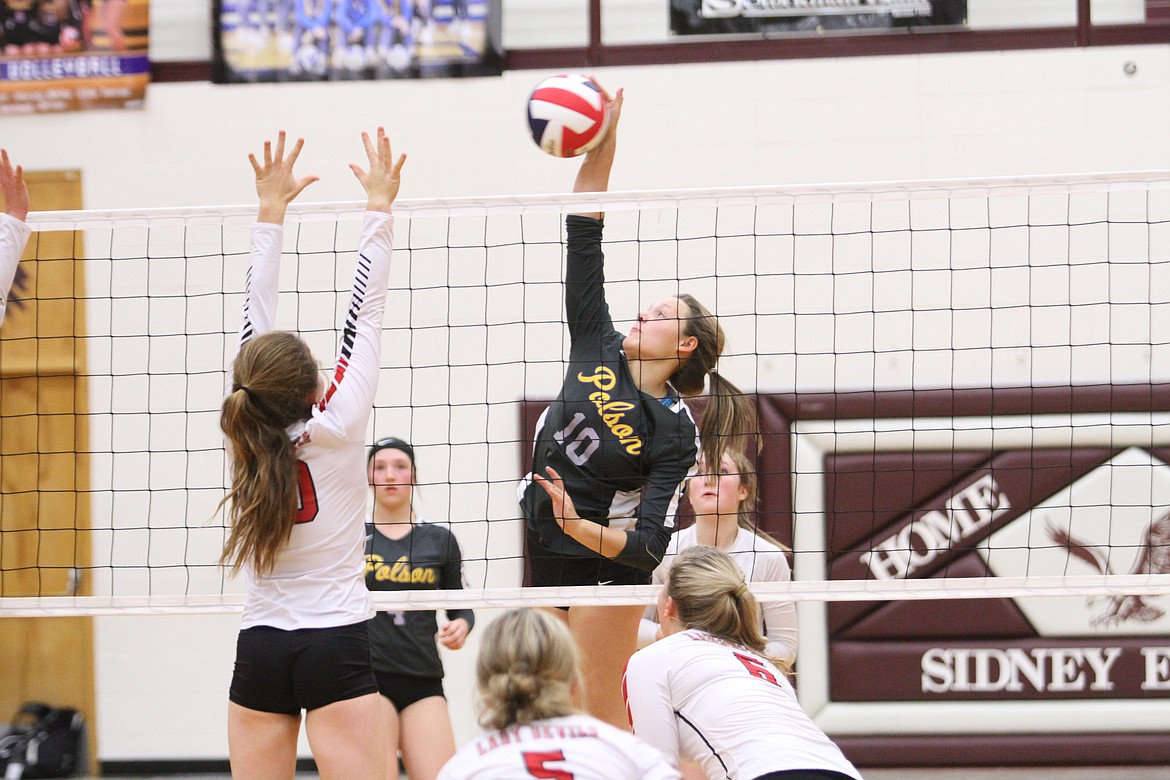 Polson's McKenna Hanson hits a shot against Glendive at the class A state tournament in Sidney. (Dillan Schorfheide/Sidney Herald)
Previous
Next
by
SCOT HEISEL
Lake County Leader
|
November 18, 2020 6:15 AM
The Ronan Maidens and Polson Lady Pirates met three times and played three tight matches during their separate paths to the class A state volleyball tournament in Sidney. So it seemed fitting that the two squads would drive 12 hours across the state in the middle of winter to play a fourth time.
"Sidney was a tough trip," Ronan head coach Lacey Phelan said after the tournament. "It took exactly 12 hours from Ronan to Sidney. We fought snow on the way there and a terrible head wind on the way home. Luckily, we have Judy Kudlock as an exceptional driver and possibly our No. 1 volleyball fan to get us there and home safely.
"I think a day of rest on the bus was actually good to have. We had played five games in the six days before and the girls were a bit tired."
"The bus ride wasn't too bad," said Polson head coach Lizzy Cox. "Long of course and snowy roads going over and very windy ones coming back, but our driver, KC, was great as usual. The girls slept a lot and I think they enjoyed their time together."
In an opening match Friday, East No. 3 seed Glendive won in four sets over Polson, 27-25, 25-22, 13-25, 25-19. The Red Devils fired off 52 kills in the match to the Lady Pirates' 38. Senior Maggie Todd led Polson with 15 kills, and Kobbey Smith added 14. Berkley Ellis added five aces and 21 assists.
Meanwhile, Ronan lost in three very competitive sets to East No. 1 seed and eventual state champion Billings Central, 25-23, 25-21, 25-16. Leina Ulutoa recorded 16 assists in the match, while Rylie Lindquist had 16 digs. Olivia Clairmont led the Maidens in kills with seven, while Madeline McCrea added six.
The losses set up the Lake County rivals for a loser-out match Friday night. Going in, Polson held the season edge, two wins to one, with the most recent coming at home in a divisional match.
"We were all laughing that we had to drive 12 hours to play Polson," Phelan said. "Polson has a great team, talented all the way around. We knew it was going to be a battle."
In the end, the Maidens got the win, 25-20, 27-25, 21-25, 25-16, and the right to advance in the tournament.
There may not have been two better matched teams in the state this season. All four matches ended up going four sets. Each team got two wins, and each team won eight sets. The Maidens ended up winning 370 points to Polson's 367.
Ronan opened the state match with a 3-0 lead in the first set and neither team led by more the rest of the way until a LaReina Cordova kill put the Maidens up 23-19. That was followed by another kill by Olivia Clairmont that gave Ronan a 24-19 lead. An errant shot by Polson hit the net on the next point, giving the Maidens the early edge.
The Lady Pirates found themselves in an early 6-1 hole in the second set and fought hard to climb back and tie the set at 14-14. The teams tied again at 15 and 16 before a Maggie Todd kill gave Polson some breathing room up two, 18-16. The Maidens went on a run to tie things at 20-20, but the Lady Pirates pulled to match point up 24-22 and appeared to have the equalizer in hand. But the Maidens fought back to ties at 24 and 25. Then a Madeline McCrea block found the floor and Clairmont finished off the set with an ace for Ronan.
The third set was tight until near the end, as the Lady Pirates were in danger of being swept in their season's final match. But they pulled ahead 20-15 and hung on for the win on a Todd block to force a fourth set.
The Maidens dug deep to seize the moment in the end. They built a 6-2 lead and held off Polson the rest of the way to take the match.
It was a long and winding road for Ronan, who in the span of just a few weeks went from a play-in game just to qualify for divisionals to a win at the state tournament for the first time in decades.
"I have to give Polson some credit on the power they produce from the outside," Phelan said. "However, when you have three of the top blockers in the conference/state on your team (McCrea, Leina Ulutoa and Clairmont) it forces other teams to utilize off-speed shots to avoid getting blocked, and I think our defense did a great job reading and reacting to that. The focus was there, the intensity was there, and the effort was there."
Todd led Polson with 24 kills, and Kobbey Smith added 18. Clairmont logged 16 kills for Ronan, with McCrea adding eight. Berkley Ellis had 26 assists for the Lady Pirates, while Ulutoa had 31 for the Maidens.
"Of course we would have preferred to go farther in the state tournament, and traveling 700 mile's one way to play the school next door is crazy how that turned out," Cox said. "We were grateful, though, for the opportunity to play another weekend.
"We will definitely look forward to future state tournaments being closer and more central. We had many parents and fans come to support us, but we definitely missed those that didn't make the long trek. The Lady Pirates are a hardworking, determined, respectful group of girls and our program truly feels like a family all working toward a common goal."
Ronan's victory set up a match with yet another familiar foe, West top seed Columbia Falls. After falling to Hardin in their opener, the Wildcats rebounded to win three straight, including a match against Ronan on Saturday, to work their way into the championship match. The Maidens played the Wildcats tough on Saturday, though, with Columbia Falls prevailing in four sets, 25-11, 23-25, 25-15, 25-21.
"That was the most competitive we have been with Columbia Falls this season, and I saw a lot of heart from these girls," Phelan said. "It was really fun to see how much the girls have grown when comparing our first game to our last game against Columbia Falls. Progress like that is something every coach wants to see, it's very rewarding.
"Tournament time is exhausting. Travel, games every day, multiple games a day, hotels, eating out. It takes a lot out of the girls physically. You never would have known any of that with our girls. The energy and enthusiasm they showed during this last weekend was incredible."
2020 State A VB tournament
Sidney High School Gym, Nov. 12-14
(3E) Glendive def. (2W) Polson 27-25, 25-22, 13-25, 25-19
KILLS – G52 (Madison Wahl 28, Brittany Kaufman 16), P38 (Maggie Todd 15, Kobbey Smith 14, Kenna 3, Hallie, Ara). ACES – G10 (B.Kaufman 4, M.Wahl 2, Tiana Carney 2), P14 (Berkley Ellis 5, Kobb 4, Hallie 3, Chloe DuCharme, Mags). ASSISTS – G52 (Saddie Egan 52), P37 (Berk 21, Hallie Moss 11). BLOCKS – G5 (Codi Nagle 2), P3 (Mags 2, Mckenna Hanson). DIGS – G114 (Tiana Carney 37, B.Kaufman 23, M.Wahl 20), P35 (Ara Mercer 20). (Th12Nov20gm3st)
(4W) Ronan def. (2W) Polson 25-20, 27-25, 21-25, 25-16
KILLS – P47 (Maggie Todd 24, Kobbey Smith 18, Mckenna Hanson 5, Hallie), R34 (Olivia Clairmont 16, MM 8, Ry 6, LaReina 3, Leina). ACES – P7 (Berk 3, Kobb 2, Hallie, Mags), R6 (Liv 2, Leina 2, Hannah, Ry). ASSISTS – P42 (Berkley Ellis 26, Hallie Moss 13, Liz 3), R31 (Leina Ulutoa 31). BLOCKS – P3 (Liz Tolley, Mags, Kenna), R12 (Madeline McCrea 2bs5ba, Leina 1bs6ba, Liv 2bs2ba, Kiana King 1ba). DIGS – P128 (Ara Mercer 40, Mags 30, Berk 13, Kobb 11, Chloe DuCharme 2, Kenna), R84 (Rylie Lindquist 22, LaReina Cordova 16, Leina 9, Margaret Cordova 8, MM 8, Lexi Wirz 5, Liv 4, KK, Jaylea Lunceford). (Fr13Nov20gm8st)
(1W) Columbia Falls def. Ronan 25-11, 23-25, 25-15, 25-21
KILLS – R36 (Olivia Clairmont 17, Madeline McCrea 12, LaReina 3, Ry 2, Leina, Kylie Fetui), CF47 (Mady Hoerner 21, Dillen Hoerner 11). ACES – R7 (Rylie Lindquist 3, Liv 2, LaReina, MM), CF3 (Jazzy Marino, D.Hoerner, H.Schweikert). ASSISTS – R34 (Leina Ulutoa 33, Kylie), CF39 (Hannah Schweikert 37). BLOCKS – R6 (Madeline 1bs3ba, Liv 2bs, Leina 3ba), CF3 (J.Marino 1bs2ba, D.Hoerner 1ba, Lauren Falkner 1ba). DIGS – R38 (Ry 12, Margaret Cordova 7, LaReina 5, Lexi Wirz 4, Kylie 4, Leina 2, MM 2, Liv, Hannah Rowe), CF71 (M.Hoerner 14, D.Hoerner 13). (Fr13Nov20gm10st)
(1E) Billings Central def. (4W) Ronan 25-23, 25-21, 25-16
KILLS – R16 (Olivia Clairmont 7, MM 6, Ry 2, KK), BiC46(Cindy Gray 14, Mya Hansen 10, Z.Morton 9). ACES – R4 (Liv 2, Leina, MM), BiC6 (Zi'Onna Morton 3, G.Zeier 2, I.Erickson). ASSISTS – R16 (Leina Ulutoa 16), BiC43 (Maria Stewart 41). BLOCKS – R8 (Madeline McCrea 1bs3ba, Liv 1bs2ba, Ry 1bs, Kiana King 1bs, LaReina 1ba, Leina 1ba, Jaylea Lunceford 1ba), BiC7 (Mollie McGrail 3½, Izzy Erickson 1½, Cindy Gray, M.Hansen). DIGS – R44 (Rylie Lindquist 16, LaReina Cordova 10, Margaret Cordova 8, MM 4, Leina 2, Lexi Wirz, KK, Hannah, Jaylea), BiC66 (Ally Foster 20, M.Stewart 13, Grace Zeier 10). (Th12Nov20gm4st)
---