Megan Rost of PHS receives TATL award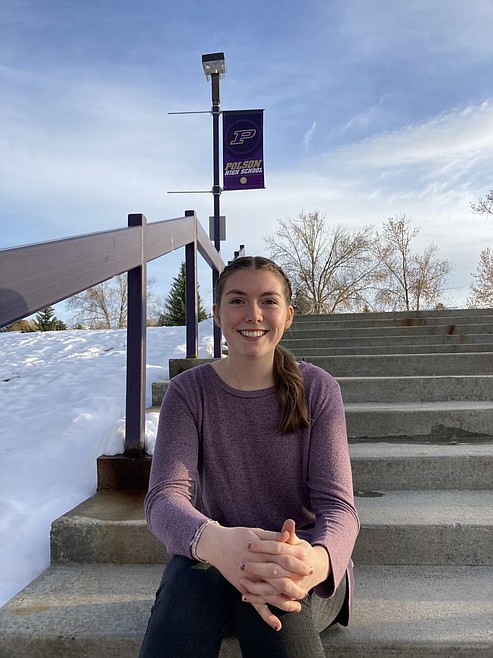 Polson High School senior Megan Rost.
by
CAROLYN HIDY
Lake County Leader
|
November 19, 2020 12:15 AM
"Don't waste any hardship," is the advice offered by Polson High School senior Megan Rost, recipient of October's "Today's Achievers, Tomorrow's Leaders" award for exemplary students making an impact on their community. "Make the most out of every opportunity that comes your way. We have these negative connotations of hardships, but in reality we're just improving ourselves and our character. If we shift how we view our challenges, it will definitely impact us for the better."
The award, sponsored by Kalispell Regional Healthcare and the Lake County Leader, was presented Nov. 1 by Dr. Adam Smith of Polson Health in a surprise ceremony at the school.
Megan was nominated for the award by guidance counselor Betsy Wade.
"Megan is a true day-brightener and a natural leader," Wade said. "She has a strong work ethic, and demonstrates a desire to make a positive difference in the lives of others. … [She] truly has a gift for helping young students feel comfortable and valued."
A competitive athlete, Megan plays on the PHS soccer, tennis and basketball teams, and is a leader in the Fellowship of Christian Athletes. She was captain of the soccer team three years and lettered several times in soccer and tennis. Wade noted her "consistent effort, her desire to improve, and her ability to help motivate her teammates."
Megan also participates in National Honor Society, serves as vice president of student government, and performs with concert, symphonic and pep band (trumpet). She has served her community as a food distribution assistant during the coronavirus pandemic, as a Polson Migrant School classroom assistant, Polson Middle School teacher's assistant, youth tennis coach, and as an assistant at North Lake County Public Library. She was a HOBY Youth Leadership Seminar attendee in 2019, and has served two years as Link Leader, a program to connect freshmen and sophomores with upper-class mentors in the high school. She is employed at Alpine Designs in downtown Polson.
Megan explored her interest in elementary education with an Education Occupations Internship her junior year. This included a dual enrollment Education 101 class and shadowing teachers in the classroom. She may pursue an education major, but is open to exploring many options.
Megan has been offered a soccer scholarship at Northwest University in Seattle.
"I just love the Seattle area. I have had enough of the snow and I really like rain," she said. "The Pacific Northwest is really calling my name."
She has also applied to Grand Canyon University, Montana State and Carroll College.
With all her activity, Megan also likes to relax. She enjoys watercolor, hiking in Glacier, rock climbing and napping in the sun on a boat in the lake.
"There's so much to do, I'm never bored," she said.
Kalispell Regional Healthcare will donate $250 to a school organization of Megan's choice as part of the TATL award. Megan is researching which of three organizations and sports she is actively involved with to see which would most benefit from the contribution.
Recent Headlines
---