Bigfork outguns Pirates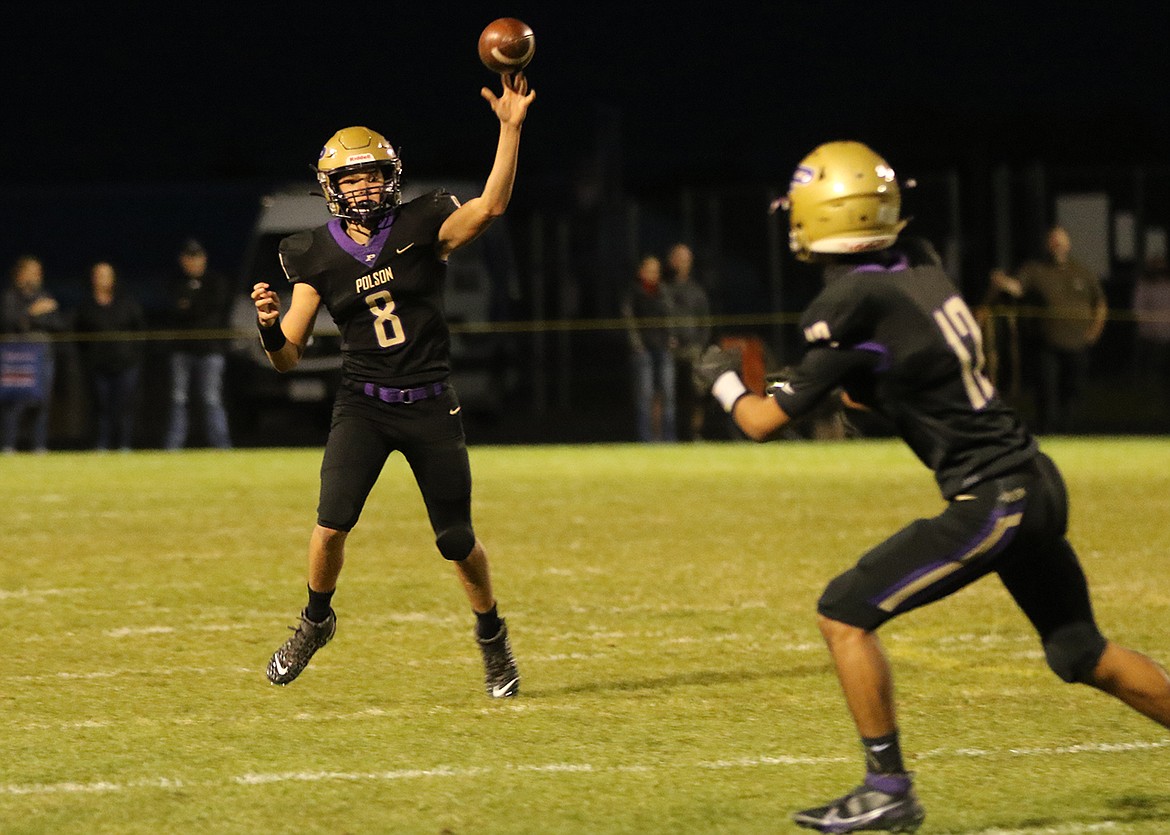 Polson quarterback Jarrett Wilson hits receiver Robert Perez for a score against Bigfork. Wilson finished with 41 completions for 438 yards and six touchdowns. (Bob Gunderson)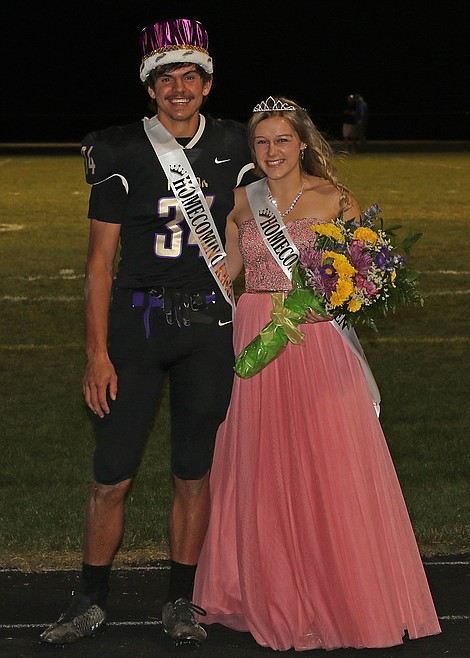 Polson High School Homecoming King Boston Goode and Queen Berkley Ellis. (Bob Gunderson)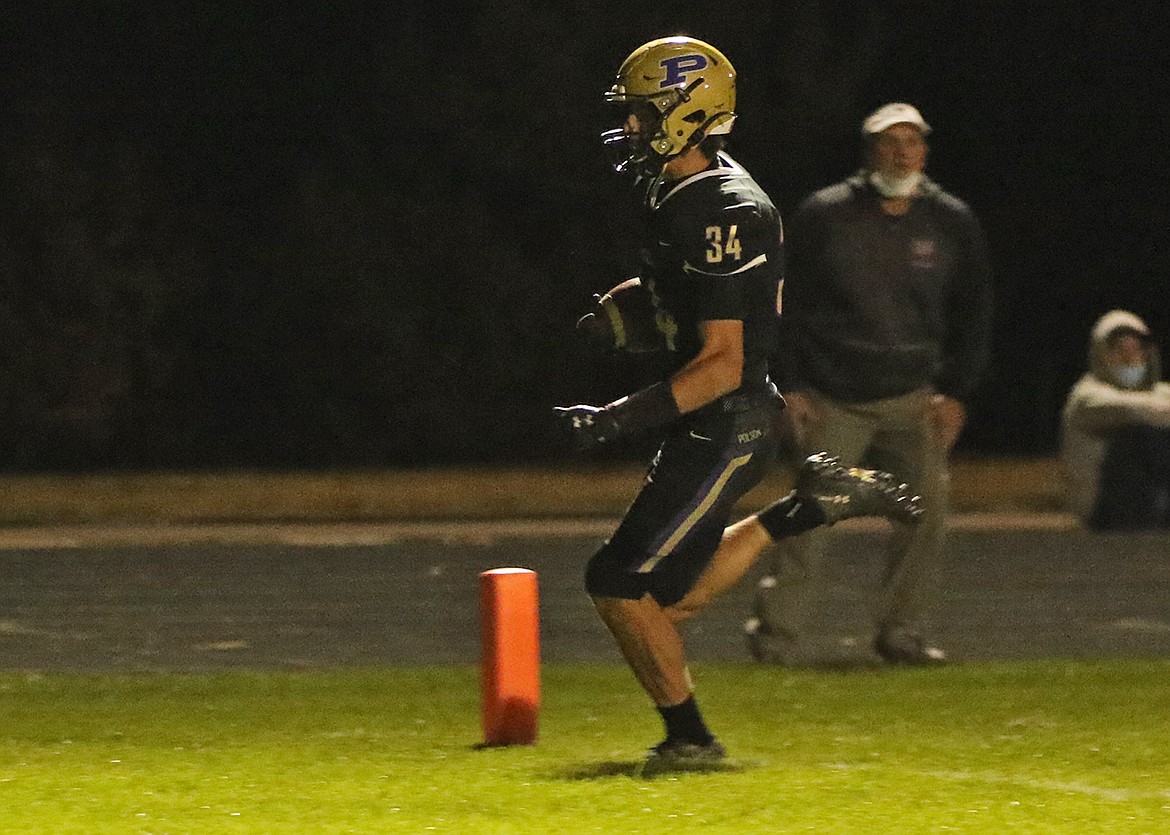 Boston Goode coasts into the end zone for a score against Bigfork. (Bob Gunderson)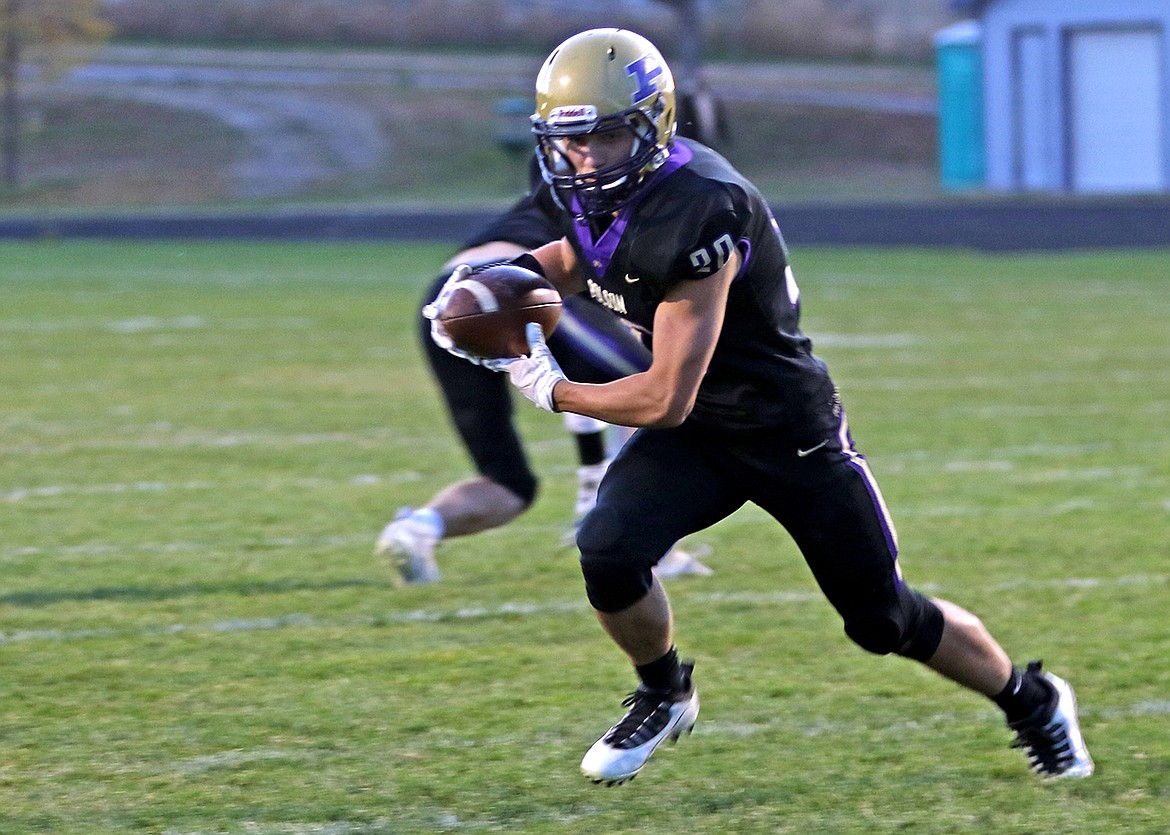 Xaier Fisher scores the Pirates' first touchdown against Bigfork. (Bob Gunderson)
Previous
Next
by
John Heglie, special for the Leader
|
October 12, 2020 1:50 AM
Following some cancellations and some quick rescheduling, Class B Bigfork and Class A Polson met in a unique non-conference matchup Friday night between contrasting styles of offense: the prolific passing attack of the Pirates versus the grinding ground attack of the Vikings.
Ultimately Bigfork pulled off the win, 54-40, dashing Polson's hopes of homecoming victory.
Defenses on both squads would benefit from the workout: Bigfork with an opportunity to refine their pass defense, while Polson could work on hunkering down to slow down the run.
Pirates quarterback Jarrett Wilson entered the contest with over 2,000 yards passing, while Bigfork running back Cormac Benn had already surpassed 1,000 yards rushing.
Wilson connected with his receivers for a score in the first quarter, while Benn galloped the gridiron to pay dirt. The contest was knotted even after one.
The Vikings gained separation during the middle periods with a quartet of Benn rumbles along with a Levi Taylor short-yarder. The Pirates countered with receptions by Colton Graham, Boston Goode and Robert Perez.
Containment issues likely doubled the gains by runners Benn and Taylor. Both picked up close to half their cumulative totals on a handful of carries with sharp field vision for exploiting seams and utilizing blockers to maximum effect.
Toward the close of the second period, Taylor broke free for a run two-thirds the length of the field, only to be barely tracked down just short of the end zone by Boston Goode. A strategic fumble recovery by Robert Perez ground another earlier Viking drive to a halt.
The Pirates outscored the Vikings during the final frame, but by that time the battle was not only against Bigfork, but also the clock.
This was the fourth game that Jarrett Wilson has thrown for over 400 yards. His 40 or so completions were the most this season, eclipsing the previous mark when he threw for a school record 444 yards at the start of the season against Columbia Falls.
Wilson has forged such a connection with his receiving corps that he even factored himself into the mix unintentionally during fourth-quarter action when he caught his own conversion pass attempt after it was deflected back into his hands.
The Pirates now turn their attention toward preparing for the Butte Central Maroons, who picked up their first win after having to similarly improvise a reschedule against the Park Rangers when their originally scheduled match with Browning was cancelled on account of COVID-19 precautions.
Bigfork 54, Polson 40
NWA Polson (3-3, 3-4), West.B Bigfork (4-2, 5-2)
Bigfork 8 - 24 - 16 - 6 – 54
Polson 8 - 12 - 6 - 14 – 40
P – Xavier Fisher 11 pass from Jarrett Wilson (R.Perez pass from J.Wilson)
B – Cormac Benn 2 run (Benn run)
B – Benn 9 run (Isaac Bjorge pass from Isak Epperly)
P – Colton Graham 5 pass from J.Wilson (pass incomplete)
B – Benn 1 run (Wyatt Herd run)
P – Boston Goode 22 pass from J.Wilson (pass incomplete)
B – Levi Taylor 2 run (L.Taylor run)
B – Benn 4 run (Patrick Wallen run)
B – Benn 47 run (L.Taylor pass from *Wallen)
P – Robert Perez 4 pass from J.Wilson (run stopped after J.Wilson pass deflected to himself)
P – Graham 5 pass from J.Wilson ( pass incomplete)
B – L.Taylor 8 run (pass incomplete)
P – B.Goode 23 pass from J.Wilson (R.Perez pass from J.Wilson)
RUSH – B67-664 (C.Benn 38-381, L.Taylor 20-271), P10-77 (J.Wilson 9-79, B.Goode 1-(-2)). PASS – B (P.Wallen 1-3-0-1), P(J.Wilson 41-54-438-1). RECEIVE – B1-0 (I.Bjorge 1-0), P41-438 (C.Graham 14-160, B.Goode 7-100, X.Fisher 8-67, R.Perez 4-52, Alex Muzquiz 6-48, Jony Perez 2-11).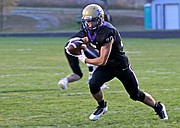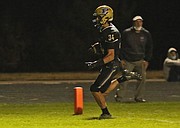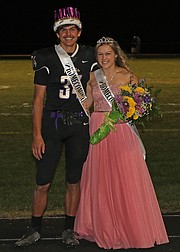 ---