Halloween celebrations abound
by
Lake County Leader
|
October 28, 2020 12:05 AM
Halloween is one tradition that will carry on in Lake County, even in the unusual circumstances many have experienced in 2020. Many residents have posted that if they have their lights on, trick-or-treaters are welcome, but safety will be a priority.
Social distancing precautions are recommended for all events Saturday.
The Arlee community will hold a "Trunk or Treat" from 5:30 to 7:30 p.m. in the high school parking lot. There will be a kid-themed haunted house by longtime Halloween enthusiasts, the Mahseelah family.
New Life Church in Polson is holding a drive-through "Pumpkin Patch Bash," from 2 to 4 p.m. with candy, free food, a cake drive, bicycle giveaways, family photos, a treasure map and more.
Terrace Lake Alliance Church in Ronan will hold a "Fall Harvest Celebration" with hay rides, a petting zoo, games, candy and other goodies.
Pablo Church of the Nazarene on Old Highway 93 is having a "Trunk-r-Treat/Carnival" in the church parking lot from 6 to 8 p.m.
Glacier Brewing Co. and Super Gyro will be fundraising for the Polson Boys and Girls club. Kids' carnival games with candy prizes and costume contest will be held from 11 a.m. to 4 p.m. The adult contest runs from 5 to 8 p.m. Super Gyro will be on site all day.
St. Ignatius Chamber of Commerce is sponsoring a double feature drive-in movie at Good Old Days Park. Parking is available at 6 p.m., with a showing of "Hotel Transylvania" beginning at 7 p.m. and "Blair Witch Project" beginning at 9 p.m. Cost is $20 per car.
Lazy D C Bar Pumpkin Patch in St. Ignatius will run from 10 a.m. to 3 p.m. Saturday and Sunday. It will feature hot drinks and popcorn, pony rides, petting zoo, hay ride, kiddie train and more.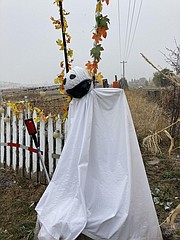 ---