Musicians Co-op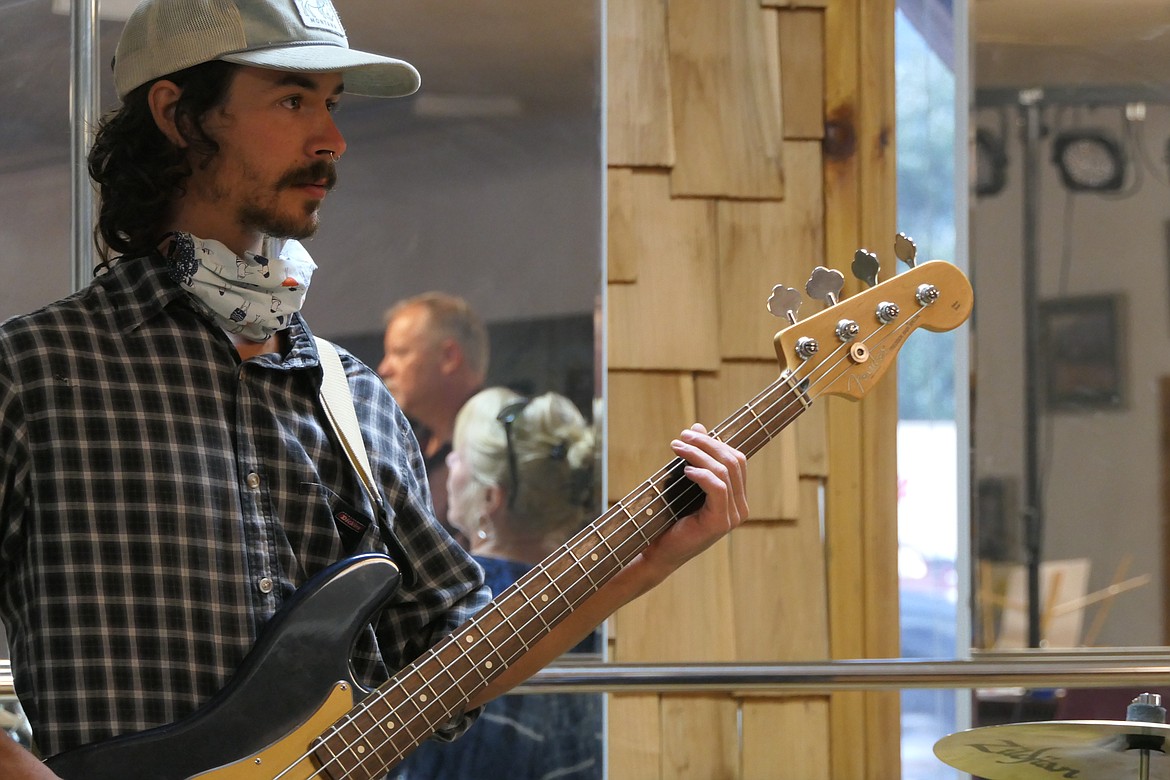 Spencer Sucha of Ronan jams at the co-op. (Carolyn Hidy/Lake County Leader)
Sid Seay and Doug Ruhman got their mojo workin'. (Carolyn Hidy/Lake County Leader)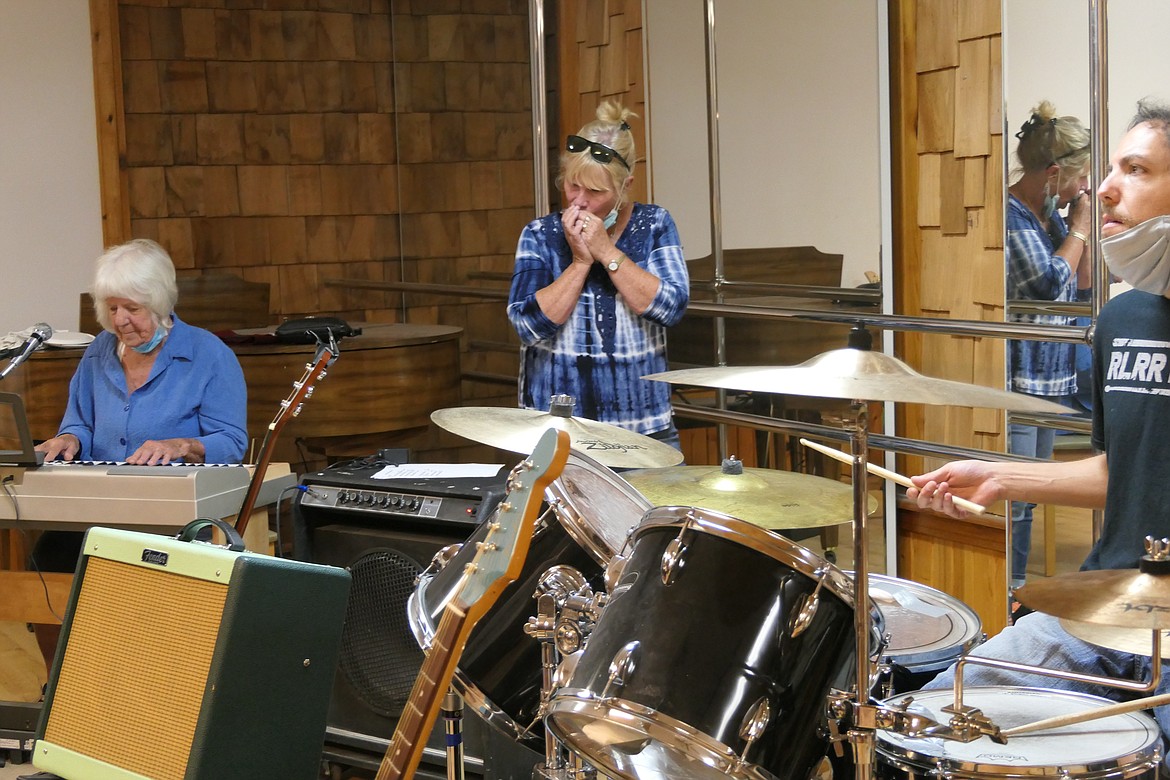 Co-op members perform at a jam session.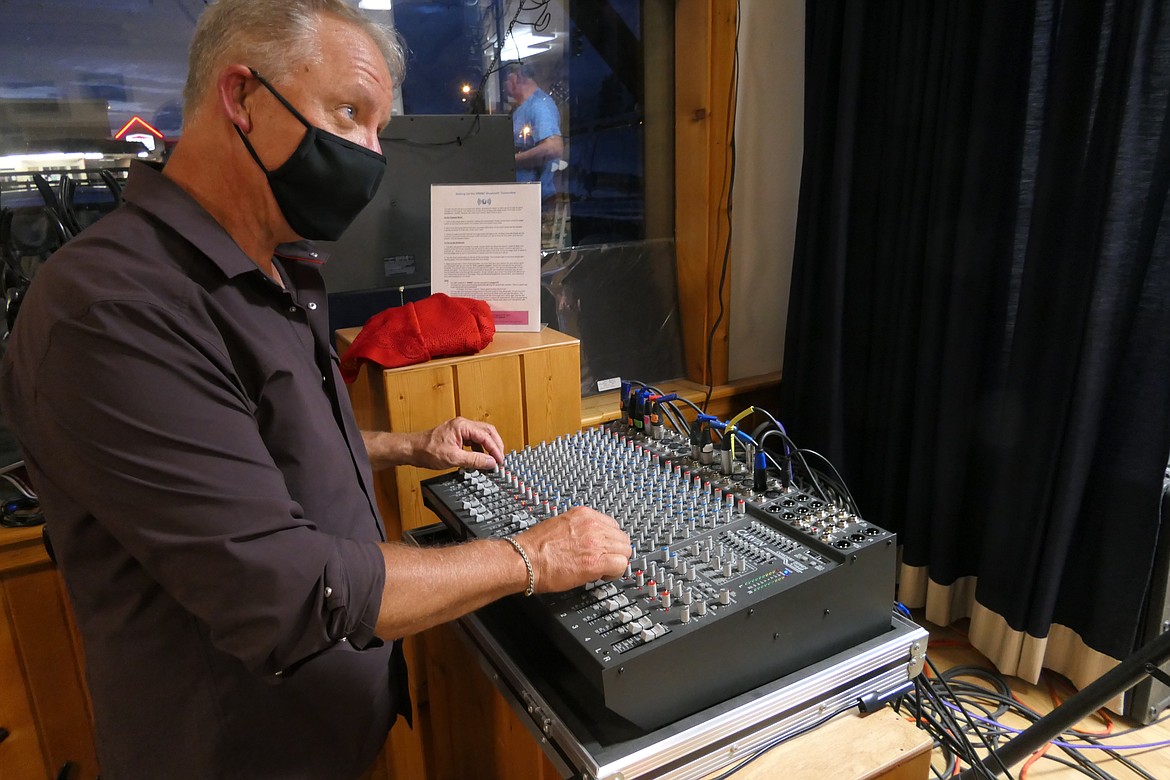 Doug Ruhman manages the stage and tech gear so you don't have to. Equipment and instruments are available for co-op members to use for practices, performances, and at Saturday night jams where the public is welcome. (Carolyn Hidy/Lake County Leader)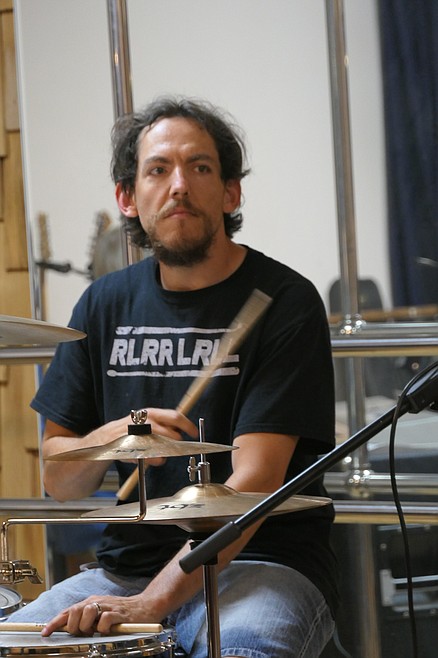 Kenny Barron of Charlo has played guitar a long time but recently took up drums. He joined the Musician's Co-op in January. "I love it." (Carolyn Hidy/Lake County Leader)
Previous
Next
by
CAROLYN HIDY
Lake County Leader
|
September 3, 2020 12:00 AM
Rock and roll lives on, even in the era of coronavirus.
A dedicated group of experienced area musicians have created a way to give up-and-coming generations the support and resources they need to make live music long into the future. And for anyone who's been achin' to do some booty shakin', this is the COVID-savvy place on Saturday nights.
Western Montana Musicians Cooperative meets every Saturday night at 7:00 at the old Red Poppy arts center in Ronan. They offer a fully-wired stage stocked with quality instruments available for use by musicians of any genre, age, or level of experience. The Red Poppy's large professional stage is ideal for plenty of musicians to jam, even in this era of social distancing.
"It can be very difficult for young musicians to get started," says Doug Ruhman, one of the co-op founders, along with Keith Rennie. Doug, an education instructor at SKC, was most recently part of the popular Gladys Friday Band for nine years and several other bands throughout his life. At the co-op, he explains, players and singers can get experience that can help them get comfortable on stage.
Many instruments have been donated or loaned to the co-op, including guitars, bass guitars, drums, keyboards; even a violin and banjo. Folks are often willing to share their own if needed. Between the stage, sound system, microphones, instruments, and the chance to play with — and be mentored by — high caliber musicians, the co-op offers an opportunity that few people have unless they are already connected to the music industry.
One recent Saturday night, long-time professional Clancy Hunter Skaw, who had his own namesake band for decades, started the weekly jam off with a jazzy lead guitar, playing "Over You," by Gary Puckett and the Union Gap. As things warmed up, the room throbbed with "Black Magic Woman," led by Doug, and carried on through such greats as "California Dreamin'" and "Jailhouse Rock." Sometimes they just picked a rhythm and jammed some blues. Sometimes a well-rehearsed group shared their favorites. And sometimes, friends and family in the audience couldn't help but boogie.
Diane Torres and Keryl Lozar, who currently play in the jazz trio Magpie Moon, backed the scene up with wicked hot piano (Diane) and drums, harmonica, or any rhythm piece available (Keryl). The duo were part of the band Hot Flash Blues, and Keryl sings and drums with the Free Radicals rock band.
Sid Seay, who plays locally with Southern Comfort, the Slick Backs, Deja Blue, and solos at the Diamond Horseshoe, turned up the heat with "I Got My Mojo Workin'." Mark and Krysti Reichman, a duo who play professionally as The Wildflowers, cooled it back down with some Jon Denver. Dale Iseman showcased his own song, "Louisiana Ann."
A family with kids came in, and one young lady planned to come back the next week ready to sing a Lady Gaga song.
"We really made this for everybody," says Doug. "We have a nice mixture of seasoned musicians who have played professionally and know a lot about the business and how to play with others. But it's also a place for novices, and for people who have been playing their instrument in their living room for twenty years and would like to play more with other people, but don't really have a place to do that, that's not a noisy bar type of venue. It provides a place for them to play together, without having to do promotion or organize any of the business things that sometimes detract from just making music."
The Co-op appears to be the only place of its kind in the U.S., says Doug. The membership-based model provides access to the musical equipment and stage as a practice venue which can be scheduled any evening after 5 p.m., and a community of folks to play with and learn from. The membership is $25/month or $15/month for youth and for individual members of a band. Fees pay the rent and go toward keeping equipment and instruments up to date.
Before the pandemic hit, the co-op had reached over 40 members. Many stayed home for the past few months, but attendance and membership are back on the rise. Even at the very lowest number, 14, the co-op was financially sustainable, so they expect to be around a long time.
Access Montana donated Wi-Fi service to the non-profit, and another community organization donated a security system to protect the in-house equipment. Coming soon will be a smart screen that will hang above the stage for anyone to share online music, chords and lyrics.
Saturday night jams are free to anyone to come enjoy the music. Everyone wears masks to protect each other, except when they are spaced out on the stage and singing their hearts out.
"What's really special about this is the fact that all of these diverse members of the community — 70 and 80 year-olds who would never be jamming in a bar, along with younger players who have less experience, and probably are in very different genres and very different life modalities — all come together with this one common interest. In this day and age to find any kind of community organization that brings people together in that spirit, especially now, is a special thing."
For more information, contact Doug Ruhman at 406-249-6534, visit the Western Montana Musician's Co-op Facebook page, or stop by a Saturday night jam at the Red Poppy.
---