Ken Avison was a pillar of Polson who made everyone feel special
by
SCOT HEISEL
Lake County Leader
|
September 10, 2020 12:20 AM
Polson lost a bit of its unique magic late last month with the passing of businessman, educator, performer and avid listener Ken Avison, who was taken by cancer at age 75.
Avison's ties to Lake County run deep. He and his wife Tami were married at Immaculate Conception Catholic Church on Fourth Avenue in 1969. Though they lived elsewhere for many years, the couple moved to Polson in 2003 following Ken's three-year stint as superintendent of the Hot Springs School District in Sanders County, which was the end of his lengthy career in education.
The couple had three sons: Ryan, Kevin and Jason.
Not long after "retiring" he and his sons opened The Cove restaurant, an iconic eatery on Third Avenue that grew to become a social hub over the years.
"He needed something to do, so he opened The Cove," Tami Avison said last week. "He kept The Cove going as far as cleanliness and public relations. He was there to greet everybody, and it didn't matter who you were. He'd go from table to table, chatting with customers and inquiring about their children."
Many of those children had held or attended birthday parties over the years at The Cove, where they frequently marveled at Ken's popular magic shows. His magic career began when he was a child, performing with his sister, and his family estimates he performed for at least 500 birthday parties at The Cove alone.
"He did stuff like pull live rabbits out of hats, and frying pans, too," longtime friend and District Court Judge Jim Manley said last week. "He was always performing at The Cove for big groups of kids. I still don't know how he pulled off that rabbit trick."
As a teen growing up in Alberta, Canada, Avison also made a magical run at playing hockey in the NHL before an injury derailed his athletic career. He then turned his attention to drumming and performed with several notable groups, including The Fendermen and Paul Revere and the Raiders.
As a retiree in Polson, even The Cove wasn't enough to keep him busy. He also served on the city's Police Commission and was the Chamber of Commerce president for a time in the mid-2000s as well. And he helped find ways to make other businesses grow through his work with the Downtown Association.
Polson City Commissioner Brodie Moll has known Ken and his family for close to 20 years.
"He was completely devoted to the city of Polson and the business community, and he always put everyone else first," Mull said Friday. "He had a great sense of humor and an ability to touch whoever was around. If you were talking to him, the spotlight was on you.
"He was a one-of -a-kind person. The loss is pretty tremendous for everyone."
Ken and Tami celebrated their 50th anniversary last year.
"He was very generous and humble, hospitable, and a gentleman. He had my back all the time."
Tami said the outpouring from the community has been something special.
"Everyone has been very welcoming and sorrowful, and there have been a lot of condolences. We have got flowers like crazy — so many flowers. I just want to thank everyone."
Manley described his good friend as "a creative, relentless practical joker."
He said Bud Bras, owner of the Lone Pine Store in Hot Springs, was among Ken's favorite targets.
"One time Christmas trees kept showing up, and there was a big pile in the store's parking lot. Finally, Bud saw someone throw a tree out of a truck, so Bud asked what he was doing. Ken had placed an ad in the newspaper telling people to drop off trees at the store.
"Another time, Bud kept getting calls on a Sunday morning during a snowstorm. That time Ken had placed an ad for free snow plow services for people who couldn't get to church. That's the kind of stuff he was constantly doing."
Manley is among a group of friends that met almost daily at The Cove for coffee and conversation. They sat at the same table each time, and Ken even had a "Reserved" sign resting at his spot, with his chair tipped up and leaning against the table. As a tribute to Ken's prankster spirit, his buddies last week glued his tipped chair in place against the table.
"Every community has a person who is the center of town, and that's what he was to Polson," Manley said. "It's a different town without him around. But as Ken would say, someone else has to rise to the occasion."
In a tribute video produced by David King and shared on The Cove's Facebook page, Ken pondered the outpouring of support he received following his diagnoses, including hundreds of get well cards from local students.
"I feel like I'm a very fortunate man to continue living in such a beautiful place," he says in the video.
An obituary for Avison was published in the Sept. 3 edition of the Lake County Leader.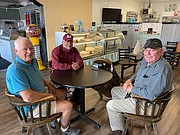 ---