Polson volleyball enjoys Senior Night sweep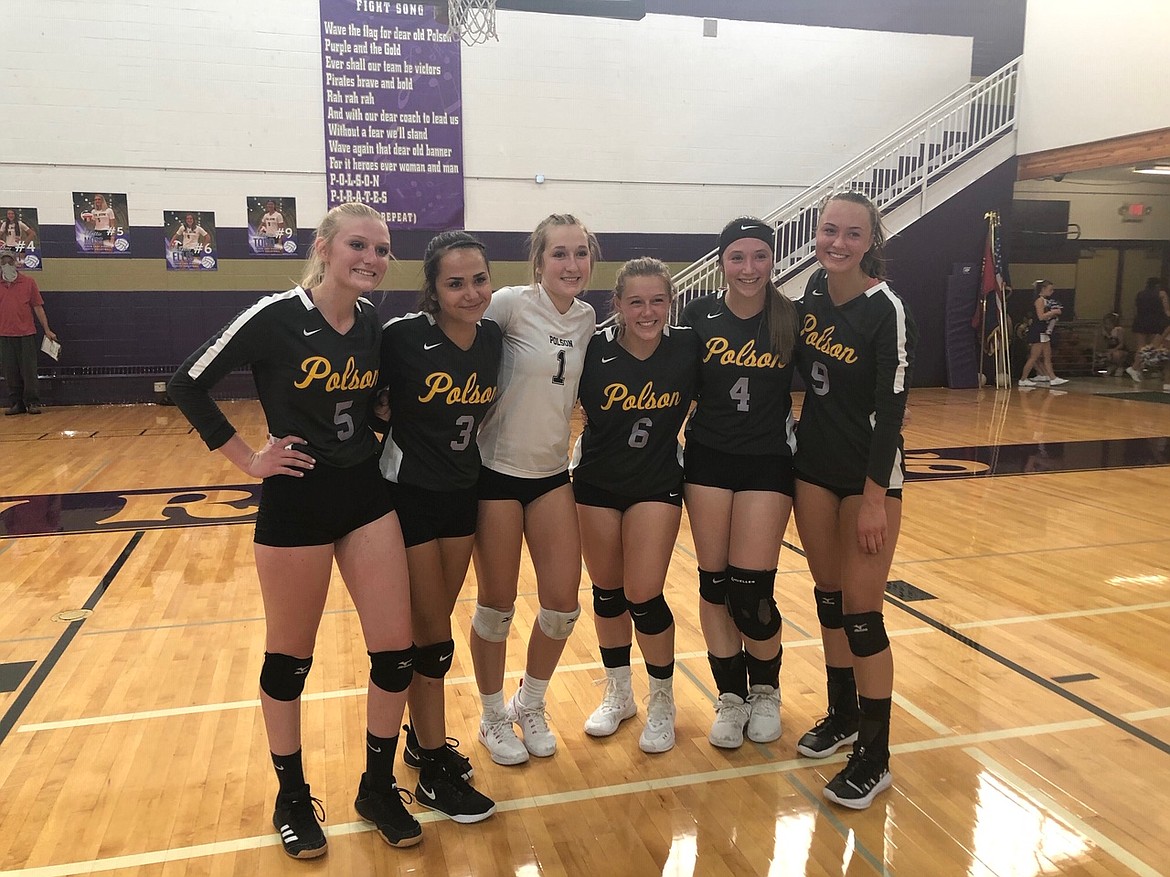 The Fall 2020 Polson Lady Pirate senior volleyballers pose for an early season Senior Night portrait after their sweep over visiting Libby. From left, are (5) Hallie Moss, (3) Chloe DuCharme, (1) Ara Mercer, (6) Berkeley Ellis, (4) Kobbey Smith and (9) Maggie Todd. (Photo courtesy of Jill Todd)
|
September 10, 2020 12:00 AM
By JOHN HEGLIE
Special for the Leader
The Polson Lady Pirate volleyball opened their schedule with a road sweep of Frenchtown, then hosted an early Senior Night honoring against the visiting Lady Loggers of Libby.
Each set of their conference clash against Libby trickled into the 20s, untimely service errors proving detrimental to the unraveling of Logger rallies almost as much as the Lady Pirates could inflict upon them at the net.
Senior setters Hallie Moss and Berkeley Ellis set the table for their Lady Pirate mates, Ellis capping the final set with a match ending tip-kill.
Senior Chloe DuCharme served up one of her sizzling aces from the service line, while senior libero Ara Mercer filled in the gaps with key defensive digs along with a sprinkling of set assists.
All-state senior Maggie Todd periodically morphed into maximum mayhem mode, leaping to optimal stratospheric elevation, then bludgeoning the ball with vectored velocity at a downward trajectory that would culminate in a nearly indefensible ricochet off the hardwood floor.
Fellow senior Kobbey Smith emulated a similar 'Thing' with comparable Fantastic Four Grimm-like "its clobberin time" spikes that teetered Loggers back on their heels like toppling timber.
The game was a fitting early Senior Night honoring for the half dozen seniors, sans the unwelcomed loitering of pandemic concerns that require vigilant precautions to ensure that teams make deep forays into their scheduling.
Polson def. Libby 3-0
Polson (1-0, 2-0), Libby (1-2, 1-2)
Polson def. Libby 25-21, 25-22, 25-23
KILLS – L23 (Julia Martineau 6, Olivia Gillian-Smith 6), P33 (Maggie Todd 13, Kobbey Smith 9).

ACES – L4 (Laneigha Zeiler 2), P4 (Mckenna Hanson 3, Chloe DuCharme). ASSISTS – L21 (Laneigha Zeiler 20), P31 (Berkley Ellis 11, Hallie Moss 11). BLOCKS – L6 (Gilliam-Smith 2BS, Martinaeu 3BA, Jessica Cunningham 3BA), P4 (Kobb BS, Mags BS, Moss BS, Kenna BA, Liz Tolley BA). DIGS – L36 (Aren James 19), P59 (Kobb 14, Mags 13). (Sa05Sep20)
Polson def. Frenchtown 3-0
NWA Polson (1-0), SWA Frenchtown (0-1)
Polson def. Frenchtown 25-21, 28-26, 25-14
KILLS P24 (Kobbey Smith 9, Maggie Todd 6), F13 (Rylee Belcourt 5, Emily Rehbein 5). ACES – P15, (Mags 5, Kobb 5), F5 (Madelyn Eggers 4). ASSISTS – P24 (Berkeley Ellis 11, Hallie Moss 8), F (Izzy Cahall 13). BLOCKS – P0, F14 (Demi Smith 4). DIGS – P44 (Ara Mercer 16, Mags 9), F33 (Cassidy Bagnell 12). (Tu01Sep20)
Ronan Maidens topple Loggers
At Libby, the visiting Maidens started strong with an opening set victory, then were forced to rally from a 2-1 deficit when the Lady Loggers maximized on their home court advantage during the middle sets. The Maidens would knot the contest even, then prevailed in a fifth and final set. Olivia Clairmont and Madeline McCrea collaborated on more than two dozen kills, while McCrea along with Rylie Lindquist combined for forty defensive digs.
Ronan hosted Stevensville two evenings later. All three sets gravitated among the 20s, but the hosts seemed to cough and sputter like an engine in need of further tuning than the more synchronized focus they displayed on the road a few evenings earlier during the course of their five set rally.
Fortunately, one game does not define a season as the Maidens refocus for a marathon week in which they will have already faced 7B Mission, then travel to Columbia Falls on Thursday, before returning to the Ronan Events Center to host Browning Saturday, Sept. 12.
Stevensville def. Ronan 3-0
NWA Ronan (1-1), SWA Stevi (1-1)
Stevensville def. Ronan 25-21, 25-21, 25-22
KILLS – S27 (Dalphne Engel 8, Ella Hendricksen 6), R20 (Madeline McCrea 7, Olivia Clairmont 4, R.Lindquist 4, L.Ulutoa 3, LaReina Cordova 2). ACES – S6 (Wandler 3), R8 (Rowe 2, Lindquist 2, Ulutoa 2, McCrea, O.Clairmont). ASSISTS – S23 (Maddie Weber 18, Engel 5), R (Hannah Rowe 10, Leina Ulutoa 8, Jaylea Lunceford). BLOCKS – S6 (Aliyah Anderson 2), R9 (M.McCrea 4, L.Ulutoa 3, O.Clairmont 2). DIGS – S33 (Kelti Wandler 9, Engel 9), R27 (Rylie Lindquist 6, L.Cordova 5, Rowe 5, L.Ulutoa 4, Lexi Wirz 4, M.McCrea 3). (Th03Sep20)
Ronan def. Libby 3-2
Ronan (1-0), Libby (0-1)
Ronan def. Libby 25-17, 22-25, 22-25, 25-20, 15-12*
KILLS – R42 (Olivia Clairmont 16, M.McCrea 9, LaReina Cordova 7, L.Ulutoa 5, R.Lindquist 4, J.Lunceford), L29 (Sophie Davis 8, Olivia Gilliam-Smith 7, Julia Martineau 6). ACES – R15 (Hannah Rowe 5, M.McCrea 4, L.Ulutoa 4, R.Lindquist, Lexi Wirz), L11 (Ember Rhode 4, Jessica Cunningham 3). ASSISTS – R41(Leina Ulutoa 24, Hannah Rowe 14, L.Cordova 2, R.Lindquist), L (Laneigha Zeiler 27). BLOCKS – R15(O.Clairmont 6, M.McCrea 5, L.Ulutoa 2, L.Cordova, J.Lunceford), L6 (Gilliam-Smith 5). DIGS – R64 (Madeline McCrea 21, Rylie Lindquist 19, Katie Beh 9, L.Ulutoa 8, L.Cordova 4, O.Clairmont 2, J.Lunceford), L83 (Aren James 31). (Tu01Sep20)
Asterisk (*) denotes stat variant(s) where alternate data exists - 406mtsports posting: s1(-17),s4(-20),s5(25-20); Libby venue: s1(16-), s4(19-),s5(12-15).
Western B
Mission edges Scarlets in Rez rivalry round
At Arlee, the cross county clash between the visiting Lady Bulldogs and the host Scarlets would be a barn burner whose outcome could have gravitated either way. An evenly matched first set would tilt the direction of the visitors. But the host Scarlets would surge over the course of the next two sets to take a 2-1 advantage that teetered the visiting Lady Bulldogs paused upon their hind paws. Mission would respond in kind to even the sets at two apiece, forcing a ferocious fifth finale which would precariously tilt in favor of the visitors.
Despite the loss, the Scarlets had served notice on their county cousins that Arlee is on the upward ascent and aims to be a force to be reckoned with after having been swept in straight sets last season.
Mission's Sydney Brander was highly productive on both offense as well as defense, generating game high numbers for both kills and digs. Arlee held the advantage at the service line, doubling up the visitors with Shonlea Matt acing seven serves. The Scarlets likewise held an advantage at the net with defensive blocks, Noel Johnson and Halle Adams collaborating on a half dozen snuffs.
Arlee embarks upon a brutal road series this week with games against perennial powerhouses Florence and Loyola. Mission will have already traveled to Ronan on Tuesday before they host a visit from the Eureka Lady Lions on Thursday, Sept. 10, then travel to Troy to tangle with the Lady Trojans on Saturday, Sept. 12.
Mission def. Arlee 3-2
7B Mission (1-1), 6B Arlee (0-2)
Mission def. Arlee 25-23, 12-25, 10-25, 25-19, 17-15
KILLS – MSI 32(Sydney Brander 19), A23 (Shonlea Matt 7, Halle Adams 7). ACES – MSI 7 (Maysa Couture 3), A 15 (S.Matt 7). ASSISTS – MSI 32 (Maysa Couture 27), A 21(Xaria Jacobson 15). BLOCKS – MSI 1 (Keana Thomas), A7 (Noel Johnson 3, H.Adams 3). DIGS – MSI 84 (S.Brander 21), A 57 (Jerny Crawford 15).
(Th03Sep20)
District 14C
Vikings vanquish visitors
At Charlo, the Lady Vikings hosted a pair of conference clashes this past week.
Against the Lady Mountain Cats of the Clark Fork coop, the team LV encountered their stiffest opposition of the young schedule thus far when the opening set stretched into extras and subsequent sets tallied among the 20s. All-stater Carlee Fryberger contributed among the mid-teens for offensive kills as well as defensive digs, while Kassidi Cox dealt a similar hand, but with crazy eights. Katelyn Young notched double digits with 14 digs.
This past weekend, the Lady Vikings swept the visiting Lady Tigers of St. Regis in straight sets. Connor Fryberger set the table with a tandem of tens, dishing out assists as well as excavating out digs.
Charlo is slated to travel to Plains this Thursday, then host Hot Springs Saturday.
Charlo def. St. Regis 3-0
Charlo (2-0, 4-0), St. Regis ()
Charlo def. St. Regis 25-16, 25-10, 25-10
KILLS – SR (na), C23 (Kass Cox 8). ACES – SR (na), C20 (Mila Hawk 6). ASSISTS – SR (na), C20 (Connor Fryberger 10). BLOCKS – SR (na), C3 (three with one). DIGS – SR (na), C35 (Con.Fryberger 10). (Sa05Sep20)
Charlo def. Clark Fork 3-0
Charlo (1-0, 3-0), Clark Fork (0-1, 0-3)
Charlo def. Clark Fork 26-24, 25-20, 25-21
KILLS – CF19 (Sorren Reese), C30 (Carlee Fryberger 15, Kass Cox 8). ACES – CF4 (Reese 2), C7 (Car.Fryberger 2, Cox 2). ASSISTS – CF16 (Reese7), C27 (Connor Fryberger 13, Cox 8). BLOCKS – CF1 (Violet Claxton), C1 (Mila Hawk). DIGS – CF38 (Payton Milender 10), C75 (Car.Fryberger 15, Kate Young 14). (Th03Sep20)
Clark Fork Lady Mountain Cats = Alberton-Superior coop
---