Arlee, Elmo powwow celebrations cancelled for 2021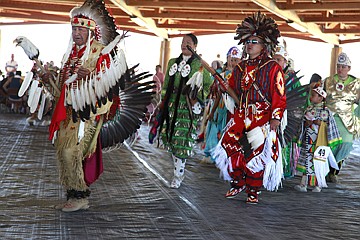 Pat Pierre, Nukinka Manue and Jason Louie participate in the Grand Entry at the 2012 Standing Arrow Powwow in Elmo. (Lake County Leader file photo)
by
SCOT HEISEL
Lake County Leader
|
April 23, 2021 4:00 PM
Committees within the Confederated Salish and Kootenai Tribes announced Thursday that this summer's annual Arlee Powwow Celebration and the Ksanka Standing Arrow Powwow at the Elmo Powwow Grounds will be postponed for the second consecutive year due to concerns over the spread of the COVID-19 virus.
During Tribal Council's regular meeting Thursday, members of the Arlee Powwow Celebration Committee, chaired by Ron Matt, told the Council they'd reached the decision to postpone and wanted to make it official with the agreement of council members.
Tribal Council Treasurer Martin Charlo suggested the Council consider allowing very limited use of the arbour area of the Arlee facility in July for small groups on approval, but no such provisions have been finalized.
"I know this was a difficult decision," Charlo said. "My hope is that this is the last summer that we won't be able to have this. I'm really looking forward to next year."
Leonard Twoteeth from the Elmo District announced that he had received word from the Elmo Powwow Committee that they, too, had decided to postpone their event.
"It was going great up until the covid got here," Matt said. "I thought we were going to have a good job there, but then the covid hit and it tore things up for our community and powwow country. If we get started on a new plan for the powwow grounds, I think we could have another real successful powwow."
Charlo said he would like to see some smaller events scheduled for later in the year as vaccination rates rise and the threat of active cases diminishes.
"I would hope that as a community we will rally and get ourselves to a point where we reach herd immunity, and I think it would be awesome to have a late-summer, early-fall … little something, just for our communities to start healing because this has been a rough year," Charlo said.
---