Rep. Reksten's school capital improvement bill becomes law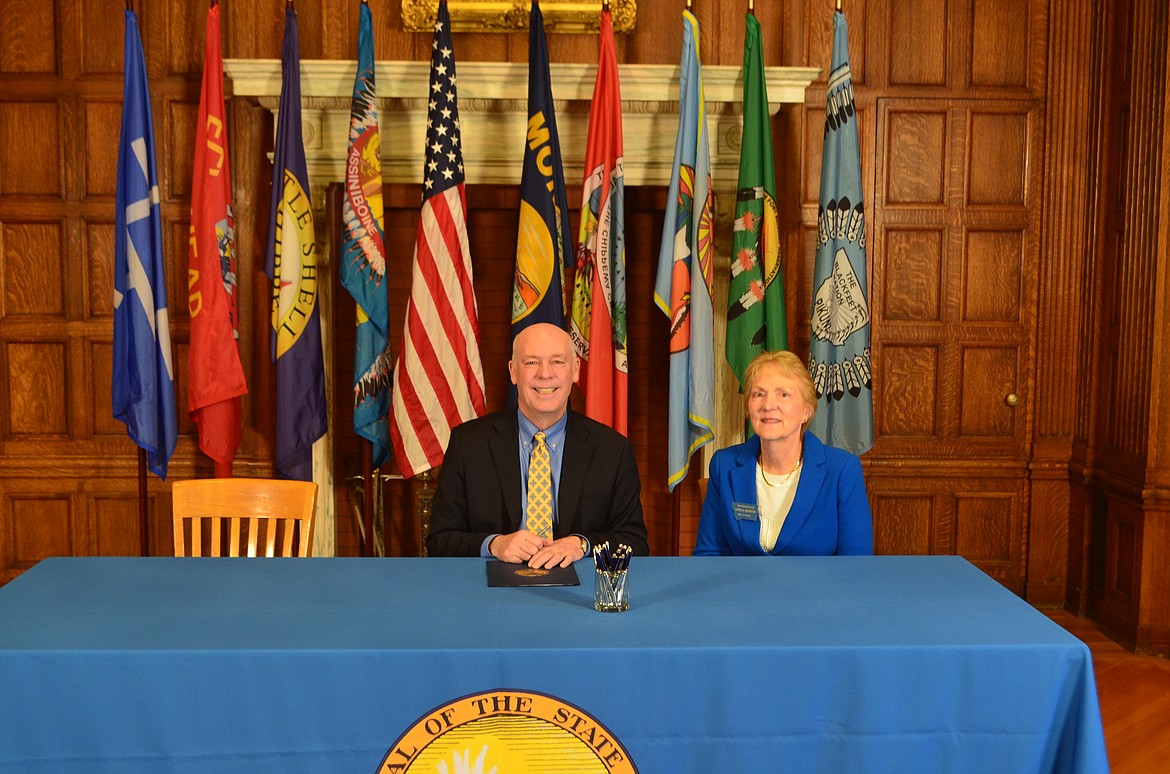 State Rep. Linda Reksten of Polson joined Gov. Greg Gianforte at the signing of her bill, HB 192, which allows schools to save unspent funds toward expensive capital improvement projects. (Courtesy photo)
by
CAROLYN HIDY
Lake County Leader
|
April 29, 2021 12:15 AM
Freshman Montana Rep. Linda Reksten (HD12) got to witness a bill she sponsored to address large school capital improvement project funding signed into law by Gov. Greg Gianforte on April 19.
HB 192 was born of Reksten's experience as Polson schools superintendent, a position from which she retired nearly five years ago. During that time, efforts to replace the boiler at Cherry Valley School were hamstrung by the lack of capital improvement funding and an inability for schools to save up funds to help cover such large expenses.
"I started working with the legislative drafter a month before I even went to the House, so we had pretty much of a bill draft way before the session started," Reksten said. This helped get the bill considered earlier in the session than those that came in later. "Then it took me about a month to understand how the funding worked."
"This bill allows the school district, if they have remaining balances in funds other than retirement and debt retiring funds, they can put it in a capital improvement fund. But they have to have a strong, clear explanation to the public," Reksten said.
School facilities are partly funded with matching funds from the interest on the state's coal severance tax fund, Reksten explained. Another source of funds is the "permissive levy," a limited non-voted levy schools can impose to support budgets in the areas of tuition, adult education, building reserve, transportation and bus depreciation reserve, as long as they notify the public.
Reksten explained that the new law requires the school to complete an extensive planning process to create a plan for school safety or emergency preparedness, and increases requirements for clear communication with the community as to what the money will be saved for.
With that certified plan, then, "If you, as a school district, set aside money in a capital improvement fund from your own budget, and then you have the permissive levy and the state match that funnel into that, then if you need more money and have to go out and ask for a bond, then you can say, 'We've saved this much money, but we're short this much. Would you support us in a bond measure?"
The bill slightly increases the permissive levy allowed, but it also increases the match from state coal tax funds, so essentially, there is no impact to property taxes, Reksten said.
The bill goes into effect in July, for next year's funds. The required public notification must occur by March 31, prior to school board elections, Reksten said. There will be about $13 million available.
Though she is no longer part of the decision-making team at Polson schools, Reksten said that if replacing the boiler is still a priority, "this provides the mechanism for them to do that. This will help all school districts across the state for things that are really necessary like roofs and boilers, where there's a problem and you need to make some purchases."
Reksten said it was very exciting to join the governor for the bill's signing.
"It's really interesting. You go there with a lot of predispositions, but then you learn the rest of it. It's very complicated."
HB 128, another of Reksten's bills, would have created a renewable energy trust fund, similar to the coal tax trust fund.
Though it was tabled by the Taxation Committee, "It opened the door to having them study the Coal Severance Tax Fund," Reksten said. "Fifty-percent of that fund directly funds things like conservation districts, economic development, and a lot of different things. But it is losing money."
The Legislature approved an interim study (between sessions) on the Coal Severance Tax Fund, she said.
---