Trail blazers: Volunteers etching new pathway into Polson's future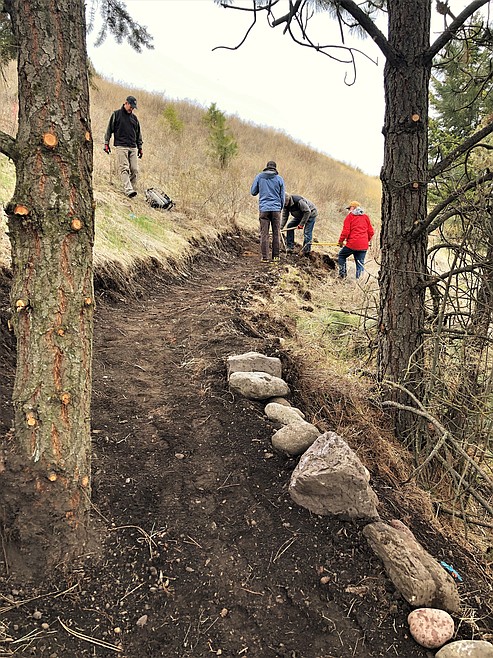 A new trail, starting in the Mission Aquatics Center area, will be open to the public for hiking, running and biking by the end of May. (Courtesy of Mike Windauer)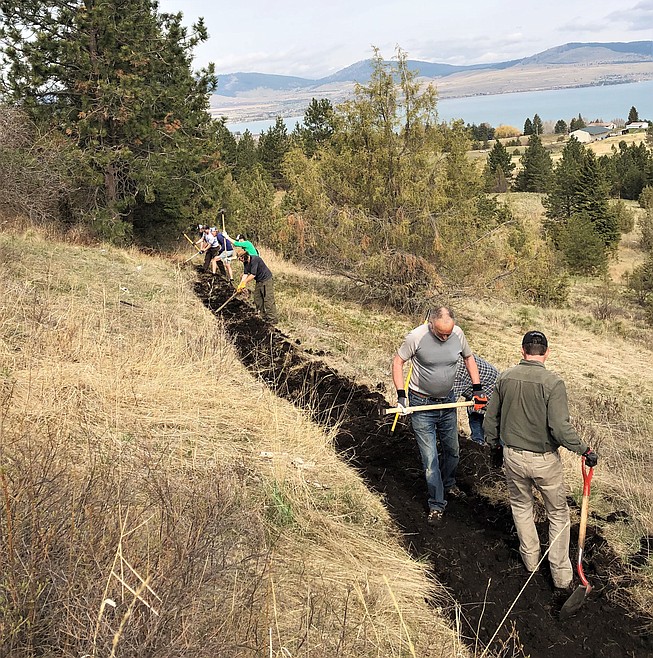 A new foot and bike path will be completed by the end of May in the Ridgewater development overlooking Polson and Flathead Lake. The trail has been entirely built by volunteers, with the permission of the landowners, the Maddy family. (Courtesy of Mike Windauer)
Previous
Next
by
CAROLYN HIDY
Lake County Leader
|
April 29, 2021 12:55 AM
Volunteers are building the second section of a foot and bike path for public use in the Ridgewater Drive area of Polson. The trail will wind up the hillside, beginning near the Mission Aquatics Center.
The trail has been brought about not by an organization, but simply by interested folks working together, and the generosity of a private landowner.
"As of right now," said Mike Windauer, one of the organizers, "the trail is all on private land of the Ridgewater development. The [Mike and Marlo] Maddy family was gracious enough to give us permission for this hiking and biking trail to be built, and to open it up for the entire community."
When asked who "us" is, Windauer said, "I don't really have a name for 'us.' This is entirely a product of community support and the volunteers who come to build it. It's whoever shows up. I wouldn't be surprised if there have been at least 40 people helping on it."
Windauer said an average of about 15 people show up each Saturday to work on the trail. Last spring, they built "Phase One," approximately 2.5 miles of trail, over six weekends. This year, "Phase Two" will see another 2 miles built, tying in the pool area with the part of the trail built last year.
Most of the trail construction has been done by hand with hoes, rakes, Pulaskis and similar tools. In a few areas, a small backhoe or excavator has been able to get in to help out, but even that work requires handwork afterward to rake and smooth it out.
The trail has already gotten a lot of use, Windauer said, even though he thinks most Polson residents don't yet know it exists.
"By the end of May, the whole trail will be useable," Windauer said.
Volunteers will continue to meet Saturdays 9 to 11 a.m. through May. All are welcome to join in the trail building project. Bring gloves, clothing appropriate for the weather, and a rake or hand tool with a flat digging edge (such as adze or Pulaski). Park on Long Lake Drive above Taco Bell.
For more information, call Mike Windauer at (406) 260-6399.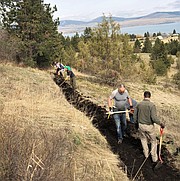 ---