Flathead Lakers stand tall for conservation at annual meeting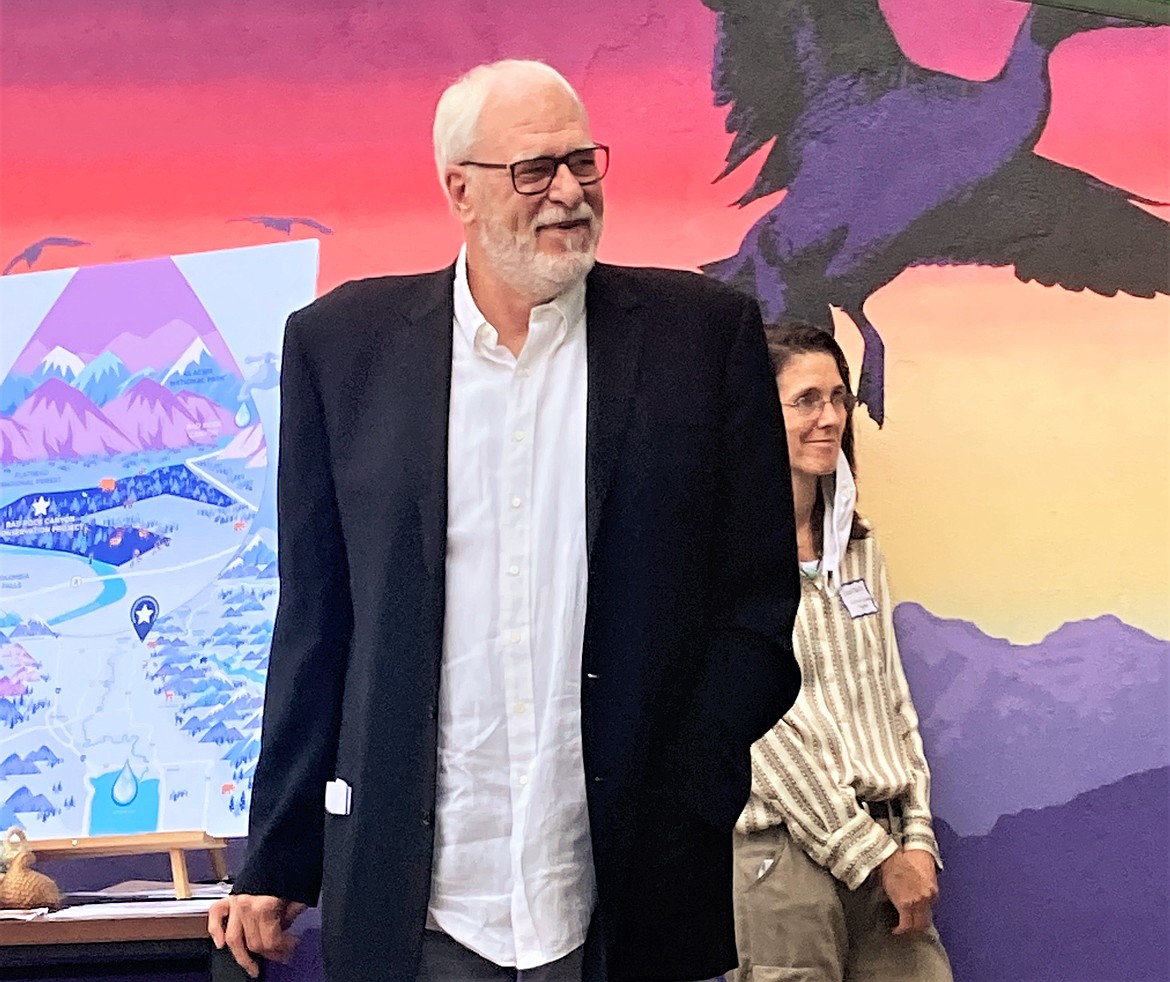 "Double Laker" Phil Jackson, a supporter of Flathead Lakers as well as NBA championship coach of the L.A. Lakers and Chicago Bulls, shared stories and inspiration at the nonprofit's annual meeting. (Carolyn Hidy/Lake County Leader)
Dave Hadden, recently retired director of Headwaters Montana, was awarded the Flathead Lakers' annual Stewardship Award for his efforts to protect the lake, its watershed, and fish and wildlife. (Carolyn Hidy/Lake County Leader)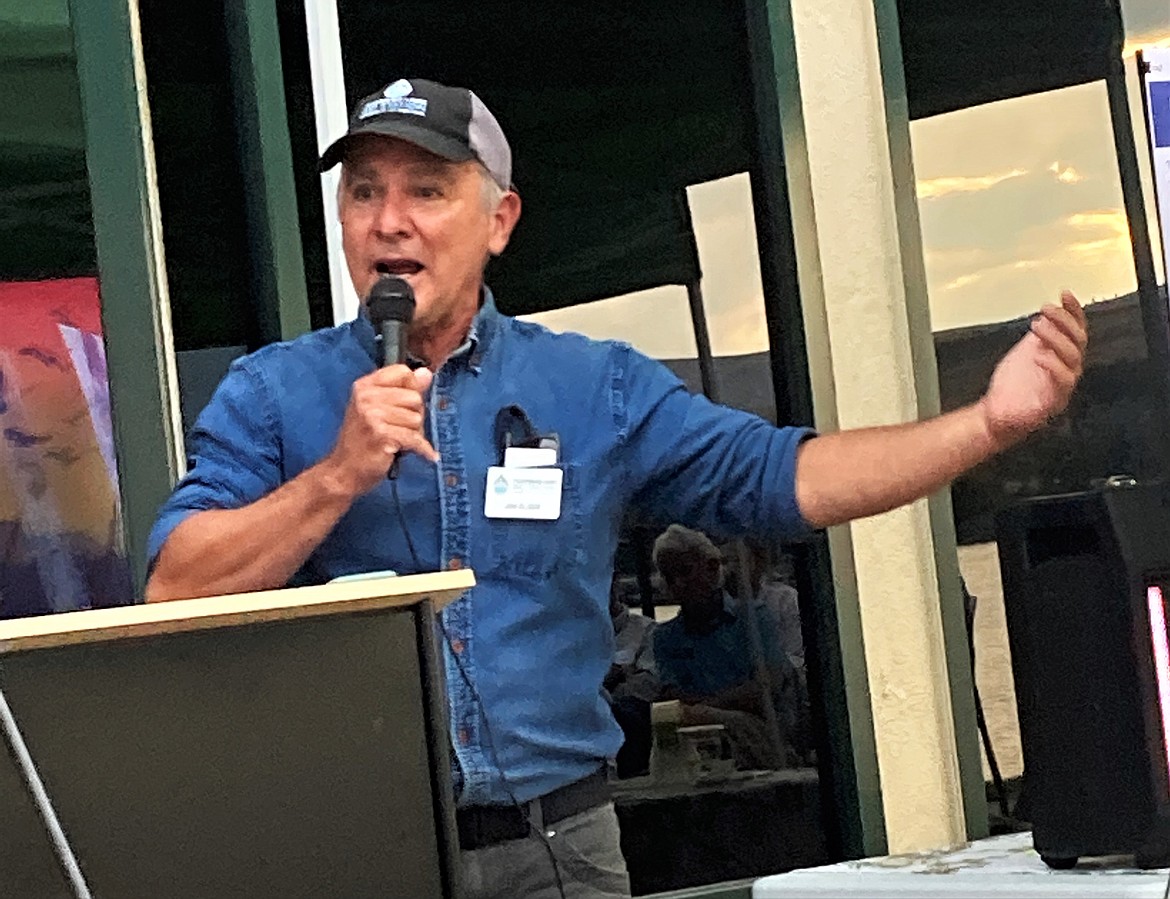 Dr. Jim Elser of Flathead Lake Biological Station reported that the lake is still free of invasive mussels, but "the threat continues," as a record number of infested boats have been stopped at check stations. (Carolyn Hidy/Lake County Leader)
Previous
Next
by
CAROLYN HIDY
Lake County Leader
|
August 26, 2021 12:45 AM
Flathead Lakers welcomed NBA coaching legend and philanthropist Phil Jackson, a lifetime supporter and long-term resident of Flathead Lake, as keynote speaker at their annual meeting Aug. 19 in Polson.
Jackson's history as coach of the championship L.A. Lakers make him a "double Laker," as he is also a supporter of the local nonprofit by that name, said the group's board president, Tom Cox. The P.D. Jackson Family Foundation lends support to Indigenous peoples, environmental preservation, self-growth opportunities and local communities.
Jackson spoke of the importance the lake and its watershed had in his life. He attended Bible camp at Hungry Horse and purchased shoreline property in the 1970s. He was impressed that the community could join together and support each other in situations such as opposing the proposed amusement park on the west shore earlier this year. He quoted Chief Seattle as saying, "Man did not weave the web of life, he is merely a strand in it. Whatever he does to the Earth, he does to himself."
"In all seriousness, I love having someone I can look up to as an incredible leader," said Flathead Lakers Executive Director Kate Sheridan of the 6 foot, eight-inch retired coach. "I'm reading 'Eleven Rings" now,' she said, referring to Jackson's latest book.
Cox introduced staff and speakers, and then focused on the three greatest threats to Flathead Lake that the Lakers will be concentrating on in the next few years: invasive mussels, potential oil spills from trains and effects of development, including sewage and increased contaminated runoff from paved or packed surfaces. Ensuring best management practices are installed with subdivisions, and increasing boat pump-out stations will continue to be a primary focus.
Dave Hadden of Bigfork received the annual Stewardship Award for "people who demonstrate extraordinary achievement in their work to protect Flathead Lake and its watershed."
Sheridan said Madden began his career in conservation in the North Fork of the Flathead in the 1970s.
"His focus never deviated over the years, and only expanded to encompass the Crown of the Continent ecosystem, the landscape we all know so well that goes from Banff through the Bob Marshall Wilderness," Sheridan said. "The issues then are the same as now — protecting our water, our outstanding wildlife and our opportunity to recreate in a quiet, natural landscape."
Sheridan enumerated several issues Hadden has been a part of, including a 14-year effort as part of an international team that resulted in passing the North Fork Watershed Protection Act in 2014 — an international agreement that removed 430,000 acres of federal land from consideration for mining and geothermal development.
He was instrumental in establishing scientific limits on the amount of selenium British Columbia could discharge from upstream coal mines into the Kootenai River flowing into the U.S. He worked to ensure the Flathead National Forest moved from a main function of timber harvesting to a balanced approach that protected fish, wildlife and quiet recreation.
He also served on the board of the Yellowstone to Yukon Conservation Initiative "to focus on protecting the vital wildlife corridor of the Crown of the Continent," Sheridan said.
Madden also organized the effort to ensure revenue raised by the recent passage of I-190, legalizing marijuana, was earmarked for non-game wildlife and habitat protection, projected to exceed $1 million annually, she said. Madden recently retired from a 15-year stint as director of the nonprofit Headwaters Montana.
Dr. Jim Elser, director of the UM Flathead Lake Biological Station at Yellow Bay, wrapped up the meeting with a "State of the Lake" report.
"The lake is blue and mussel-free," he said. "However, we can never let our guard down. We have already surpassed our annual record of infested boats stopped at the inspection stations this year."
Drying reservoirs in other states are bringing far more boats to this area, he said.
"There's a real risk out there."
Elser said the lake is blue because it lacks phosphorus, which can cause growth of algae. Phosphorus levels are stable to declining over time, "an amazing thing" despite an exploding population in the basin. He credited efforts to upgrade city sewage treatment plants and septic systems along the lake. The bio station will install and demonstrate a small-scale modular wastewater treatment plant that can be used for small communities in the next few years. More pump-out stations for boats will continue to be needed as well, he said.
The station is monitoring changes in the watershed due to climate change, including lake temperature, development of new streams and lakes in the headwaters as glaciers retreat, and the effects of drought and wildfires.
"Climate change is not an abstraction anymore; it's something we're living and manifesting now, on a schedule that's even faster than many had expected." We can still take concrete actions to "avoid the worst outcomes of climate change … slowing or stopping the necessary changes to our systems of agriculture, transportation, power generation and other systems we depend on. It's not just avoiding disaster, it's welcoming a better future, with clean air, clean water, for our children. Let's be good ancestors. The state of the lake is blue; let's keep it that way."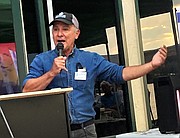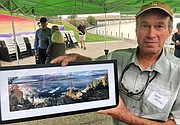 Recent Headlines
---