Helping Hands connects volunteers to those in need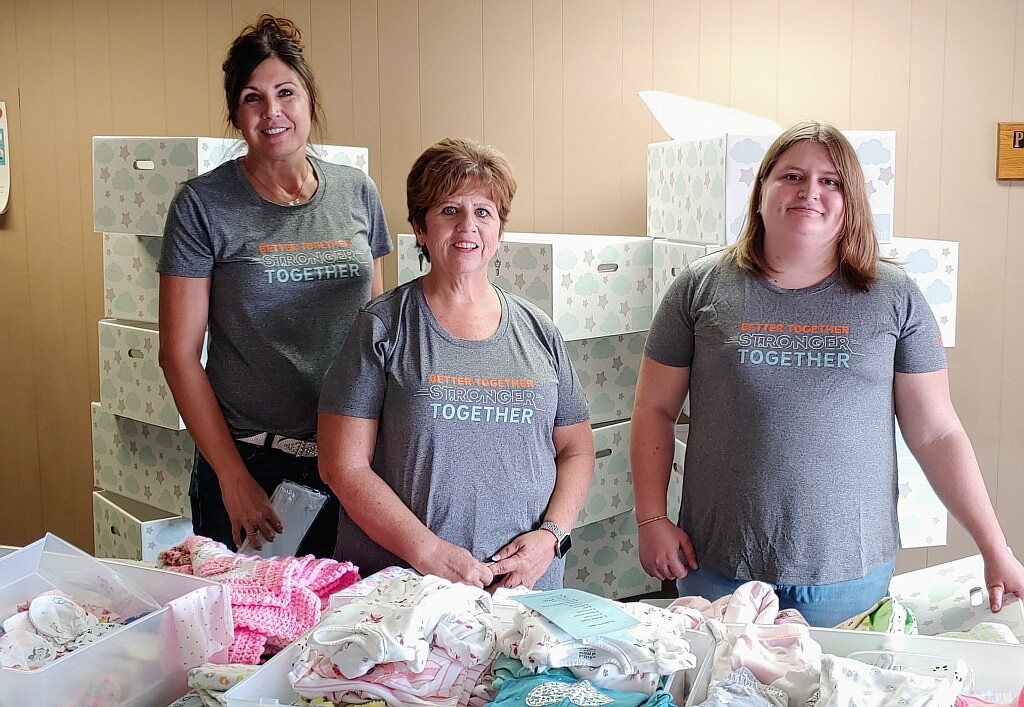 From left: Linda Fisher, Liz Grant and Shannon McCollum. (Courtesy of Helping Hands of the Mission Valley)
by
CAROLYN HIDY
Lake County Leader
|
December 19, 2021 9:25 AM
Most folks will have seen a Salvation Army bell ringer or two standing with their little red kettle outside of area storefronts during the Christmas season. Many have stopped and dropped some money into that little slot in the lid. But they might not realize how much impact their donation is having in their own community.
The Salvation Army works worldwide to reach out to those who are "hurting, broken, lonely, dispossessed and lost, reaching them in love by all means," as their website puts it. But ninety percent of donations collected in Lake County are put directly to work for people in this county, through a web of community volunteers and organizations working together to meet both short and long term needs.
If there were a center point that could connect an entire web of community helpers, Jennifer Rolfsness might be the one. Rolfsness is executive director of Helping Hands of Mission Valley, a major recipient of the Salvation Army donations. Guided by the Mission Valley Ministerial Association member churches, they also distribute funds they have raised through fundraising events and grants.
Though based in Polson, the organization's web reaches far, connecting folks in need with a hand up. Whether it's a stranded traveler needing food, personal items or a bus ticket to the safety of home; a fire evacuee needing help obtaining vital records or personal items; or a local family struggling to keep the power bill paid, Helping Hands folks roll up their sleeves and get to work to meet those emergency needs. Besides the funds they have on hand, individual donors often do what they can to help when Helping Hands puts out a request for help for someone.
"Each emergency call is considered on its own unique merits as every person's situation is different," Rolfsness said.
Since its founding in 2004, they have assisted in over 50,000 emergency requests involving individuals and families. The aid is in the form of vouchers, supplies, assistance with food, medications, transportation and bus tickets, utilities, clothing, personal care items, temporary lodging, and obtaining vital records. Each situation is considered on a case by case need, based on its own merits.
Beyond the emergency needs, Helping Hands works with other organizations in Lake County and surrounding areas that can help folks with solutions to their longer term needs, such as housing, employment, benefits, and so on. They also sponsor community programs such as free Thanksgiving dinners, "adopting" families at Christmas, and ensuring school kids have the supplies and clothing they need. Their "Community Cradle" program offers new mothers helpful information and a custom designed baby sleeping box that can help both the baby and mother get a good sleep.
"Our volunteers and donors who have stepped up all these years are a light in and for our community," Rolfsness said.
To contact Helping Hands, call 406-883-8256. Office hours are 9 a.m. to 2 p.m. Monday and Wednesday, and 9 a.m. to 1 p.m. Friday. Appointments are recommended. They are located in the Grandview Building at St. Joseph Medical Center, at 1 14th Ave. W. in Polson. Visit helpinghandsofmissionvalley.org to donate, volunteer or learn more.
Recent Headlines
---