Wrestling Roundup: Bulldogs clean up at Corvallis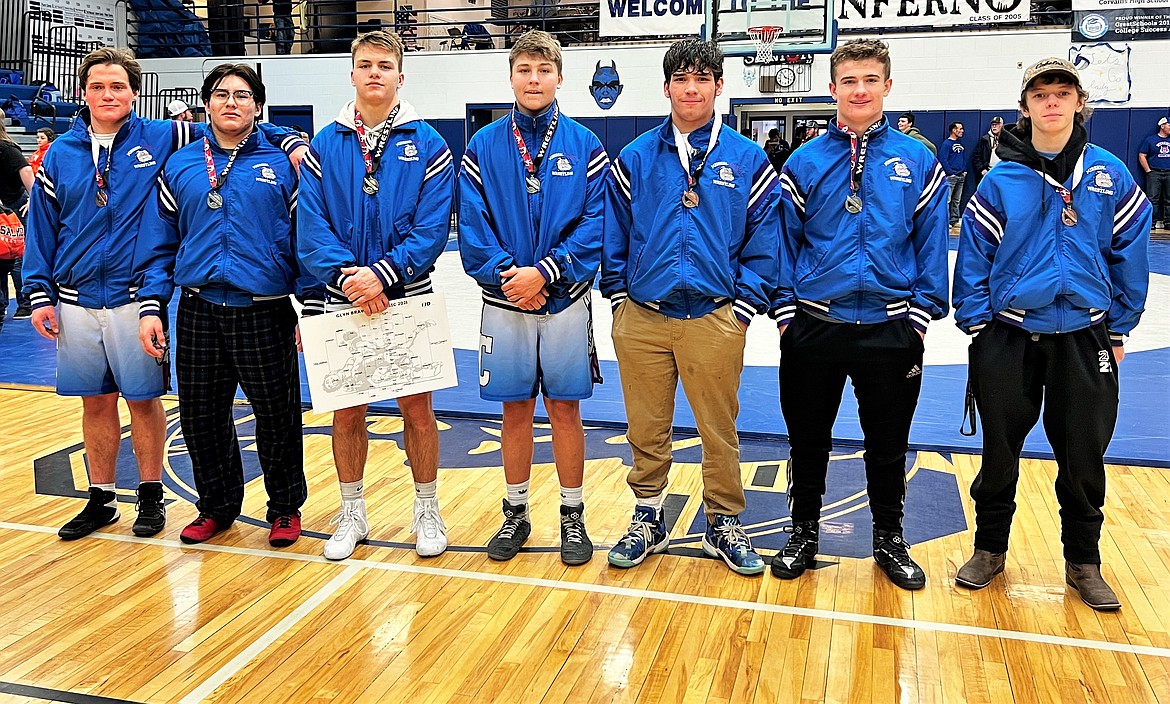 Mission-Charlo wrestlers who placed at Corvallis last weekend, from left: George Ranney, Diego Hostetler, Canyon Sargent, Chance Bockman, Shayden Friedlander, Charley Adams and Kody Dillard. (Courtesy of Daisy Adams)
by
SCOT HEISEL
Lake County Leader
|
December 21, 2021 2:45 PM
Seven Mission-Charlo wrestlers earned medals Saturday at the nine-team Glyn Brawley Classic in Corvallis.
Canyon Sargent received two byes, then won two matches by fall to claim the title at 170 pounds. He pinned Wyatt Leishman of Frenchtown in the championship match.
Charley Adams went 2-1 and finished second at 152 pounds. He lost by fall to Jeffery Berryman of Stevensville in the final match.
The Bulldogs finished sixth in the team standings, one point behind Stevensville.
Other medal winners for Mission-Charlo were: Kody Dillard, fourth at 113; Chance Bockman, second at 160; Shayden Friedlander, fourth at 160; Diego Hostetler, second at 182; and George Ranney, fourth at 182.
Team scores: Corvallis 159; Frenchtown 146; Superior 134; Salmon 96; Stevensville 94; Mission-Charlo 93; Florence-Carlton 41; Missoula Sentinel 15; Deer Lodge 8.
Cote, Twoteeth third at Great Falls
Ridge Cote and Tirza Twoteeth earned third-place medals for Ronan among a huge field last weekend at the CMR Holiday Classic in Great Falls.
Following an initial bye, Cote won two matches before losing by technical fall to Keyan Hernandez of Billings West. Hernandez won two more matches to claim the 113 pound title. Meanwhile, Cote won four more matches in the consolation bracket to claim third. The Ronan freshman defeated Great Falls CMR junior Logan Younkin by fall in his final match of the event.
Heavyweight Max Morency won five of seven matches to finish seventh.
In the girls competition, Twoteeth was pushed into the 205 pound consolation bracket with a loss by fall to Madisen Pillers of Newport, Wash., in her second match. She bounced back with four straight wins to finish third.
Fellow Maiden Saellah Hugs started with a bye, a loss, and another bye, then went 2-1 to finish fourth at 103 pounds.
Knutson, Knoll take Buzz Lucey titles
Polson's Riley Knutson took the 103 pound title and Arlee's RJ Knoll was first at 160 pounds over the weekend at the Buzz Lucey Tournament in Eureka.
The Pirates finished sixth in the nine-team field, while the Warriors were eighth.
Knutson started with three byes due to a thin field at 103, but he won two matches to claim the title. The first was a pin in 30 seconds against Gavin Schrenk of Plains. He defeated Eureka's Blake Lancaster by a 5-4 decision in the championship match.
Fellow Pirate Breadon Iliff went 1-2 to finish fourth at 103.
Knoll also wrestled just twice, but pinned both Nathan Fink of Columbia Falls and Matthew Niemi of Libby to claim the title.
Arlee's Brody Smith went 1-2 to finish third at 113 pounds.
Polson's Lincoln Burrough finished third at 205, and fellow Pirate Micah Craig was fourth at 132.
Team scores: Libby 245; Eureka 202; Plains 153.5; Columbia Falls 119; Glacier 75; Polson 64; Lakeland 61; Arlee 50; Bonners Ferry 41.
Chiefs top T-Falls, tie Whitefish
Ronan won four of seven matches but benefitted from several forfeits to beat Thompson Falls-Noxon 48-20 during a home tri-dual Dec. 14.
Ronan got wins from Jamison Webster (182), Max Morency (285), James Kenelty (126) and Koy McAllister (132). The Chiefs won five matches by forfeit, lost one by forfeit, and there was one double forfeit.
Kenelty and Webster also earned wins against Whitefish. Ronan lost four matches, but earned a 30-30 tie thanks to several forfeits by the Bulldogs.
Ronan 48, Thompson Falls-Noxon 20
160: Shane Reishus (THFA) over Louie James (RONA) (Fall 0:00); 170: Max Hannum (THFA) over Tristan Fisher (RONA) (Dec 4-1); 182: Jamison Webster (RONA) over Veronica Bewick (THFA) (Fall 0:29); 285: Max Morency (RONA) over Hayden Hanks (THFA) (Fall 1:41); 126: James Kenelty (RONA) over Levi Wenz (THFA) (Fall 3:00); 132: Koy McAllister (RONA) over Westin Brown (THFA) (Fall 1:23); 145: Trae Thilmony (THFA) over JD Daley (RONA) (TF 16-0 2:00).
Ronan 30, Whitefish 30
120: Landree Aurund (WHIT) over Tyson Lake (RONA) (Fall 3:24); 182: Jamison Webster (RONA) over Tanner Harmon (WHIT) (Dec 6-4); 126: James Kenelty (RONA) over Rylan McDaniel (WHIT) (Dec 12-6); 132: Logan Heyne (WHIT) over Koy McAllister (RONA) (Fall 1:09); 145: Carter Moran (WHIT) over Julian Strait (RONA) (Fall 2:33); 152: Henry Bennetts (WHIT) over Brady Hout (RONA) (Fall 2:25)
Ronan dominates girls mixer
Ronan wrestlers won 10 of 11 matches, and a pair of Polson wrestlers went 3-2 at a girls mixer Dec. 14 at Frenchtown.
Ronan's Juliett Cheff won three matches at 126 pounds, while teammates Saella Hugs (103) and Amberli Anderson (132) each finished 2-0. Katie Dolence lost in the first round, then followed with two wins at 138. Tirza Twoteeth won her only match of the day at 205 pounds.
Polson's Abigail Sorrell went 2-0 at 145, while Maddelyn Huffine was 1-2 at 113 pounds.
Recent Headlines
---