Charlo girls remain unbeaten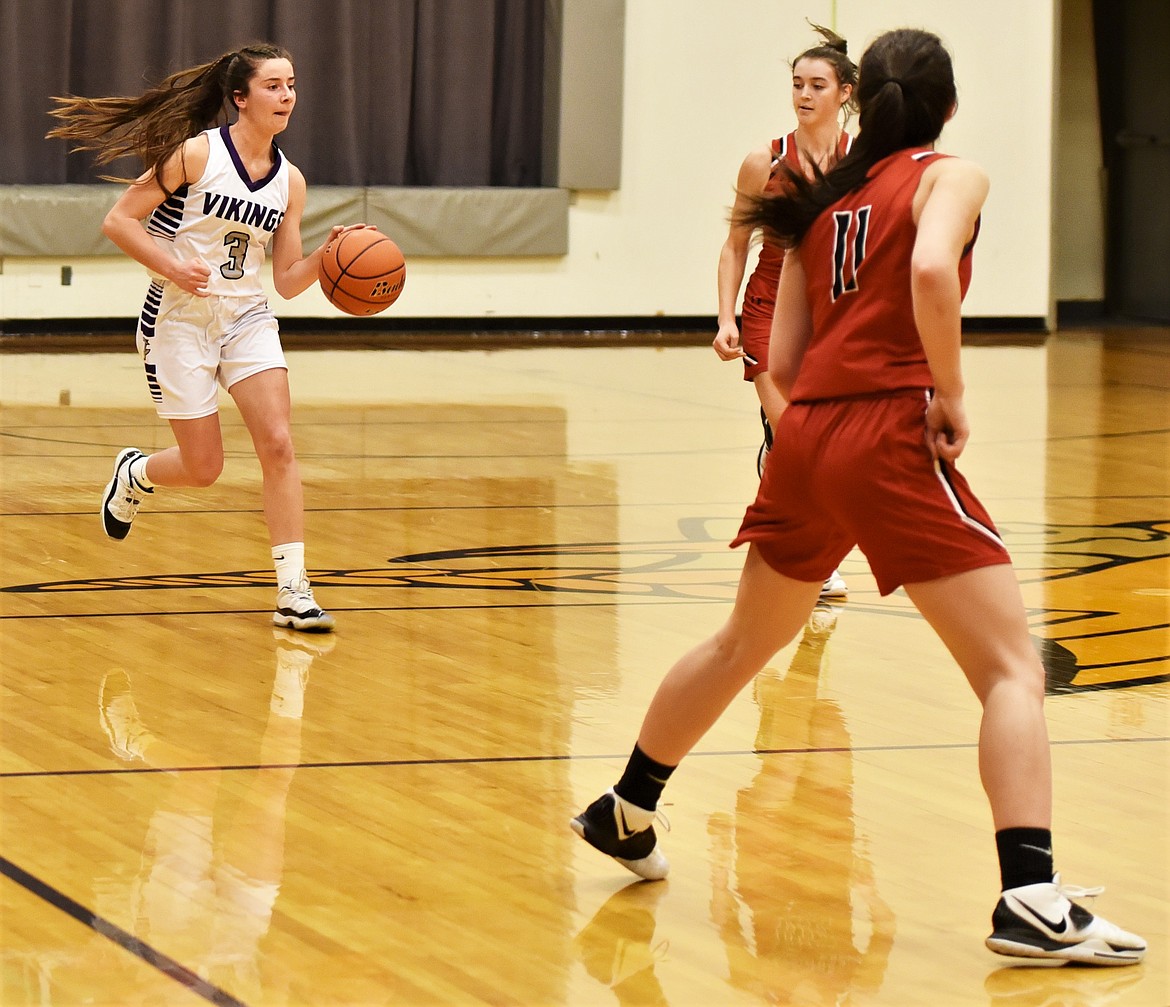 Hayleigh Smith (3) takes the ball up the court against Noxon on Saturday. (Scot Heisel/Lake County Leader)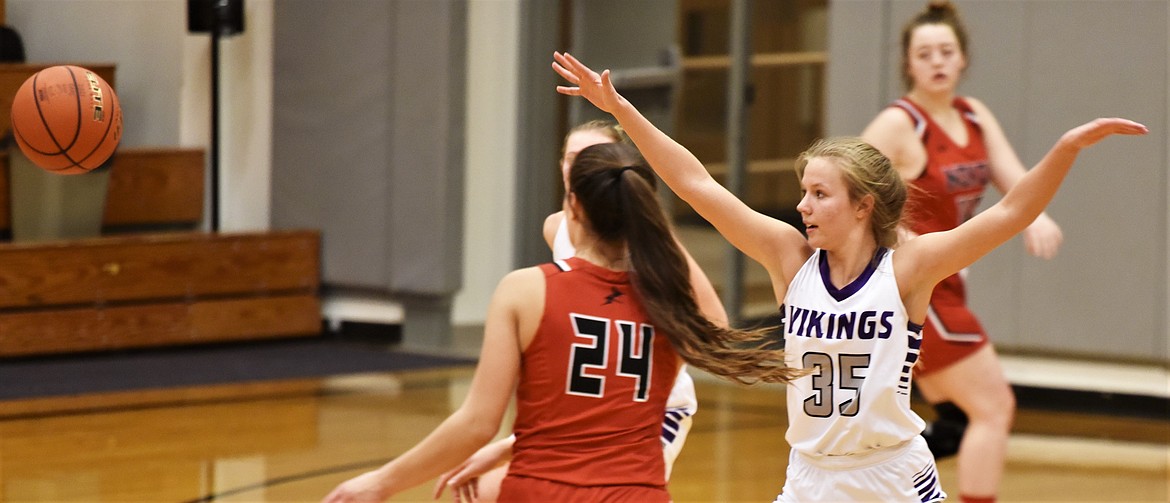 Charlo senior Carlee Fryberger defends as Noxon guard Avery Burgess passes the ball Saturday at Charlo. (Scot Heisel/Lake County Leader)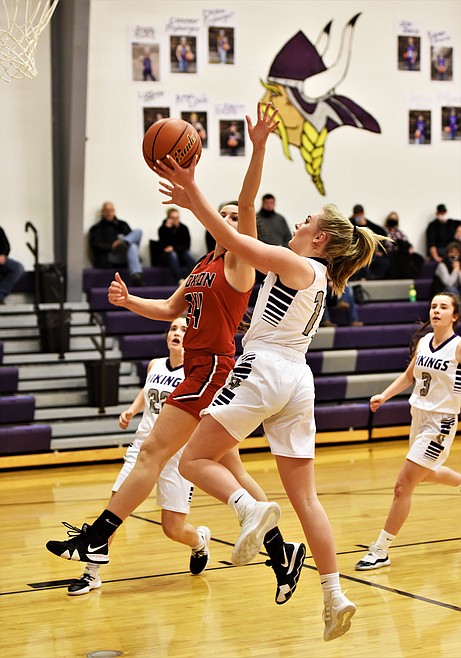 Charlo's Kassidy Cox puts up a shot as Noxon's Avery Burgess defends Saturday at Charlo. (Scot Heisel/Lake County Leader)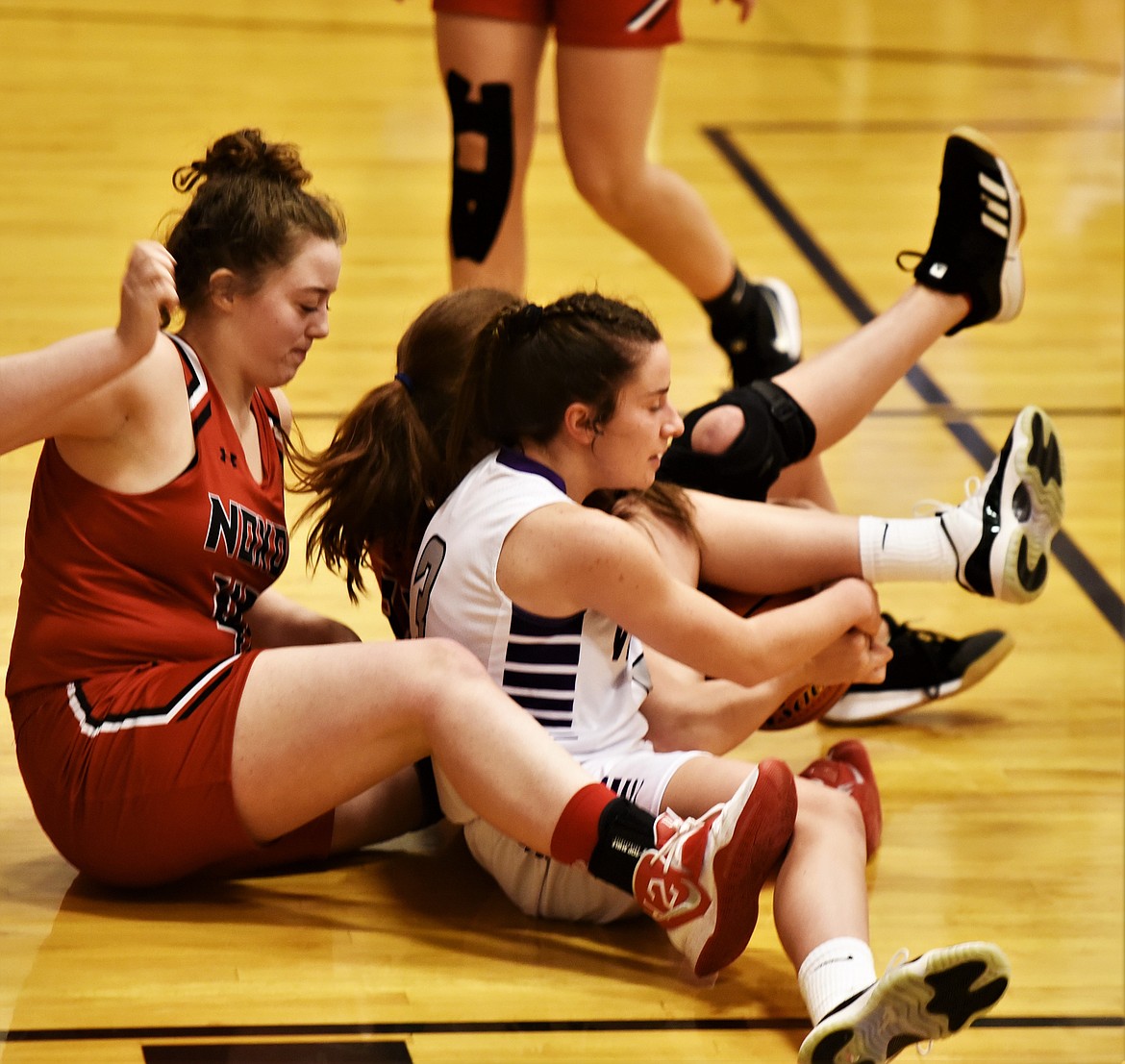 Charlo's Hayleigh Smith battles for a loose ball with Noxon players, including Vanessa Horner, left. (Scot Heisel/Lake County Leader)
Previous
Next
by
SCOT HEISEL
Lake County Leader
|
February 2, 2021 9:00 PM
CHARLO — The unbeaten Lady Vikings of Charlo notched three more wins last week to improve to 8-0 as they continue to establish themselves among the state's elite teams.
Two of those three wins came against conference foe Noxon. And while their 59-41 win at home Saturday night might seem like an easy task, it was their stiffest challenge of the season.
Charlo stormed out of the gate and dominated the first period. Connor Fryberger did a lot of the heavy lifting early on, scoring both in the paint and at the line. She scored 12 of her 21 points in the first eight minutes and pulled down eight rebounds on the night.
Carlee Fryberger hit a pair of 3-pointers en route to a 16-point night.
The Red Devils managed to stay within 20 points for the rest of the night. When sophomore Avery Burgess hit a 3-pointer with 2 minutes remaining in the third, Noxon reached 28 points. No team this season had scored more than 25 against Charlo in a single game.
Charlo head coach Bret Thompson rotated his players frequently, and their energy helped subdue the Lady Red Devils.
"We're a team that prides ourselves on defense," Thompson said. "I was happy with our effort, but we sent them to the line too much. Probably more than any team we've played this season."
Hayleigh Smith contributed seven points, 10 rebounds and five steals for Charlo. Mila Hawk added seven points and five rebounds.
Charlo 54, Plains 15
The Lady Vikings hosted Plains on Friday night and coasted to a 39-point win.
Carlee Fryberger scored 16 to go with six rebounds, Connor Fryberger scored 10 and pulled down six boards, and Hayleigh Smith led the team with 10 rebounds to go with seven points.
Charlo 40, Noxon 17
Tuesday Noxon Connor Fryberger scored a game-high 11 points with seven rebounds and her sister Carlee dropped nine points with six rebounds and four steals.
The Lady Vikings got nine rebounds from Hayleigh Smith and eight from Kassidy Cox as they dominated the boards.
Noxon never reached double-digit scoring in any period. Avery Burgess led the Lady Devils with eight points.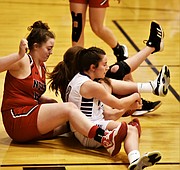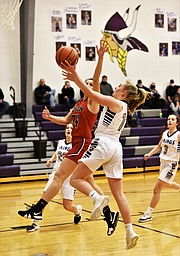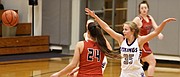 ---