Pirates seize the night against Chiefs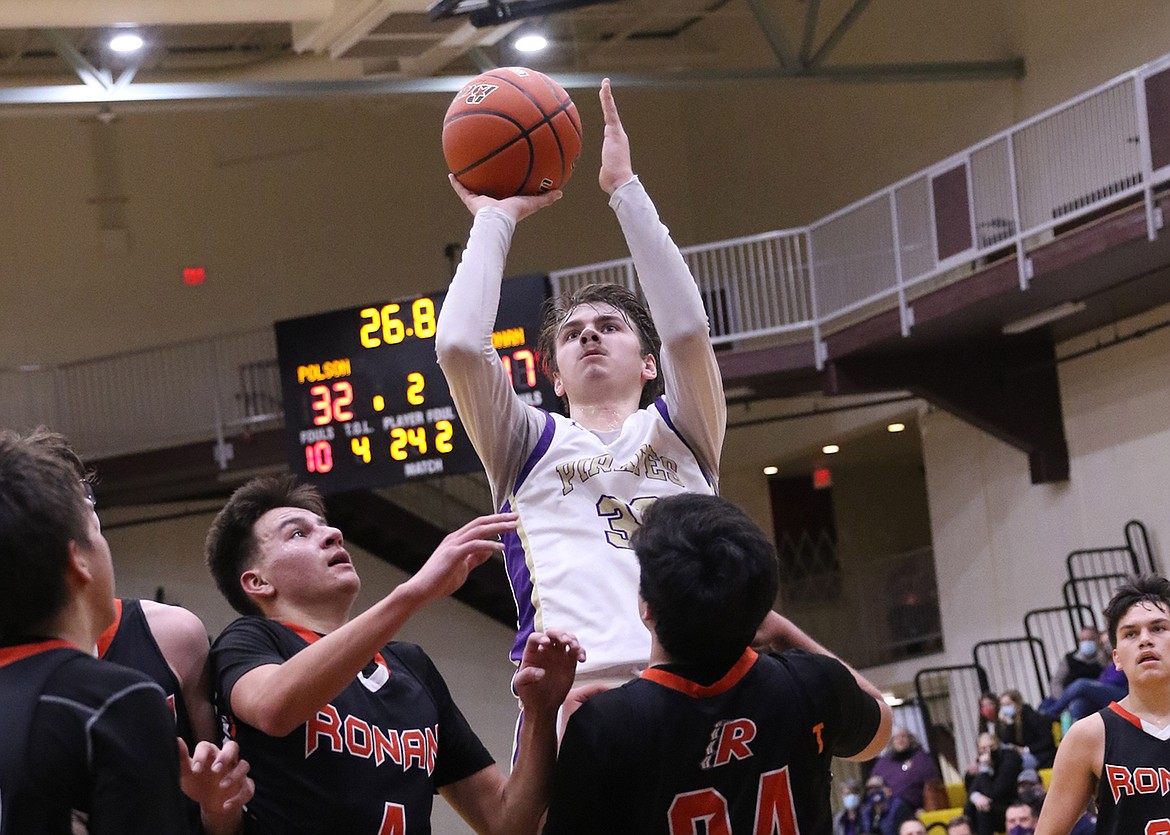 Colton Graham rises for a shot over Ronan defenders Friday night at Pablo. (Bob Gunderson)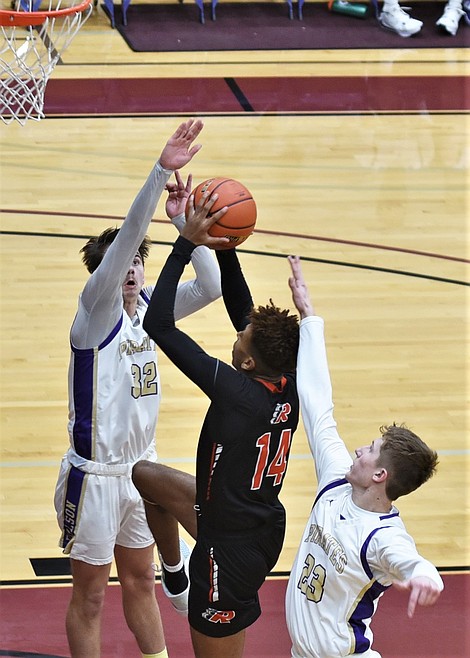 Ronan's Girma Detwiler looks for a bucket against Polson's Colton Graham (32) and Sam Fisher (23). (Scot Heisel/Lake County Leader)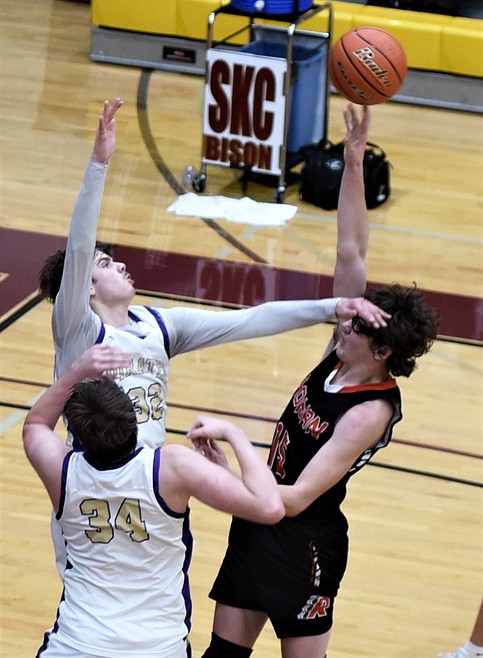 Payton Cates puts up a high-arching shot over Polson's Colton Graham and Trevor Lake (34). (Scot Heisel/Lake County Leader)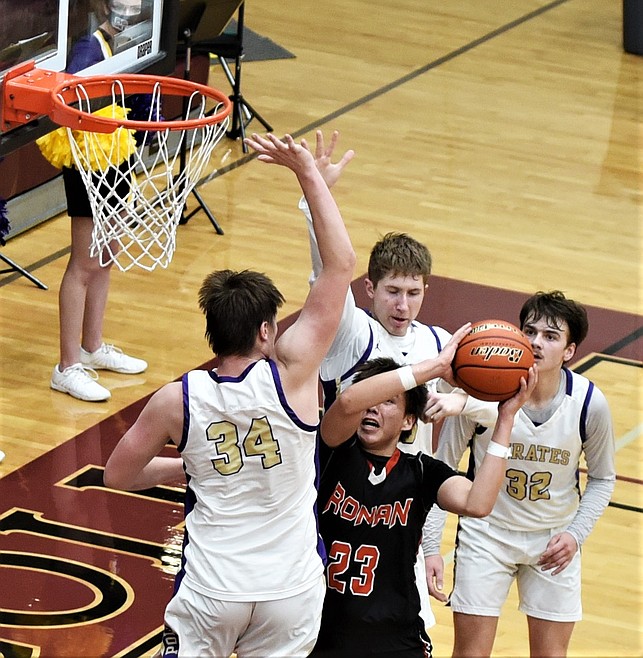 The Chiefs' Leoard Burke looks for a shot against Polson's Trevor Lake (34), Colton Graham (32) and Sam Fisher on Friday night at Pablo. (Scot Heisel/Lake County Leader)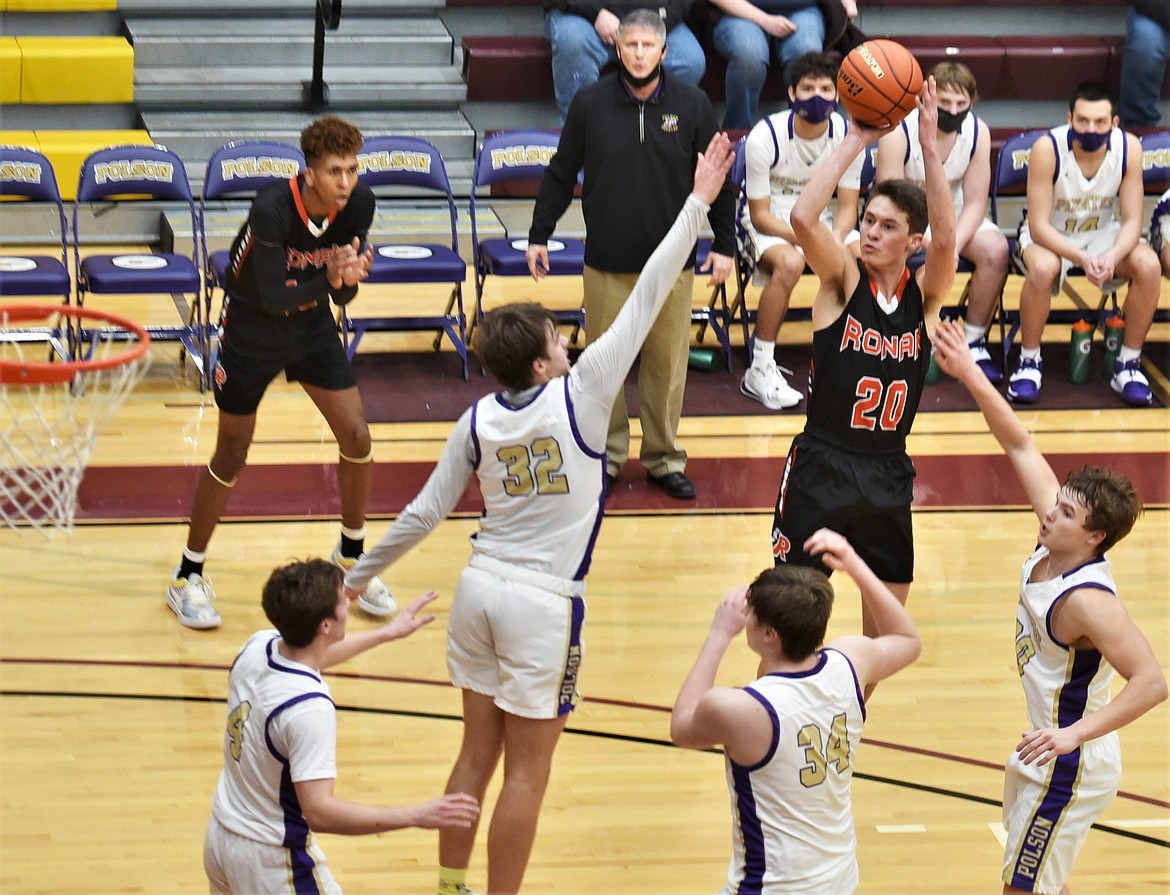 Ronan's Zarec Couture shoots over Polson's Colton Graham (32), Jarrett Wilson (20), Trevor Lake (34) and Xavier Fisher (4). (Scot Heisel/Lake County Leader)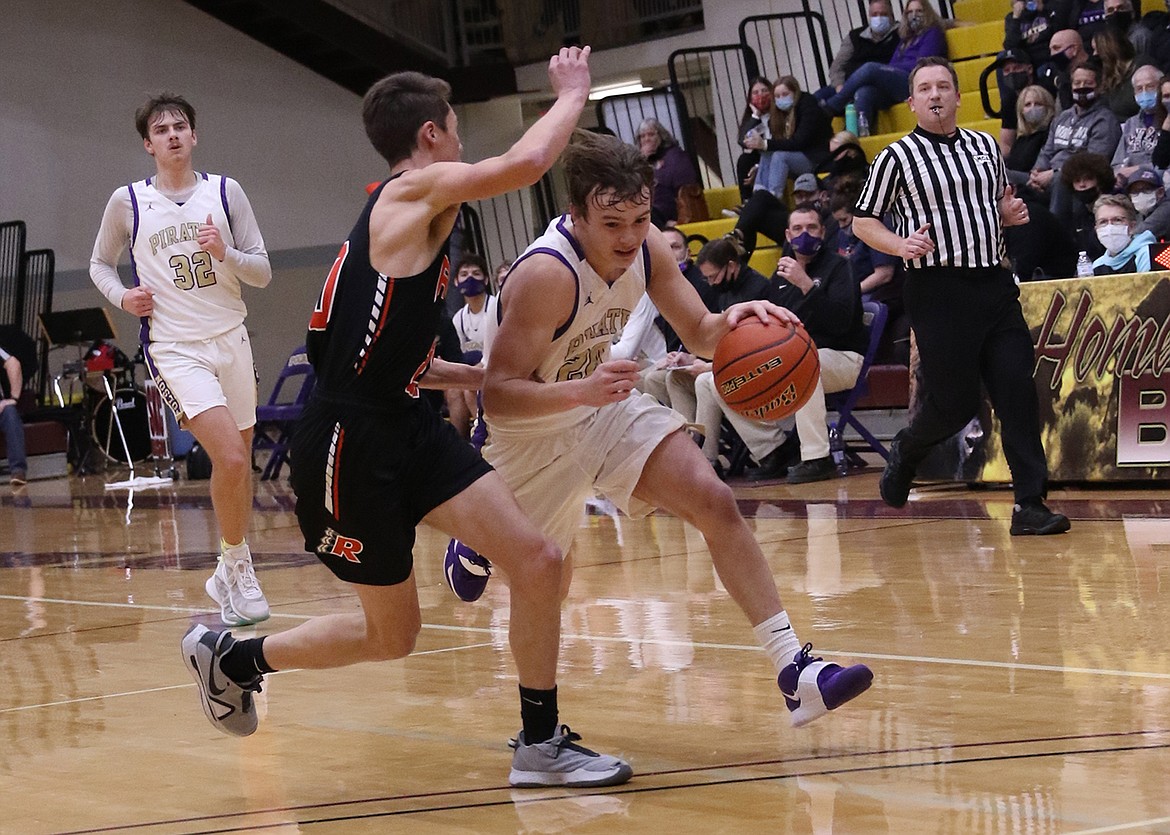 The Pirates' Jarrett Wilson drives toward a layup as the Chiefs' Zarec Couture defends Friday night at Pablo. (Bob Gunderson)
Previous
Next
by
SCOT HEISEL
Lake County Leader
|
February 2, 2021 9:15 PM
PABLO — A pair of Lake County Northwest A boys basketball teams tracking down a run at State squared off at Salish Kootenai College on Friday.
From the beginning it was a humbling night for the Ronan Chiefs (6-3), who came out cold on offense and stayed that way for most of the way in a 62-40 loss to cross-county rival Polson (7-1).
Colton Graham led all scorers with 20 points for Polson and pulled down nine rebounds as the Pirates bounced back from their first loss of the season Tuesday night at Dillon.
The Chiefs misfired from the field early and often, shooting just 19.7% and going 1 for 24 from 3-point range.
"We felt like it was one of our worst shooting performances of the year," first-year Ronan head coach DJ Fish said afterward. "Our rebounding performance was OK, we just couldn't make anything."
Senior Girma Detwiler scored 10 points and grabbed nine rebounds despite getting called for two fouls in the game's first four minutes. He had four fouls early in the second half but managed to stay in the game until the end.
The Pirates shot 38.5% from the field on the night and frequently took advantage of easy transition baskets as they built a 36-19 halftime lead and held steady for the win.
"I thought our defense in the first half was solid," Pirates head coach Randy Kelley said. "Our fouls that we had were not good fouls. On offense, we're still not very fluid on some of the sets we run."
Jarrett Wilson scored 14 points for Xavier Fisher and Trevor Lake each added 10. Lake also nabbed eight rebounds and was a force down low all night.
Leonard Burke scored 10 points for the Chiefs.
Fish said despite the result, he was pleased with his team's attitude.
"They're spirits are high, which I'm happy about. They will grow from this."
The teams will meet again Saturday, Feb. 20 at Ronan.
Polson 62, Ronan 40
Ronan 8 - 11 - 8 - 13 – 40
Polson 12 - 24 - 14 - 12 – 62
RONAN – Girma Detwiler 3 4-5 10 (9r,1b), Leonard Burke 3 3-4 10 (2r,1a,1s), Zarec Couture 1 2-2 4 (5r,1b), Payton Cates 2 0-0 4 (3r,2b), Sage Coffman 2 0-0 4 (2r,3s), Elijah Tonasket 1 1-2 3 (5r,1s), Marlo Tonasket 0 3-4 3 (4r,1s), Mason Clairmont 0 2-2 2, Ruben Couture (8r,3a,4s,3b), Troy Alford (1r). 12 15-21 40 (45r,5a,8s,6b)
POLSON – Colton Graham 7 5-5 20 (9r,3a,2s,1b), Jarrett Wilson 5 4-8 14 (4r,2a,2s), Xavier Fisher 2 5-10 10 (4r,1a,2s), Trevor Lake 4 2-3 10 (8r,1s), JC Steele 3 (2r,2a,2s), Trent Wilson 0 3-4 3 (2r,1s), Darian Williams 2 (5r,3a,1s), Sam Fisher (4r), Robert Perez (1r). 20 19-30 62 (41r,11a,11s,1b)
3FGs – R1-24 (L.Burke 1-11), P3-16 (X.Fisher 1-3, Graham 1-4, Steele 1-4).
Dillon 54, Polson 46
Tuesday at Dillon the Pirates jumped out to an early lead but faded against a team ranked No. 1 in the state by 406MTSports.com.
Polson was outscored 14-4 in the second period, a span that turned out to be the difference in the end.
Jarrett Wilson had six rebounds to go with 14 points, while Colton Graham finished with 11 points and eight rebounds. Trevor Lake scored seven points to go with five rebounds.
"They are a physical ball club. We didn't rebound very well," coach Kelley said. "We jumped on them 9-0, but I think we kind of woke them up a little."
---