Vikings go out on a win
by
Lake County Leader
|
February 23, 2021 1:00 AM
The Charlo boys made a valiant run to end their season, going 3-1 in four district games over five days en route to a third-place finish. With a 46-42 win at Hot Springs in the district consolation game Saturday night, the Vikings (9-6) were poised to potentially get a challenge game on Monday.
That idea was snubbed, however, when No. 2 St. Regis upset No. 1 Clark Fork 58-55 in the district title game.
At Hot Springs, senior Phil Marquez led the way with 21 points in his career finale. Fellow senior Roper Edwards added nine points.
The teams were locked at 22-22 at halftime, and Hot Springs led by four going into the final period. But the Vikings finished with a flurry to grab the third-place finish.
Sophomore Stetson Reum finished with eight points for Charlo.
In a loser-out game against Noxon on Friday, the Vikings kept their season alive with a 63-53 win.
Charlo took control of the last two minutes of the first half, and an 11-3 run catapulted them to a 31-24 halftime lead. The Vikings never trailed again.
Sophomore Keaton Piedalue led Charlo with 20 points and he had a couple of baskets in the run. Senior Nathan Clark got to the basket and was fouled twice, hitting 3 of 4 from the line. Senior Roper Edwards, who scored 11 points, also hit from the outside.
Charlo, the No. 4 seed, opened district play with a 47-38 win over No. 5 Plains to get into a semifinal. Their 58-44 loss at No. 1 Clark Fork in that semifinal on Saturday was the only blemish on a great final run.
Scott Shindledecker contributed to this report.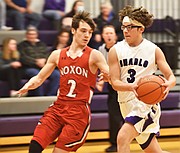 ---