Polson's Berkley Ellis earns TATL award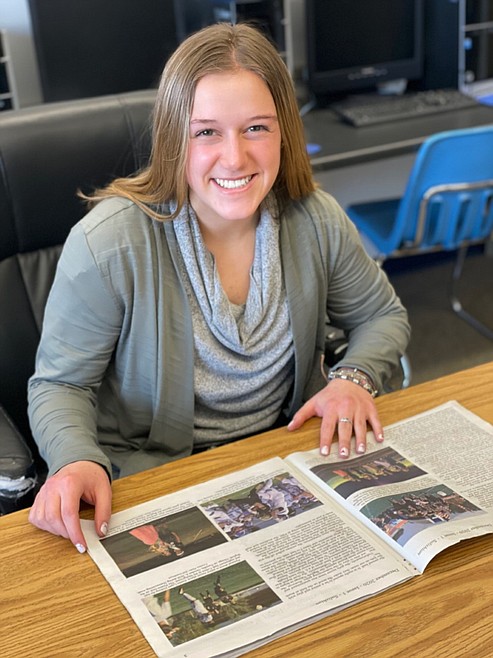 Polson High School senior Berkley Ellis. (Courtesy photo)
by
CAROLYN HIDY
Lake County Leader
|
January 28, 2021 12:05 AM
Berkley Ellis, a senior at Polson High School, is the most recent recipient of the Today's Achievers, Tomorrow's Leaders award from Kalispell Regional Healthcare and the Lake County Leader.
Emily Graves, the school counselor who nominated Berkley, said that beyond her remarkable academic and athletic achievements, Berkley stands out because she "epitomizes the words 'altruism' and 'kind.' " Berkley said her philosophy is to "look for the good in every day and count your blessings."
Berkley particularly enjoys her classes in English and Spanish, and learning about Hispanic cultures. She has been able to put her language skills to work volunteering with the Summer Migrant School, a Polson program to provide fun and educational experiences to the children of the migrant workers who come for the annual cherry harvest.
Berkley's English language chops are especially useful in her position as editor-in-chief of the school newspaper, the Salishian.
"She is a very talented writer," wrote Graves. "What makes her stand out is, once again, her focus on other people. She strives to make sure that there is something in the newspaper that each student can connect with." Graves noted Ellis' leadership style that empowers, mentors and teaches her fellow student journalists.
"Sports have always been a big part of my life," Berkley said. She is an active member of Fellowship of Christian Athletes, and has played volleyball, golf and basketball for the Pirates. But her favorite is tennis, at which she excels. She won divisionals in doubles tennis her first two years in high school, with partners Kyler Lundeen and Qia Harlan, taking fourth and then second at State. She also earned academic all-state honors every year in volleyball and tennis. Last year the tennis season was cancelled due to COVID, but she is excited for this spring's season.
"We have such a great tennis program and great coaches," Berkley said. "I really appreciate all the time they put in. It's a super fun environment, with really awesome kids."
She also enjoys volunteer coaching young kids during the summer in several sports, but especially tennis.
"I love tennis, so for me, seeing kids get to have that same love is really special. Tennis is something you can play for your whole life, so learning it at a young age is really important."
Montana may have the chance to keep this future leader from getting away, as Berkley is interested in attending either Montana State or the Davidson Honor College at University of Montana. Her service in her school's LINK program (mentoring freshmen) as well as peer counseling (mediating conflict resolution between middle school students) have led her to consider a career in student counseling. Another interest is nonprofit administration, which she sees as a way to "work toward some things that are really important to me." She has some offers to play college tennis, but has not decided about that option yet.
"No matter what career, she ultimately chooses, Berkley will likely approach it with a focus on her co-workers and the people she serves," Graves said. "She's a truly exceptional young woman."
Berkley receives a $250 donation toward a school activity of her choice from Kalispell Regional Healthcare as part of the TATL award. She said she plans to donate it to the Salishian student newspaper.
---