BJ Tidrick claims second Montana 200 championship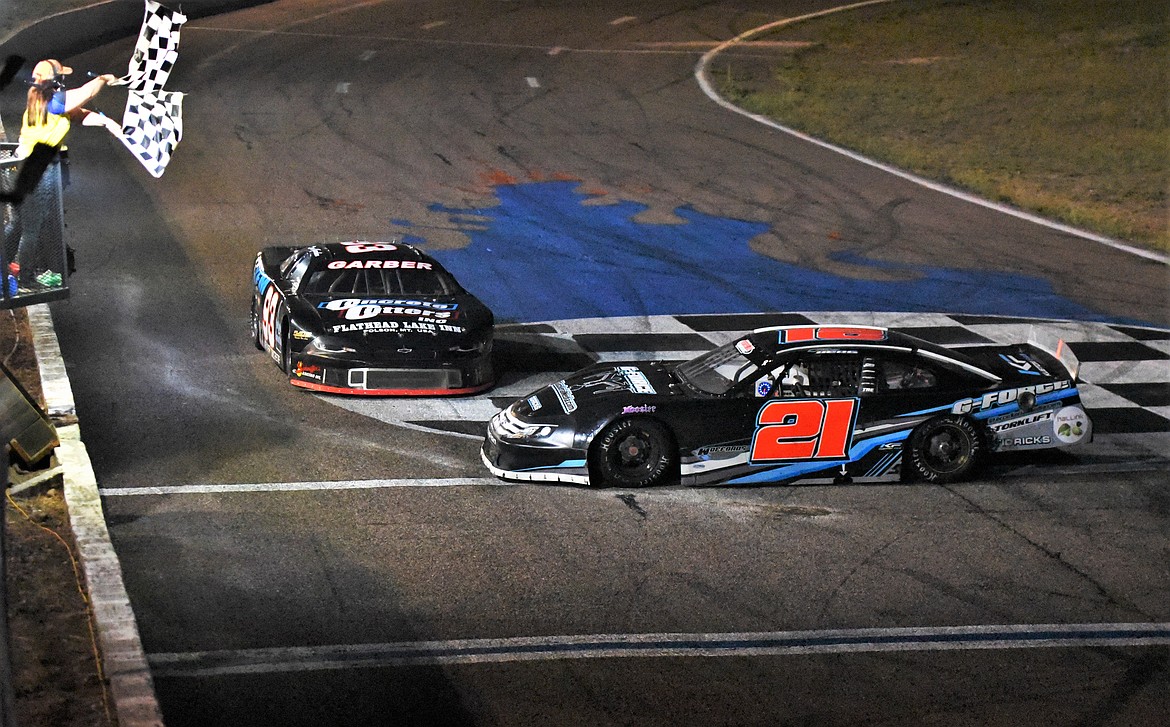 BJ Tidrick of Kennewick, Wash., slides sideways across the finish line to beat out Dave Garber of Spokane for the checkered flag at the Montana 200 on Saturday night. (Scot Heisel/Lake County Leader)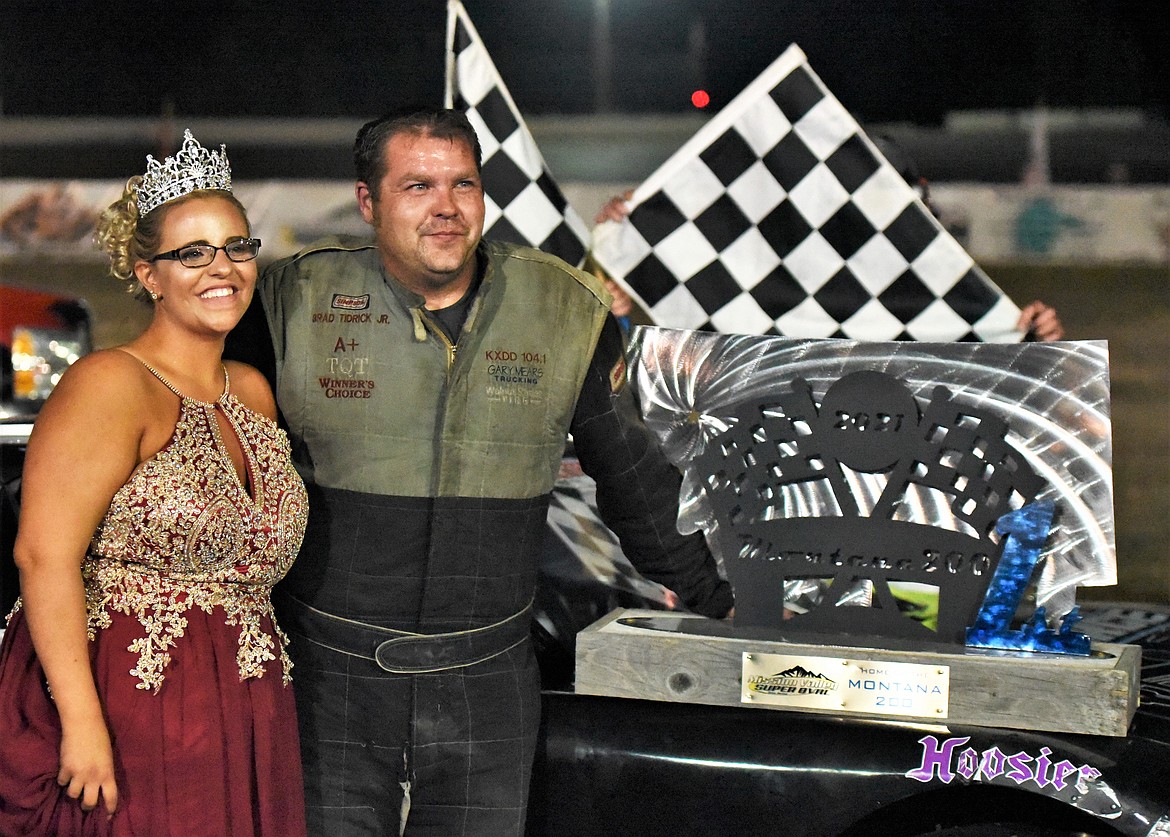 BJ Tidrick poses with Montana 200 Trophy Queen Dallas Dull of Columbia Falls after his win Saturday. Tidrick also won the 2005 Montana 200 in Kalispell. (Scot Heisel/Lake County Leader)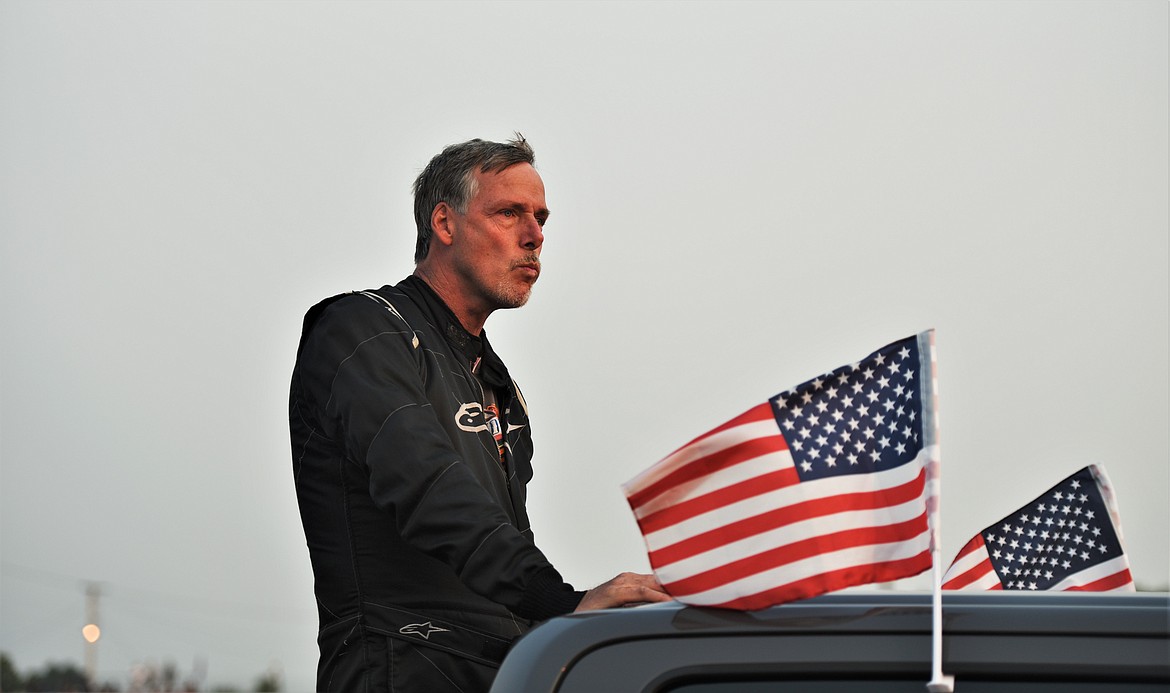 Dave Garber of Spokane is escorted to the front of the track prior to the race. (Scot Heisel/Lake County Leader)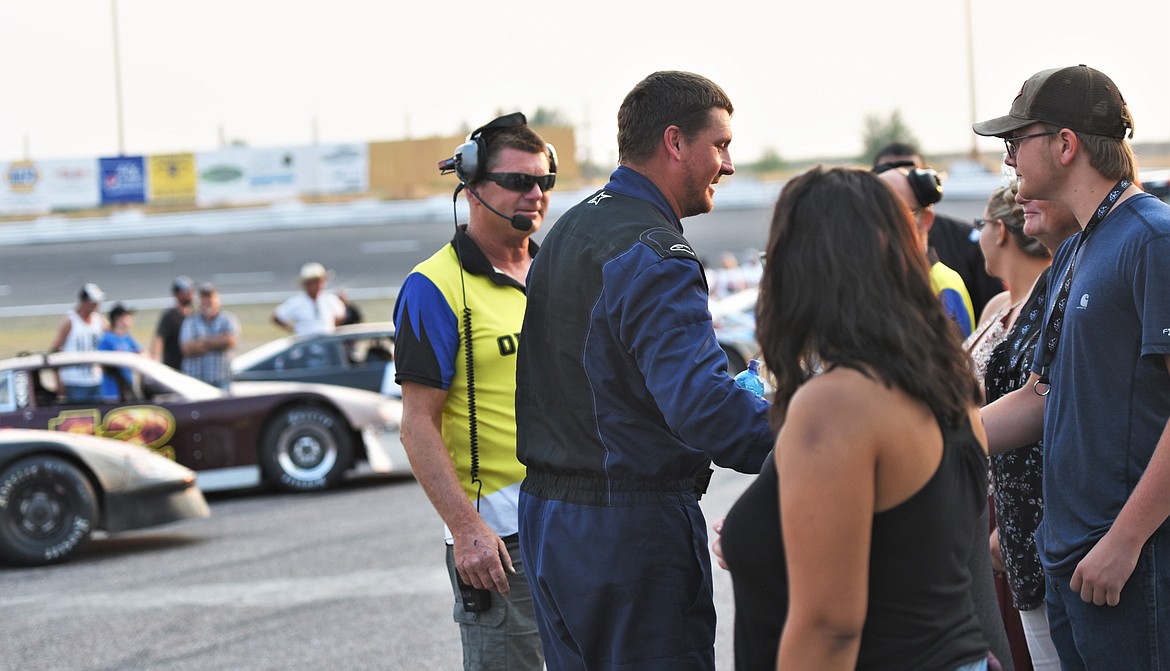 Driver Derek Undem shakes hands with sponsors and race officials in front of his father, track operator Tony Undem prior to the race. Derrick Undem finished seventh. His brother, JD, finished 13th. (Scot Heisel/Lake County Leader)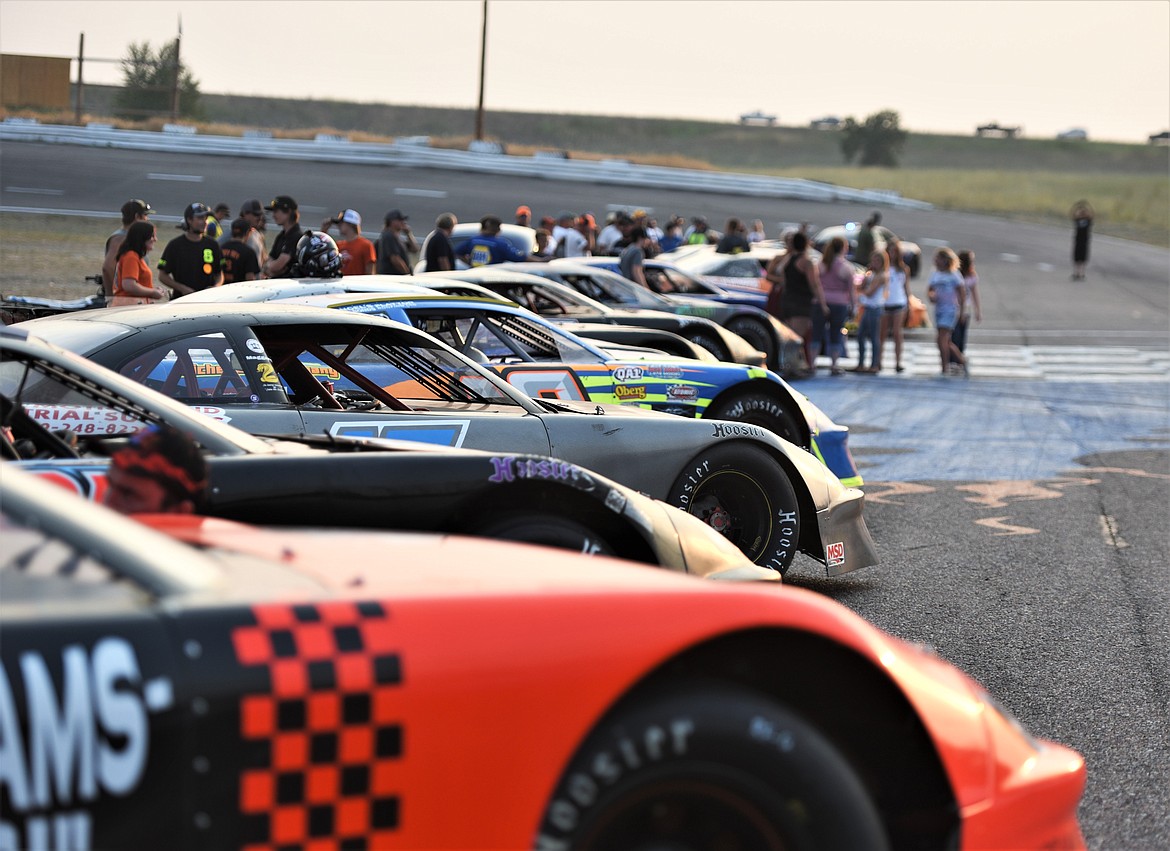 The cars were all lined up facing the grandstands prior to the race. (Scot Heisel/Lake County Leader)
The green flag signals the start of the 2021 Montana 200 at Mission Valley Super Oval. (Scot Heisel/Lake County Leader)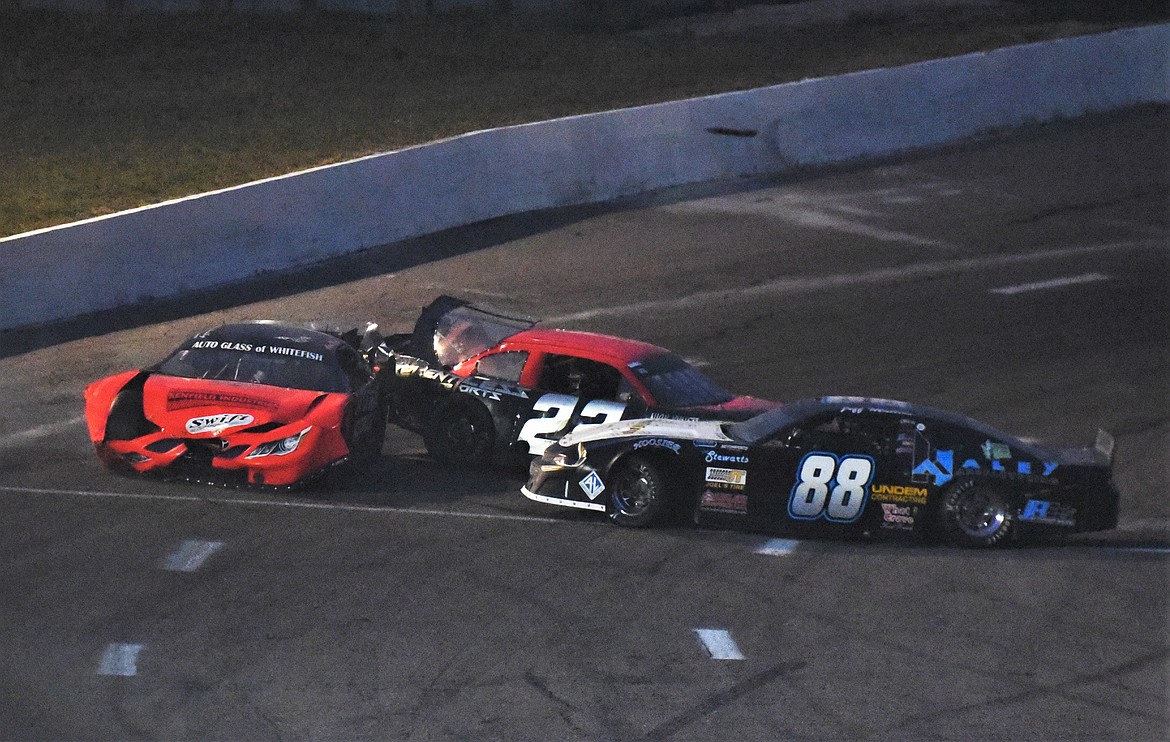 A crash in turn 4 on lap 71 knocked out Agni Howell of Kalispell, JD Undem of Frenchtown (22) and Jeff Mullins of Naches, Wash. (88). (Scot Heisel/Lake County Leader)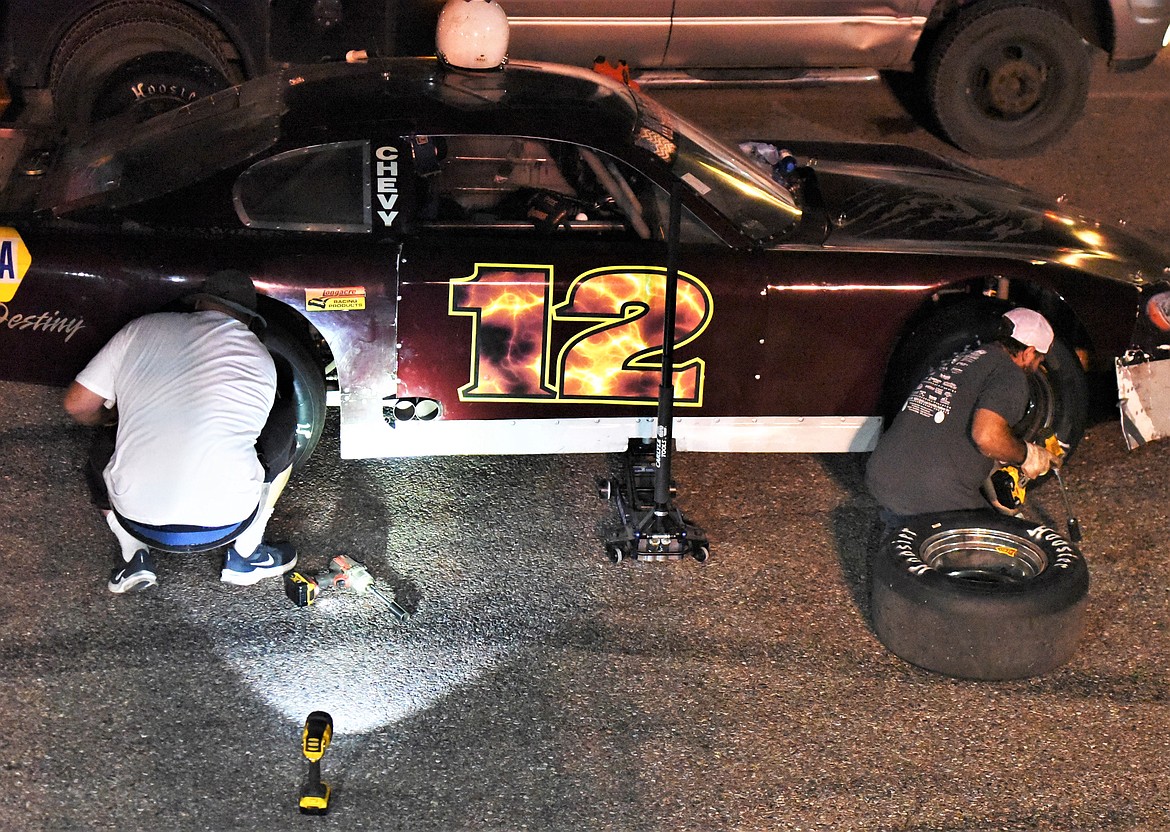 After the first 100 laps, crews had 15 minutes to make mid-race adjustments on the track in front of the audience. (Scot Heisel/Lake County Leader)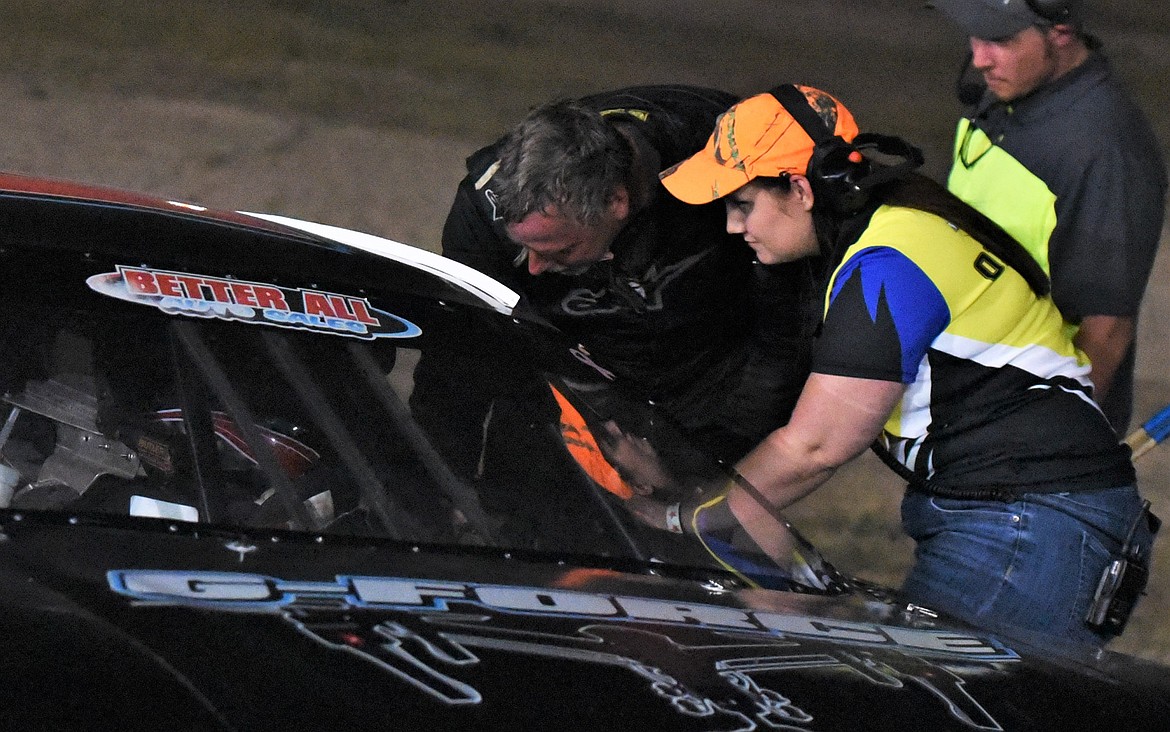 Dave Garber went over to BJ Tidrick's car immediately after the race to discuss the spinout at the finish. Tidrick said later it wasn't Garber's fault. He said he was having steering problems in the final laps. (Scot Heisel/Lake County Leader)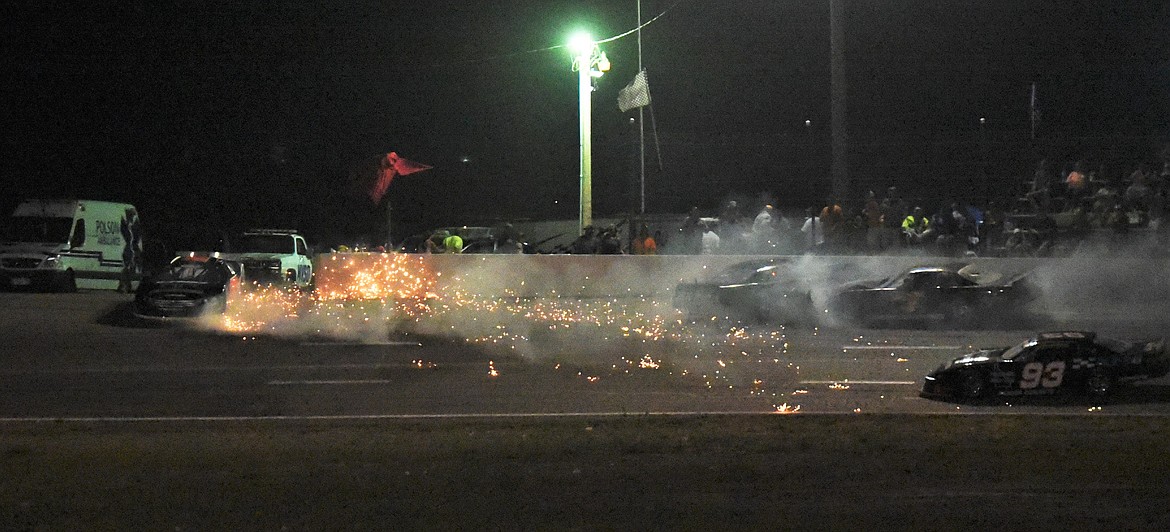 Sparks fly from the No. 21 car of BJ Tidrick as Cory Wolfe of Ronan smashes into the side of Alex Lessor's car on lap 101. (Scot Heisel/Lake County Leader)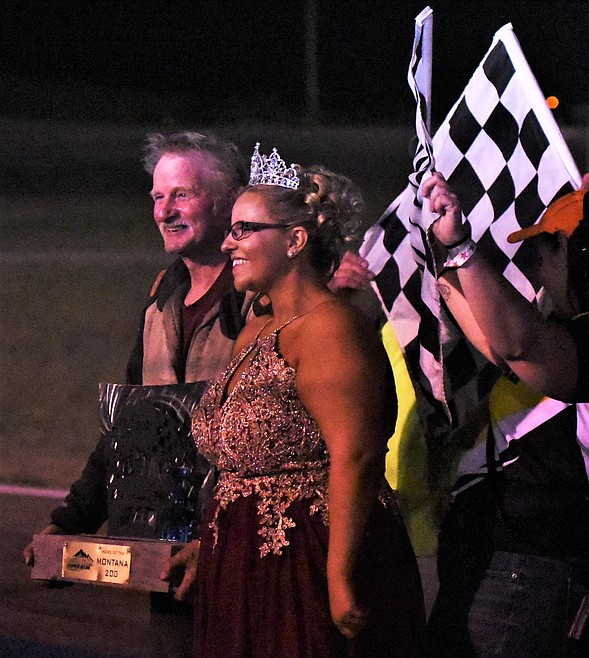 Ronan driver Cory Wolfe poses with Montana 200 Trophy Queen Dallas Dull of Columbia Falls after his third-place finish Saturday. Wolfe won the 1994 Montana 200 in Kalispell. (Scot Heisel/Lake County Leader)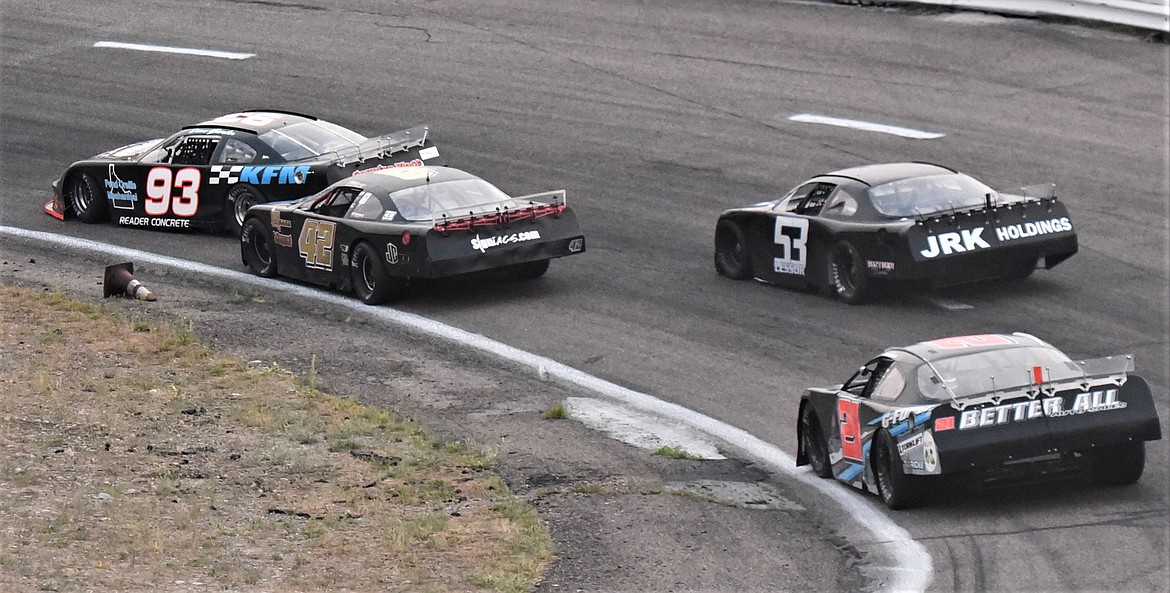 Race leader Dave Garber (93) gets a bit sideways in front of Garrett Huffines (42) in turn 1. Garber straightened the car out, but it cost him the lead. (Scot Heisel/Lake County Leader)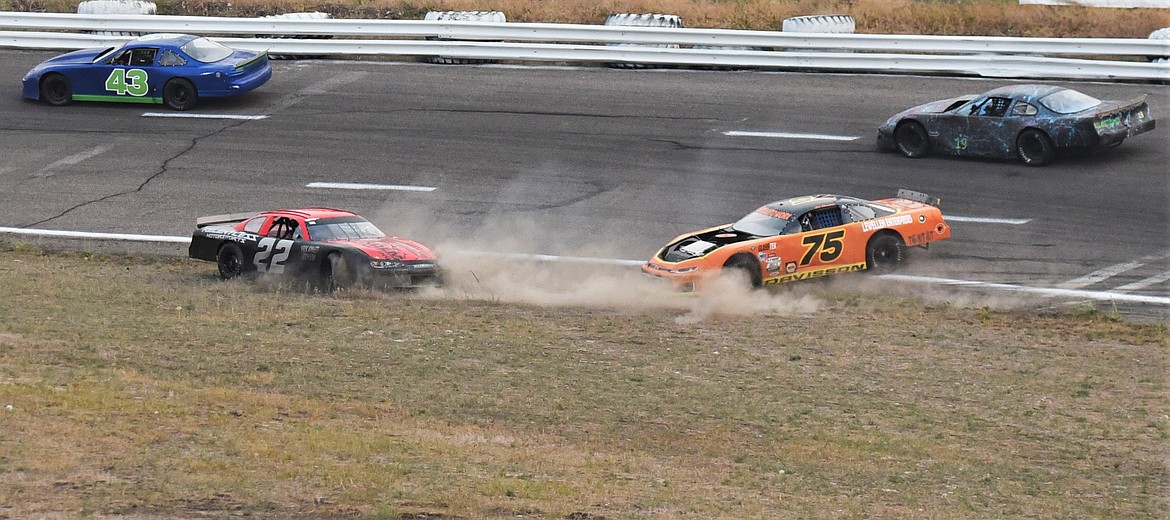 JD Undem (22) and Jon Davisson (75) head toward the infield during a turn 1 spinout. (Scot Heisel/Lake County Leader)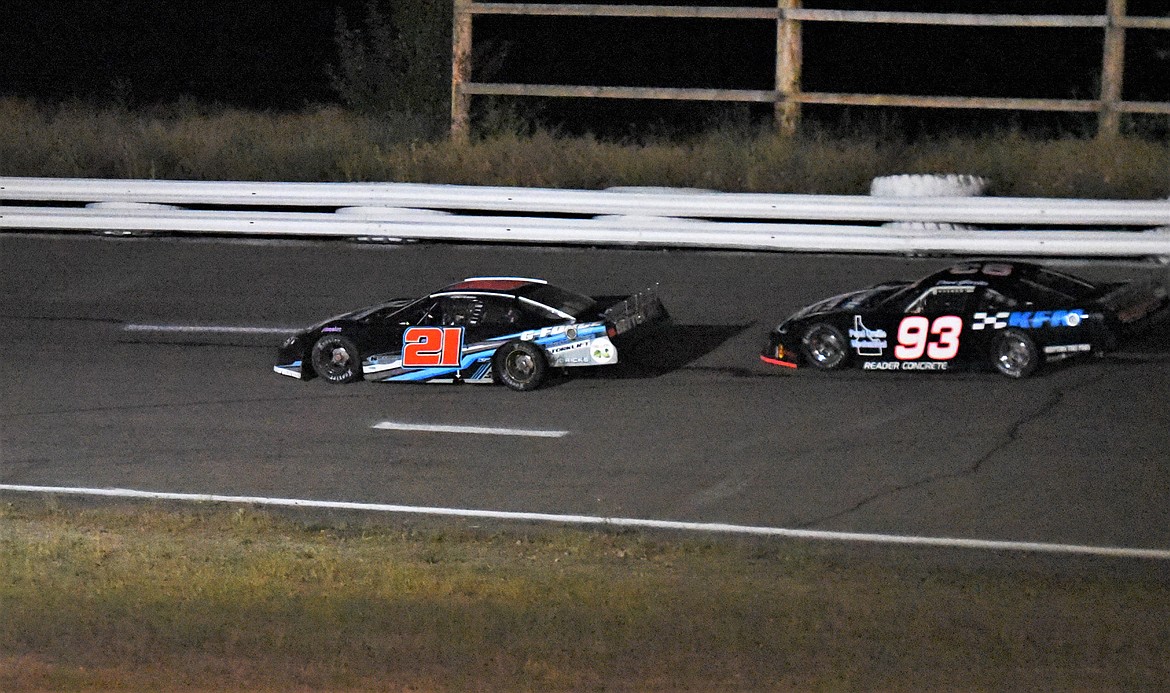 BJ Tidrick takes over the lead from Dave Garber with about 60 laps to go. (Scot Heisel/Lake County Leader)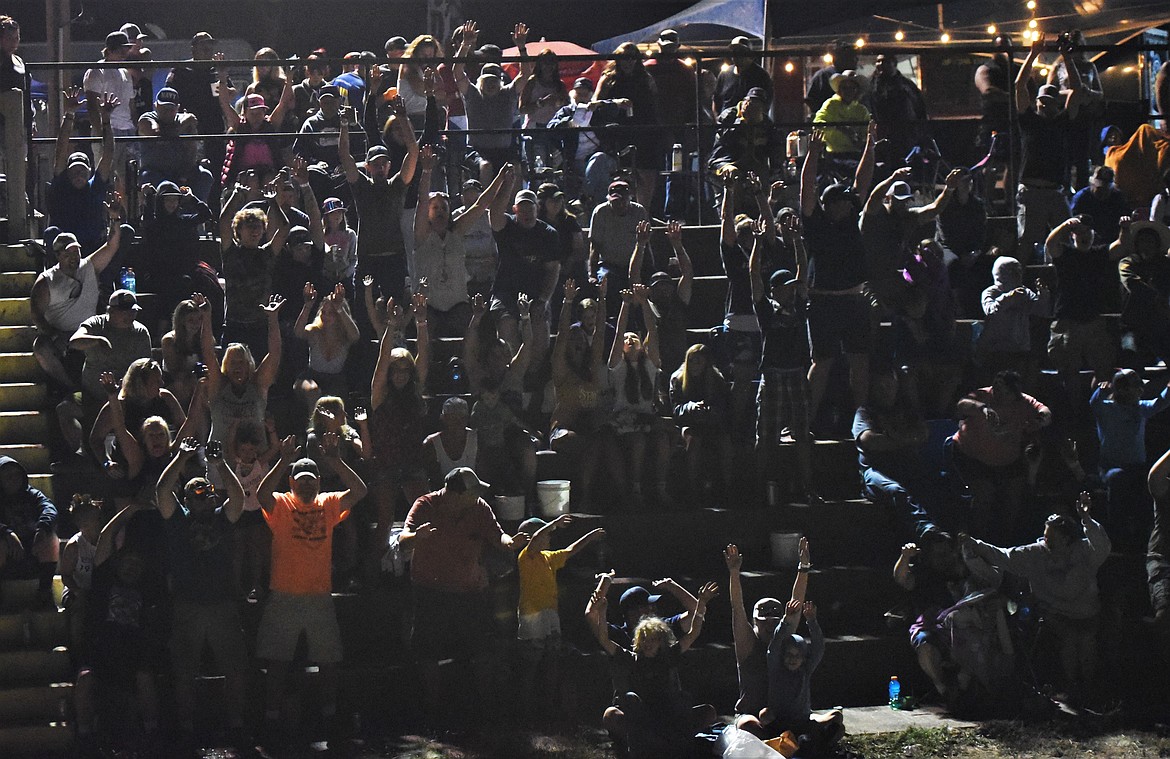 The crowd at Mission Valley Super Oval got the wave going near the end of the Montana 200. (Scot Heisel/Lake County Leader)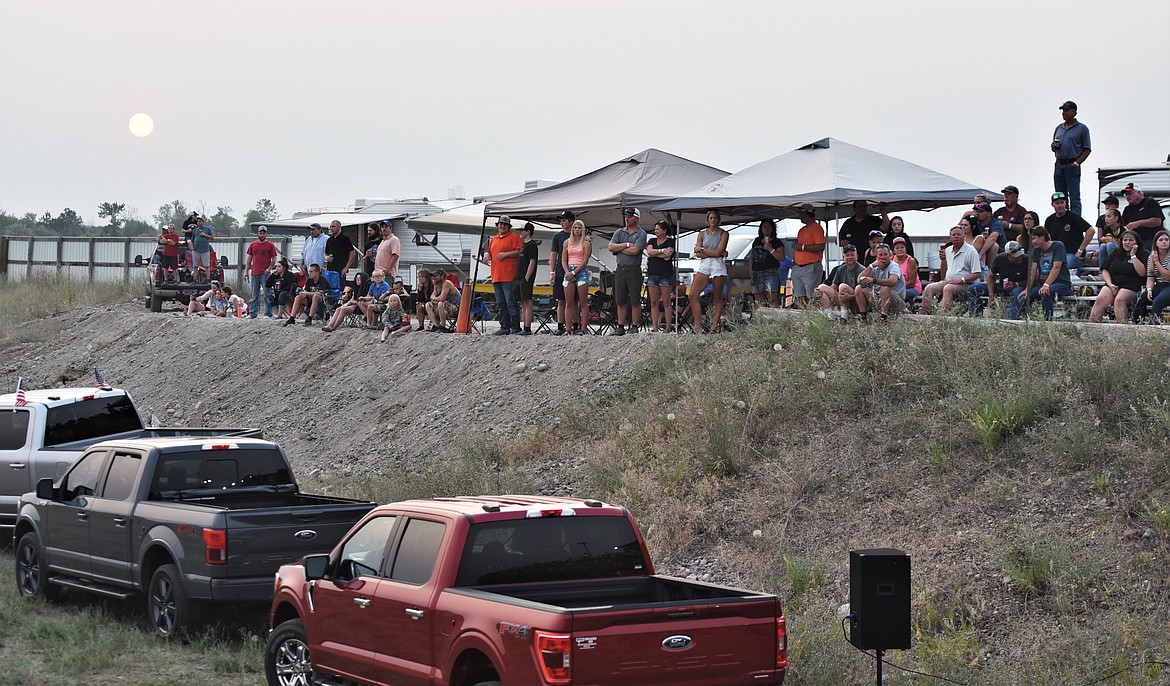 The crowd watches from the new bleachers west of the beer garden as the sun sets. (Scot Heisel/Lake County Leader)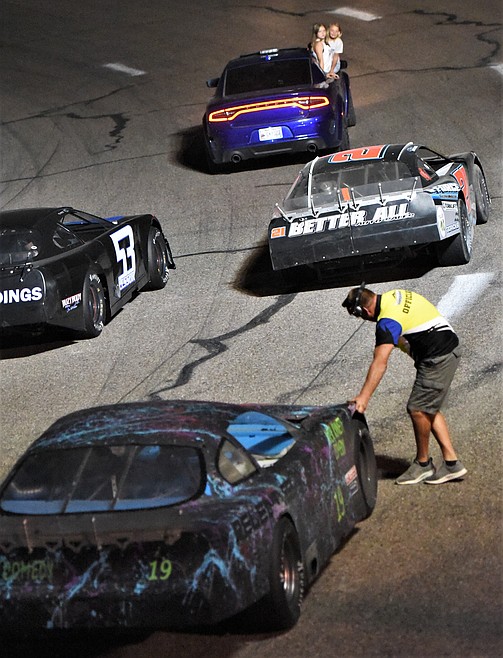 Track operator Tony Undem stopped the field during a yellow to check for fluid leaks. (Scot Heisel/Lake County Leader)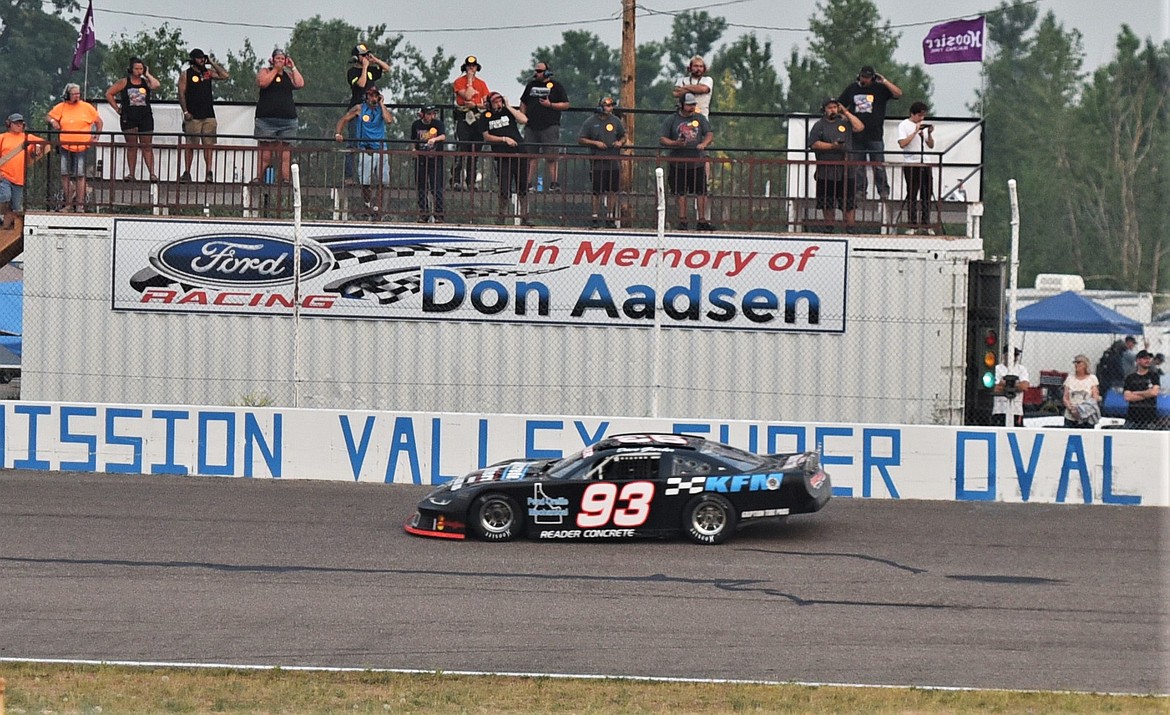 Dave Garber built a lengthy early lead after starting from the pole position. (Scot Heisel/Lake County Leader)
Cory Wolfe of Ronan talks with his crew during the 15-minute halftime pit stop. (Scot Heisel/Lake County Leader)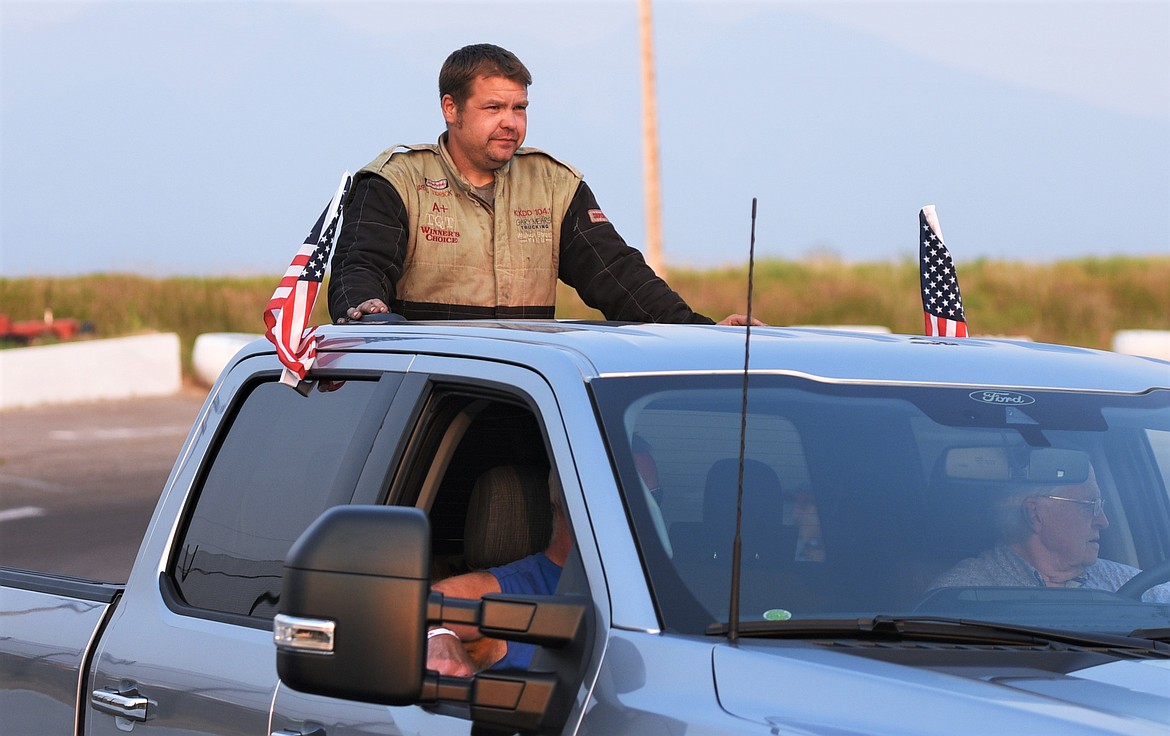 BJ Tidrick of Kennewick, Wash., is escorted to the track prior to the race. (Scot Heisel/Lake County Leader)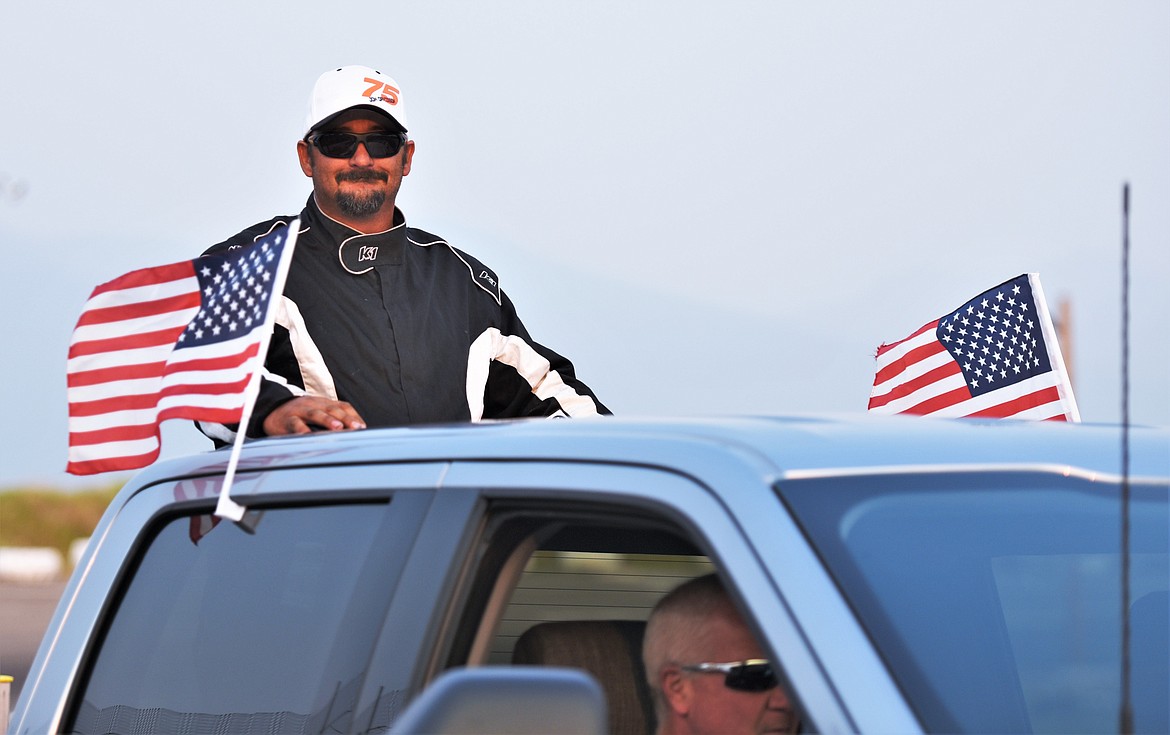 Jon Davisson of Kalispell is escorted to the track prior to the race. (Scot Heisel/Lake County Leader)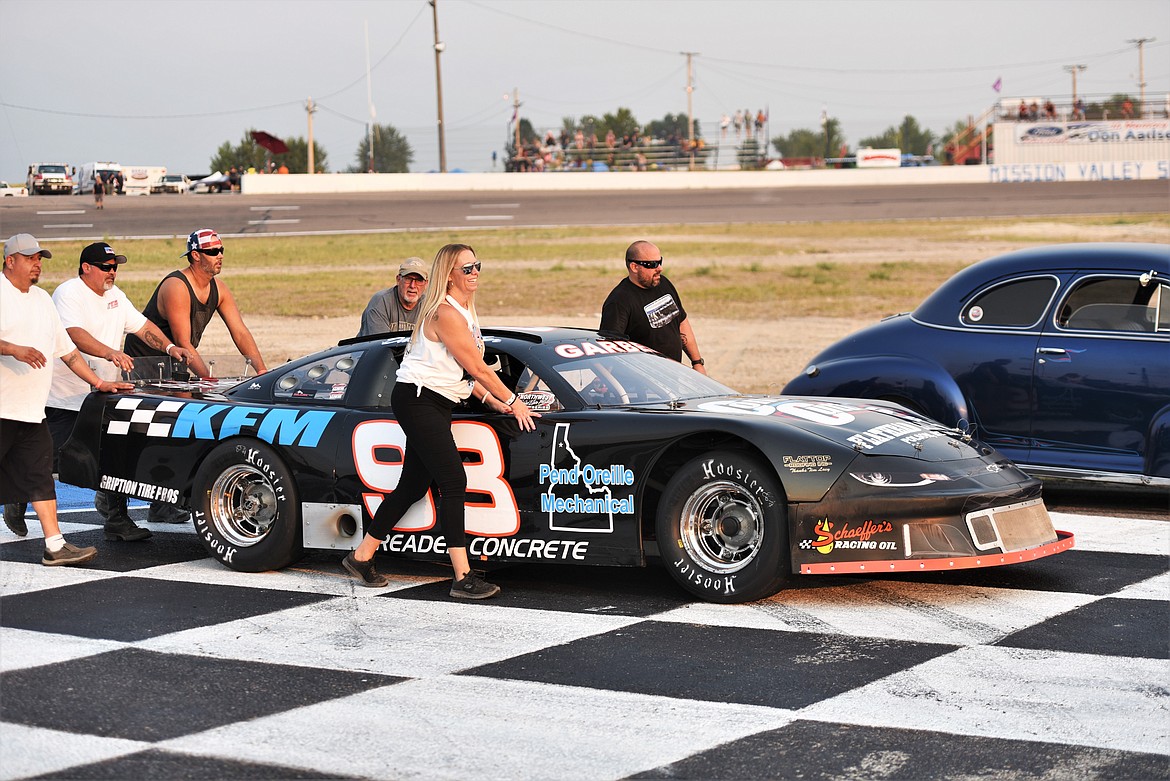 Dave Garber's crew pushes his No. 93 car to the front of the track for the pre-race lineup. (Scot Heisel/Lake County Leader)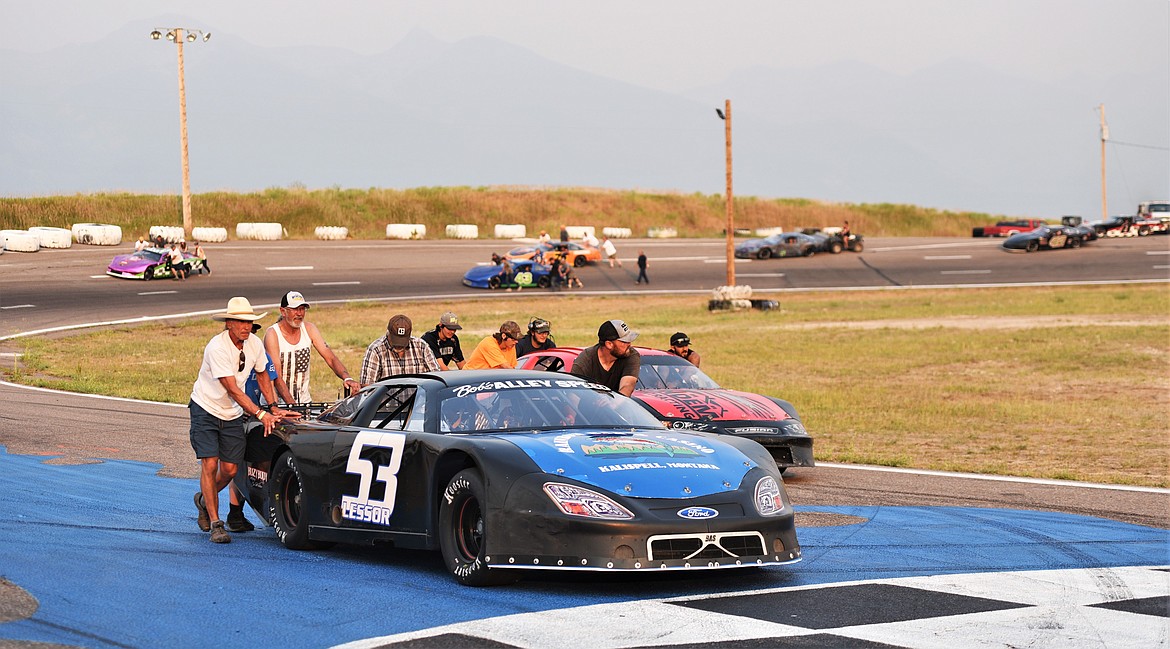 Alex Lessor's crew pushes his No. 53 car to the front of the track for the pre-race lineup. (Scot Heisel/Lake County Leader)
Previous
Next
by
SCOT HEISEL
Lake County Leader
|
July 20, 2021 12:32 PM
BJ Tidrick of Kennewick took a wild ride to the checkered flag in the Montana 200 Saturday night at the Mission Valley Super Oval and came away a two-time winner.
Tidrick had planned a weekend of working in the garage, but his father called him Friday morning, offered his No. 21 car and urged him to head to Montana.
Tidrick and his team showed up at 5 a.m. Saturday. They missed Friday's qualifying, so he started 15th in the field of 17.
"We had problems all day," he said after the race. "We had an oil line failure, a rear end problem. We had stagger issues with our practice set of tires. Nothing went right, and then everything went right."
It was the third time he'd raced his father's car, and it broke down both the previous times.
Once Saturday's race got going, however, Tidrick quickly moved up through the pack and looked to have one of the top cars. Before it was all over, he found himself in the middle of the night's two biggest crashes.
On lap 71 Tidrick spun out in the infield during a multiple-car crash in turn 4 that knocked out Agni Howell of Kalispell, JD Undem of Frenchtown and Jeff Mullins of Naches, Wash.
Howell was the top qualifier Friday night, but he accepted an offer of $1,000 up front from race organizers to start at the back of the pack and make things more interesting. He had worked his way up to fifth before the crash ended his night.
A penalty following the lap 71 crash moved Dave Garber of Spokane to the back of the field. Garber had assumed the pole position prior to the race once Howell took the money and moved back.
Garber quickly worked his way back toward the front and was sitting fourth on lap 101 — the first lap following a 15-minute halftime pit break — when Tidrick and two others ahead of him got tangled up heading into turn 3. Tidrick's car spun 180 degrees, and he left the track backward as 1994 champion Cory Wolfe of Ronan smashed into the side of Alex Lessor of Kalispell. They had been the top three leaders before the crash.
"I got a really good jump on that restart and I thought, 'I'm not gonna have a lot of chances at Alex, so I'm gonna take this chance.' We had a good run on the outside and I had a bit of a lunge on him," Tidrick said after the race. "I knew I ran him tight but I thought I gave him enough room, and just a little bit of contact …"
Tidrick was able to resume racing, as was Wolfe, who returned from the pit minus a front bumper, hood and both fenders. The crash ended Lessor's night, however. Tidrick and Wolfe moved to the back for the restart, and Garber took over the lead spot.
"I felt bad for Alex," Tidrick said. "I would have loved to battle it out with him."
Tidrick and Wolfe chased down Garber with the field narrowed to eight cars and a few minor yellow flags helping out along the way.
Tidrick reclaimed the lead following a restart with 60 laps to go, and it was essentially a two-car race from there with Wolf unable to keep pace in his badly damaged car.
Garber stuck to Tidrick's rear bumper the rest of the way but couldn't get by the 2005 champ. The closest he came was in the final corner, when the two collided, sending Tidrick into a spin for a sideways finish at the checkered flag.
Tidrick said after the race the car started becoming more difficult to control with about 20 laps to go and his steering issues led to the late spinout.
"I may have had a right front (tire) going down. … I was just fighting it, fighting it, fighting it. Then, with about two to go, I lost power steering. It was all I could do to just hold on. I was trying to hold it onto the bottom (of the track) … and I think Garber just got me enough to help go around.
"I think I'll go play the lottery tonight. I got lucky a couple of times."
Garber finished second, and Wolfe placed third.
Tidrick collected a check for $10,000 after winning the race, which was held at the Polson track for the first time. The Montana 200, established in 1991, had been held at Montana Raceway Park in Kalispell every year through 2019. The following spring operators announced the track was closing for good.
Mission Valley Super Oval is in its third season under new operators, Tony and CleAnn Undem of Frenchtown. The husband-and-wife team, and a hard working staff of extended family and friends, have made several improvements to the track since taking over. They expanded concessions, parking and on-site camping for this year's Montana 200 and erected several extra bleachers. The Undems didn't have an official attendance tally Saturday night, but both were sure it was likely the biggest event in the track's history.
"None of this is possible if the drivers and the fans don't show up," CleAnn said after Saturday's race. "We're just amazed by the turnout, and we really appreciate all the support."
Montana 200 Winners
2021: BJ Tidrick
2020: Race not held
2019: Owen Riddle
2018: Jeremy Doss
2017: Owen Riddle
2016: Jeremy Doss
2015: Owen Riddle
2014: Garrett Evans
2013: Jonathan Gomez
2012: Jeff Jefferson
2011: Shane Mitchell
2010: Gary Lewis
2009: Gary Lewis
2008: Gary Lewis
2007: Gary Lewis
2006: Jeff Jefferson
2005: BJ Tidrick
2004: Christian Roeder
2003: Kenny Kaltschmidt
2002: Tom Sweatman
2001: Ron Dexter
2000: Tom Sweatman
1999: Troy Conrad
1998: Tim Elliott
1997: Tom Sweatman
1996: Marc Groskreutz
1995: Mark Owens
1994: Cory Wolfe
1993: Marc Groskreutz
1992: Bob Schwieger
1991: Lance Wade
---