Chiefs right the ship at Butte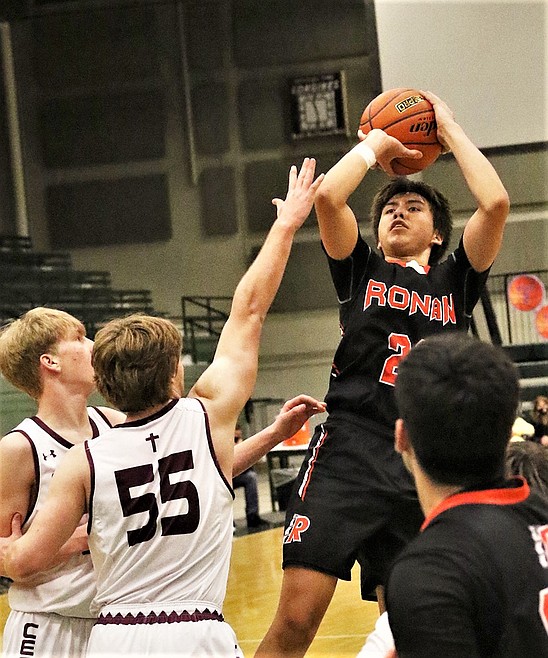 Leonard Burke shoots from outside during the Chiefs' third-place game against Butte Central. (Courtesy of Bob Gunderson)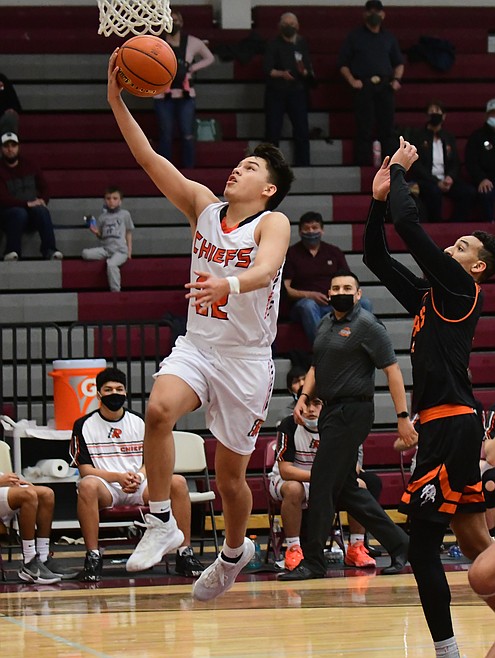 Elijah Tonasket tosses a layup during Ronan's loser-out game against Frenchtown. (Teresa Byrd/hungry Horse News)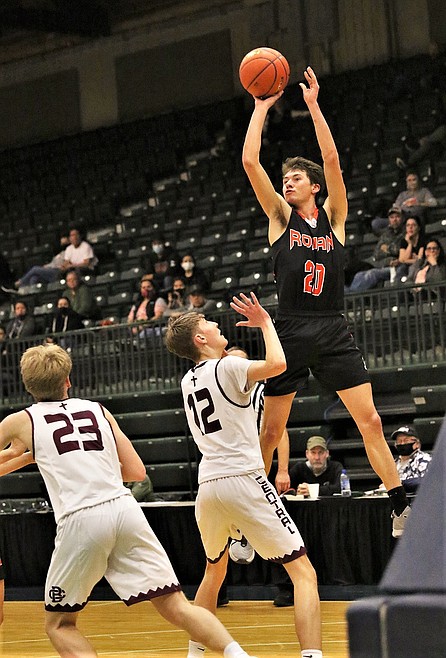 Zarec Couture rises for a shot during the Chiefs' third-place game against Butte Central. (Courtesy of Bob Gunderson)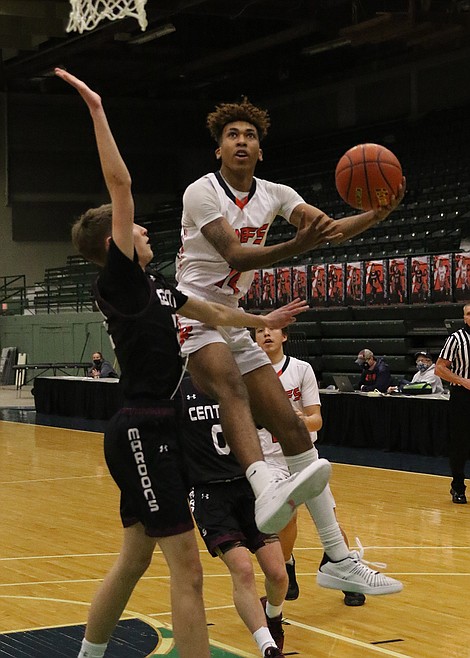 Ronan's Girma Detwiler puts up a shot in the paint against Butte Central during the tournament opener. (Courtesy of Bob Gunderson)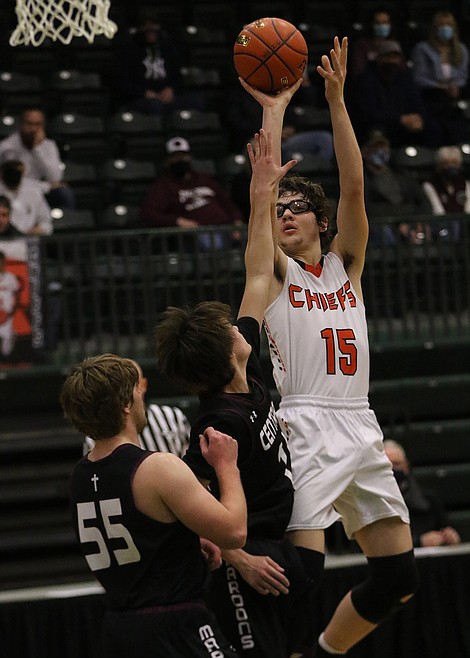 Payton Cates fires off a jumper in the tournament opener against Butte Central. (Courtesy of Bob Gunderson)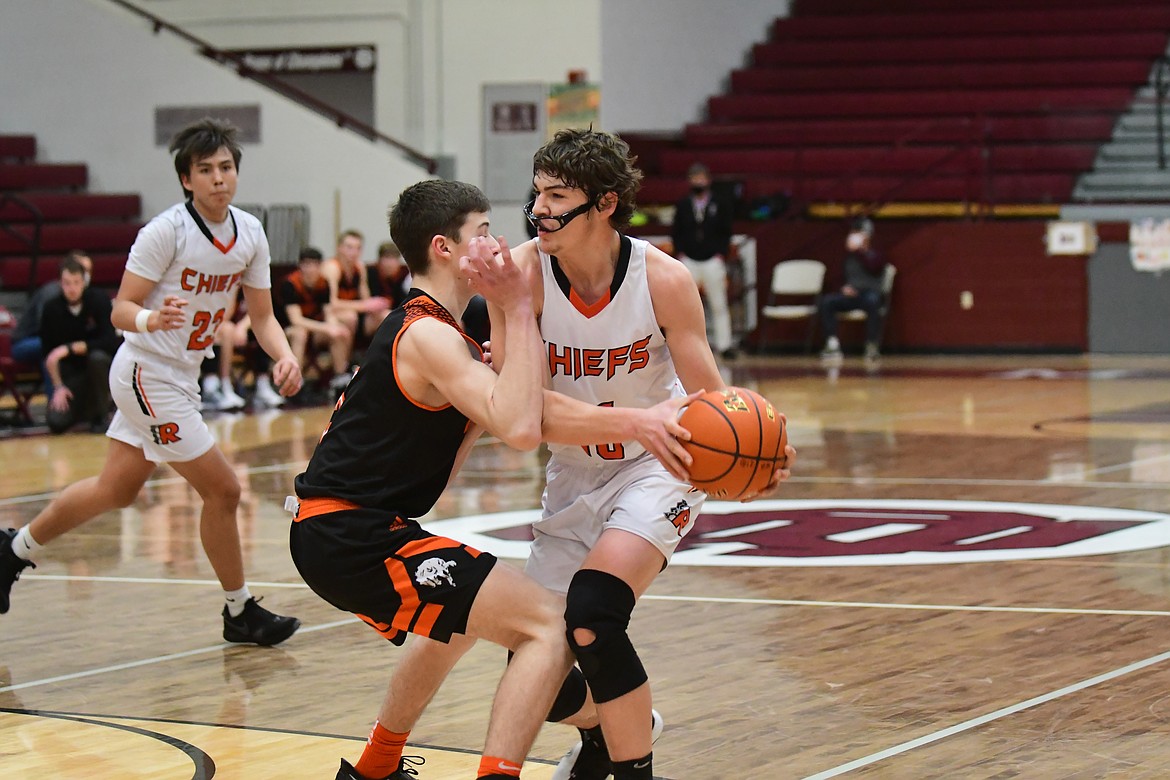 Payton Cates' glasses slide down under pressure from the Frenchtown defense. (Teresa Byrd/hungry Horse News)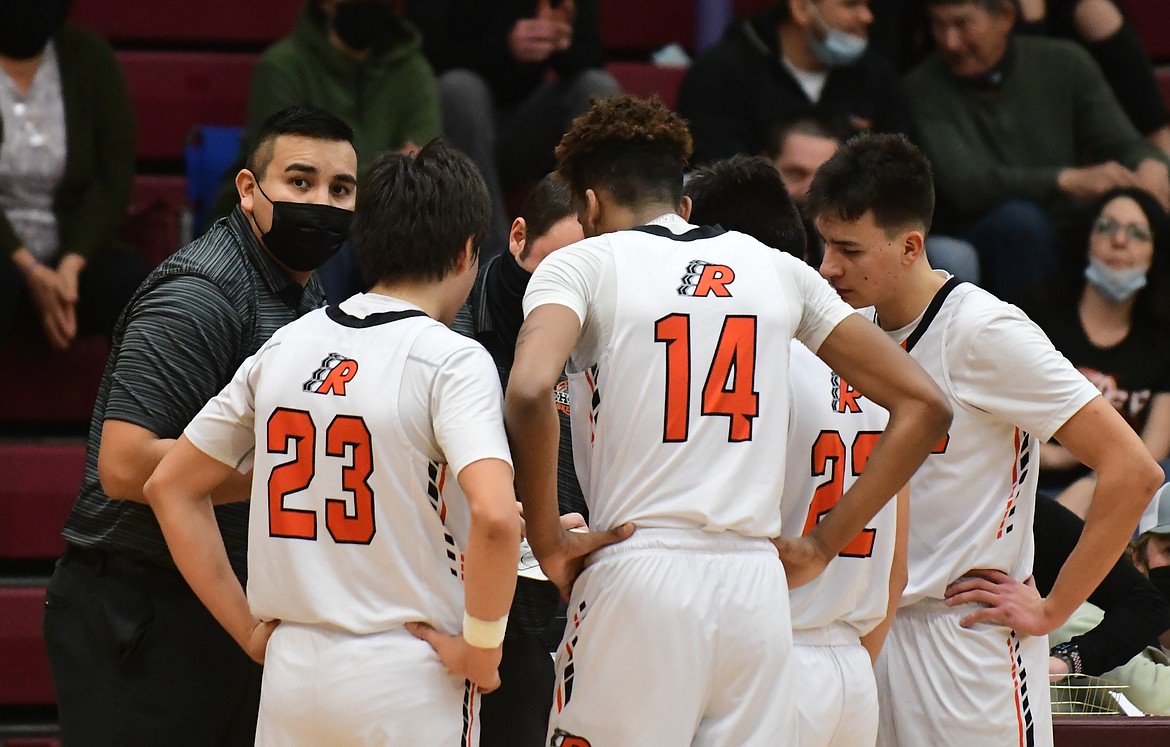 Ronan head coach DJ Fish huddles with his team during Saturday's game against Frenchtown. (Teresa Byrd/hungry Horse News)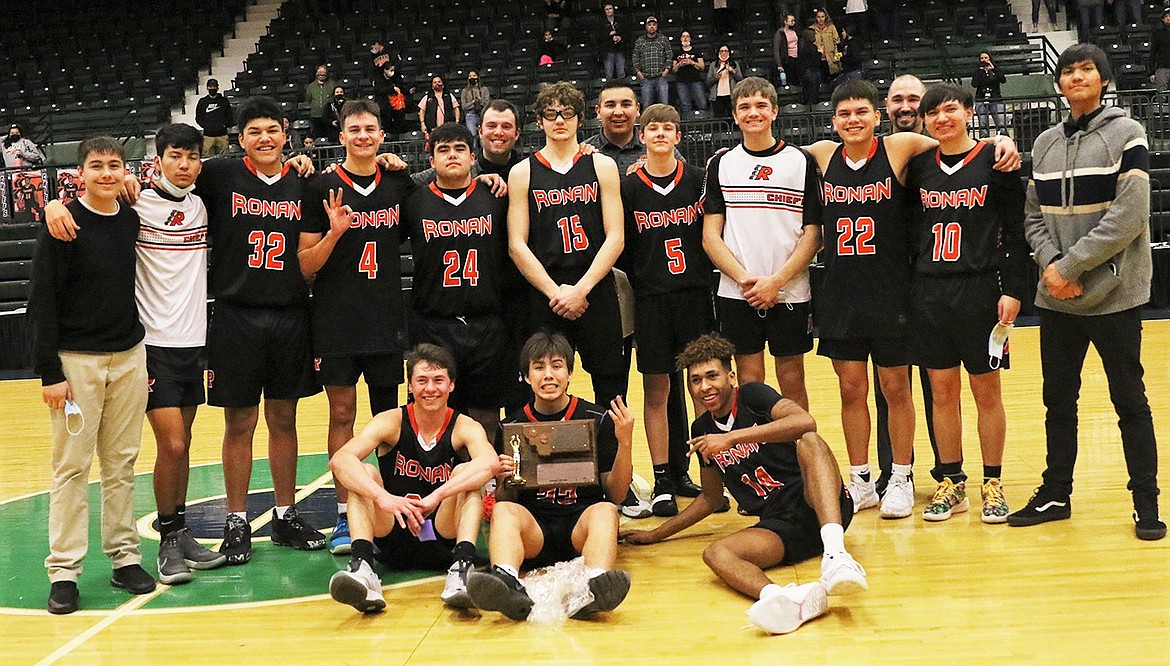 The Ronan Chiefs went 3-1 at the Western A divisional tournament in Butte and finished third. Pictured, standing from left, are: Robbie McCrea, Dillon Pretty On Top, Marlo Tonasket, Ruben Couture, Sage Coffman, assistant coach Mitchell Wassam, Payton Cates, head coach DJ Fish, Mason Clairmont, Troy Alford, Elijah Tonasket, assistant coach Jacob Alford, Jordan Gatch and Kylin Medicine Bull. Seated from left are Zarec Couture, Leonard Burke and Girma Detwiler. (Courtesy of Bob Gunderson)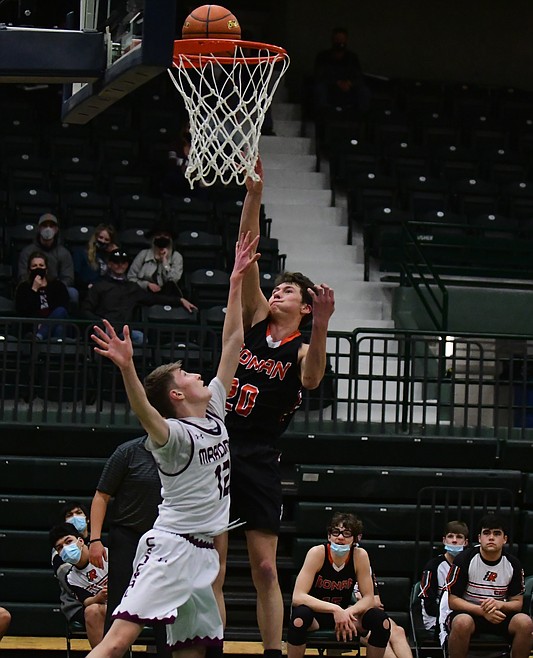 Ronan senior Zarec Couture puts up a shot in the paint against Butte Central. (Teresa Byrd/hungry Horse News)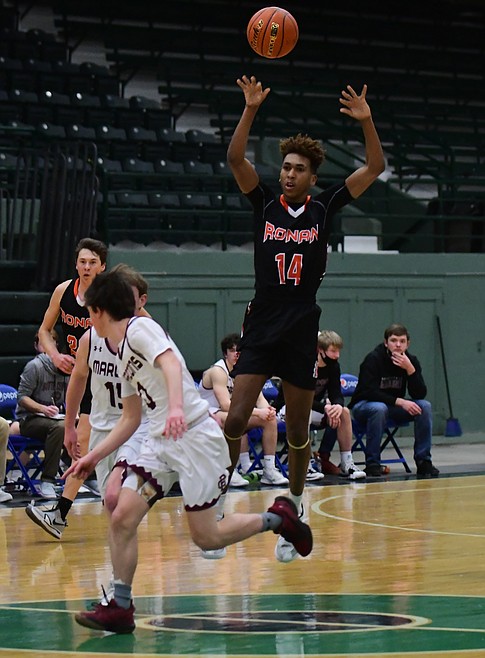 Girma Detwiler shoots a pass over Butte Central players in the divisional third-place game Saturday. (Teresa Byrd/hungry Horse News)
Previous
Next
by
SCOT HEISEL
Lake County Leader
|
March 2, 2021 4:30 PM
It was a rough start for the Chiefs at the Class A divisional tournament last week. Ronan, the No. 3 seed, opened play with a 67-50 loss to No. 2 seed Butte Central at Butte.
The loss left the Chiefs riding a four-game losing streak into loser-out play.
Then something clicked.
Ronan reeled off three straight wins behind a stellar run from senior Leonard Burke to shock a few teams, a perhaps themselves, while securing the No. 3 seed to state.
Burke averaged just over 20 points per game for the tournament and shot 45% (13 of 29) from 3-point range. He scored 38 in a loser-out game against Frenchtown on Saturday morning.
When all was said and done, Burke was named to the all-tournament first team and was voted tournament Most Valuable Player by media members and non-referee tournament officials.
In their first loser-out matchup Friday, Ronan went on a 20-10 run in the fourth period and forced overtime against Columbia Falls, a team that had beaten them at the buzzer just over a week prior. The Chiefs pulled away for a 57-49 OT victory.
Burke finished with 14 points in that game, while sophomore Elijah Tonasket scored 12. Tonasket also scored a team-high 18 points in the third-place game Saturday and received an all-tournament honorable mention.
Against Columbia Falls, senior Girma Detwiler finished with seven points and 15 rebounds, including 10 defensive boards.
They followed the overtime win with another loser-out victory, 62-59, over Frenchtown. The teams were knotted at 26-all at half in that game, but Ronan pulled away in the third and held on despite shooting just 14 of 31 from the free throw line.
Burke shot 18 of 29 from the field and made five of 10 3-pointers during his 38-point performance. Tonasket added 10 points.
Tonasket stepped up with 18 points in the third-place game, a second matchup with Butte Central. Burke managed just six points in the game, but Detwiler broke out with 12 points and seven rebounds. After another tied halftime score, the Chiefs went on an 18-9 run in the third en route to a 54-49 victory. Zarec Couture had seven rebounds to go with five points, while Ruben Couture had seven points and six rebounds.
The Chiefs (12-7) face Laurel at 1 p.m. Wednesday in the opening round of the state tournament at Great Falls.
---