Solid start for Lady Pirates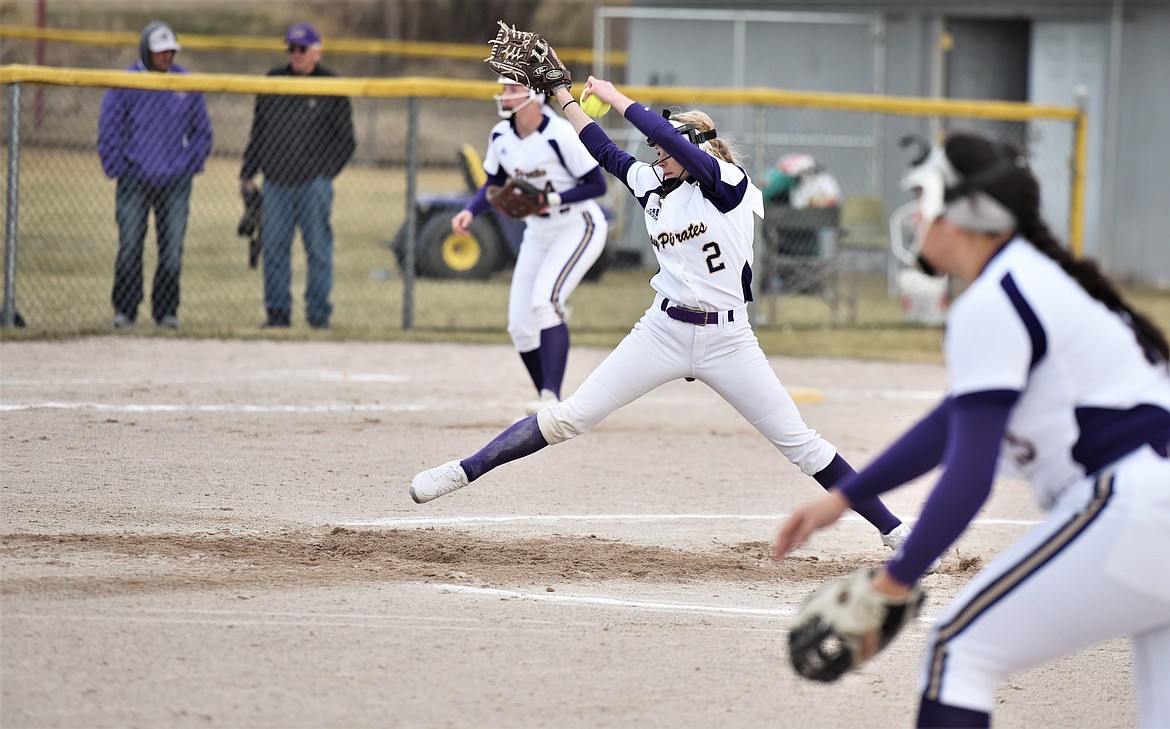 Katelyne Druyvestein fires off a pitch against Park County. (Scot Heisel/Lake County Leader)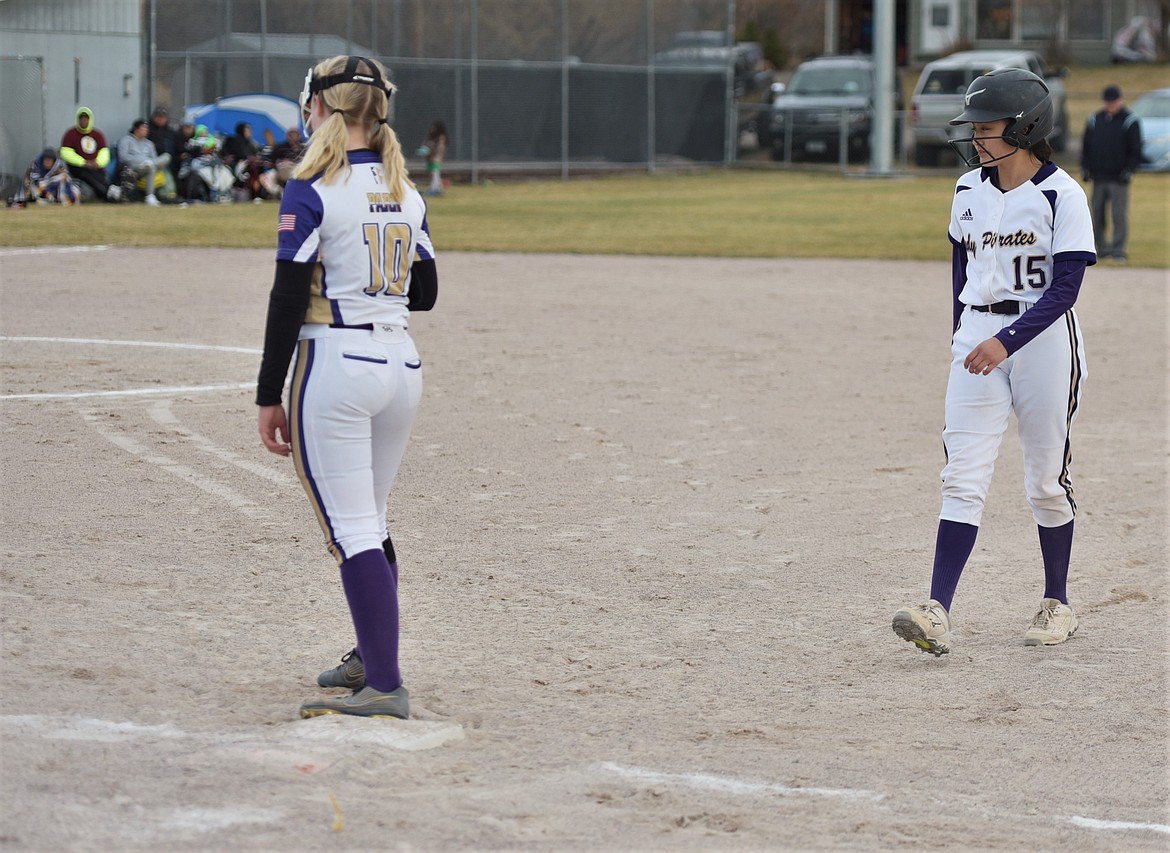 Pinch runner Jaivin Badbear returns to first base between pitches. (Scot Heisel/Lake County Leader)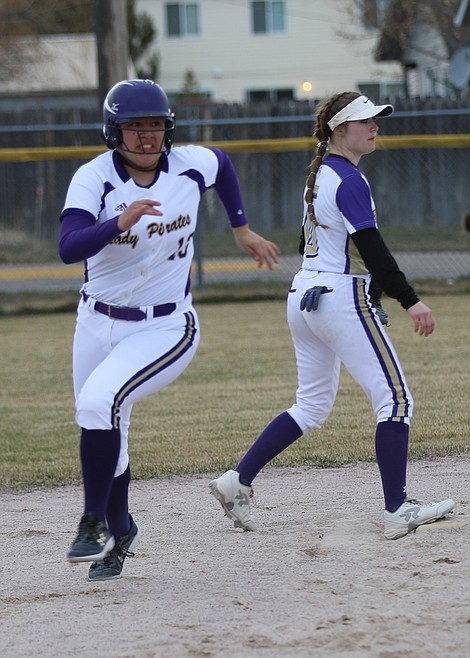 Mossy Kauley rounds second on a triple against Park County. (Courtesy of Bob Gunderson)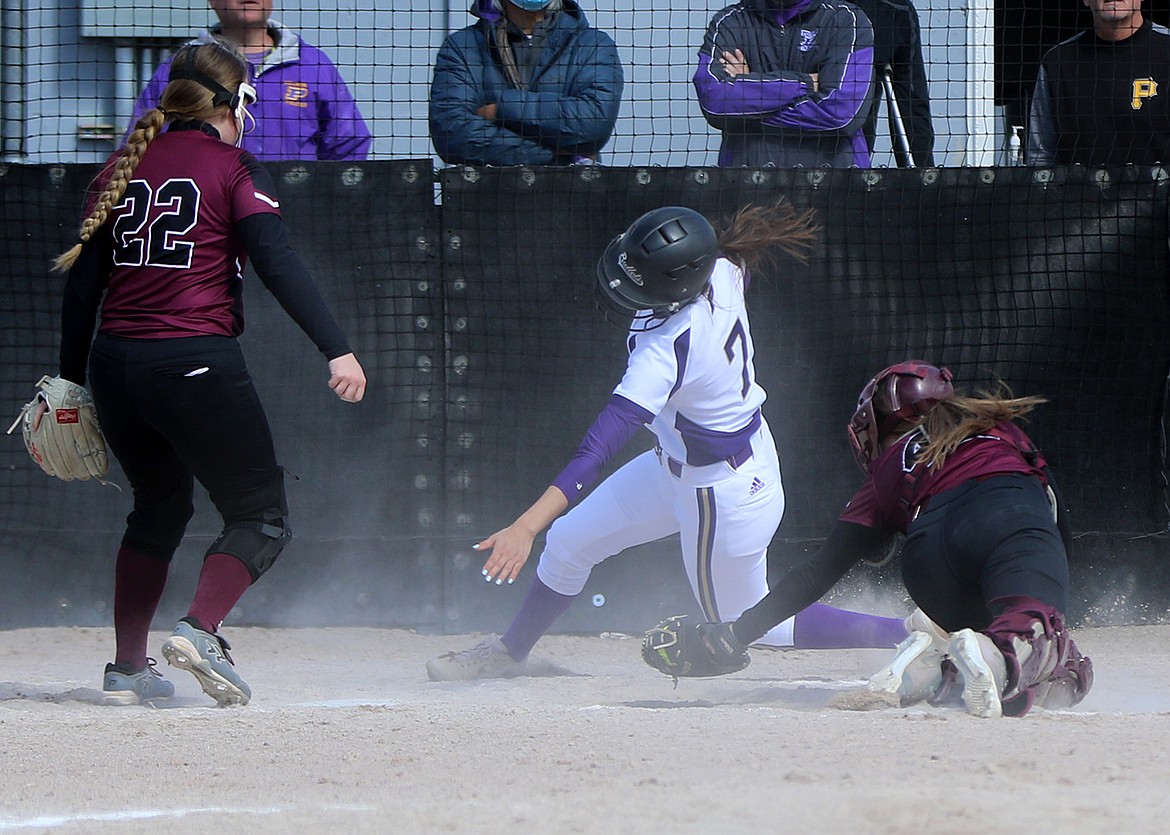 Josie Caye slides around the catcher to avoid the tag and score a run against Butte Central. (Courtesy of Bob Gunderson)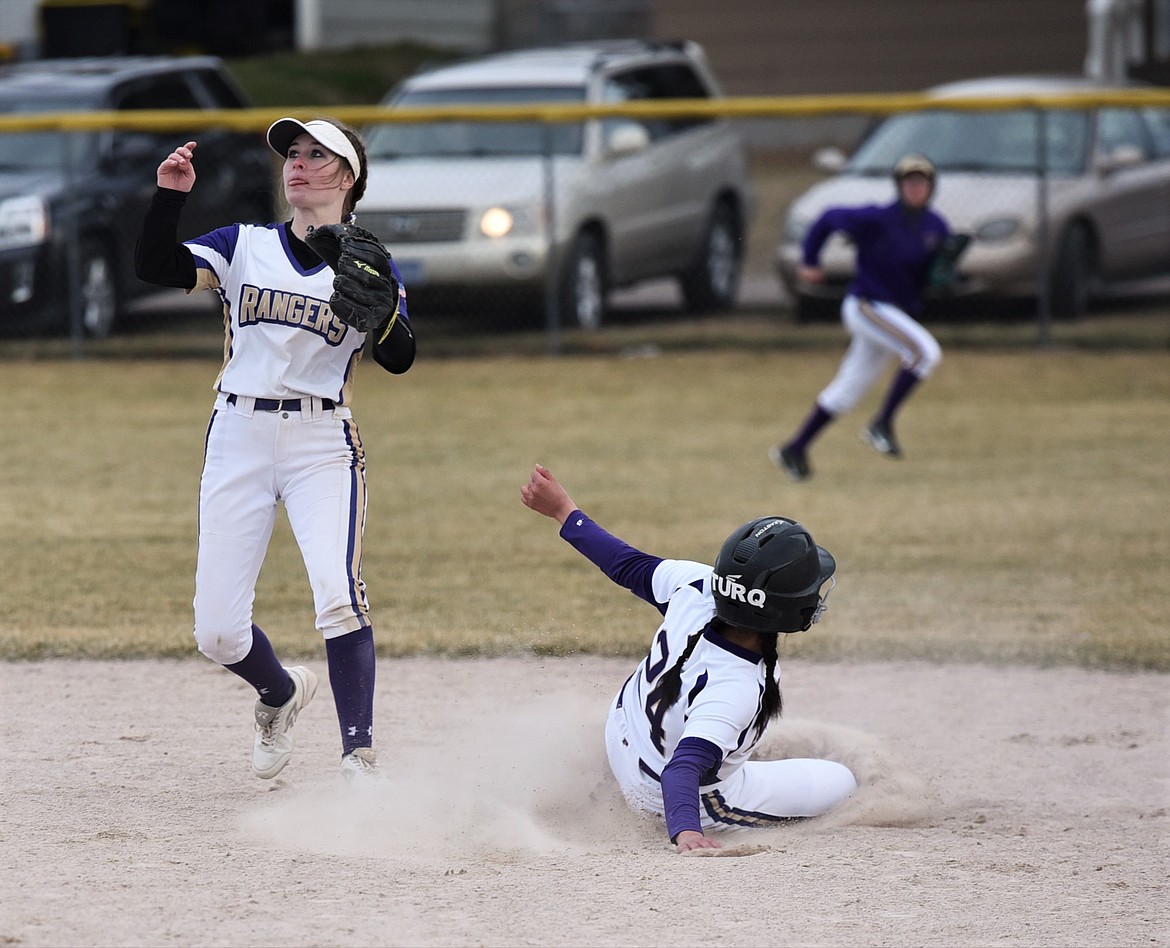 Turquiose Pierre steals second base against Park County. (Scot Heisel/Lake County Leader)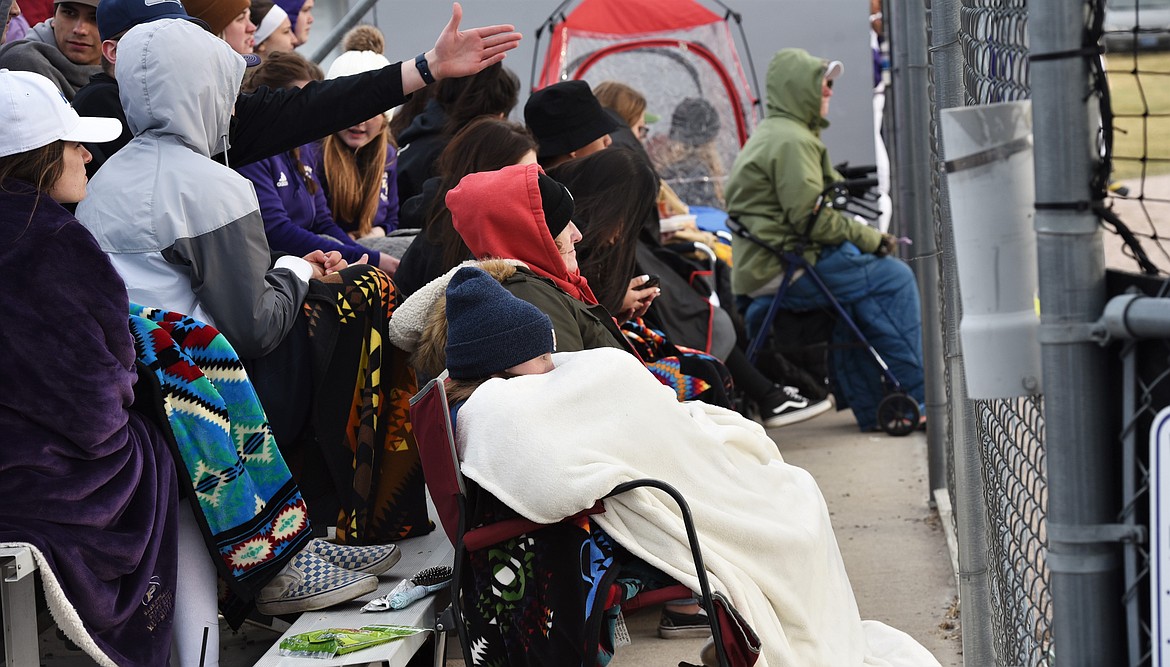 It was a chilly night for softball Saturday as the Lady Pirates faced Park County in the late game. (Scot Heisel/Lake County Leader)
Previous
Next
by
SCOT HEISEL
Lake County Leader
|
March 30, 2021 2:50 PM
There was a chill in the air as the 2021 high school softball season kicked off Saturday in Polson, but the Lady Pirates came out of the gate red hot.
After missing the entire 2020 season due to COVID-19, Polson looked eager to swing some bats, run some bases and just plain dominate as the varsity squad notched an 11-2 win over Butte Central in their opener Saturday and ended the night with a 21-0 five-inning rout of the Lady Rangers of Park County.
"Had to break some rust off that first inning, and instead of trying to go yard, let's string some hits together and good things will happen," head coach Jami Hanson said Saturday night. "I thought they came through very well."
Senior Jose Caye led off the bottom of the first against Park County with a screaming double down the third base line, and the Lady Pirates' hit parade was on. They amassed 21 runs on 21 hits in just four innings before the game was called after the top of the fifth.
Junior pitcher Katelyne Druyvestein recorded nine strikeouts and gave up just one hit in five innings of work on the mound, and the Polson defense committed no errors in the late game.
"There were things that we definitely need to work on," Hanson said. "There were little things that we've got to change. Tagging up on all fly balls from third base. Not being out and extended when they make the catch. … Our bunt coverage. But there also were a lot of positives."
Druyvestein was 5 for 9 from the plate with three doubles to back up her pitching performance. Senior first baseman Mossy Kauley and freshman outfielder Mckenna Hanson both went 5 for 7 on the day. Kauley hit a triple to deep right field in the second inning against Park. Senior SaVanna Carpentier finished the day 5 for 6 with a double and two walks.
The Polson junior varsity team also earned a pair of wins, 6-5 against Frenchtown's JV in their early game, and 15-3 in five innings against Park County.
The Lady Pirates head to Hamilton on Thursday (April 1) for JV and varsity matchups, but won't play again until April 17 at Libby because an April 10 game against Whitefish was cancelled. The Lady Bulldogs were unable to field a varsity team.
Polson 21, Park 0
NWA Polson (2-0), SEA Park (1-1)
Park 000 00 – 0 1 2
Polson 564 6x – 21 21 0
Skylar Higgs (11H,2W,1PO), (3) Ava Malone (1K,12H,1W) and Emily Jesson. Katelyne Druyvestein (9K,1H,0W,1PO) and Lexy Orien. WP – Druyvestein (2-0). LP – Higgs.
PARK (LIVINGSTON) – Shannon Nelson 1-1, Mya Bergdoll 0-1, Emily Jesson 0-2, Higgs 0-2, Marissa Taylor 0-2, Malone 0-2, Taylor Young 0-2, Maddy Johnson 0-1, Emily Prather 0-1, Erika Haines 0-1, Kaylee Roberts 0-1.
POLSON – Josie Caye 2-5, Druyvestein 3-5, Kobbey Smith 2-5, Orien 1-3, SaVanna Carpentier 3-3, Mckenna Hanson 3-3, Mossy Kauley 4-4, Turquoise Pierre 2-4, Anna Vert 1-3, (cr) Jaivin Badbear.
3B – Kauley. 2B – Caye 2, Druyvestein 2, Ko.Smith, Carpentier, Hanson. RBIs – Druyvestein, Ko.Smith, Orien, Carpentier, Hanson 4, Kauley 4, Pierre 2, Vert. BB – Hanson, Carpentier, Vert. HB – Orien. ROE – Druyvestein, Ko.Smith. SB – Nelson 2; Carpentier, Hanson, Kauley, Pierre, Vert. Runs – Caye 2, Druyvestein 3, Ko.Smith 3, Badbear 2, Carpentier 4, Hanson 4, Kauley 2, Pierre.
Polson 11, Butte Central 2
NWA Polson (1-0), SWA Butte Central (0-1)
ButteC 000 110 0 – 2 5 6
Polson 000 740 x – 11 9 2
Maci Reopelle (4K), Sofee Thatcher (1K,2H,1W,1HB) and Mia Keeley. Katelyne Druyvestein (4K,4H,3W,1PO,1A), (6) Turquoise Pierre (3K,1H,2A) and Lexy Orien. WP – Druyvestein (1-0). LP – Reopelle (0-1). Sv – Pierre
BUTTE CENTRAL – Brooke Badovinac 0-4, Thatcher 1-3, Reopelle 0-3, Maddi Kump 0-2, Keeley 1-3, Maggie Stimatz 1-2, Brenna Foley 1-3, Jaeden Berger 0-2, Kathryn Lalicker 1-2, Jodi Reiter 0-1, Angelina O'Rourke, Renee Creekmore.
POLSON – Josie Caye 0-2, Druyvestein 2-4, Kobbey Smith 0-4, Orien 2-4, SaVanna Carpentier 2-3, Mckenna Hanson 2-4, Mossy Kauley 1-3, Pierre 0-2, Anna Vert 0-2, (cr) Jaivin Badbear.
2B — Stimatz, Keeley; Orien 2, Druyvestein. RBIs – Foley; Druyvestein 3, Hanson, Carpentier, Vert. SH – Vert. BB – Stimatz, Berger, Kump; Caye, Carpentier, Kauley, Pierre. HB – Caye. ROE –Druyvestein, Hanson, Pierre, Vert. SB – Caye 3, Carpentier 2, Pierre, Vert. Runs – Kump, Lalicker; Caye 2, Druyvestein, Badbear, Carpentier, Hanson 2, Kauley, Pierre 2, Vert.
---