Clearwater Montana Properties continues local donations tradition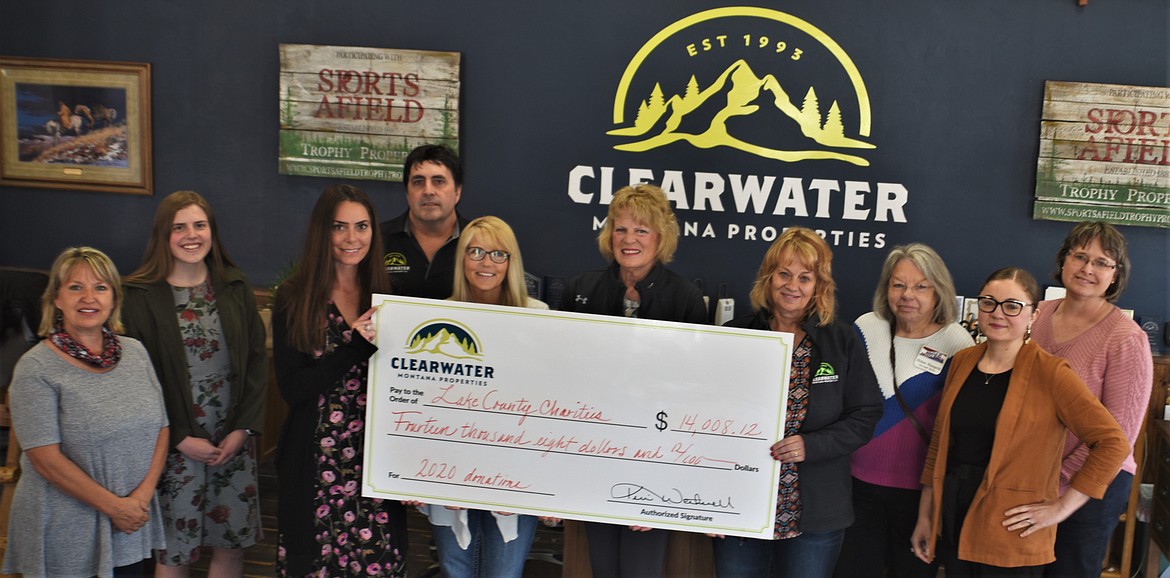 Pictured, from left: Ann Marie McNeel, CASA of Lake and Sanders Counties; Brooke Hansen, SAFE Harbor; Jamie Russell, Jay Bick, Janie Bick, Carol Tibbles and Kathy Crockett of Clearwater Montana Properties; Helen Mangels, Miracle of America Museum; Michelle Shizuku, Mission Valley Youth Foundation; and Amy Vaughan, Boys and Girls Club of the Flathead Reservation. (Scot Heisel/Lake County Leader)
by
CAROLYN HIDY
Lake County Leader
|
May 6, 2021 12:15 AM
A group of brokers and Realtors from Clearwater Montana Properties donated more than $14,000 to local nonprofits last week.
Agents in the 30 Clearwater offices throughout Montana can voluntarily participate in the donation program, choosing to donate a percentage of their commissions to the nonprofit(s) of their choice. Funds accumulate through the year, and checks go out each April.
Polson agent Kathy Crockett said she made her gift to CASA of Lake County, which provides volunteer court-appointed advocates for children of abuse and neglect, and to the Miracle of America Museum this year.
Broker Carol Tibbles chose the Boys and Girls Club of The Flathead Reservation and Lake County.
"Serving on the Board of Directors for the past five years, it was an amazing journey to see how the community supported the new clubs in both Ronan and Polson," Tibbles said.
Other recipients from the Polson office included Safe Harbor, which provides assistance to survivors of domestic violence; Mission Valley Animal Shelter; and Mission Valley Youth Foundation, known for its gala "Festival of Trees" that raises funds for youth organizations throughout the valley.
---