Polson Chamber announces return of Fourth of July fireworks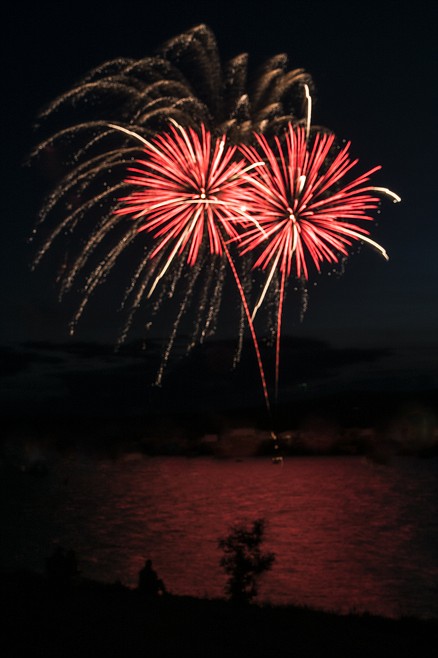 THE FOURTH of July fireworks illuminate the Polson sky on the Fourth of July on Flathead Lake. (Marla Hall/Lake County Leader)
by
Lake County Leader
|
May 6, 2021 9:45 AM
Polson Chamber of Commerce recently announced that the Fourth of July fireworks show will once again light up the sky over the Armed Forces Memorial Bridge and Polson after a year's hiatus due to COVID.
"For so long, we've looked forward to the day when we could tell you that the Fourth of July fireworks show was back, that in a few short months we would once again be able to experience something as a unified community, in honor of our country, in celebration of our town, reconnecting with that vital place inside our hearts yearning for those magical moments that only seem to exist when they are shared," the announcement said. "Now that day is here."
The Chamber gave credit to health care officials and providers for all their work that has helped bring about Lake County's lowest active case counts of COVID-19 in over a year.
"Moderately sized outdoor gatherings are becoming safer, and if current trends continue all indications are pointing toward this being one of the busiest and most exciting summer seasons to date," the announcement said. "Unfortunately, while we have plenty of reason to be encouraged, the pandemic continues to linger and the future remains unclear."
Due to the potential size of the gathering, plans for the Fourth of July parade are still in discussion. The decision as to whether to hold the parade will be made closer to the event.
The group is accepting donations and sponsorships, with the goal to raise $20,000 toward the purchase of fireworks. Contact chamber@polsonchamber.com for more information.
---