Maidens maintain momentum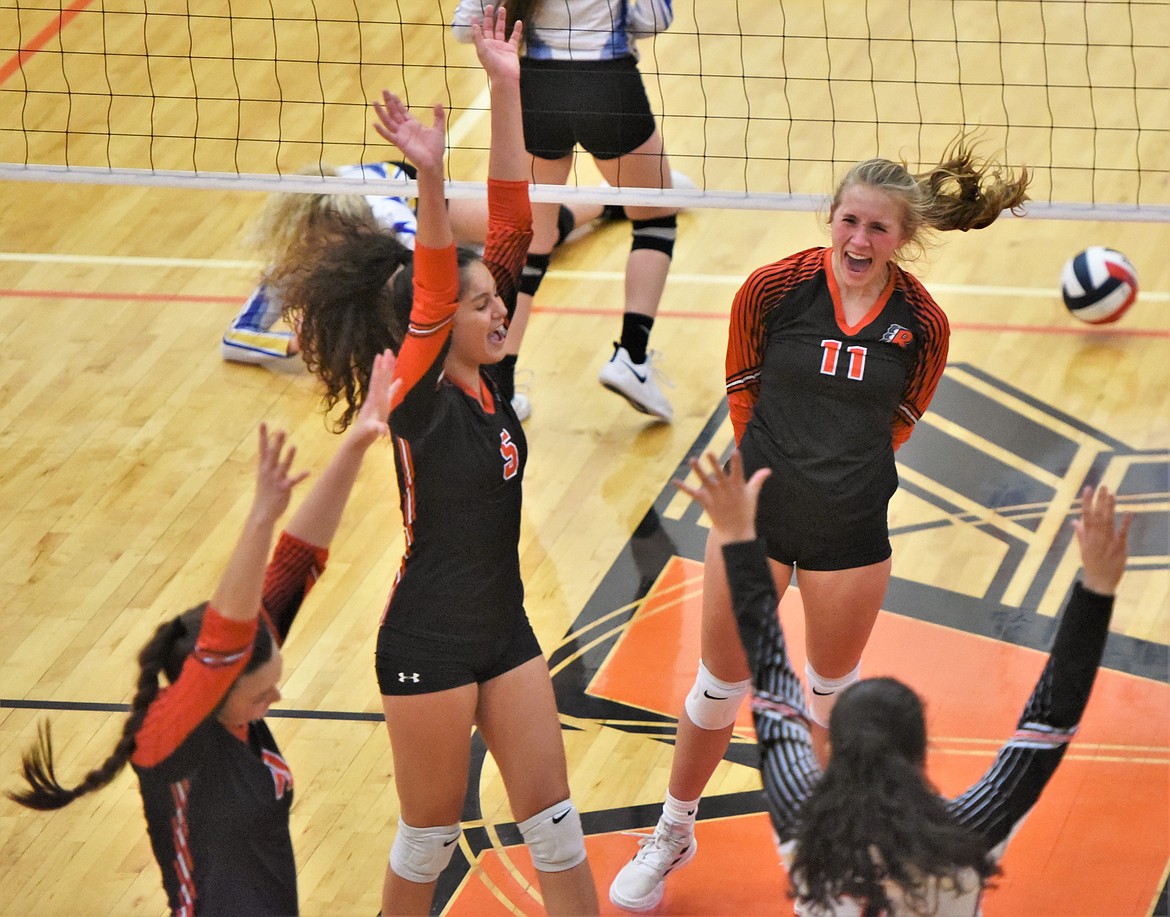 The Ronan Maidens, including LaReina Cordova (5) and Jaslyn Frost (11), celebrate a point against Libby. (Scot Heisel/Lake County Leader)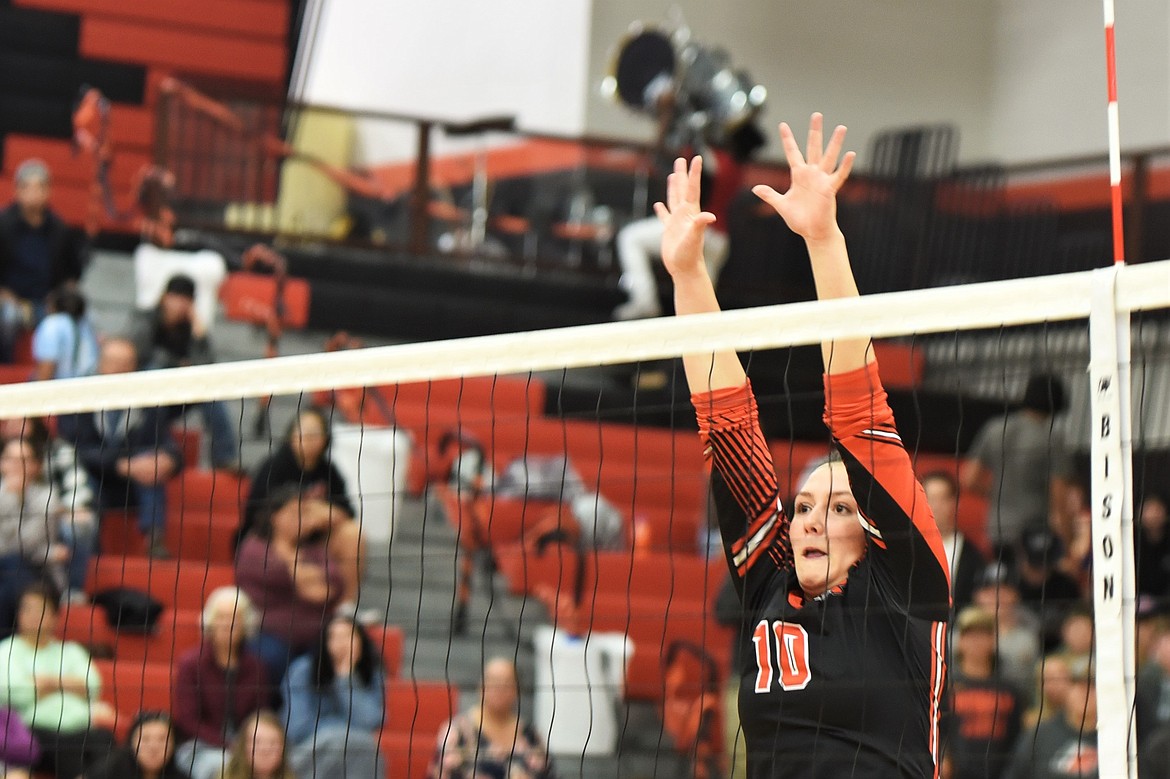 Rylie Lindquist guards the net against Libby. (Scot Heisel/Lake County Leader)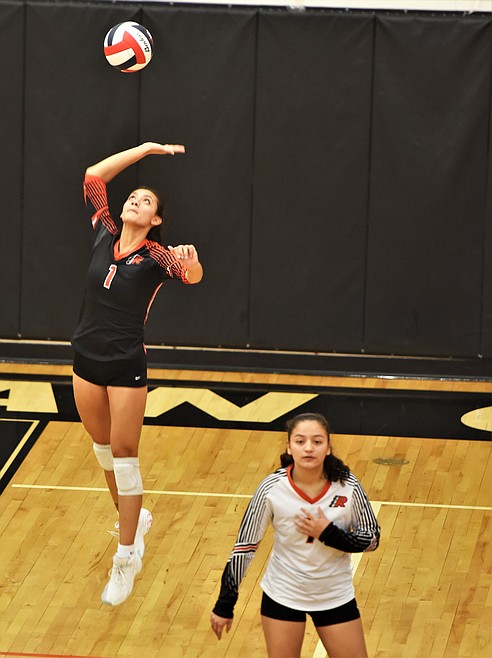 Leina Ulutoa (1) serves behind Margaret Cordova. (Scot Heisel/Lake County Leader)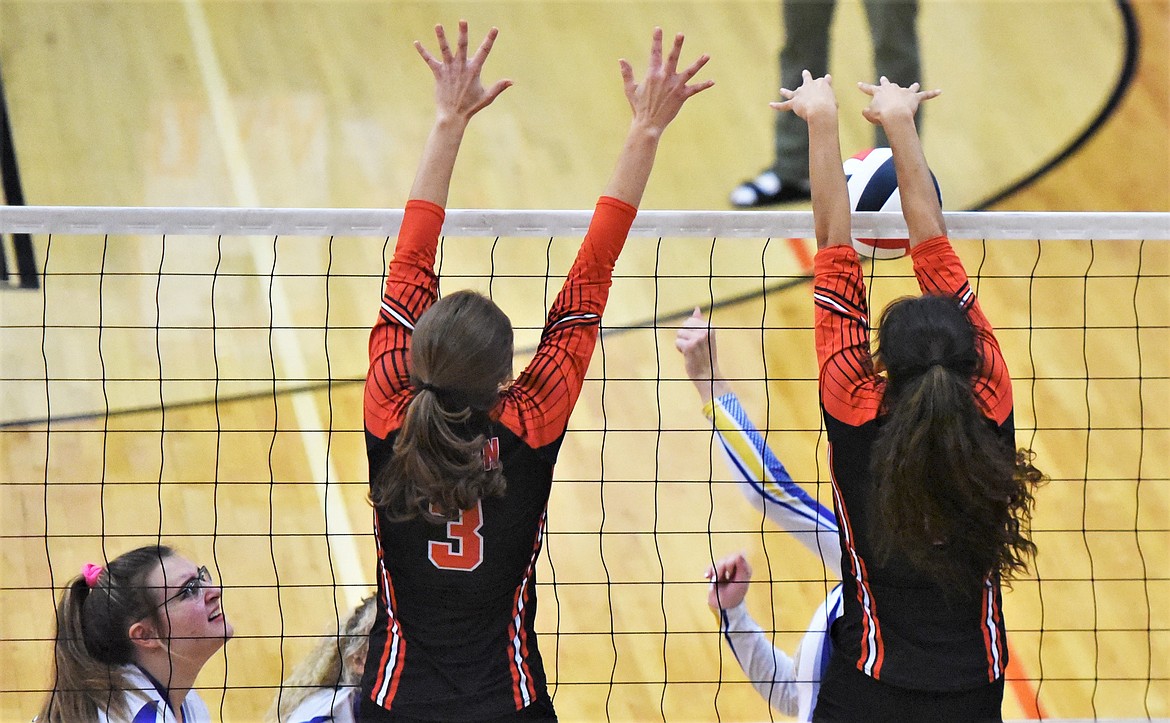 Olivia Clairmont (3) and Leina Ulutoa go up for a block against Libby. (Scot Heisel/Lake County Leader)
Julianna Vizzerra (8) watches her serve behind Leina Ulutoa. (Scot Heisel/Lake County Leader)
Previous
Next
by
SCOT HEISEL
Lake County Leader
|
November 2, 2021 11:30 AM
RONAN — The Maidens kept their win streak alive and spared themselves a district play-in game with victories over Libby and Browning last week.
Ronan (7-2, 11-2) hosts the Western Divisional tournament Thursday through Saturday and will go in as the No. 2 seed from Northwest A. The Maidens have won five straight matches in straight sets since losing 3-1 at Polson on Oct. 9. Both of Ronan's losses this season came at the hands of the Lady Pirates (9-0, 12-1), who will be the top seed from the Northwest at divisionals.
Ronan hosted Libby (4-3, 4-8) Thursday night with second place in the conference on the line. The top two teams out of conference play qualify for divisionals, while teams 3 through 6 must advance through play-in games.
The Maidens took care of business against Libby, winning 25-20, 25-19, 25-23 and avoiding a play-in game.
Senior LaReina Cordova had 13 kills and 11 digs, while fellow senior Olivia Clairmont had eight kills.
The Maidens led 17-11 and went on a late four-point run in the first set. Cordova served an ace to put Ronan up 24-19.
Ronan built a 16-9 lead in the second set and maintained a lead of at least four points the rest of the way.
Libby went on an eight-point run behind the service of Julia Martineau in the third to take a 19-18 lead.
Rylie Lindquist delivered an ace for Ronan, but the Maidens lost the next point and trailed once again by a point.
Libby built a 22-20 lead, but the Maidens tied the set at 23-all and put it away with two points on serves from Kylie Fetui.
Leina Ulutoa finished with 19 assists, and Hannah Rowe contributed seven assists in the win.
Ronan head coach Lacey Phelan said the match looked very similar to an earlier match at Libby.
"When we went to Libby we won the first two, then dropped the third. Got a little sleepy," Phelan said. "I was proud to see them realize that was happening again and finish the game off strong. There's a lot of growth from where we were a month ago."
Thursday was Senior Night at Ronan. The school honored seven Maidens who are playing their final season before graduation — Cordova, Clairmont, Rowe, Lindquist, Haylie Webster, Julianna Vizzerra and Audriana Tatukivei.
Ronan finished off the regular season Saturday with a 25-10, 25-12, 25-18 win at Browning (0-10, 1-11). Cordova had 10 kills in the win and Ulutoa notched 24 of Ronan's 26 assists.
In district play-in games Monday, Libby defeated Browning 3-2 and Columbia Falls def. Whitefish 3-2. The Loggers and WildKats advanced to the divisional tournament with the wins.
Ronan opens the tournament with a match against Stevensville (5-7, 7-10) at 2 p.m. Thursday. Polson will face Hamilton (3-9, 5-13) at noon.
If the Maidens and Lady Pirates both win their first two matches Thursday, they will face off in a winner's bracket match at 6 p.m. Friday, with the winner advancing to the championship match.
Ronan def. Libby 25-20, 25-19, 25-23
KILLS – L (Martineau 7, Rode 4), R32 (L. Cordova 13, Clairmont 8, Ulutoa 5, Frost 3, Lindquist 2, Fetui). ACES – L (Stevens 3, Martineau 2), R5 (L. Cordova 2, Lindquist 2, Ulutoa). ASSISTS – L (Rusdal 14), R29 (Ulutoa 19, Rowe 7, Fetui 2, Lindquist). BLOCKS – L (Rode), R7 (Frost 3bs, Clairmont 1bs3ba, L. Cordova 1ba, Fetui 1ba, Lindquist 1ba). DIGS – L (Martineau 9, Boehmler 9, Rode 9), R61 (Lindquist 14, L. Cordova 11, M. Cordova 8, Vizzerra 7, Ulutoa 6, Fetui 5, Clairmont 3, Webster 3, Frost 2, Rowe 2).
Ronan def. Browning 25-10, 25-12, 25-18
KILLS – R28 (L. Cordova 10), ACES – R7 (Crist 3). ASSISTS – R26 (Ulutoa 24). BLOCKS – R4 (Ulutoa 1.5). DIGS – R24 (Webster 5, Lindquist 4).
Recent Headlines
---