Determined Maidens make a run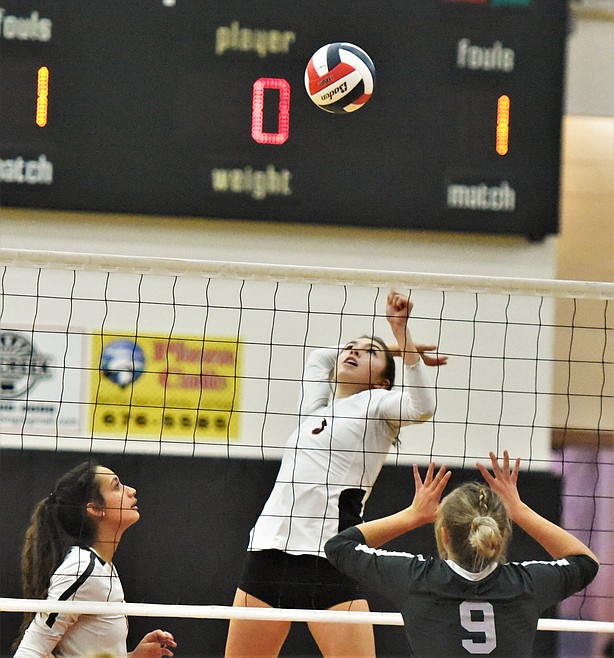 Olivia Clairmont of Ronan lines up a shot in front of Polson's Clara Todd. (Scot Heisel/Lake County Leader)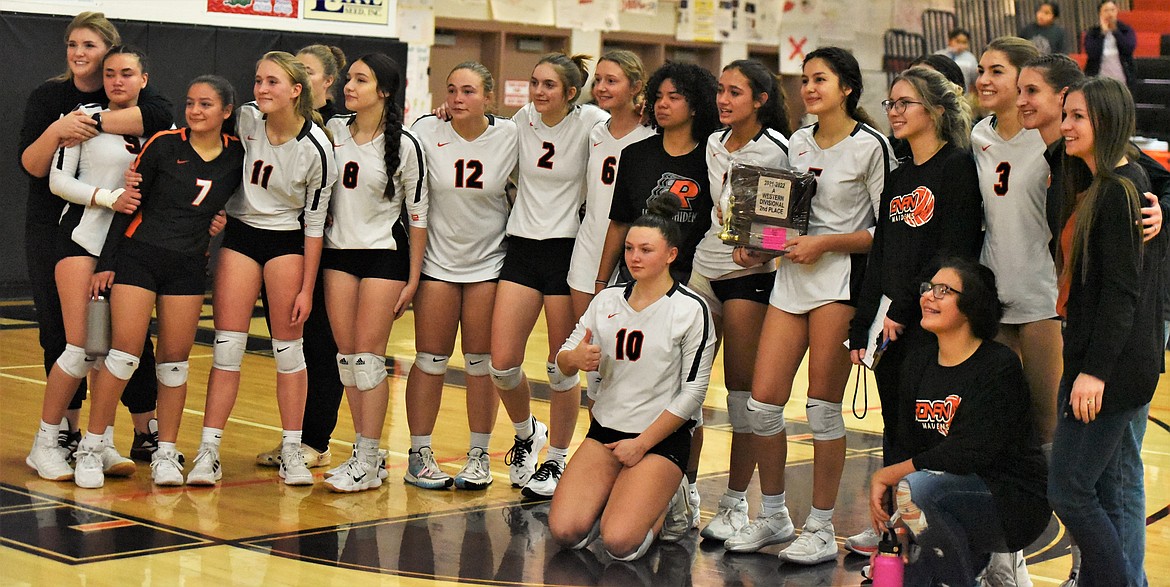 Pictured, from left, are Ronan head coach Lacey Phelan, Kylie Fetui (9), Margaret Cordova (7), Jase Frost (11), manager Dorothy Webster, Julianna Vizzerra (8), Haylie Webster (12), Kenslie Fisher (2), Claire Crist (6), Adri Tatukivei, Rylie Lindquist (10), Leina Ulutoa (1), LaReina Cordova (5, holding plaque), manager LaRhea Webster, Hannah Rowe, Olivia Clairmont (3), Seattle Chartraw (front), and assistant coaches Madison Wassam and Katie Elliott. (Scot Heisel/Lake County Leader)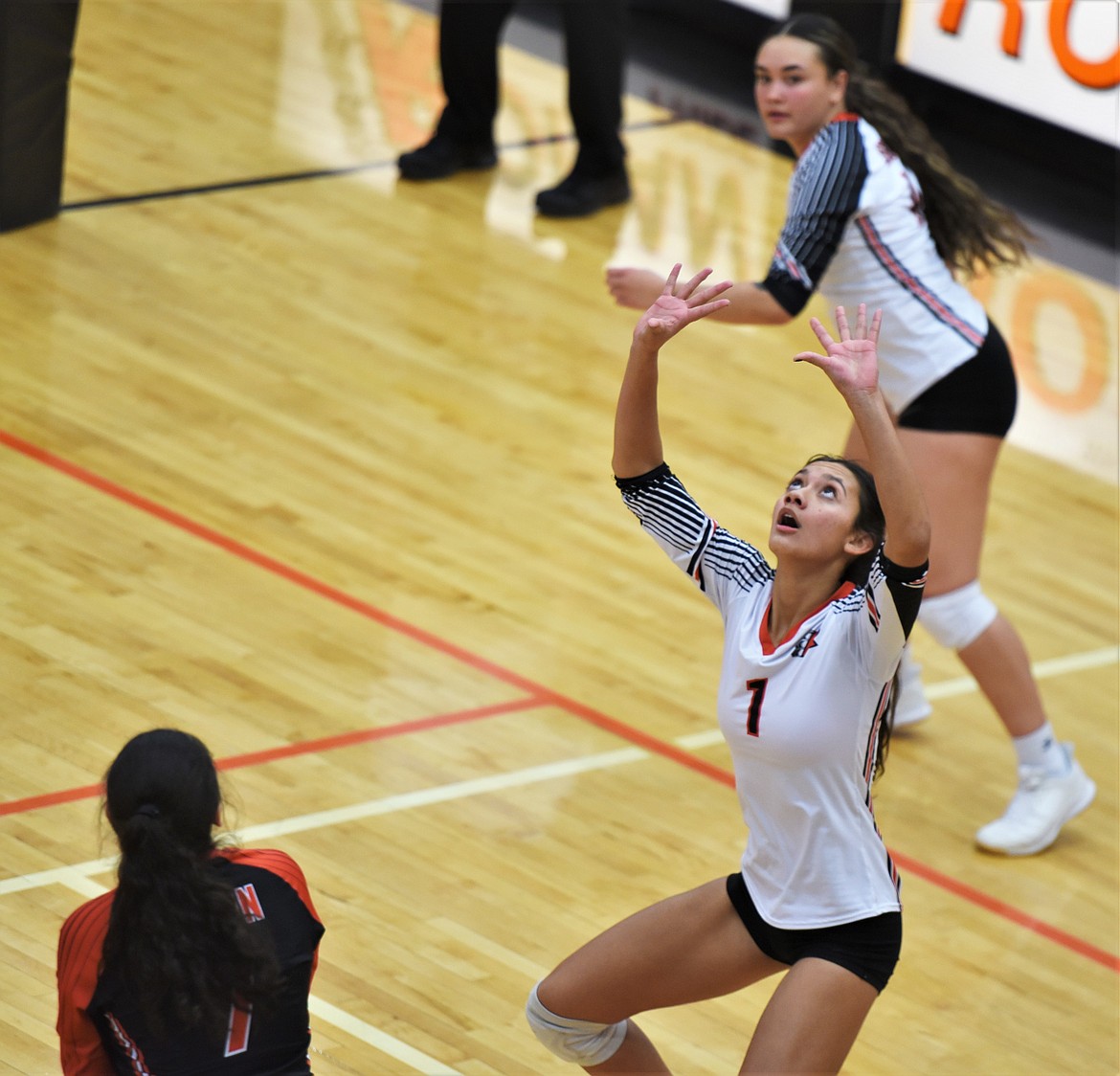 Ronan senior Leina Ulutoa prepares a set shot against Stevensville beside teammates Margaret Cordova (7) and Kylie Fetui. (Scot Heisel/Lake County Leader)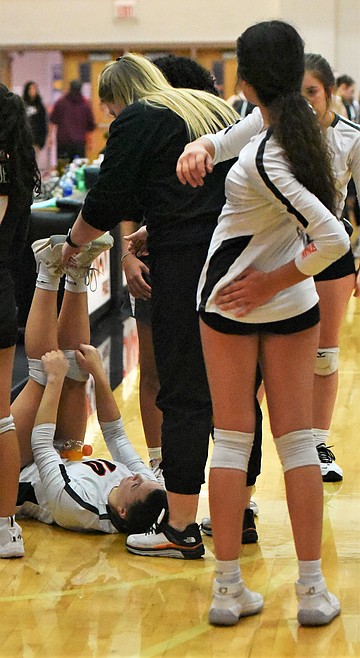 Ronan players Riley Lindquist (on the floor) and LaReina Cordova (5) stretch prior to the fourth set of the Maidens' fourth match of the day Saturday. (Scot Heisel/Lake County Leader)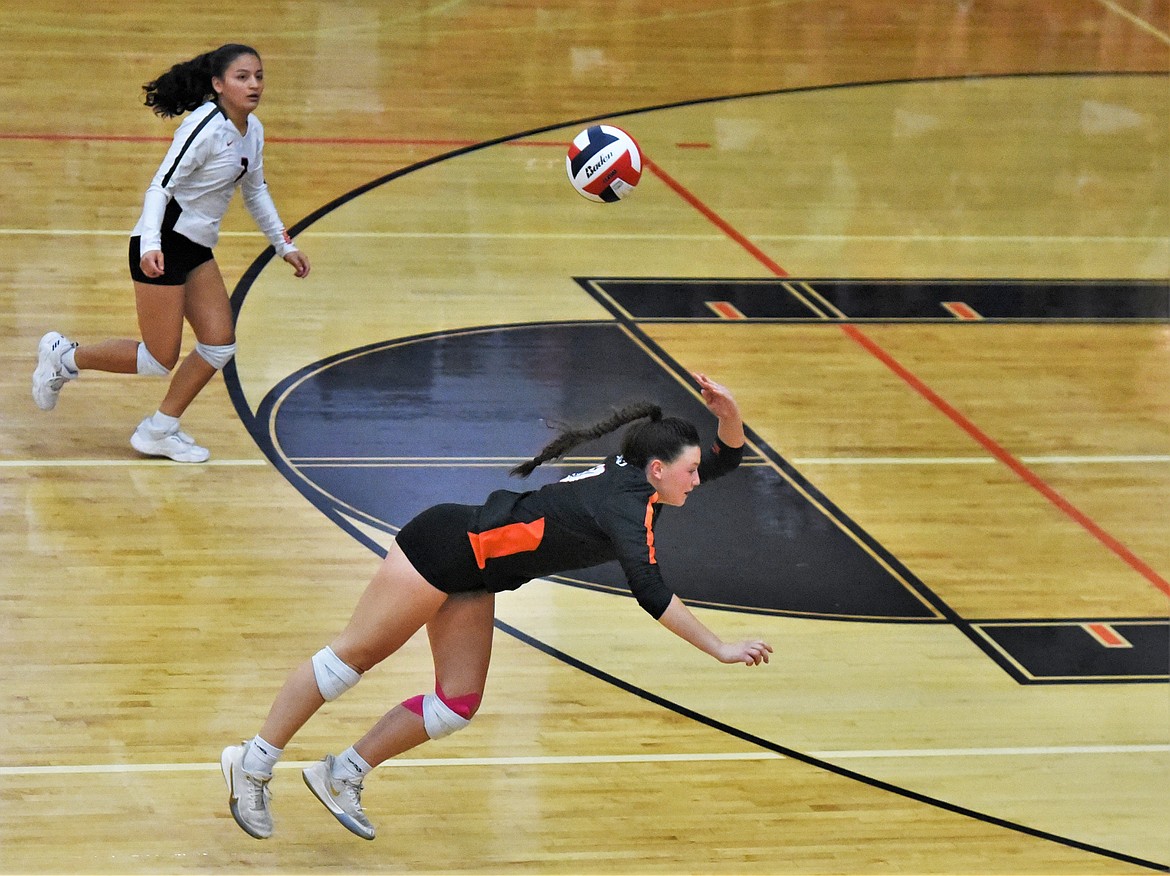 Ronan's Riley Lindquist keeps the ball in play against Corvallis as Margaret Cordova looks to help. (Scot Heisel/Lake County Leader)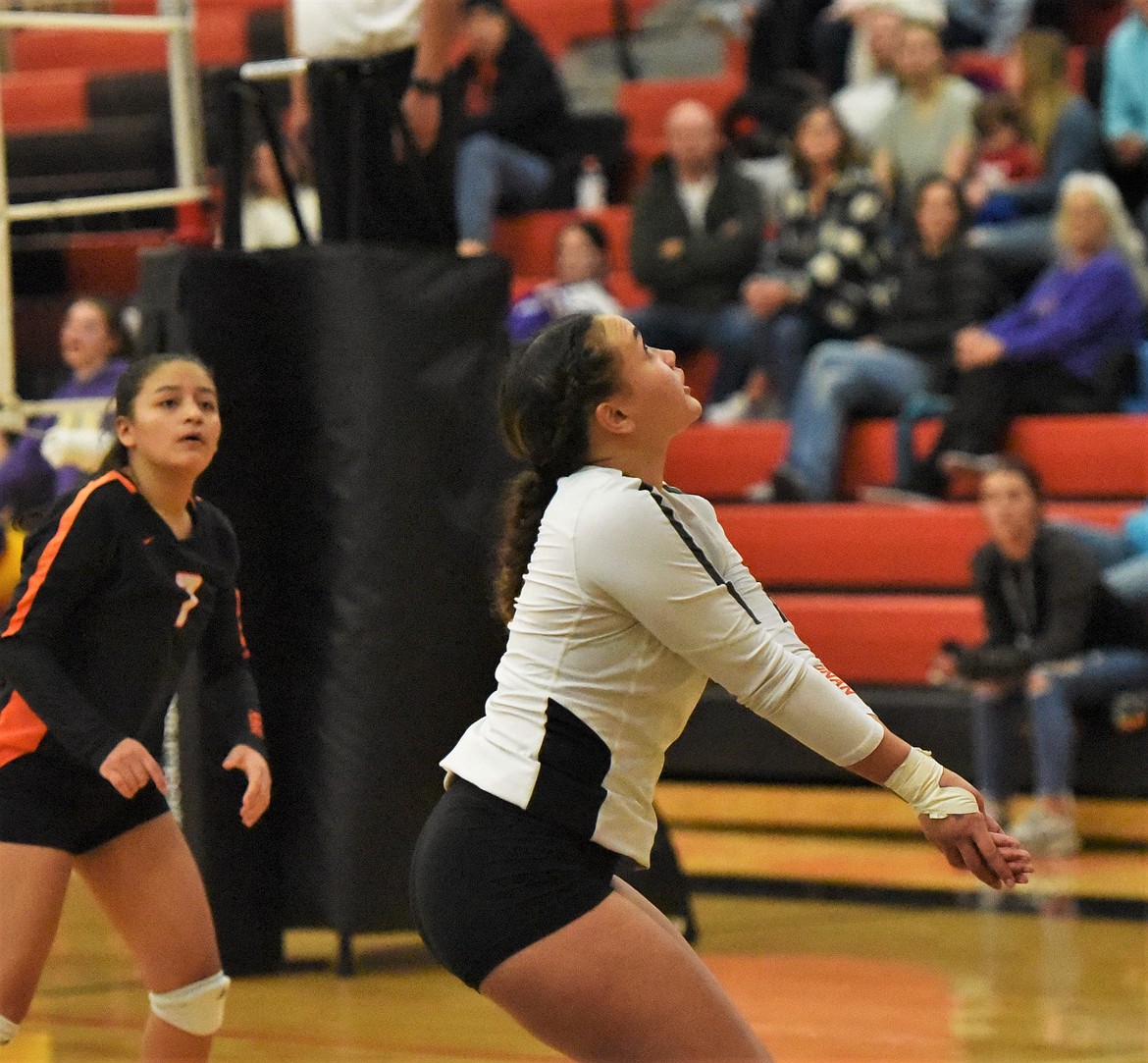 Kylie Fetui of Ronan prepares for a shot against Polson beside teammate Margaret Cordova. (Scot Heisel/Lake County Leader)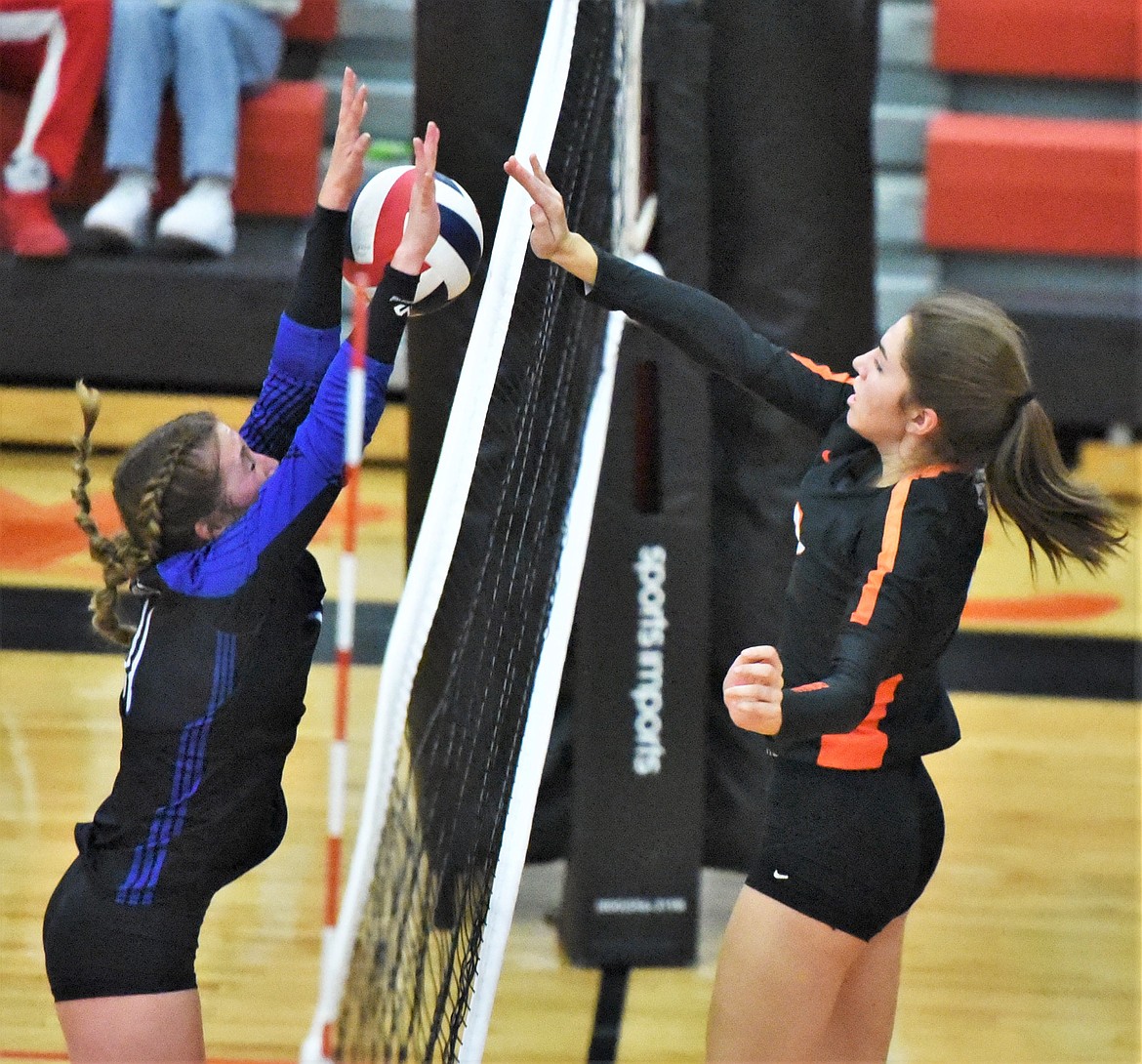 Ronan's Olivia Clairmont goes for the kill Thursday night against Corvallis. (Scot Heisel/Lake County Leader)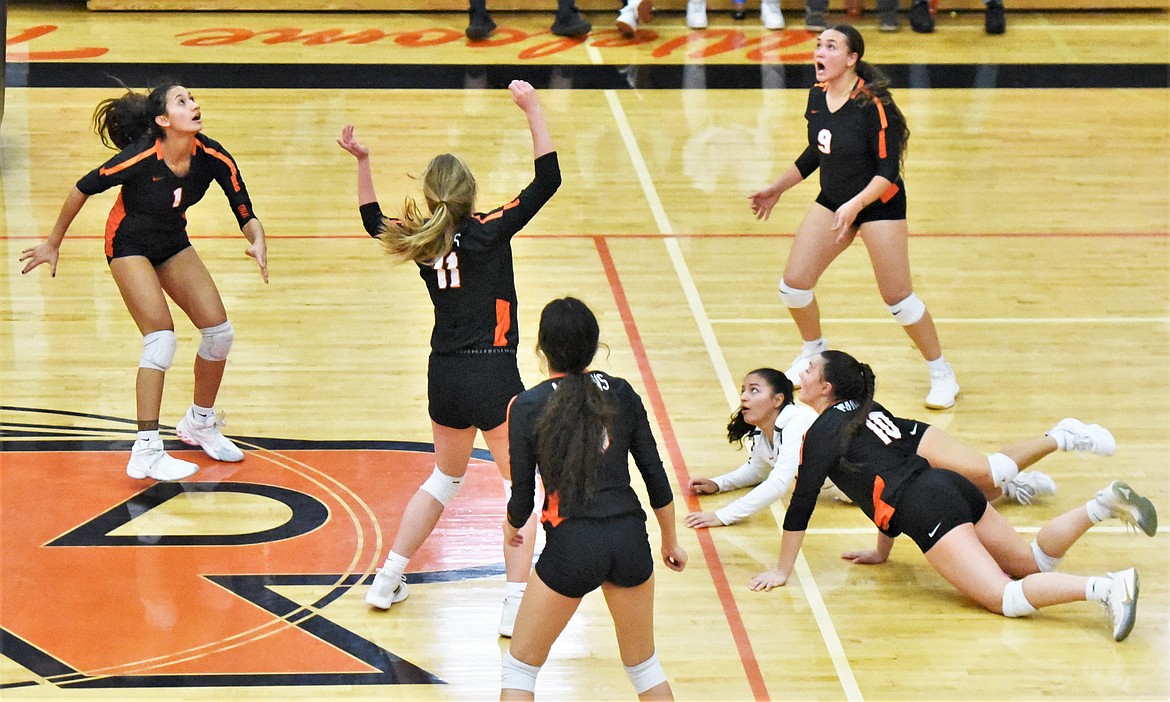 The Maidens scramble to keep a volley going Thursday against Corvallis. (Scot Heisel/Lake County Leader)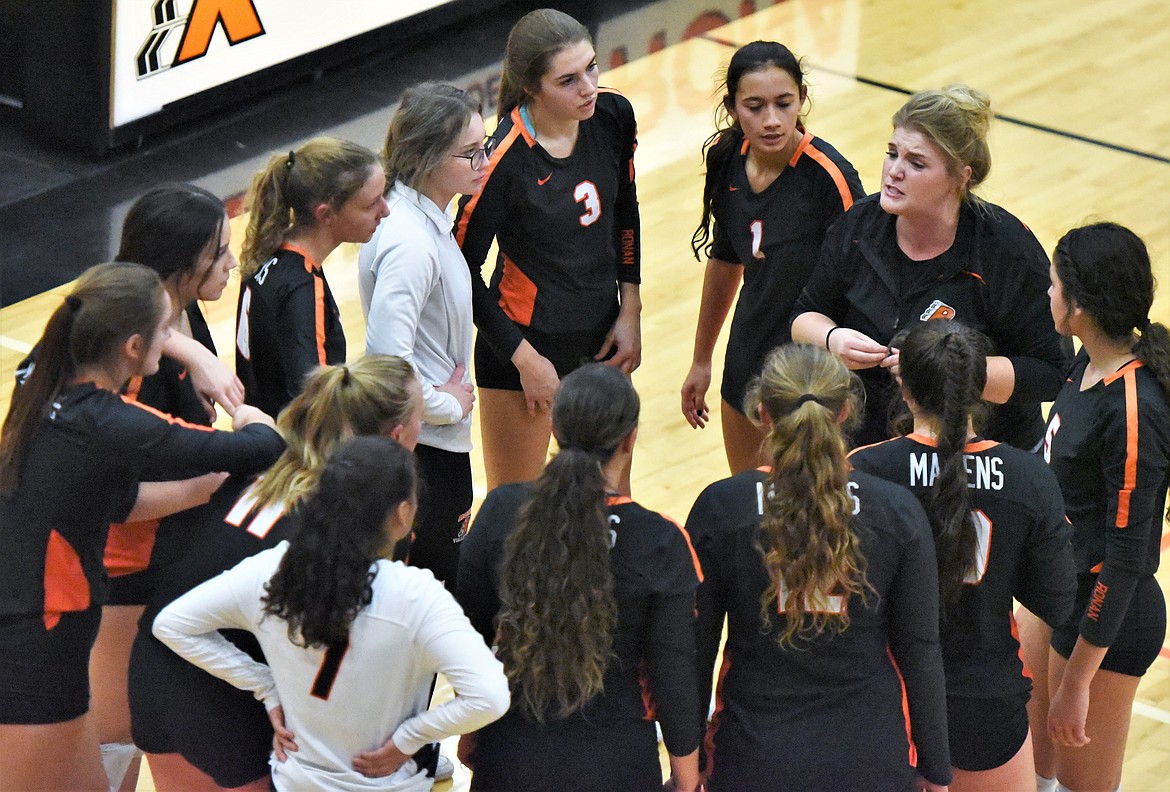 Maidens coach Lacey Phelan encourages her players before the fifth set against Corvallis on Thursday night. (Scot Heisel/Lake County Leader)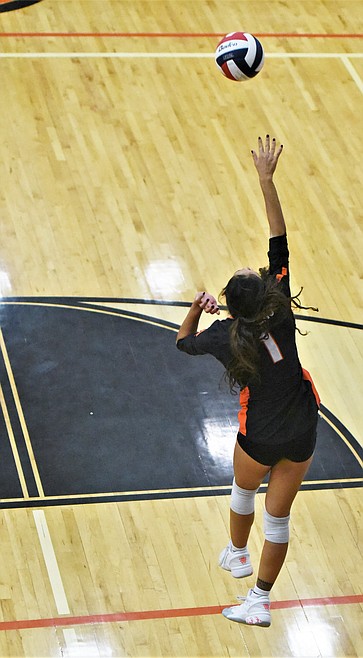 Leina Ulutoa serves against Dillon on Thursday. (Scot Heisel/Lake County Leader)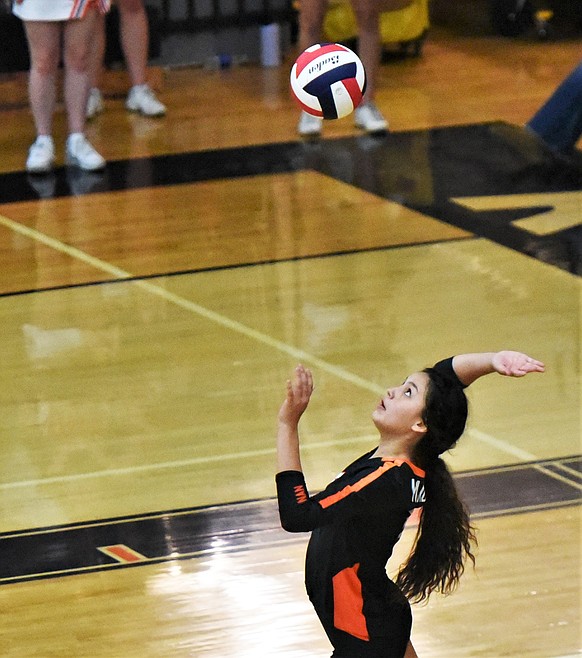 Ronan senior LaReina Cordova serves against Corvallis on Thursday. (Scot Heisel/Lake County Leader)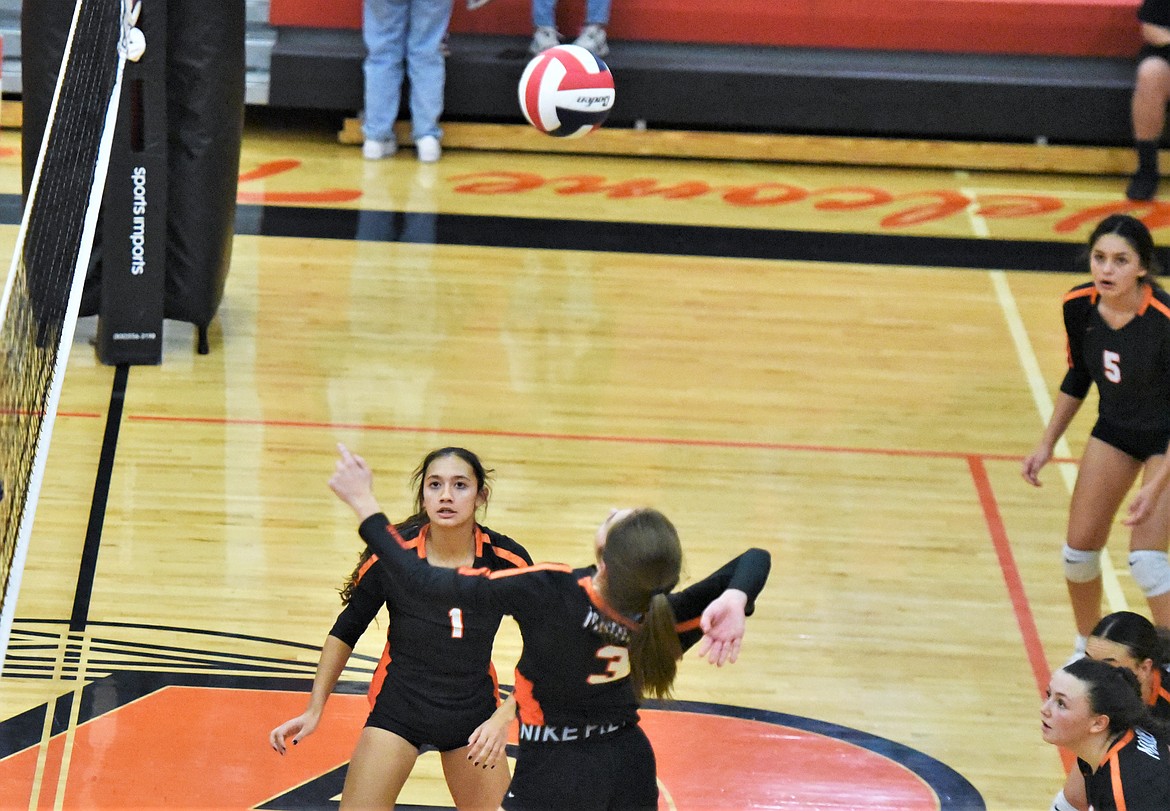 Ronan senior Olivia Clairmont (3) winds up for a shot against Stevensville on Thursday in front of teammate Leina Ulutoa (1). (Scot Heisel/Lake County Leader)
Previous
Next
by
SCOT HEISEL
Lake County Leader
|
November 10, 2021 9:00 AM
Four matches, 16 sets, 702 points.
That was the day's requirements for the Ronan Maidens volleyball team on the third and final day of the Western A divisional tournament.
Ronan (17-4) entered the tournament, which they hosted, with just two losses on the season, both to county rival Polson (16-2). The two teams were on a collision course, but the Maidens lost a tough five-setter to Corvallis on Thursday night. After splitting the first two sets, disaster came in the third, a 25-7 win for Corvallis. Ronan bounced right back to take the fourth set before falling 15-12 in the fifth.
"Sometimes you just get into rotations where you don't see a way out," Ronan coach Lacey Phelan said of the third set against the Blue Devils. "Volleyball is such a game of momentum. … But our team this year is showing a lot more maturity to come back from that."
With the loss Thursday night, the Maidens' quest for a divisional title and the top seed from the West to state became considerably more difficult.
They came out firing in their lone match Friday, when they swept Hamilton 25-15, 25-22, 25-21.
"The girls are motivated," Phelan said after Friday's win. "They think we're playing four games (Saturday). I'm happy to hear that. I'm happy that just going to state isn't enough anymore."
The win set up a potential marathon for Ronan on Saturday, one that came to fruition.
As they took the court at 10 a.m. Saturday against Dillon, the Maidens had already clinched a state berth. The worst they could do was fourth place for a No. 4 seed the following weekend at Bozeman. But they also could still win the district title and the No. 1 seed. To do that, they needed to beat Dillon, then win a rematch with Corvallis, then beat division champion Polson — twice.
They ousted Dillon in four sets in the early game, losing a close second set 26-24 en route to the win.
In the noon game, the Maidens swept Corvallis 25-19, 25-21, 25-20, and suddenly they realized they were on a special run.
Phelan said the difference the second time around against Corvallis was that her offense was firing on all cylinders.
"We are an attacking team. We need to be attacking on offense to win."
After a short break, the first championship match was underway.
In truly back-and-forth fashion, Ronan won the first set, lost the second, won the third, lost the fourth and won the fifth 15-12 to force a second championship match. It was Polson's first defeat since a 3-0 loss to Corvallis more than two months back, during the early weeks of the season.
LaReina Cordova had 15 kills to pace the Maidens, while Polson got 17 from Camila Foresti, 15 from Mckenna Hanson and 13 from Liz Tolley.
Leina Ulutoa had 28 of Ronan's 30 sets in the first Polson match. Earlier in the tournament she had aggravated a persistent hip flexor injury and clearly was not comfortable during the final matches.
"She put her team in front of herself," Phelan said of Ulutoa. "She played through a big injury and still did a great job. I think the girls were feeding off of it."
With the title on the line in the final match, Ronan took the first set 26-24. But the Lady Pirates stood strong and took the next three sets for the win.
"I feel like that first game against (Polson) was our championship game," Phelan said. "I could not be more proud of them coming out and getting that win. Had we not come out and played four games today, the outcome might have been different. Our girls were banged up and bruised, but they showed so much heart. … This is the best I've ever seen them play."
Ronan had approximately 20 minutes between matches Saturday. Phelan credited her mom, who kept the snacks in the locker room well stocked.
"Long. Tiring. But so exciting," senior Riley Lindquist said of the experience. "We went into the locker room, had a few snacks, then came right back out. It was really hard but we pushed through."
Despite the impressive run, the Maidens were noticeably upset they couldn't finish it off. But they knew they'd given it their all.
"I am upset, but I'm more proud than ever," Lindquist said.
Ronan goes to Bozeman as the No. 2 seed from the West. They open with a match at noon Thursday against East No. 3 seed Havre.
2nd championship: Polson def. Ronan 24-26, 25-15, 25-22, 25-23
KILLS – P52 (Liz Tolley 16, Camila Foresti 15, Mckenna Hanson 10, Clara Todd 8, Starr 2, Simonich), R34 (Rylie Lindquist 13). ACES – P8 (Kamdyn Burrough 2, Tolley 2, Foresti 2, Hanson, Starr), R5 (LaReina Cordova 2, Claire Crist 2). ASSISTS – P46 (Avery Starr 37, Simonich 6, Foresti 2), R30 (Leina Ulutoa 27). BLOCKS – P5 (Tolley 3, C.Todd 2), R6 (Olivia Clairmont 4½). DIGS – P65 (Foresti 18, Hanson 13, Tolley 11, Grace Simonich 8, Starr 6, Julia Barnard 6, Burrough 3), R80 (L.Cordova 20). (
1st championship: Ronan def. Polson 25-17, 19-25, 25-20, 14-25, 15-12
KILLS – P56 (Camila Foresti 17, Mckenna Hanson 15, Liz Tolley 13, Clara Todd 5, Simonich 4, Lucy Violett, T.Pierre), R36 (LaReina Cordova 15). ACES – P8 (Foresti 4, Tolley 3, Hanson), R2 (L.Cordova, L.Ulutoa). ASSISTS – P53 (Avery Starr 28, Grace Simonich 23, C.Todd, Foresti), R30 (Leina Ulutoa 28). BLOCKS – P6 (Turquoise Pierre 2, Tolley 2, Foresti, Violett), R10 (L.Ulutoa 4). DIGS – P75 (Foresti 19, Tolley 19, Hanson 11, Julia Barnard 10, Simonich 7, Starr 5, C.Todd 4), R99 (Rylie Lindquist 30).
3rd place match: Ronan def. Corvallis 25-19, 25-21, 25-20
KILLS – R34 (LaReina Cordova 12), C31 (Madeline Gilder 13, Hailey Anderson 9) ACES – R3 (Haylie Webster, Julianna Vizzerra, Rylie Lindquist), C8 (Olivia Lewis 2, Gilder 2). ASSISTS – R30 (Leina Ulutoa 22), C31 (Paige Colaprete 16, Tahnee Lewis 12). BLOCKS – R6 (O.Clairmont 2½), C4 (Tylin Sorensen 2, Gilder 2). DIGS – R71 (Kylie Fetui 16), C59 (Gilder 11, Jessica Saturday 10, H.Anderson 9, Ellie Davis 9).
4th place match: Ronan def. Dillon 25-18, 24-26, 25-21, 25-21
KILLS – R42 (Olivia Clairmont 14, Rylie Lindquist 14), D34 (Evey Hansen 11, Jordan Walker 6, Kylie Konen 4, Ainsley Shipman 4, L.Petersen 4, Zoey Morast 2, Matamoros, Stennerson, Ariel Thomas). ACES – R9 (Julianna Vizzerra 2, Haylie Webster 2, Kenslie Fisher 2, L.Ulutoa 2), D8 (Sage Hansen 3, Emily Matamoros 2, E.Hansen 2, Stennersen). ASSISTS – R38 (Leina Ulutoa ), D25 (Lauryn Petersen 11, Leila Stennerson 8, Matamoros 3, Morstein, A.Shipman, Walker). BLOCKS – R9 (O.Clairmont 5), D5 (E.Hansen 1bs2ba, K.Konen 4ba, Morast 2ba). DIGS – R78 (R.Lindquist 26), D58 (Ainsley Shipman 24, Walker 15, Matamoros 10, Stennerson 3, L.Petersen 2, E.Hansen 2, Grayson Morstein 2).
Ronan def. Hamilton 25-15, 25-22, 25-21
KILLS – R26 (Rylie Lindquist 11), H19 (Layne Kearns 10). ACES – R9 (Claire Crist 3), H6 (Jenna Guisinger 3). ASSISTS – R34 (Leina Ulutoa 30), H17 (Taryn Searle 16). BLOCKS – R3 (Olivia Clairmont 2), H0 (na). DIGS – R51 (R.Lindquist 12), H47 (Ayda Griffin 9, Guisinger 9, Kearns 9).
Corvallis def. Ronan 25-18, 24-26, 25-7, 18-25, 15-12
KILLS – R40 (Olivia Clairmont 15), C41 (Madeline Gilder 17, Hailey Anderson 13) ACES – R4 (Leina Ulutoa 2), C7 (Gilder 3). ASSISTS – R37 (L.Ultutoa 29), C34 (Tahnee Lewis 17, Colaprete 14). BLOCKS – R5 (O.Clairmont 4), C15 (Gilder 7, Tylin Sorensen 4). DIGS – R108 (L.Cordova 23, Rylie Lindquist 23), C86 (Paige Colaprete 24, Jessica Saturday 21).
Ronan def. Stevi 25-18, 25-11, 22-25, 25-15
KILLS – S25 (Daphne Engel 11, Tilli Danczyk 8), R33 (LaReina Cordova 11). ACES – S10 (Berning 5, Megan Liedka 2), R5 (L.Cordova 2). ASSISTS – S21 (Sophie Berning 19), R31 (Leina Ulutoa 24). BLOCKS – S3 (Engel 2, Shilo Lampi), R11 (Jase Frost 3½). DIGS – S44 (Engel 11, Berning 9, Wandler 8), R59 (Rylie Lindquist 19).
Recent Headlines
---