Pirates' journey ends in state semifinals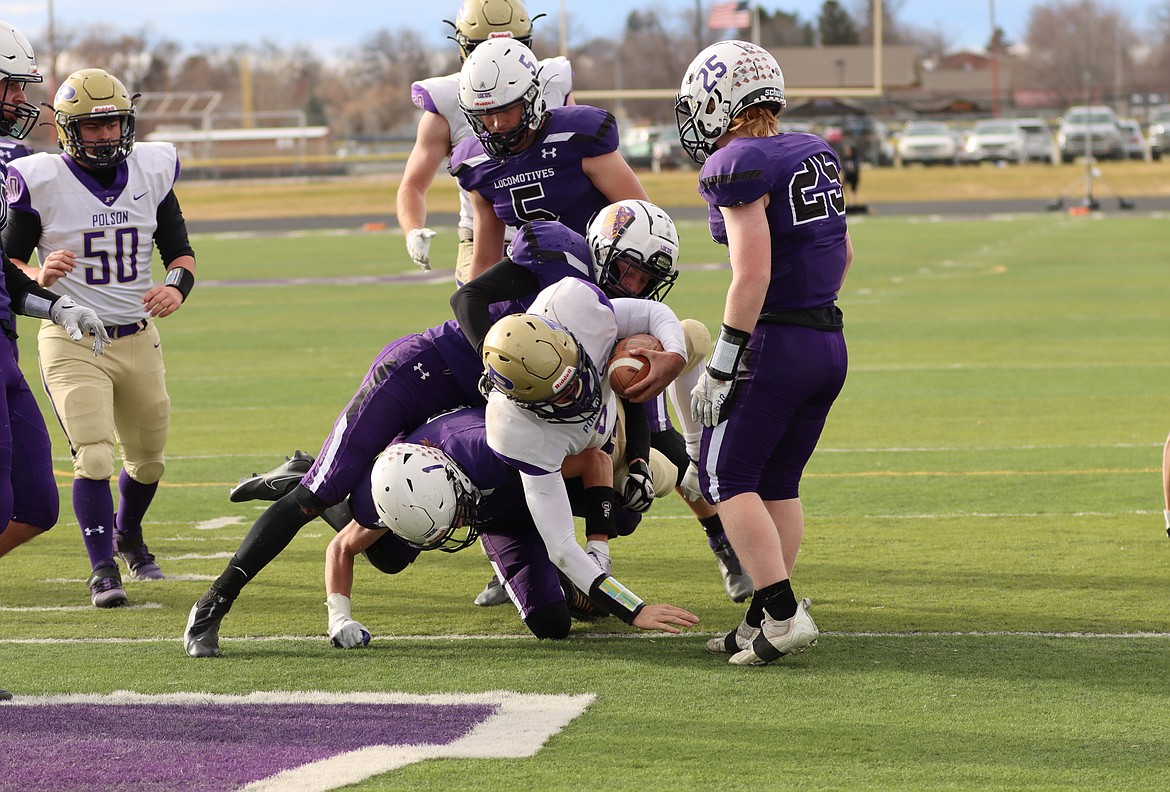 Jarrett Wilson stretches for red zone touchdown at Laurel. (Courtesy of Niki Graham)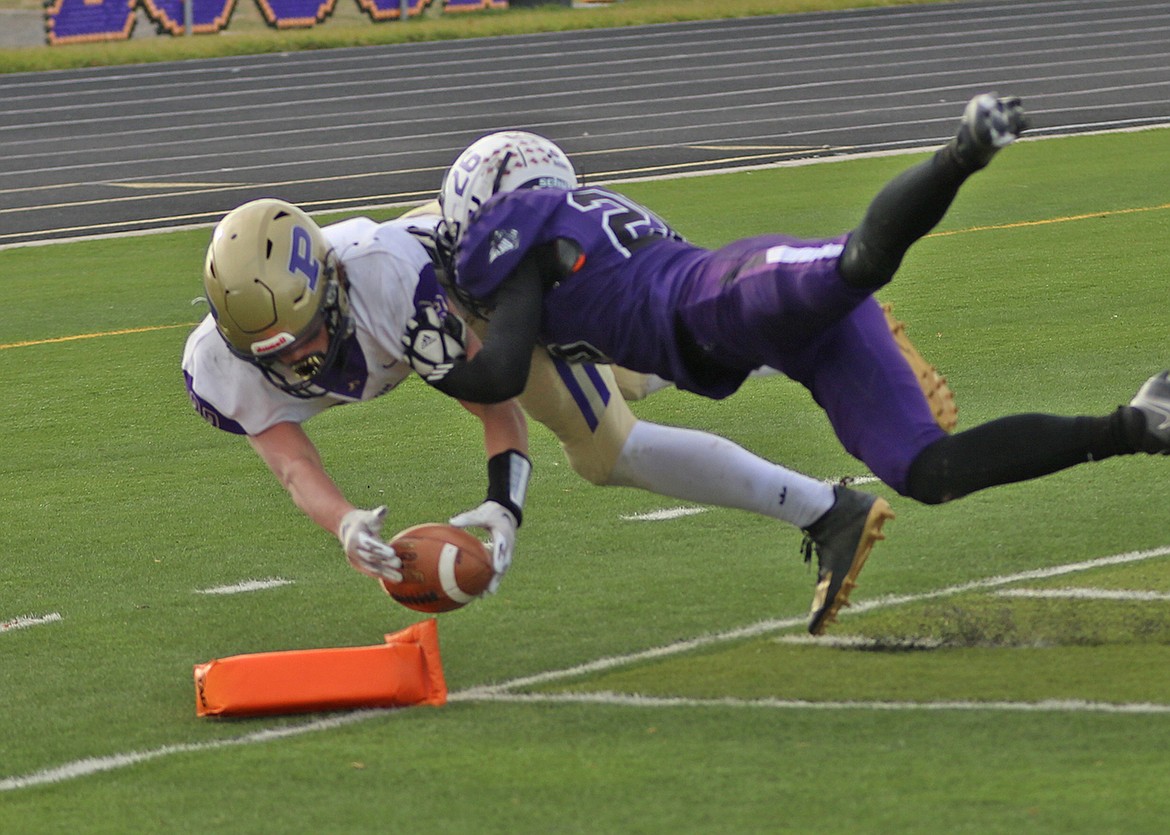 Keyen Nash stretches for an apparent Polson touchdown. Officials marked the ball short of the goal line and Laurel took over possession. (Courtesy of Bob Gunderson)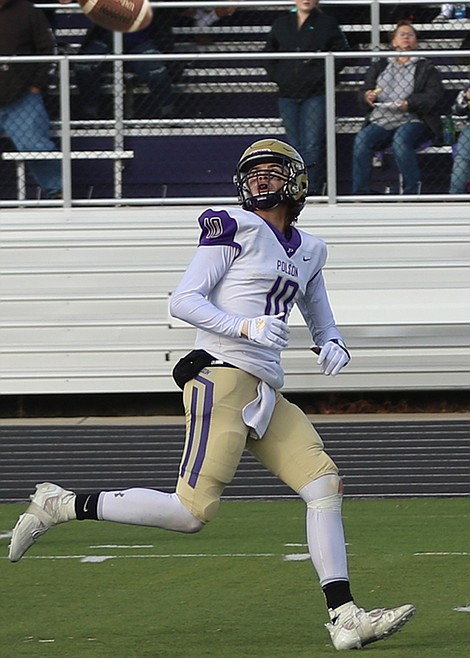 A wide-open Colton Graham watches the ball during hits touchdown reception against Laurel in the state semifinals. (Courtesy of Bob Gunderson)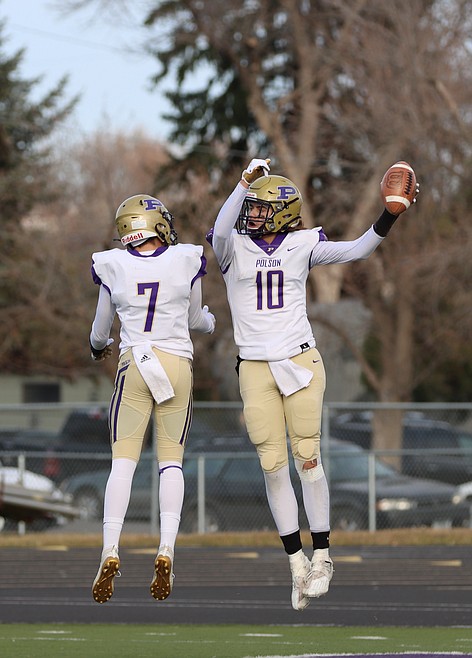 Alex Muzquiz (7) and Colton Graham (10) celebrate Graham's touchdown catch against Laurel. (Courtesy of Niki Graham)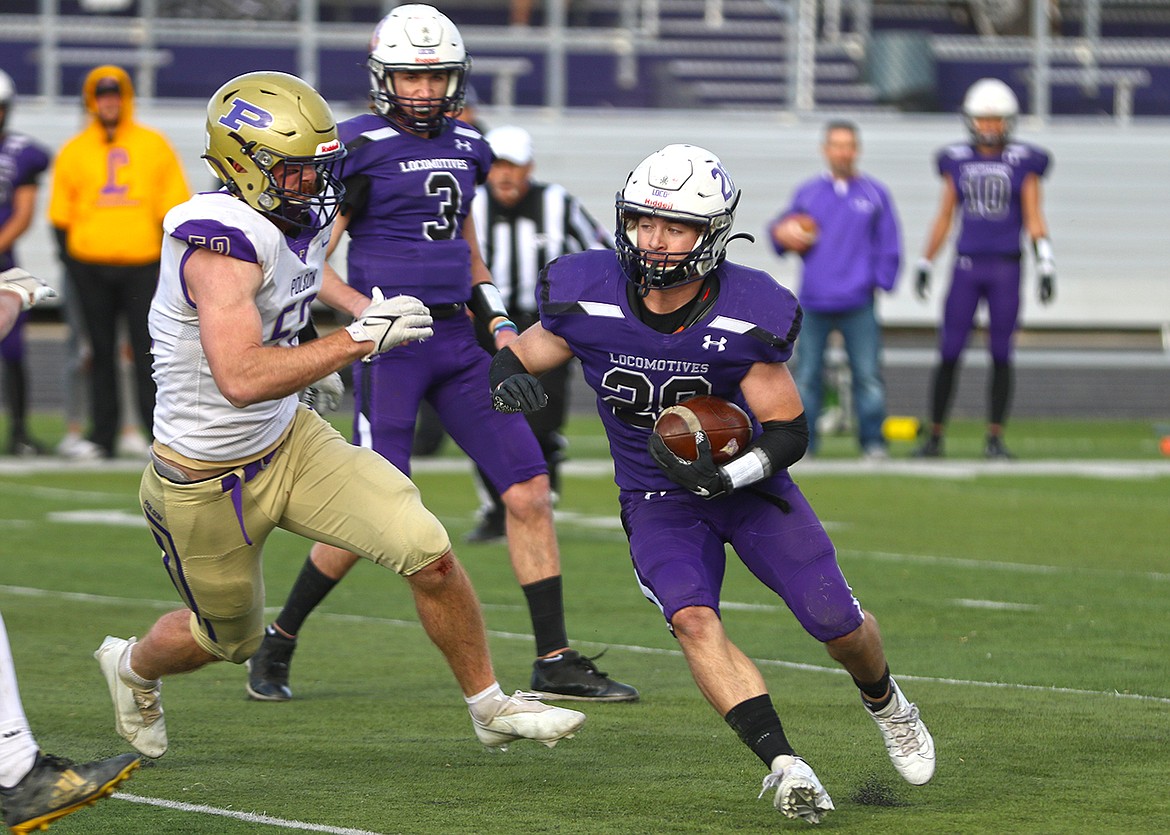 Polson's Braunson Henriksen chases down Laurel running back Beau Dantic. (Courtesy of Bob Gunderson)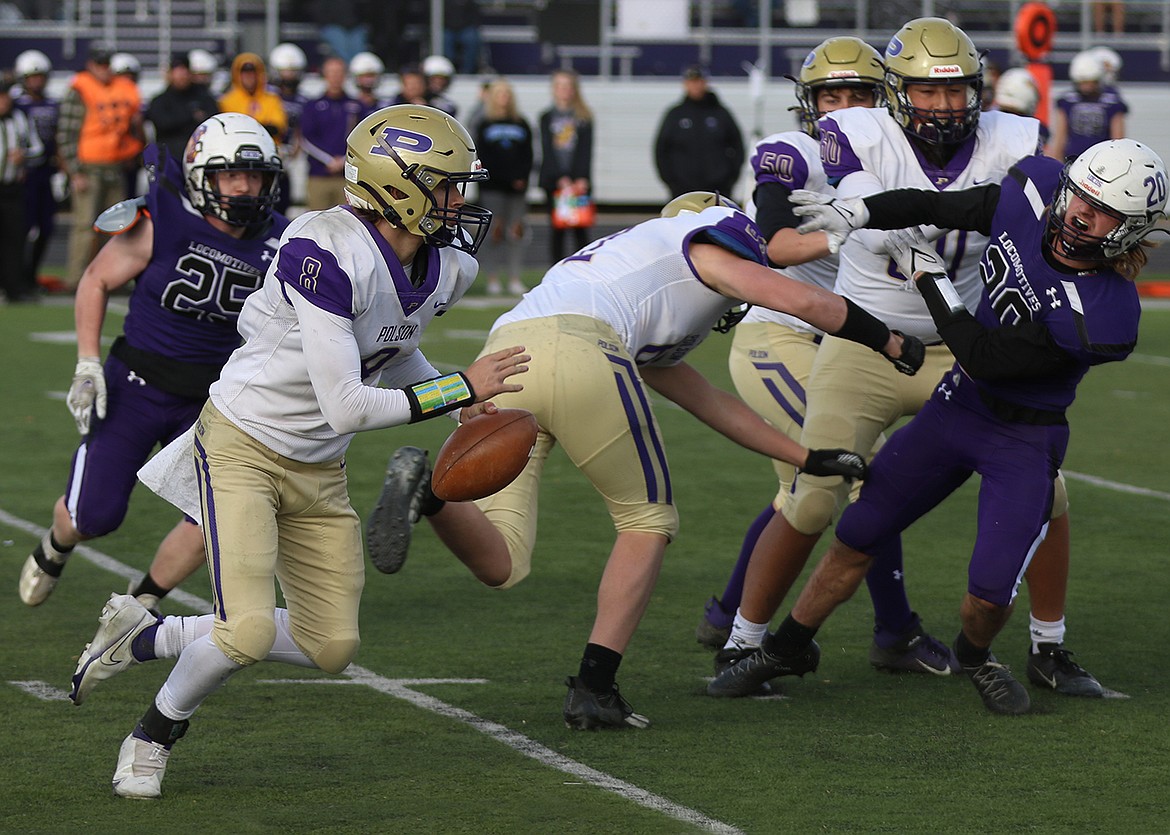 Polson quarterback Jarrett Wilson looks for some running room against Laurel. (Courtesy of Bob Gunderson)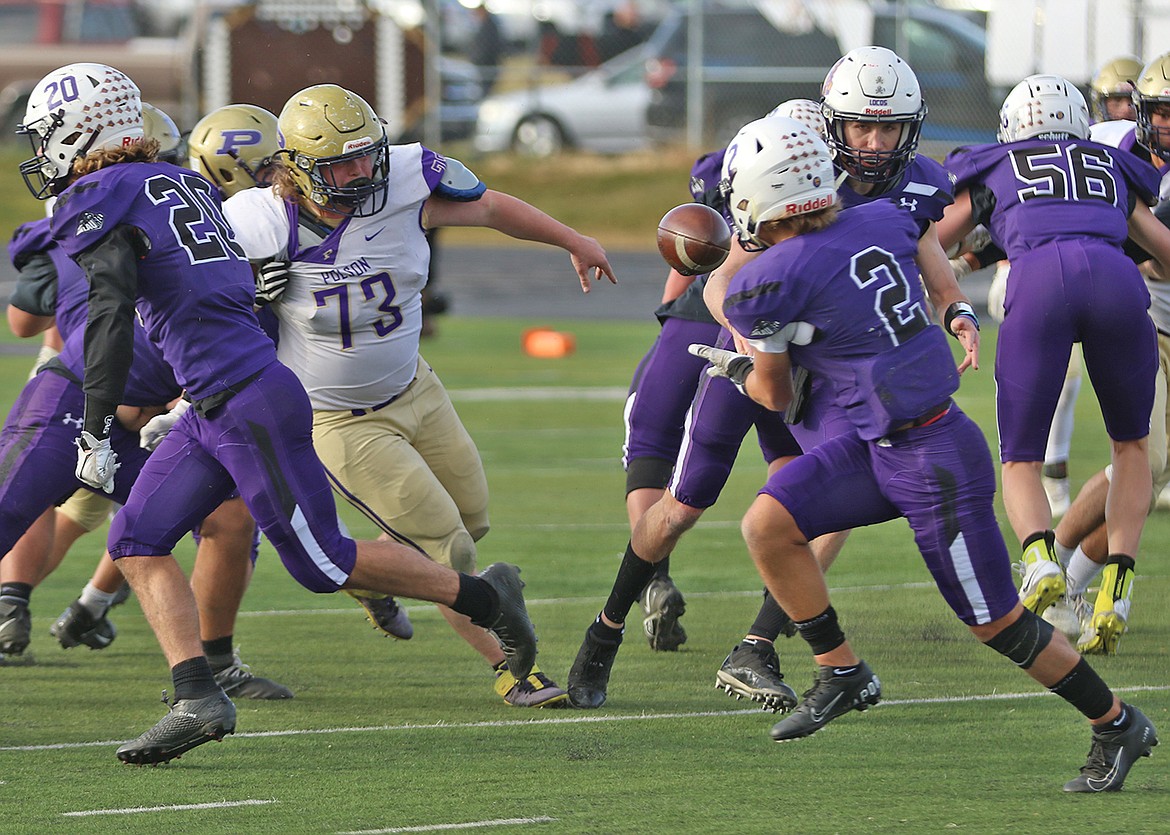 Lineman Aaron O'Roake looks for a tackle against Laurel. (Courtesy of Bob Gunderson)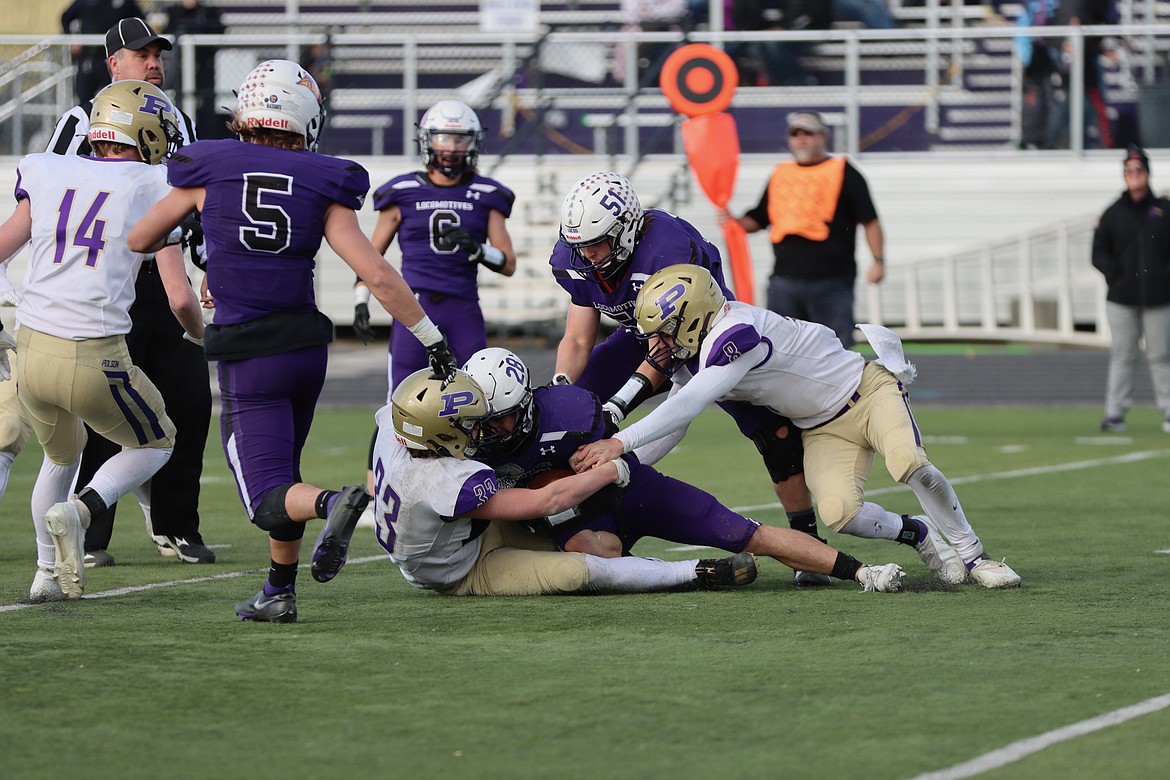 Keyen Nash (33) and Jarrett Wilson (8) wrap up Laurel running back Beau Dantic as Brock Henriksen (14) closes in. (Courtesy of Niki Graham)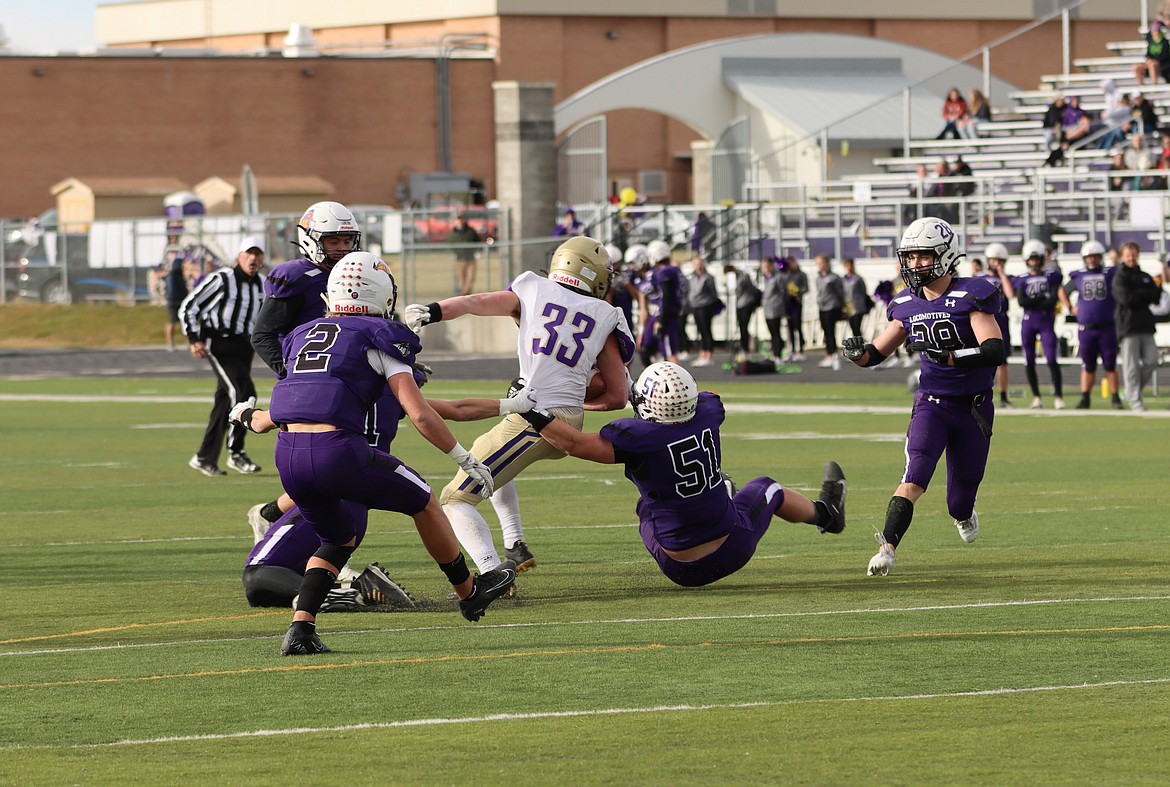 Laurel defenders try to take down Pirates running back Keyen Nash. (Courtesy of Niki Graham)
Previous
Next
by
SCOT HEISEL
Lake County Leader
|
November 16, 2021 2:30 PM
LAUREL — The defending champs defended.
Kyson Moran threw for two touchdowns and ran for another, and Laurel held down Polson for a 28-14 victory Saturday in a State A semifinal football game.
Moran threw just seven passes, but he completed six for 127 yards. The key completion was to Beau Dantic on a third-and-11 screen that the running back took 74 yards for a score.
It came moments after Polson quarterback Jarrett Wilson's 2-yard touchdown run, and gave Laurel (10-0) the lead for good, 14-7, 1:50 left in the first half.
"That was it. I felt like that was the play of the game," said Polson coach Kaden Glinsmann, whose club ended up 10-1. "We were calling timeouts to get the ball back, and they were going into the wind. Instead we're down seven going into the half. That was a big turning point for us."
Dantic ran for 118 yards on 26 carries; Laurel gained 353 yards total and held possession for 30 minutes out of 48. The Locomotives are headed to their third straight title game; Saturday they'll host Hamilton, a 28-7 winner over Lewistown in the other semifinal.
Laurel gave up very few big plays, though Wilson got his 48th touchdown pass of the season, a 52-yarder to Colton Graham in the fourth quarter.
That cut a 28-7 gap to 28-14 with 8:16 left, but Laurel never gave the ball back. The Locomotives recovered an onside kick, gained four first downs and ran out the clock.
"Being down two touchdowns, we're hoping to get a stop and score and save timeouts for the last," Glinsmann said. "We just weren't able to get them off the field.
"I feel like overall we just got outcoached. Our guys did a great job; we just didn't put them in a position to be successful."
Wilson completed 24 of 28 passes for 219 yards. He was intercepted on Polson's first drive, though Laurel quickly fumbled the ball back.
The Pirates would like some do-overs: They gave up the ball on downs at their own 34 to set up Laurel's first score, a 4-yard run by Owen Wilcox; their next drive they got to first-and-goal — Xavier Fisher caught a 22-yard pass and Alex Muzquiz gained 17 on another — only to give the ball on downs at the 1.
After Laurel took the third-quarter kickoff and went up 21-7 on Moran's 17-yard TD pass to Justin Boehler (on third-and-10), Polson gave up the ball on downs again at its own 29.
Six running plays later, Moran crashed in from the 3 and it was 28-7.
Graham caught five passes for 70 yards and his 16th TD of the season for the Pirates. He led a talented quintet of senior receivers; Polson will lose 11 players to graduation overall.
"We're going to miss them," said Glinsmann, who took over the Pirates after their 0-9 season in 2018. "Like I told them after the game: I feel like the program is turned around, heading in the right direction, and it's because of those seniors."
For the season, Wilson, a junior, completed 228 of 321 passes for 3,081 yards, 48 touchdowns and three interceptions, according to stats listed at Maxpreps.com. He also was the team's leading rusher with 646 yards and six touchdowns.
On defense, he was third in tackles, behind his brother, Trent Wilson (108), also a junior, and sophomore Keyen Nash (91). He also had two interceptions and two fumble recoveries on defense. One interception, a late pick-6, was key in the Pirates' road win at Whitefish. His fumble return for a TD against Billings Central in the quarterfinals helped put the game away.
Senior Braunson Henriksen led the defense with eight sacks on the season. Nash was second with 4.5. Henriksen finished his senior campaign with 48 tackles, including a team-high 19.5 for a loss. Senior Aaron O'Roake finished with 36 tackles and 8.5 for a loss.
Braunson's younger brother Brock, a sophomore, had 38 tackles and 22 assists for the year.
Braunson Henriksen, one of several two-way players, also was a key member of the offensive line. He recorded eight pancake blocks for the season, second only to senior Mason Smith (9) and sophomore Austin Oberwegner (10). The Pirates' offensive line also got five pancakes each from junior Cymian Kauley and sophomore Lincoln Burrough.
The receiving corps is perhaps the biggest positional void next year's team must address. The Pirates' four top receivers are all seniors, led by Colton Graham, who caught 69 passes for 1,108 yards and 16 TDs.
Also graduating are Xavier Fisher, 53 catches, 655 yards and 10 TDs; Robert Perez, 43 catches, 578 yards and eight TDs; and Alex Muzquiz, 37 catches, 517 yards and eight TDs.
Laurel 28, Polson 12
Polson - 0 - 7 - 0 - 7 – 14
Laurel - 7 - 7 - 14 - 0 – 28
L – Owen Wilcox 4 run (Kyle DeSmet kick)
P – Jarrett Wilson 2 run (Kaden Nelson kick)
L – Beau Dantic 74 pass from Kyson Moran (Desmet kick)
L – Dalton Boehler 17 pass from Moran (DeSmet kick)
L – Moran 4 run (DeSmet kick)
P – Colton Graham 52 pass from Wilson (Nelson kick)
RUSH – P-22-55 (Nash 8-37, J. Wilson 14-17, Fisher 1-2); L-50-194 (Dantic 26-119, Moran 14-44, Wilcox 7-28, Johnson 1-4, tm 2-0). PASS – P (J. Wilson 24-28-219-1); L- 7-9-159 (Moran 6-7-127, Dantic 1-2-32). RECEIVE – P-24-219 (Graham 5-70, Fisher 7-66, Muzquiz 5-39, Nash 4-27, Perez 3-14); L-7-159 (Dantic 2-72, Boehler 2-48, Webinger 2-43). INT – L ( Webinger). FR – P (Becker). FF – P (Nash). SK – P (Jordan). TFL – P- 6 (Nash 2.5, Jordan 2, Braunson Henriksen 1, O'Roake 0.5). TKL/AST – P- 26t, 45a (J. Wilson 9t4a, T. Wilson 4t10a, Nash 4t8a, Jordan 2t2a, Braunson Henriksen 1t3a, FastHorse 5a, Brock Henriksen 1t2a, Wenderoth 1t2a, O'Roake 1t2a, Becker 1t1a, Fisher 1t1a, DuMont 3a, Muzquiz 1t, Perez 1a, Reed 1a).
State championship games
AA: Billings West (10-1) at Missoula Sentinel (10-0), 7 p.m. Friday
A: Hamilton (10-0) at Laurel (10-0), 1 p.m. Saturday
B: Bigfork (9-2) at Florence-Carlton (11-0), 1 p.m. Saturday
8-man: Drummond-Philipsburg (10-0) at Thompson Falls (12-0), 1 p.m. Saturday
6-man: Froid-Lake (12-0) at Power-Dutton-Brady (11-1), 1 p.m. Saturday
Recent Headlines
---