Lady Pirates, Maidens flush with postseason honors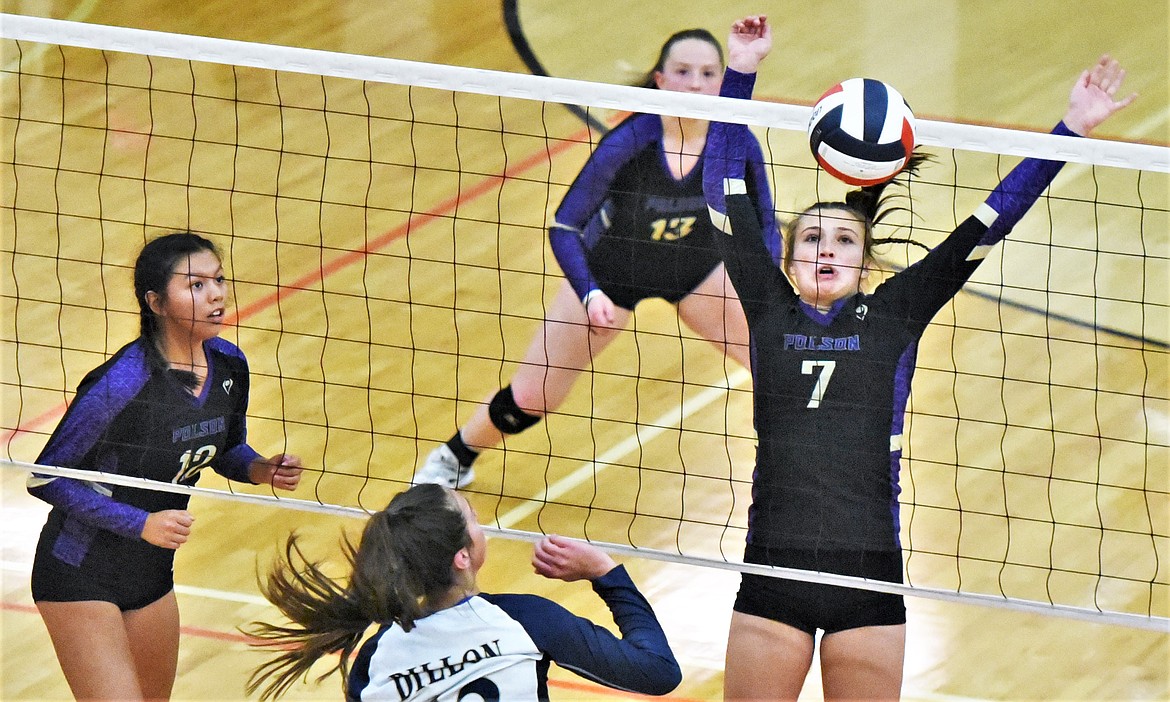 Polson senior Liz Tolley (7) gets the block for match point against Dillon as teammates Turquoise Pierre (12) and Grace Simonich watch. (Scot Heisel/Lake County Leader)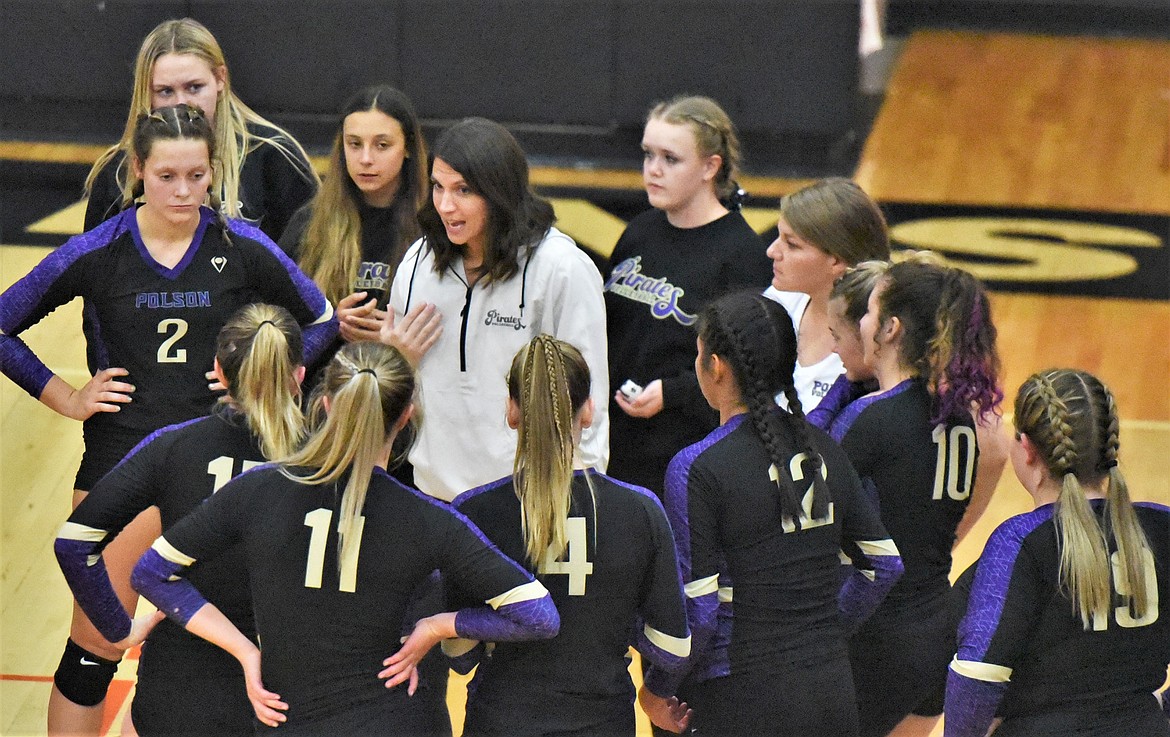 Polson head coach Lizzy Cox talks with her players during the Western A district tournament at Ronan. (Scot Heisel/Lake County Leader)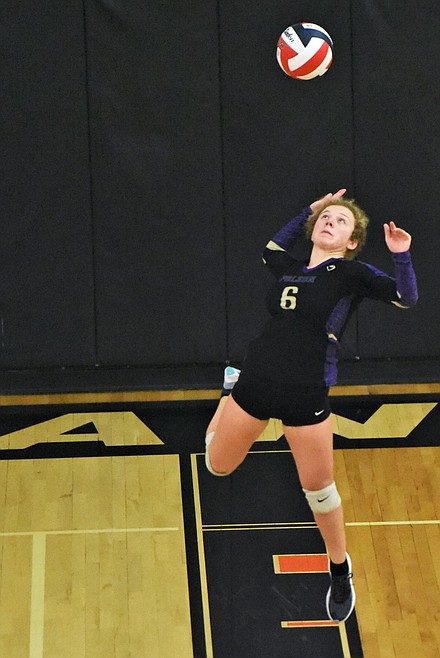 Polson's Camilla Foresti fires off a serve against Hamilton. (Scot Heisel/Lake County Leader)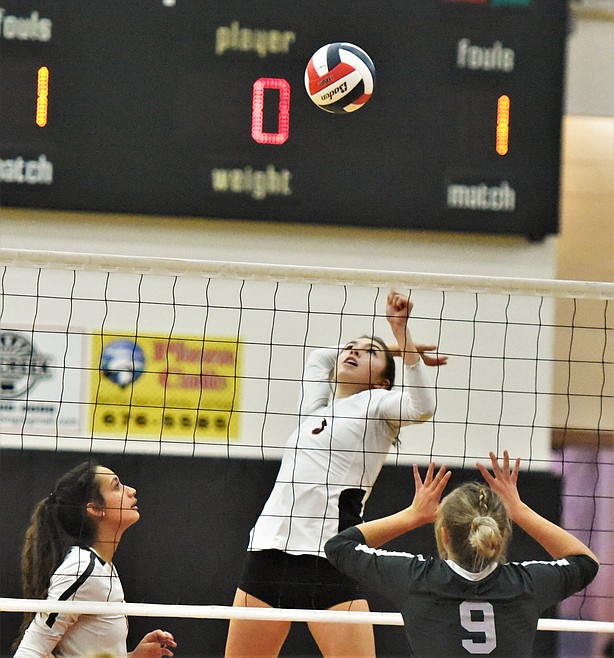 Olivia Clairmont of Ronan lines up a shot in front of Polson's Clara Todd. (Scot Heisel/Lake County Leader)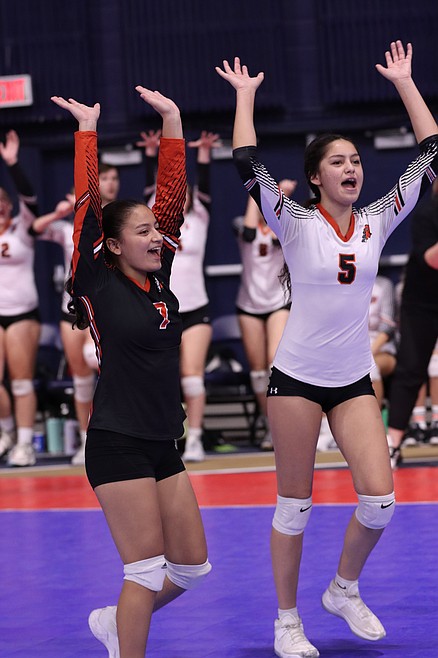 Margaret Cordova (7) and LaReina Cordova (7) celebrate a point at state. (Courtesy of Niki Graham)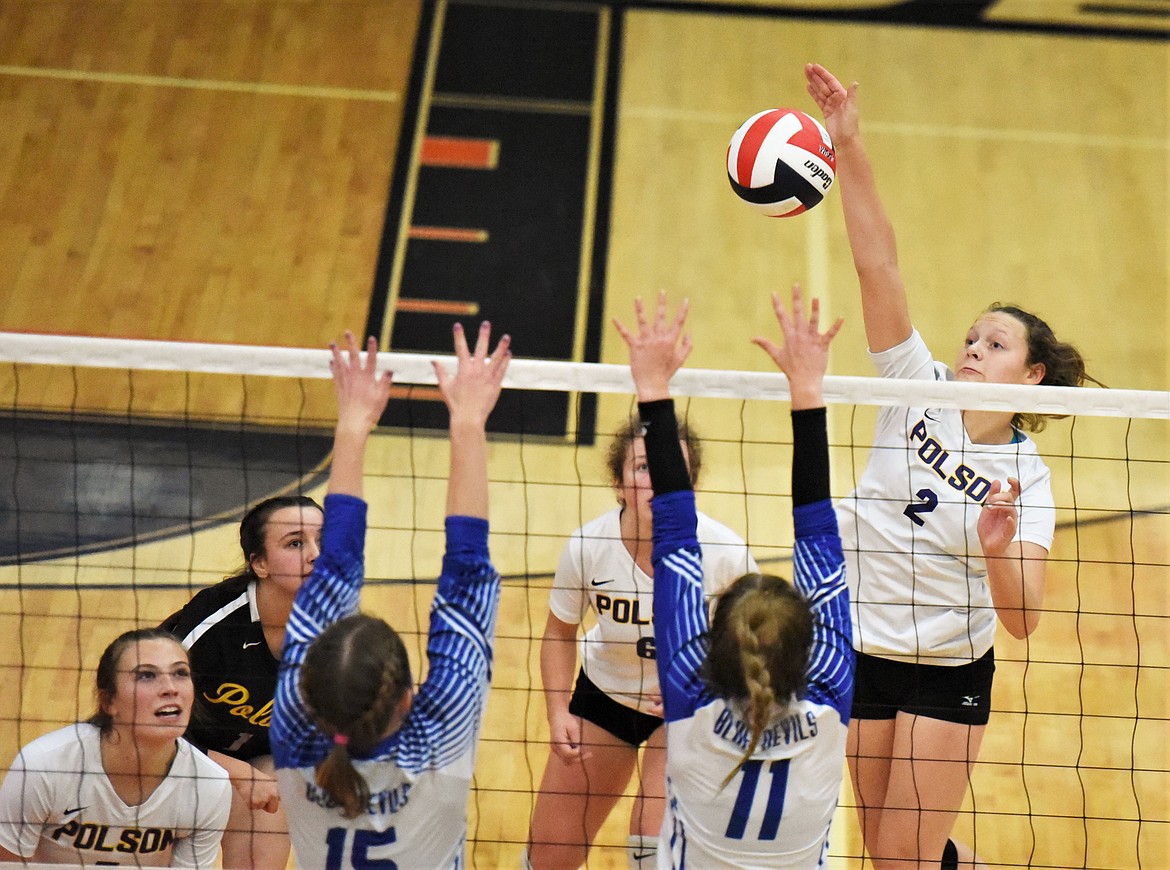 Polson's Mckenna Hanson fires off a shot against Corvallis. (Scot Heisel/Lake County Leader)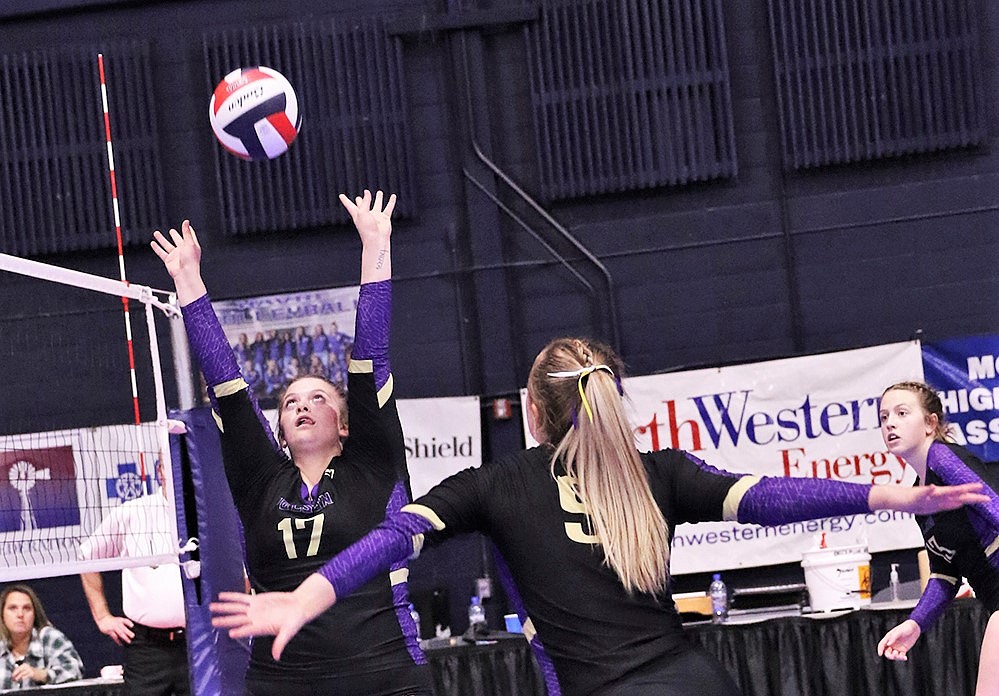 Avery Starr (17) sets the ball for Clara Todd (9) against Havre. (Courtesy of Bob Gunderson)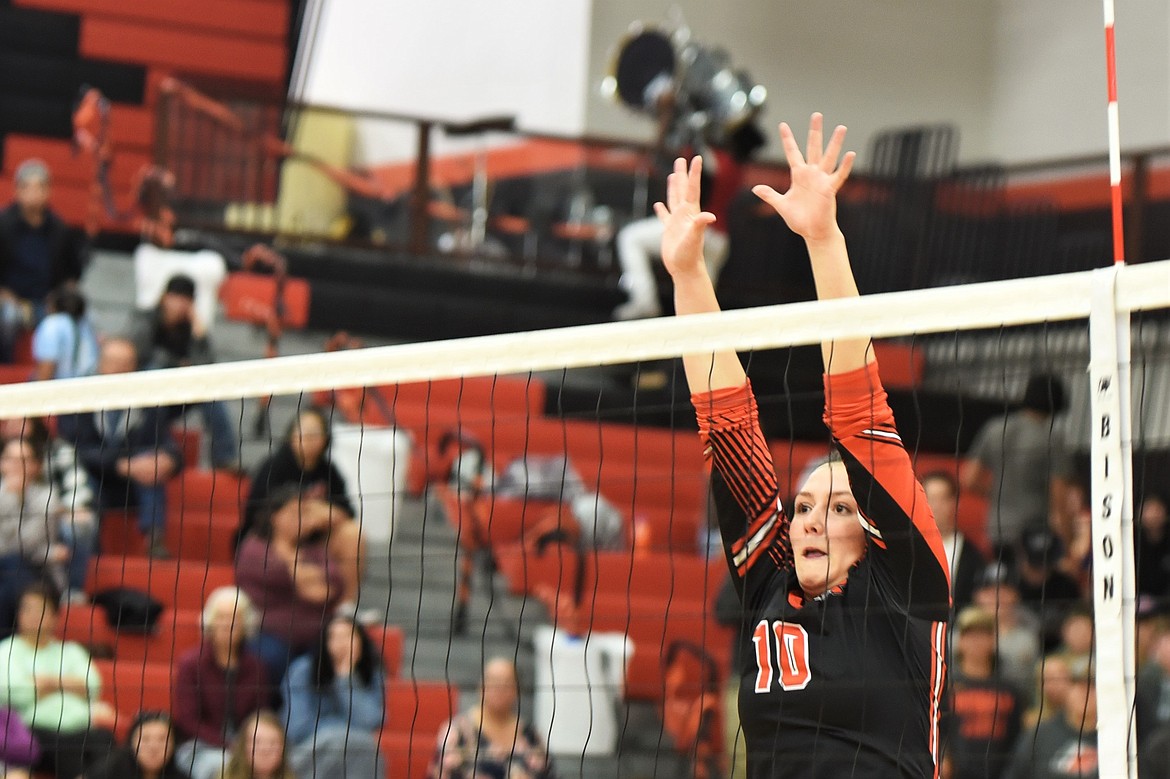 Rylie Lindquist guards the net against Libby. (Scot Heisel/Lake County Leader)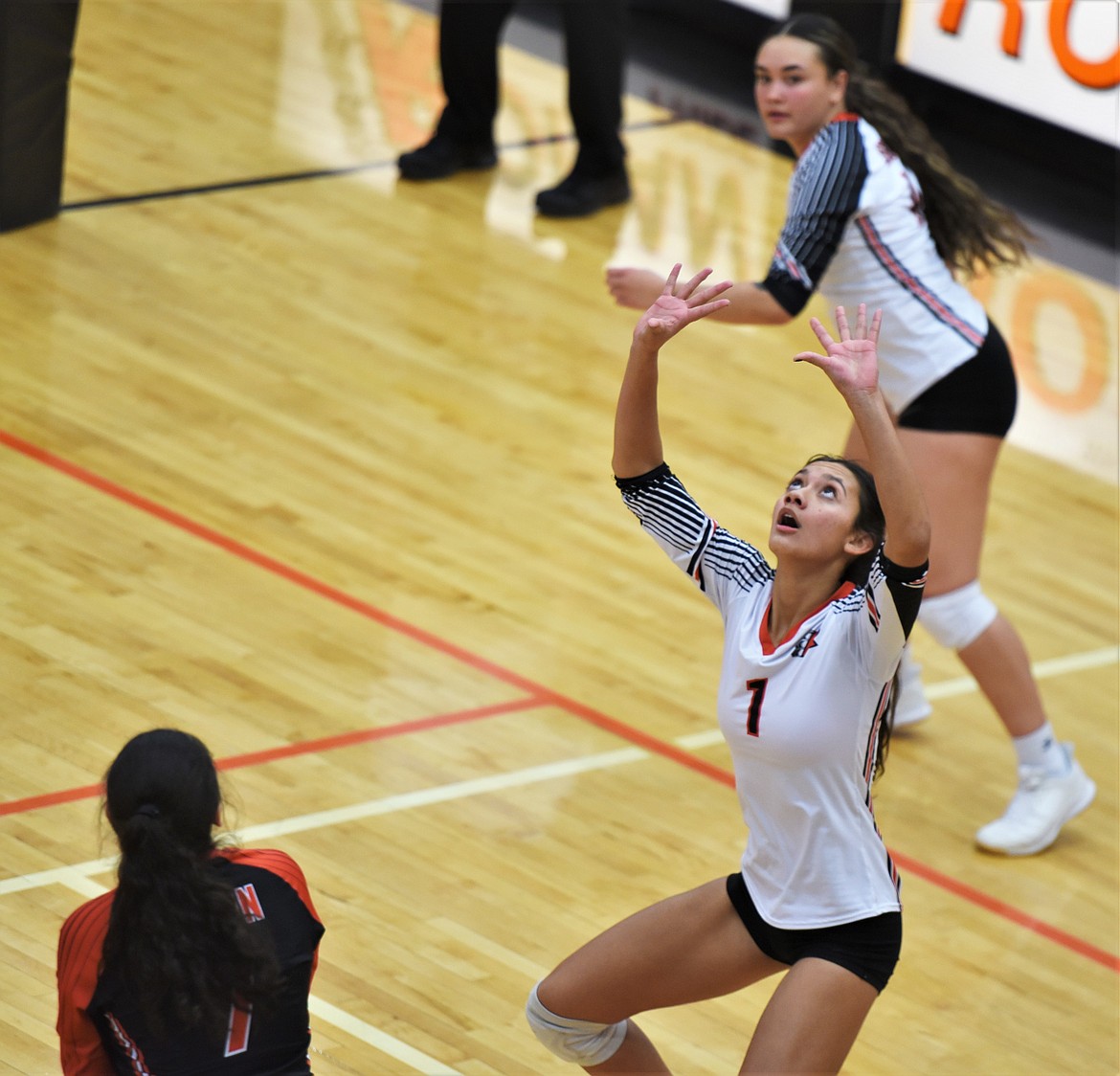 Ronan senior Leina Ulutoa prepares a set shot against Stevensville beside teammates Margaret Cordova (7) and Kylie Fetui. (Scot Heisel/Lake County Leader)
Previous
Next
by
Lake County Leader
|
November 24, 2021 7:00 AM
Eleven Polson and Ronan volleyball players received postseason honors, which were announced last week by the Northwestern A Conference and the Montana High School Association.
The Lady Pirates (10-0, 18-4) and Maidens (8-2, 17-6) placed two players apiece on the 2021 Class A All-State team.
Polson seniors Camilla Foresti and Liz Tolley were named to the all-state team, along with Ronan seniors Olivia Clairmont and LaReina Cordova.
Polson head coach Lizzy Cox was named Coach of the Year after her team won the Northwest A crown and the Western A championship.
Polson just wrapped up the 2021 season with a third-place finish at the state tournament in Bozeman. The Lady Pirates had a record of 16-2 heading into state and were the No. 1 seed out of the West. The Maidens were the No. 2 seed. The two teams met four times this season. Polson swept a pair of regular season matches, and the teams split two matches at the divisional tournament in Ronan.
Also receiving honors for Polson were sophomore Avery Starr, first team all-conference; sophomore Mckenna Hanson, second team all-conference; and juniors Clara Todd and Grace Simonich, who received all-conference honorable mentions.
Ronan's other honorees were: senior Rylie Lindquist, second team all-conference; junior Leina Ulutoa, second team all-conference; and an honorable mention for junior Margaret Cordova.
Foresti, a foreign exchange student from Italy, recorded more than 50 aces with a devastating jump serve and had more than 250 digs on defense during the regular season. Including tournament play, she had nearly 300 kills for Polson.
Tolley had more than 200 kills as well and led the team in blocks.
Starr was Polson's main table-setter, with about 450 sets. She also was among the team's best servers, recording more than 40 aces.
Hanson recorded nearly 200 kills for the regular season and was a key defender with nearly 200 digs.
Todd was the team's second-leading blocker and notched more than 100 kills.
The versatile Simonich accrued several dozen kills and aces while accruing more than 200 assists and 100 digs.
Clairmont was Ronan's best blocker and a serious offensive threat at the net. This was the second all-conference acknowledgement for Clairmont, an honorable mention last season.
LaReina Cordova, was among the Maidens' top hitters. She was also among the team lead in digs and fired off several dozen aces on the season.
Lindquist led the Maidens with almost 300 digs and had more than 120 kills during the regular season. This was the second all-conference nom for Lindquist, an honorable mention last season.
Ulutoa drove the offense with close to 500 assists. She also was among the team leaders in kills, aces and blocks, and recorded more than 160 digs. She also was named to the second team last season.
Margaret Cordova was a key defensive player who kept the ball alive with more than 250 digs.
Northwestern A Volleyball All Conference/All State
NW A Coach of the Year: Lizzy Cox, Polson
Class A All State
Camilla Foresti, Sr, Polson
Olivia Clairmont, Sr, Ronan
Elizabeth Tolley, Sr, Polson
LaReina Cordova, Senior, Ronan
Ember Rode, Sr, Libby
Northwestern A First Team All Conference
Camilla Foresti, Sr, Polson
Olivia Clairmont, Sr, Ronan
Elizabeth Tolley, Sr, Polson
LaReina Cordova, Sr, Ronan
Ember Rode, Sr, Libby
Avery Starr, So, Polson
Northwestern A Second Team All Conference
Rylie Lindquist, Sr, Ronan
Mckenna Hanson, So, Polson
Jazzy Marino, Sr, Columbia Falls
Julia Martineau, Sr, Libby
Leina Ulutoa, Jr, Ronan
Jadi Walburn, Sr, Whitefish
Northwestern A Honorable Mention All Conference
Clara Todd, Jr, Polson
Margaret Cordova, Jr, Ronan
Grace Simonich, Jr, Polson
Cara Guardipee, Sr, Browning
Emma Trieweiler, Sr, Whitefish
Maddie Stutsman, Sr, Columbia Falls
Recent Headlines
---