Horse training 'the vaquero way'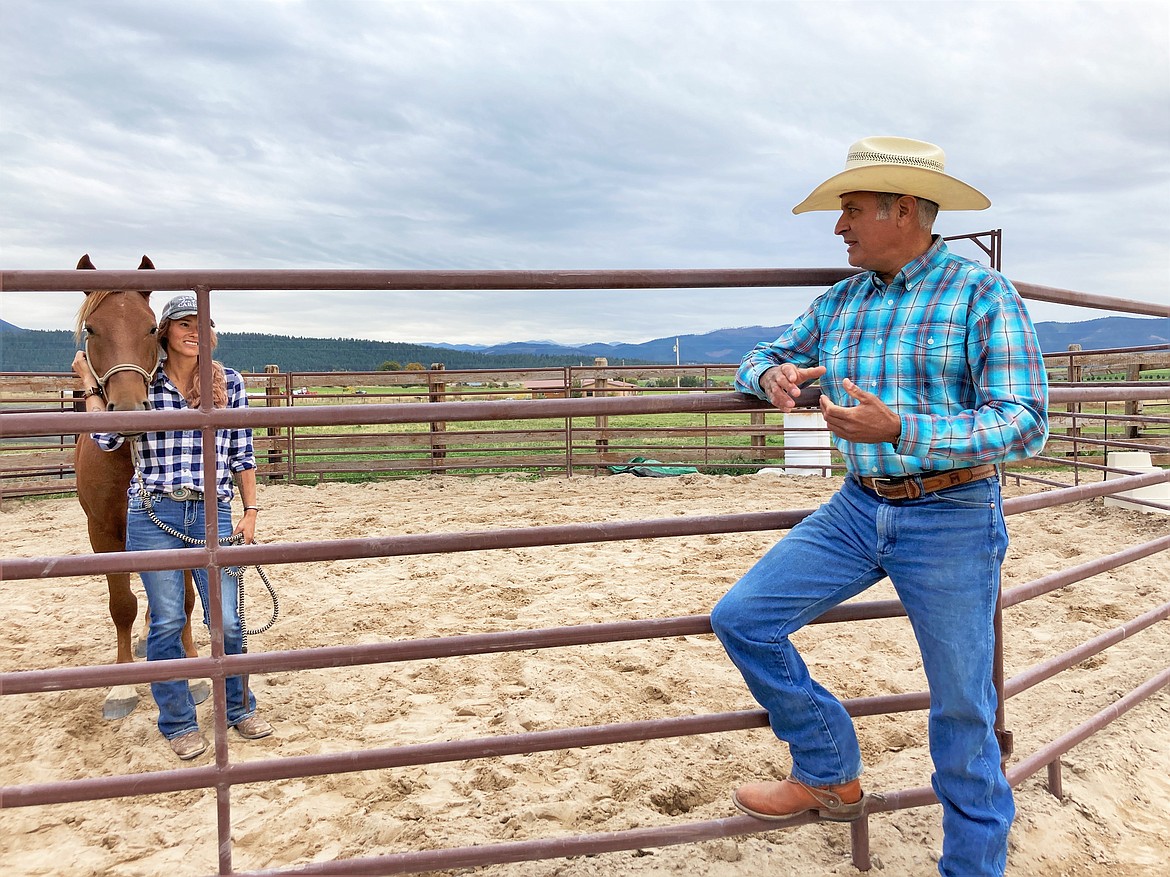 "Horses teach you a lot," said Julio Maldonado to protege April Crissman. Julio learned to train and ride horses from an elderly vaquero in Guatemala, and is passing along his techniques to April. (Carolyn Hidy/Lake County Leader)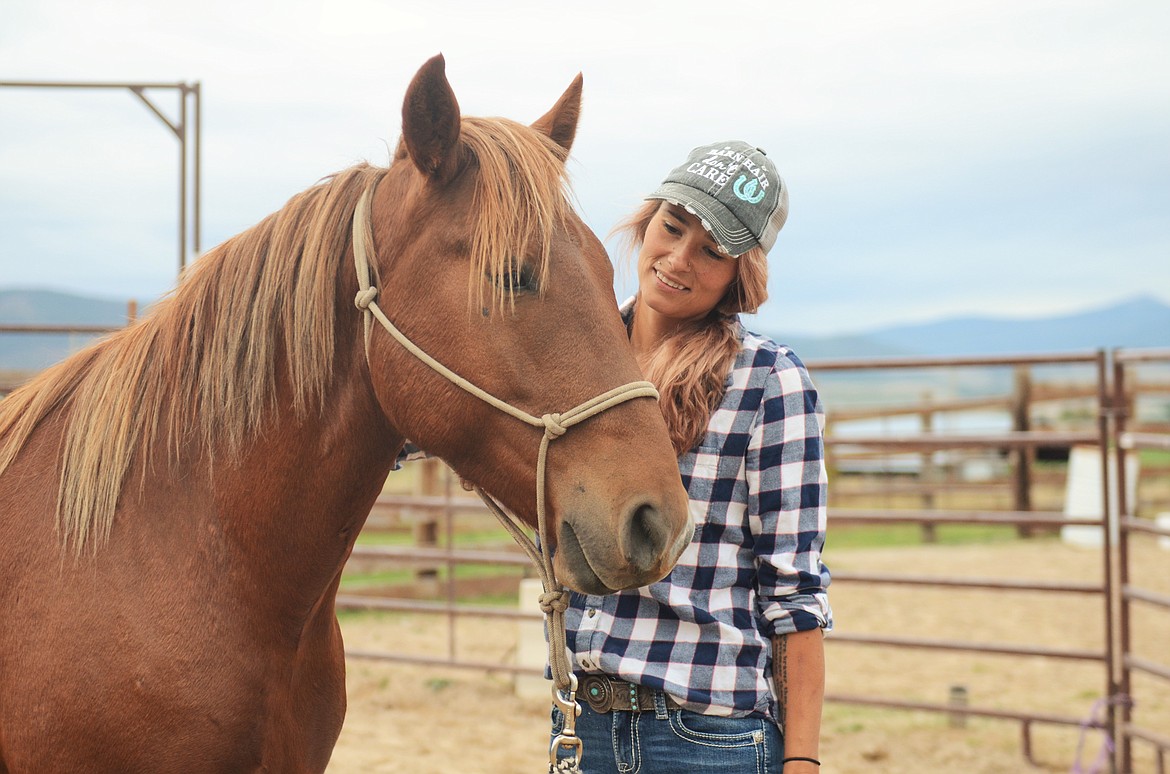 April Crissman is learning from Julio Maldonado to teach and communicate on a horse's terms, with no stress. (Carolyn Hidy/Lake County Leader)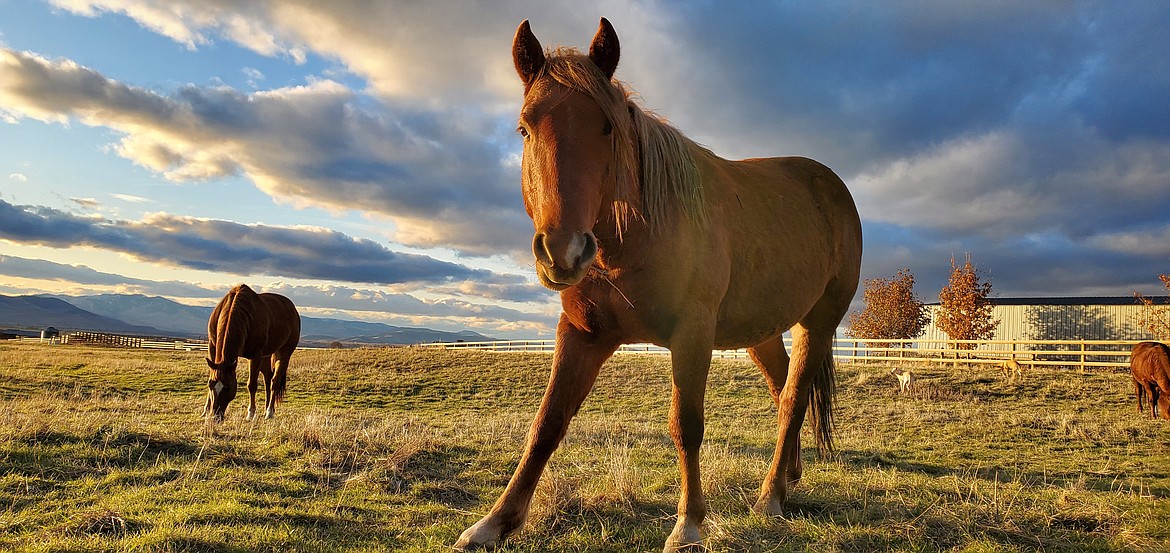 Red, one of two mustangs adopted last year from the BLM, joined the domestic herd at a ranch outside of St. Ignatius last year. (Courtesy of April Crissman)
Previous
Next
by
CAROLYN HIDY
Lake County Leader
|
October 14, 2021 1:00 AM
ST. IGNATIUS — April Crissman and her in-laws, Toni and Jim Connors of St. Ignatius, worked with several trainers to help with one of their horses that was unrideable and cowered from their touch.
"They all said, 'He's a bucker. He's not going to be worth anything. Get rid of him before he gets worse,'" Crissman said.
They decided to try one more time, and it was suggested they call Julio.
Julio Maldonado, a lifelong horse trainer and cowboy, is known even more as a communicator with horses than a trainer. Raised on a ranch in Guatemala, he learned from an elderly vaquero — a Latin American livestock herder — the centuries-old ways of understanding horses at a deeper level, and having them understand humans in return. Bridging that gap helps not only horses, but people, Maldonado has found, as people seem to find a peace and confidence they had never known before they connected with their horses on their terms, rather than as dominators.
When he met the Crissmans' bucking horse, Julio would not get on it, April said.
"He rubbed him down gently, and stretched his legs out."
After five minutes with the horse, Julio knew what the problem was.
"He told me. He is in pain."
"We had thought maybe he was abused," April said. "Every time we tried to touch his head, he would pull away. We had no idea how long he had been like that or what caused it."
They soon found that the head toss was also because of pain, and he was partially blind due to aggravated nerves in his neck. At Julio's suggestion, they brought in an equine chiropractor.
"The chiropractor did his magic, and then said, 'Stay off him for a few days. Let him run around and you should see a difference.' Chiropractors for horses are wizards," April said.
Julio rode that horse the next week, and the animal soon became gentle and trustworthy enough that riders now take lessons on him. Even the blindness receded.
With that success, the family asked if Julio might be willing to work with the two mustangs they adopted last year from the Bureau of Land Management.
"Mustangs are the smartest horses and very tough," Julio said. "But you need to know how to break them. They are so smart, and they can catch an attitude very fast."
"In Guatemala, we only use mustangs to work," he said.
Some vaqueros ride with no bridles, only saddles, and use their body language to communicate with their horses.
Julio is very happy that April contacted him last spring. She became enthralled watching him work, and started asking questions and taking video to try to understand his methods of communication with horses. He realized she had the right "character" and heart to learn and carry on his techniques.
"I like to teach people how to understand horses and use their body to communicate with them. After that, you can see the difference," he said.
"This is not new. A lot of people work horses like this, but here, it is not common, so you can find a lot of horses with problems," Julio said. "They are so confused. They don't understand people, and the people don't understand them.
"Horses think so differently from humans. We make a lot of mistakes, because we want everything now. Horses don't think like that. They are on their time. To have a good relationship with the horse, you have to make sure the horse is trusting you. When they find that their owner understands them, you can see the change for the horse. It's awesome."
And it's not only the horses that are changed.
"I enjoy this technique because I really like to build a relationship with the owners and the horses. You are helping people and horses at the same time. … For humans, when you discover something right, you are feeling better. When I am teaching the horse, I am teaching no stress. Stress kills people and kills animals."
He said every horse can be fixed.
"Like us, when we don't have pressure. When we take our time, we learn faster. We catch everything easier. But when we are in stress, it's hard to learn. Same with horses. When people whip their horses, they are looking to the whip, they are not looking to learn. My goal is to teach the horse, not make pressure. Horses don't learn very well when they are scared. This way is different. They enjoy it. When people start to open their eyes, they realize, 'Oh, that is the same with me.'"
As an example, Julio recently started working with a horse owned by a woman who had once competed in dressage. After losing her beloved competition horse to old age, she acquired an inexpensive, mixed-breed horse to keep her pony company, but found she could not ride it, and hadn't really bonded with it. After a few weeks with Julio, she has learned to communicate with it and is riding it with no bridle, only a rope around its neck. She has gained confidence and a feeling of understanding she never had before.
"Can you imagine how I am feeling when I see this?" Julio said. "I am so happy to help people. When we get older, we might feel alone and feel we can't do anything. Now she feels different. I see that in every person."
April said it is the same for her. She did not grow up around horses, but learning from Julio has changed the course of her life. Seeing her progress with their own horses, Toni and Jim have become very supportive of her working slower with the mustangs, trying this different method. April is deeply moved that she has gained the trust of one mustang who plays and nuzzles with her and has made it his job to protect her from other horses and people. She will be the first to ride him, when he is ready. The other, still more wary, will now come in to eat from her hand rather than run away.
"These mustangs are not finished yet," Julio said. "But now they are so different."
April has started a business giving lessons and doing "tune-ups," riding and calming horses for a month or more to get them ready for summer riders after they have not been ridden all winter.
Julio moved from Guatemala to Canada 16 years ago and worked for the largest cattle operation in the country, herding cattle and training horses and riders. He purchased an arena and horse-boarding facility on Watson Road north of St. Ignatius four years ago. He intended to train horses here but found that his four days off from the herding job each month didn't leave enough time. When the border closed during the pandemic, he left the Canada position to stay at the St. Ignatius property.
Though Julio and his wife are moving soon to Georgia to be with their kids and grandkids, he is considering returning, perhaps next spring or summer, to give clinics.
"My goal is to teach people how to have that communication, and how to fix the problem with their own horses."
April, too, has joined her Air Force husband in South Carolina for the winter, but will return next spring with her son and daughter to pick up the gentle art of communicating with horses.
"Horses teach you a lot," Julio said. "Emotionally, each time I am going to train a horse, I need to take control of my soul. The most important thing is to be humble. That is not natural in humans. I fight with that. They catch very fast when a person is not humble and they reject that person. That encourages me to always work to change my personality, my pride, change for the good."
"That is the vaquero way."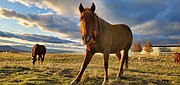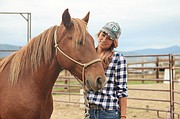 ---