Senior moment: Lady Vikings hold off Drummond
by
SCOT HEISEL
Lake County Leader
|
October 19, 2021 4:50 PM
CHARLO — The Lady Vikings had to work for it, but ultimately they held off a feisty Drummond team Saturday night for a 25-6, 23-25, 25-23, 25-20 home victory.
Senior Kassidi Cox blasted 18 kills and fellow senior Molly Kate Sullivan had nine kills and eight aces as Charlo (8-1-1) battled for a sixth consecutive win.
The win came on Senior Night, and Charlo has a bunch of them. Along with Cox and Sullivan, the school honored Kyla Tomlin, Jessica Shenyer, Kate Young, Mona Reich and Guinevere Contreras with introductions and gifts prior to the match.
The Lady Vikings pounced on Drummond (4-4-2) in the first set and scored four quick points, prompting a Drummond timeout. From there, they extended the lead to 13-2, then quickly to 15-5.
Up 17-5, Sullivan took over serve and nearly closed out the set. During a stretch that included two Sullivan aces and a kill from junior Mila Hawk, Charlo pulled out to 23-6 before a wayward shot from Cox snapped the streak. Cox put it away two points later with a kill for a 19-point margin in the first. She finished with nine assists to go with the 18 kills.
The Lady Trojans collected themselves and came out swinging in a second set that saw neither team gain much traction. Drummond led 10-7 before a 7-1 stretch for Charlo gave the Lady Vikings a slim 13-11 lead. Hawk and Sullivan each had two kills over that stretch. Hawk finished with five kills, four aces, four digs, two assists and a block.
Junior Payton Smith had a match-high 23 assists for Charlo.
Drummond then went on a 5-0 run that led to a Charlo timeout. Out of the break, Cox answered with another kill to pull Charlo to within two, but Drummond kept their distance the rest of the way and pulled out the 25-23 win. It was the first set Charlo had lost since a match at Loyola five weeks prior.
"Volleyball's a total mind game," head coach Rhondell Volinkaty said after the match. "And once you get in your head that you're kind of on an island by yourself, you get into a slump."
Drummond put together a nice stretch in the third set with Elizabeth Perry serving, scoring eight straight points, including three aces and several off shots from Charlo.
Sullivan took over serve down 10-14 and managed four aces in an eight-point stretch for Charlo. The final stretch of the third set saw ties at 20-all, 21-all, 22-all and 23-all. A Hawk kill then put Charlo up 24-23, and Cox capped off a very long volley with a kill to end it at 25-23.
Charlo trailed 14-5 in the fourth set. Again it was Sullivan at serve when the Lady Vikings clawed their way back. Cox drilled three more kills as Charlo scored nine straight points to tie it at 15-15. Neither team led by more than two points from there until an ace from Tomlin put Charlo up 23-20. They put the match away from there with two more points and a celebration.
Volinkaty acknowledged that this Senior Night was a bit different than others over her career. This group of seniors was just starting out when Volinkaty became head coach.
"This is kind of a special group for me. They were my babies. … It was kind of an emotional night. That might have played a little bit into the night. … It's been emotional for me because they've really built me up as a coach. It's been a pretty cool ride with them."
On Friday at Charlo, the Lady Vikings earned their second straight three-set sweep over Alberton-Superior (3-5). Charlo got 12 kills from Cox, nine from Sullivan, eight from Hawk and six from junior Hayleigh Smith in that win. Smith had 11 assists.
Though Saturday was Senior Night, the Lady Vikings still have a home game remaining. A visit from Noxon scheduled for Tuesday night was cancelled due to a COVID-19 quarantine in Noxon, which should be lifted in time for Charlo's regular season finale at Noxon on Oct. 23. Before that, Charlo is set to host Hot Springs on Thursday night.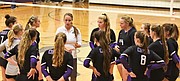 ---